Interesting Public Bathrooms in China

Fun and interesting tidbits
China has some of the most interesting bathrooms on the planet. Take a look at these exceptional examples. They might not be found everywhere, but if you're lucky, you might get to add one of these to your travelogue.
The first toilet at Tiger Leaping George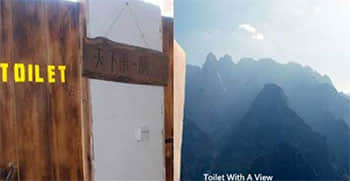 With an exhilarating, mind-blowing view of both the Jade Dragon Snow Mountain (also called the Yulong Snow Mountain) and Tiger Leaping Gorge itself from inside the stalls, the very first toilets ever built at Tiger Leaping Gorge (located at the Halfway Guest House) will more-than-likely make you forget why you came to the bathroom in the first place – or find more excuses to go. Built on a cliffside, truly mesmerizing views from the open-backed toilet stalls great each visitor as there is nothing between you and the view.
The deepest toilet in the world in Lhasa
Maybe the quietest dry toilet in the world? Why so quiet? Well, first of all, this toilet is located at the Potala Palace in Tibet, which is already a pretty quiet and peaceful place. But most importantly, this is reported to be the "deepest" toilet in the world. Although a sign hanging outside the bathroom reports this dry toilet's pit to measure about 30 feet deep, others report the bottom to be almost 200 feet below! Not sure where this figure comes from, but it's hard to hear anything at either distance.

The biggest toilet in Chongqing
A large, multi-stalled bathroom is conveniently located on a popular tourist street in Chongqing – but look closely because it sure doesn't look like a bathroom from far away. Built and designed to resemble a grey Ottoman-style castle, this bathroom features an open layout for plenty of fresh air to circulate and amazing views of the city.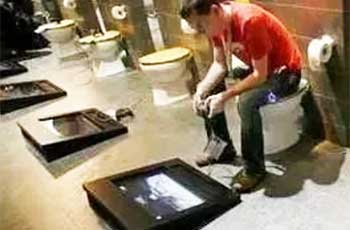 The 5-star toilet at Qingcheng Mountain scenic area in Chengdu
Located in the gorgeous, Panda-friendly city of Chengdu and set in a lush, sub-tropical area bursting with natural vegetation, this beautiful 5-star toilet (stars assigned by the government) is designed in traditional, ancient Chinese fashion with the typical up-swinging tiled roof and lattice windows.
A unisex toilet in Chongqing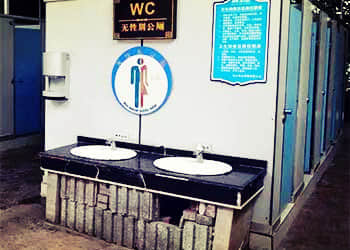 Colorful, albeit in desperate need of a new paint job, this Unisex bathroom located on a street called "International Taproom" in Chongqing is not only famous for being unisex, but may win the prize for the "most open air bathroom in the world". Why? Well, if it's raining, let's just say you should bring your own umbrella.
A newer unisex toilet has opened recently, which still looks like a standard bathroom in China, but does sport an open-air design (only this time, with a roof) and the very uncommon symbol of the half man/half woman.
Have a question?
OR
Are you eager to begin your Chinese cultural journey?
Drop us a line and we will promptly connect you with our leading China expert!