Winter all Over China
The best time to visit?

Because China has latitudes running from as north as middle Canada, Poland, and southern Siberia all the way south to Cuba, the Sahara, and middle India, China can be firmly in the dead of winter and basking in summer glory all at the same time. Winter anywhere can be a beautiful time to travel, but in China – with so many globally famous, magnificent outdoor destinations – what is normally spectacular becomes outright magical, enchanting, and dreamy. Winter sweeps the visitor from splendid reality into a rarely-seen world of frosty fantasy.
Benefits of winter travel in China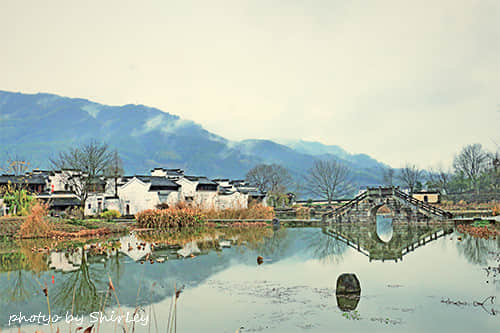 Chengkan Village in Winter
1) Smaller crowds
2) Lower prices
3) Best ice sculptures on the planet
4) Great Wall, Forbidden Palace, Rice Fields covered in snow
5) Experience Chinese New Year with dancing street dragons and lions and lots of fireworks
Practical Tips for Winter Travel
Draw a line running along the Yangtze river, which is roughly from Shanghai to Chengdu. North of this line, budget hotels and regular restaurants will usually have government provided heat. However, south of this line it is very uncommon – even if/when temperatures fall below freezing. Fine dining restaurants and deluxe hotels should have heat regardless of geographic location.
Bring extra warm clothes and many layers – don't underestimate the cold, especially above the Yangtze river line mentioned above. Take warm sleeping apparel, thermal inner layers, a heavily insulated coat with hood, warm hat, gloves, and warm insulated shoes. Even weather south of the line can be uncomfortably cold (although not necessarily below freezing) if you don't bring the appropriate clothes.
Weather and Temperatures
Beijing Average Climate by Month
| | | | | | | | | | | | | |
| --- | --- | --- | --- | --- | --- | --- | --- | --- | --- | --- | --- | --- |
| | Jan | Feb | Mar | Apr | May | Jun | Jul | Aug | Sep | Oct | Nov | Dec |
| High (℃) | 2 | 5 | 12 | 20 | 26 | 30 | 31 | 30 | 26 | 19 | 19 | 3 |
| High(℉) | 35.6 | 41 | 53.6 | 68 | 78.8 | 86 | 87.8 | 86 | 78.8 | 66.2 | 66.2 | 37.4 |
| Low (℃) | -9 | -6 | 0 | 8 | 14 | 19 | 22 | 21 | 15 | 8 | 0 | -6 |
| Low(℉) | 15.8 | 21.2 | 32 | 46.4 | 57.2 | 66.2 | 71.6 | 69.8 | 59 | 46.4 | 32 | 21.2 |
| Rain (mm) | 3 | 6 | 9 | 22 | 36 | 74 | 179 | 177 | 53 | 23 | 8 | 2 |
Harbin Average Climate by Month
| | | | | | | | | | | | | |
| --- | --- | --- | --- | --- | --- | --- | --- | --- | --- | --- | --- | --- |
| | Jan | Feb | Mar | Apr | May | Jun | Jul | Aug | Sep | Oct | Nov | Dec |
| High (℃) | -13 | -7 | 2 | 13 | 21 | 26 | 28 | 26 | 21 | 12 | 0 | -9 |
| High(℉) | 9 | 19 | 36 | 55 | 70 | 79 | 82 | 79 | 70 | 54 | 32 | 16 |
| Low (℃) | -24 | -20 | -10 | 1 | 8 | 15 | 18 | 16 | 9 | 1 | -10 | -20 |
| Low(℉) | -11 | -4 | 14 | 34 | 46 | 59 | 64 | 61 | 48 | 34 | 14 | -4 |
| Rain (mm) | 4 | 5 | 11 | 21 | 37 | 83 | 154 | 111 | 62 | 26 | 9 | 6 |
Shanghai Average Climate by Month
| | | | | | | | | | | | | |
| --- | --- | --- | --- | --- | --- | --- | --- | --- | --- | --- | --- | --- |
| | Jan | Feb | Mar | Apr | May | Jun | Jul | Aug | Sep | Oct | Nov | Dec |
| High (℃) | 8 | 9 | 13 | 19 | 24 | 27 | 32 | 32 | 28 | 23 | 17 | 11 |
| High(℉) | 46.4 | 48.2 | 55.4 | 66.2 | 75.2 | 80.6 | 89.6 | 89.6 | 82.4 | 73.4 | 62.6 | 51.8 |
| Low (℃) | 1 | 2 | 5 | 11 | 16 | 21 | 25 | 25 | 21 | 15 | 9 | 3 |
| Low(℉) | 33.8 | 35.6 | 41 | 51.8 | 60.8 | 69.8 | 77 | 77 | 69.8 | 59 | 48.2 | 37.4 |
| Rain (mm) | 49 | 59 | 90 | 97 | 112 | 169 | 151 | 146 | 141 | 57 | 49 | 38 |
Lanzhou Average Climate by Month
| | | | | | | | | | | | | |
| --- | --- | --- | --- | --- | --- | --- | --- | --- | --- | --- | --- | --- |
| | Jan | Feb | Mar | Apr | May | Jun | Jul | Aug | Sep | Oct | Nov | Dec |
| High (℃) | 1 | 6 | 13 | 19 | 24 | 28 | 29 | 28 | 23 | 17 | 9 | 3 |
| High(℉) | 34 | 43 | 55 | 66 | 75 | 82 | 84 | 82 | 73 | 63 | 48 | 37 |
| Low (℃) | -11 | -7 | 0 | 6 | 11 | 14 | 17 | 16 | 11 | 5 | -2 | -9 |
| Low(℉) | 12 | 19 | 32 | 43 | 52 | 57 | 63 | 61 | 52 | 41 | 28 | 16 |
| Rain (mm) | 2 | 2 | 8 | 17 | 37 | 41 | 61 | 78 | 45 | 24 | 4 | 1 |
Guangzhou Average Climate by Month
| | | | | | | | | | | | | |
| --- | --- | --- | --- | --- | --- | --- | --- | --- | --- | --- | --- | --- |
| | Jan | Feb | Mar | Apr | May | Jun | Jul | Aug | Sep | Oct | Nov | Dec |
| High (℃) | 18 | 19 | 22 | 26 | 30 | 31 | 33 | 33 | 32 | 29 | 25 | 21 |
| High(℉) | 64 | 66 | 72 | 79 | 86 | 88 | 91 | 91 | 90 | 84 | 77 | 70 |
| Low (℃) | 10 | 12 | 15 | 19 | 23 | 25 | 25 | 25 | 24 | 21 | 16 | 12 |
| Low(℉) | 50 | 54 | 59 | 66 | 73 | 77 | 77 | 77 | 75 | 70 | 61 | 54 |
| Rain (mm) | 40 | 64 | 84 | 179 | 289 | 300 | 227 | 233 | 188 | 70 | 37 | 27 |
Packing Tips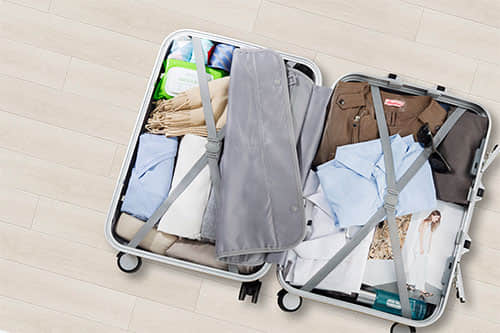 Packing for a trip
A famous saying beautifully encapsulates life in wintery climates – "There's no such thing as bad weather, only bad clothes". With smart packing, anyone can enjoy all the wonders of winter completely comfortably.
Keep in Mind
Fire Smoke: For travelers who enjoy a more intimate cultural trip, be prepared to be exposed to a lot of fire smoke – either on the street from cooking or in houses from heat – and thus, your outer clothes will often smell of smoke. This necessitates the bringing of extra outer clothing since washing and drying from one day to the next is usually difficult as most places in China do not have clothes dryers or drying service (they are still hung up to dry in the majority of the country).
How much clothing do I need to bring: The amount of clothes you stuff in your bag generally depends on two things: 1) will you be carrying all your luggage in a backpack or in a rolling suitcase, and 2) how often do you want to do laundry on your trip.
If you're a backpack traveler, you'll want to reduce your weight as much as possible (seriously, read this again if you're not an experienced backpacker). Usually, people over pack by over estimating how much clothing they'll need and thus bring packs that are too heavy to comfortably carry around. This is a serious trip killer. Suitcase travelers don't need to worry so much about this, but it's still a good idea to get everything you're taking into just one suitcase.
Regardless of your luggage type, laundry is usually a part of everyone's trip to China eventually. The most number of days most travelers can go without washing clothes is about 10 (and bringing enough clothes for at least 10 clothing changes in winter can make for a very heavy piece of luggage). However, if you hate doing laundry while away and you have a rolling suitcase, you might be able to get by with a good 2 weeks before you're forced to do some washing. Backpackers should plan for around 1 week of clothing changes (which means around every 5 days, you'll be washing something as it can take 1-2 days for things to dry depending on your hotel's facilities). Most nicer hotels offer laundry service (for an extra charge of course, and often quite steep). Budget hotels will not offer this and there are almost no 'self-service laundromats' in China. Researching online can help turn up some full-service laundry services – sometimes run out of private homes – where they will wash, dry, iron, and fold everything down to your socks and skivvies.
Light Sweaters – think of them like shirts but worn over another layer such as a long-sleeved shirt. 3-5 is a good idea.
Heavy Sweaters – to be worn over a lighter sweater, 1-3 is usually enough. Heavy insulated fleece (200 or 300) is an extra good idea.
Long-sleeved (thermal) shirts – these will be worn as your base layer against your skin (unless you want to wear a short-sleeved t-shirt under it) so they will get sweaty. Bring 3-6.
T-shirts – Many people like to bring comfortable T-shirts (either made from cotton, or performance material). Just remember that fashion won't matter much for these as they'll rarely be seen.
Warm coat with hood – The best kind is a 3-in-1, which can be separated into a warm fleece layer, a light wind breaker outer shell, or combined for maximum warmth. If you don't want to bring a 3-in-1, then a good down jacket is a great option – very packable, lightweight, yet exceptionally warm. A hood (preferably removeable) is important.
Wind breaker – if your heavy coat is not a 3-in-1, then bringing a separate wind breaker is essential.
Winter pants:
Inner – An inner stretchy, thermal layer will be necessary in the colder regions. Thermals, leggings, etc. Bring several pairs as they will be worn next to your skin and are lightweight, 3-6.
Middle – Denim may not be the most stretchable material for outdoor activities, but a good quality, thick pair will not only keep you warm, also help you blend in (as someone who lives in China verses someone who is just traveling). Bringing a few that are loose cut will allow for a warm, thermal layer to be worn under them. If you don't like denim, then make sure to bring another preferred material that is warm. 3-4 pairs, but they will begin to smell after a few days so be prepared to wash.
Outer – A pair of lightweight, impermeable (and preferably breathable) outer shell pants is essential for snowy climates. 1 pair is usually enough.
Thick socks – If your shoes/boots aren't insulated, you may need to double up. Regular cotton or polyester socks inside regular shoes will usually lead to very cold feet. 4-8 pairs.
Hat – Not a baseball cap, but a warm ski cap.
Gloves – Not a nice, fashionable leather/suede pair, but an insulated, waterproof pair (think, ski gloves).
Scarfs – Options for this is pretty wide open, from simple fleece that's functional, to bright colored patterns that are fashionable, bring whatever type you like, but bring at least one.
Warm boots/shoes – Insulated, waterproof (like Gore-Tex, not rubber), with exceptionally comfortable soles for endless hours of walking. Over-the-ankle boots are preferred (for warmth) to below-the-ankle shoes; however, unless you're planning a mountainous backpacking excursion, it's unnecessary to bring heavy hiking boots that are made for rough terrain. Instead, try to bring boots/shoes that are closer in terms of comfort to tennis shoes and forgo the ruggedness – your feet will thank you.
Hard soled slippers – For those chilly mornings in your hotel and walking around on tile floors.
Warm pajamas – Especially important if you'll be staying in budget hotels as the heating may not be up to your expectations and you may not want several old, thick, wool blankets all over your body. Flannel is an excellent choice (better than fleece because this will be next to your skin and you'll need something absorbent, which fleece is not). 1-2 pairs.
Sunglasses – Snowy areas in sunshine are many times brighter than a sunny beach. This is an essential item as you can cause retina damage being in a sunny, snowy places without eye protection.
Swimsuit/sandals – In winter? Why would I bring these? There are several reasons. One, most nice hotels have indoor swimming pools and/or hot tubs. Two, some destinations (like the Chengdu area) have thermal springs outside. Three, some travelers will be heading southward to the beaches of Hainan. And a thin pair of sandals (or flipflops) is always a good idea for those hotel showers and bathroom floors.
Regions
NORTHEAST and BEIJING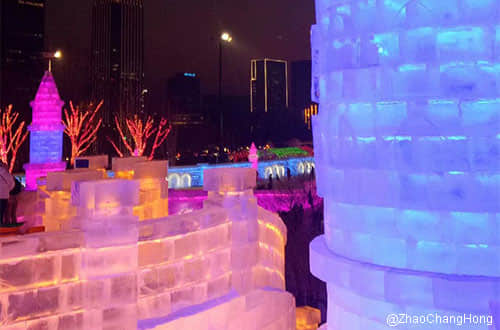 Harbin Ice Festival
This region is the capital of winter for China as the season tends to be longer and colder than in the rest of the country. This is the one area where you'll need your warmest clothing as temperatures will almost surely be below freezing most days. It's also one of the best places to experience a "winter wonderland" effect as ice coated trees and newly fallen snow is common here. Beijing normally doesn't get as cold or get as much snow as the northern province of Heilongjiang (where Harbin is located), but travelers should still expect a strong wintery feel.
Harbin (9ºF to -11ºF / -13ºC to -24ºC) – Harbin is little-known outside of China but is nationally considered the capital of winter and can easily compete with world renowned winter destinations in Switzerland, Iceland, Finland, Canada, and Russia. Every year, Harbin holds an annual ice sculpting festival and contest called the "Harbin Ice Festival". This is one of China's premium winter festivals (second only to Chinese New Year) and the numerous ice sculptures are easily some of the very best, most jaw-dropping ice art in the world. Some are so intricately carved that they look almost real. Others are enormous, standing 20 meters (60 feet) high and 100 meters (100 yards) wide. Famous Chinese sites like the Great Wall, the Forbidden Palace, and Terracotta Warriors are recreated … often to scale! It's not an overstatement to say Harbin's Ice festival is one of the best, most-worthwhile visits to the entire country and as a festival that's unique to winter, it's no stretch to say this should be the number one stop for any visitor during January and February. The festival runs from Christmas Eve to near the end of February. Skiing and other winter recreation activities are also possible in this region.
Mohe (12ºF to -33ºF / -11ºC to -36ºC) – Further north of Harbin and next to the Russian border, the small town of Mohe is the best, if not only, place in China to see the Aurora Borealis (aka the Northern Lights). It's located just far north enough for occasional spottings, but travelers will need some luck to see them. For Christmas enthusiasts, Mohe also has a north pole, Santa village complete with a Santa house, Christmas post office, snow buildings, and many decorated Christmas trees and Santa dolls.
Inner-Mongolia (39ºF to 1ºF / 4ºC to -17ºC) – The usually green, flat grasslands of this province often get covered in deep, white snow during winter. Specifically, the Hulunbuir Grasslands, are some of the most pristine and also feature forests, rivers, lakes, and blue skies.
Beijing (55ºF to 23ºF / 13ºC to -5ºC) – Seeing all those mega famous sites, along with the Great Wall, covered in snow is so stunning that it's worth a return trip to Beijing even for those who have already visited during the warmer months. If it's your first time, you will not be disappointed as everything that you'll want to visit will look even nicer and you'll be contending with half the crowds. Skiing and other winter recreation activities are also great draws to the Beijing area in winter (after all, the 2022 Winter Olympics will be held here).
EAST and CENTRAL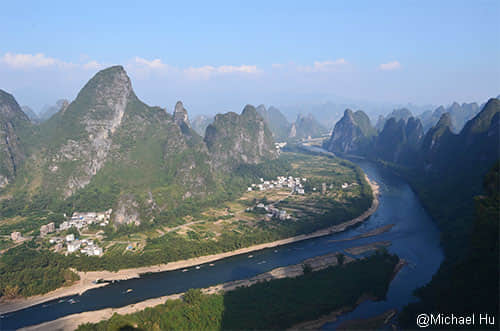 Guilin has comfortable weather in winter
Winter here is generally milder than in the North and Shanghai is much more comfortable than Beijing. It can get below freezing here and it can snow, but neither happen frequently. Humidity is usually higher than in the North which can make the weather feel a little more uncomfortable. Snowfall at famous destinations in Xian and Chengdu convert the fantastic into the spectacular!
Shanghai (55ºF to 23ºF / 13ºC to -5ºC) – Being a coastal city, it rarely snows here but if you get lucky, you'll be in for a real treat as it generally snows about once a decade. Absent a rare snowfall, there's not much reason to specifically make a winter trip here. Not far from Shanghai, towards the west, lies Yellow Mountain (Huang Shan) which is almost guaranteed to have spectacular winter scenery.
Xi'an (54ºF to 25ºF / 12ºC to -4ºC) – Not only does the city itself look majestic, but the nearby Mt. Hua Shan is breathtakingly spectacular in snow. With the added benefit of far fewer people visiting Hua Shan during the winter, this Buddhist temple clad mountain peak turns into the ancient, peaceful, dream-like, even spiritual destination that is has always supposed to be.
Chengdu (61ºF to 37ºF / 16ºC to 3ºC) – The city itself is located in a semi-tropical foothill region of the Himalayans, but in winter, it won't seem so tropical. Snowfall in the city will make the panda exhibits stunning, but if you're unlucky and there's no snow in Chengdu itself, the city is just a couple of hours from proper mountain altitude and all that accompanying snowy beauty. Skiing and other winter recreation activities are also possible here. There are dozens of uber-high peaks and natural parks around Chengdu, but some of the best destinations are as follows: Jiuzhaigou Nature Reserve, Huanglong National Park, Hailuogou Glacier Park, Emei Shan mountain, Xuebao mountain, Gongga Shan mountain, Genyen peak, Siguniang Shan mountain. Many of these peaks are over 6,000 mts (18,000 ft).
Guilin (68ºF to 41ºF / 20ºC to 5ºC) – While this city could be judged to be geographically located in the tropical south, it's just far enough inland to get slightly more extreme winter weather. In fact, the rice terraces around Guilin are some of the best places on the planet to see snow covered rice terraces. The famous Dragon Bone rice terraces (aka, Longji and Longsheng) outside of Guilin (4 hours by train, 6 hours by car/bus northwest of Guangzhou) have had snow before and it's not necessarily an infrequent event. Snow? On a rice terrace? Yep, and the phrase "breathtaking" doesn't quite do it justice and the people back home simply won't believe your photos.
WEST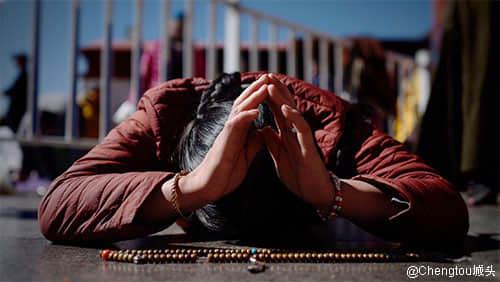 A female Tibetan pilgrim on the road in winter
The sparsely populated, deserty western part of China, which deceptively accounts for almost ½ of China's landmass, is known for its Himalayan peaks and desert basins. The Himalayans reach above 7,000 mtrs (21,000 ft) so they are snowcapped (and rather wintry) year-round, but from late October to early March, heavy snow storms can close roads, airports, and occasionally parts of the rail system. For those who dare to reach this altitude in winter, they'll be rewarded with postcard-like views nearly everywhere. In some areas (like Lhasa), comparatively warm daytime temps can reach a balmy 55ºF/12ºC and in desert areas like Lanzhou, Urumqi, and Kashgar, visitors will have the opportunity (but not the guarantee) to see the strange phenomenon of desert snow.
Lanzhou (48ºF to 12ºF / 9ºC to -11ºC) – While the city of Lanzhou itself is not a huge tourist destination, its province of Gansu has many great desert locations a few hours away with some of the best preserved desert sections of the Great Wall – all of which look arguably better covered in snow. The city is also only 2hours by car from the city of Xining which is the gateway to exploring deeper into the Himalayans and itself a beautiful winter destination.
Urumqi & Kashgar (36ºF to 0ºF / 2ºC to -18ºC) – Both cities are located in the far west province of Xinjiang as well as on the edge of the Taklamakan desert. Urumqi is larger, less touristed city that gives winter travelers a great chance to see a snow-covered desert. Kashgar is the smaller, more charming city of the two and surrounded by some of the most gob-smacking mountain scenery found anywhere on the planet. More calendar-worthy photos can be found in this area than perhaps any other area of the country. Snow may make some of the mountain passes unpassable, but as long as the roads stay open, this is surely one of the most rewarding winter destinations in China.
Lhasa (54ºF to 16ºF / 12ºC to -9ºC) – At 3,500 mts (10,000 ft), the capital of this Tibetan province isn't the highest city (nor capital) in the world but surrounded by unlimited 8,000 mt peaks (24,000 ft) makes Lhasa a year-round wintry destination. Temperatures are not nearly as cold as one would think even in January with winter days regularly reaching into the 50's F (10's C). Once it snows, and it will snow often here, the normally arid and dusty terrain suddenly turns into a magical, frosty Buddhist painting.
TROPICAL SOUTH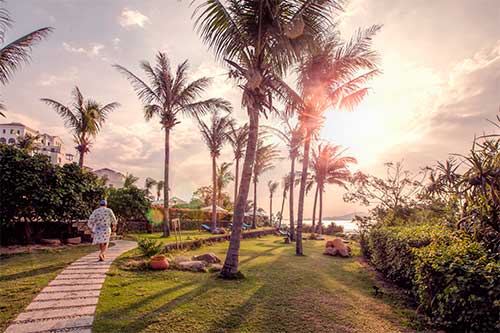 Sunshine in Hainan in Winter
So, just because you travel to China during the winter, doesn't mean everywhere will experience cold temperatures. The two most southern provinces of Hainan (a tropical island) and Yunnan (a tropically, jungly area full of rice terraces) have short, mild winters and depending on the day, laying out on the beach in Hainan's southern city of Sanya can't be ruled out.
Winter down here isn't non-existent. Nights will still occasionally get down into the lower 40's/upper 30's F (around 5ºC) and strong winds can make it feel much colder. So, long pants and long sleeves are still needed. However, winter doesn't really start until around the middle of December and is mostly finished by the middle of February. November and March tend to be quite mild with spring-like conditions.
Guangzhou, Shenzhen, Hong Kong, Macau (70ºF to 50ºF / 22ºC to 11ºC) – Four major cities with populations of near, or over, 10 million each and all located with approximately 1 hour of each other, this region is popularly known as the Pearl River Delta and palm trees abound. Hong Kong and Macau, which are both surrounded on three sides by ocean, maintain a temperate climate all winter, and the less touristed destinations of Guangzhou (aka Canton) and Shenzhen (both located slightly more inland) are nearly as comfortable. Chilly winds combined with +40ºF (5ºC) are perhaps the worst of winter weather down here. It probably won't be warm enough to take a dip, but you won't need a heavy winter coat.
Hainan (78ºF to 62ºF / 27ºC to 17ºC) – Known regionally as "China's Hawaii", this semi-tropical island is loaded with palm and coconut trees and some of the best beaches in the country. Its southernmost, and highly touristed, city of Sanya is the primary destination for the bountiful Chinese and Russian tourists, but there are many other worthwhile places to spend awhile. The water won't be "warm" during winter, but sea temperatures stay around 70ºF (22ºC) from December to March which is perfectly acceptable for many people. Sunny beaches combined with daytime temps that average 75-80ºF (25ºC) throughout winter make this China's best year-round sunbathing spot.
Yunnan (Kunming) (60ºF to 38ºF / 15ºC to 3ºC) – Located about 150 miles (250km) from the border of Vietnam and Lao, Kunming is a green, tropical, even jungly area full of rice terraces and tea plantations. Mild winters make this a warm destination and in fact, winter travel to this area is often preferable to the hot, humid summers.
Winter Food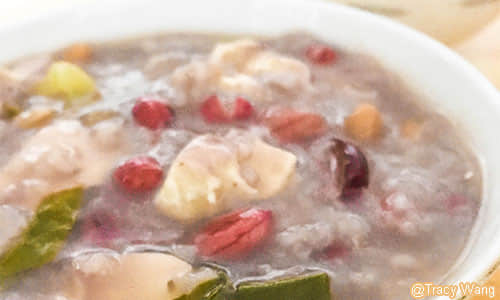 Laba Porridge eaten on the Laba Festival (the eighth day of the twelfth lunar month)
If the cold weather makes you yearn for that warm, satisfying feeling in your belly, many Chinese dishes are prefect for the occasion.
Hot Pot (Huo Guo) - It's hot, filling, healthy, and lip-smacking delicious. If you're enjoying this dish in the province of Sichuan (Chengdu's area), then it'll be extra "hot" … meaning it's served very warm and also very spicy. One serving of Sichuan's hot pot will have you hot, sweaty, and ready to face those winter temps outside. This is a communal dish where a steaming hot meat-based broth is used to cook other meats and vegetables at the table. Regional varieties (such as the Sichuan style aforementioned) change the flavor considerably as different meats are highlighted – lamb and beef in the north, seafood in Canton, pork in the center and east. Some restaurants may offer a vegetarian based broth using mushrooms or tofu.
Barbecue / Roasted Leg of Lamb (Chuanr) - With all due respect to our vegetarian readers, who doesn't love barbecued meat roasted over hot coals? Freshly charred meat is one of the earliest dishes known to humans and it must be tasty because people worldwide still enjoy this classic dish millions of years after it was first "discovered". This is served hot and fresh in China, often on skewers from street stalls which makes this quite affordable and easy to find.
Porridge (Zhou and Ba Bao Zhou) - Plain porridge based on rice (instead of oats) is a common Chinese breakfast. Of course, the Chinese didn't stop here with their porridge recipes. For lunch or dinner, there are Zhou versions which are loaded with meats (like chicken, seafood, pork, etc.) and/or vegetables (like carrots, peas, beans, leaks, onions, mushrooms, etc.) For the last one, look for "Ba Bao Zhou" – loosely translated as "Eight-treasure" porridge. Served nice and warm!
Dumplings (Jiao Zi) - One of the best choices for vegetarians (and meat lovers too), these steaming hot, individual egg-shaped ovals are made from either wheat or rice flour and stuffed with any number of meats or vegetables. It's easy to find vegetable-only dumplings as well as ones mixed with meat, or meat only. Common fillings are lamb, mutton, cabbage, green onion, leeks, radishes, etc. Read more on The Unique Creation of the Chinese Dumpling
Chinese Stew - Here's another classic recipe found world over. Dating back thousands of years, stew recipes (mixing meat, starches, and vegetables together in water and letting the whole thing boil and then simmer for a while) are time honored, filling ways to get the maximum amount of nutrients in a tasty, savory dish. Popular versions of this stew include lotus root and beef ribs, chicken and Chinese cabbage, black soy bean and catfish, and braised mutton with wolfberry.
Winter Celebrations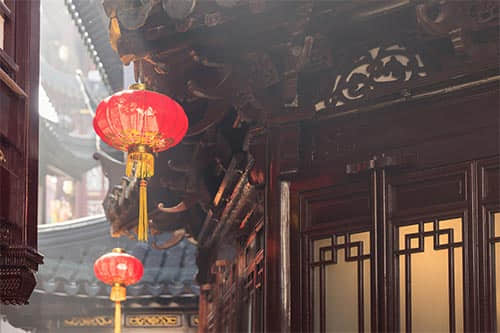 Lanterns were hung in the Yuyuan Garden to celebrate the Spring Festival
The most popular is, of course, Chinese New Year (also called Spring Festival, but don't ask why since it's always held in the winter), which occurs around the end of January to the end of February, depending on that year's lunar calendar. The holiday lasts for around 10 days and most Chinese workers are off during the entire duration, so expect a lot of things to be closed. Essential industries like hotels, most restaurants, etc. will still be open and staffed, but banks and government offices will be either completely closed or operating on reduced hours.
Even for those people lucky enough to live near one of the world's major Chinatowns (ie, San Francisco, New York, Melbourne, Toronto, Vancouver, London, etc), seeing the Chinese New Year celebrated in China is an experience unlike any other. It's lively, original, graceful, and cultural. Seeing the dragon or lion dance alone is worth making the trip. Even beyond the mesmerizing street performances, China is simply much more beautiful during this time. Picturesque red lanterns will be hanging from doorway, lamppost, tree, and street light making their red nighttime glow a spectacular sight to behold. The firework displays from almost any city or town will be as good as most western city's New Year's Eve shows (yes, even medium sized, or small(ish), towns have amazing fireworks), but for a 20-30 minute show that will take your breath away, try the megacities of Beijing, Shanghai, and Hong Kong (but get to the best observation points 4-6 hours early or risk not having a spot). All dances, fireworks, and other street celebrations are completely free and open to the public.
Chinese New Year Festival Caution!
Crowds – including at airports, train stations, and popular tourist destinations like the Great Wall and Forbidden Palace – will be significantly increased during the Chinese New Year festival which occurs around the end of January to the end of February, depending on that year's lunar calendar. Flights and train tickets may be sold out and hotels in rural destinations will be fuller than usual as 100's of millions of workers regularly travel from the cities back home to visit family members who live in the country. If you don't mind braving the mass of people, you'll truly be in for a treat observing so many one-of-a-kind celebrations and traditions that can rarely be found outside of China.
The Harbin Ice Festival, discussed in the section on Harbin, is another exceptionally worthwhile celebration. Some travelers will head to China in winter specifically for this extraordinary, one-of-a-kind event.
Have a question?
OR
Are you eager to begin your Chinese cultural journey?
Drop us a line and we will promptly connect you with our leading China expert!