The Mausoleum of the First Qin Emperor is in a suburb of Xi'an City. It is the tomb of Qinshihuang, the first Emperor of China. His mausoleum is known for its large scale. According to historical records, Qinshihuang started building the mausoleum after his enthronement at the age of 13. The construction lasted 38 years and is of considerable size. The mausoleum has not been excavated yet.
The Mausoleum of the First Qin Emperor was found in 1974 with terra cotta warriors surrounding it.
Discovery history
In 1962, archaeologists drew the first theoretical plans of the mausoleum based on the first investigation of the mausoleum. The monument is estimated to have an area of 56.25 square kilometers, which is 78 times biggers than the Forbidden City.to the surprise of archeologists.
On January 29, 1974, the terra cotta warriors were discovered in the Mausoleum of the First Qin Emperor.
In July, 1974, the first archaeological team entered the mausoleum.
In early 1980, the south wall of the Mausoleum was unearthed. From 1979 to 1982, the tomb passages in the west and north, and five passages in the east were discovered in succession.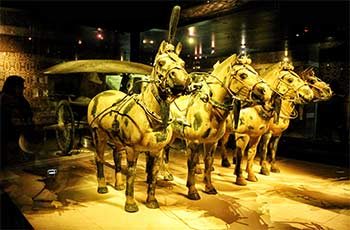 Colored bronze horses and carts
In 1980, two sets of colored bronze horses and carts were discovered in the funeral pit, 20 m away from the mausoleum in the west. The sets are of the largest size with the most complicated structure found in the archaeological history of the 20th Century. The first set has two wheels, one shaft and four horses, with the total weight of 1.061 tonnes. The second set is 317 cm long and 106 cm long, with the total weight of 1.241 tonnes. The sets reproduce the scene where Qinshihuang visited the country in his cart, and was rated as "the most excellent bronze work".

The archaeological mission in the mausoleum (except the terra cotta warriors) was delayed after 1985 and recommenced in March 1995. To widen the road near the mausoleum, six sites composed of constructions in different sizes 130 m away from the mausoleum in the north were cleared.
From 1996 to 1997, a large funeral pit of 13,000 sqm in the southeast between the inner and outer cities were discovered.
In July 1998, the trial excavation in the newly found funeral pit unearthed a large quantity of stone armor, which aroused attention from the society. In October, the joint archaeological team of Shaanxi Provincial Institute of Archaeology and Museum of Terra-cotta Warriors and Horses of Qinshihuang started the planned archaeological protection and excavation mission of mausoleum.
In November 2016, several funeral pits were found in the latest excavation project, with some of the funeral pits covering several thousand square meters.