Welcome to Xi'an
Xi'an (Chinese name: 西安), formerly romanized as Sian, is the capital of Shaanxi Province, located in the northwest of China, in the center of the Guanzhong Plain. As the eastern terminal of the Silk Road and the site of the famous Terracotta Warriors of the Qin Dynasty, the city has won a reputation all over the world. Through more than 3,000 years' history, including over 1,100 years as the capital city of ancient dynasties, the city has been endowed with an amazing historical heritage.
Interesting historical facts about Xi'an:
It was the first of China's four capitals from roughly 200BC to 900AD.
It was the capital through 13 different dynasties.
A Neolithic village, Banpo, discovered outside of Xi'an contains man-made items which carbon date back to 6,500BC, showing the approximate first human inhabitation.
Xi'an served as the eastern terminus of the ancient Silk Road.
Xi'an, Rome, Cairo and Athens share the reputation of being the top four ancient capitals in the world. The development of Xi'an was much slower but it has accelerated in the 21st century. The first subway in Xi'an was opened in 2011, making Xi'an the ninth city with an underground rail system in China. The city of Xi'an has re-emerged as an important cultural, industrial and educational center of the central-northwest region and as the leading city of China's Western Development Drive Program since the 1990s. Visitors marvel at the many historical sites, all with modern and convenient facilities.
Xi'an Facts
English Name: Xi'an
Chinese name: 西安 Xī ān
Location: Northwest China
Population (city): 9 M
Language: Mandarin
Zip code: 710000
Tel code: +86 (029)
Time zone: China standard (UTC+8)
International Airports: Xi'an Xianyang International Airport (XIY)
Railway Stations: Xi'an Railway Station, South Railway Station, North Railway Station
The Best Time to Visit Xi'an
Spring (March to May) and autumn (September to November) are the best seasons to visit Xi'an. The temperature is mild and comfortable, and good for outdoor activities such as riding a bike on top of the ancient city wall or going to the top of HuaShan mountain (Mount Hua). Summer can be quite hot, and winter is close to freezing. All of Xi'an 's museums, such as the Terracotta Warriors museum, are good places to visit year-round since they are indoors.

Xi'an City
Top Things to do
Must-Sees
The Terracotta Warriors and Horse Museum – this is why you come to visit Xi'an! Qingshihuang Ying Zheng was one of the most ambitious and aggressive emperors in the history of China. He conquered others and wanted to continue to defend what he had gained after his death, so he was buried with soldiers and war horses. The current exhibits in the museum are only the tip of the iceberg. As new terracotta armies are being discovered year by year, no one has been able to predict just how many warriors and horses are still beneath the soil.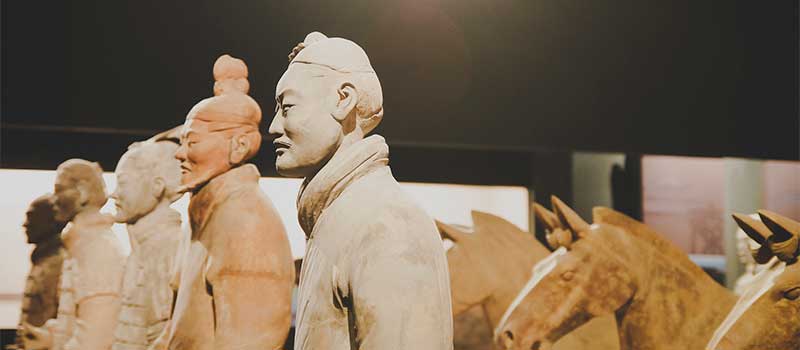 The majority of the terra-cotta are archers, infantrymen and charioteers
Mount Hua – Mount Hua is 120 kilometers to the east of Xi'an. It is one of the Five Sacred Mountains in China, along with Mount Tai in Shandong, Mount Heng in Shanxi, Mount Song in Henan and Mount Heng in Hunan, all of which are part of a Taoism holy land which was worshipped by emperors of past dynasties. The mountain is renowned for its natural vista of steep and narrow pathways, precipitous crags and a high mountain range.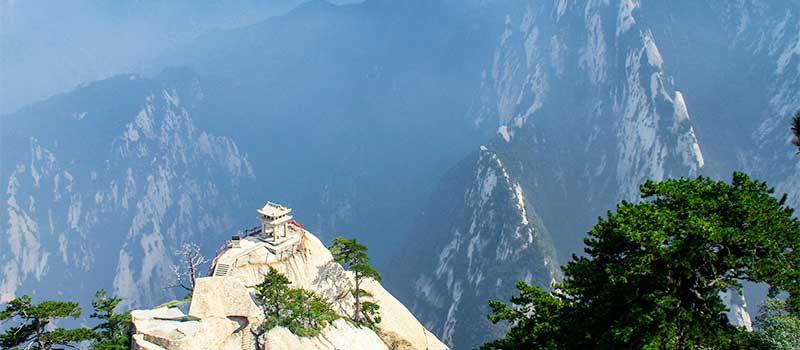 Mt. Huashan is famous for its breath-taking cliffs and its unique characteristics
Top 6 things to do besides the Terracotta Warriors and HuaShan mountain
Just taking pictures of the ancient city walls, taking the cable car to the top of HuaShan, and standing mouth-agaped at the Terracotta Warriors are certainly the most famous things to do in Xi'an, but Xi'an offers much, much more.
1. Ancient Tombs
The Terracotta Warriors aren't the only ancient tombs excavated around Xi'an . There are at least a ½ dozen more museums that show the on-site, open tombs of famous ancient Chinese emperors, leaders, and warriors. These aren't just rooms showing artifacts. These are the actual excavation sites with a roof over top – and often with real archeologists working right in front of you.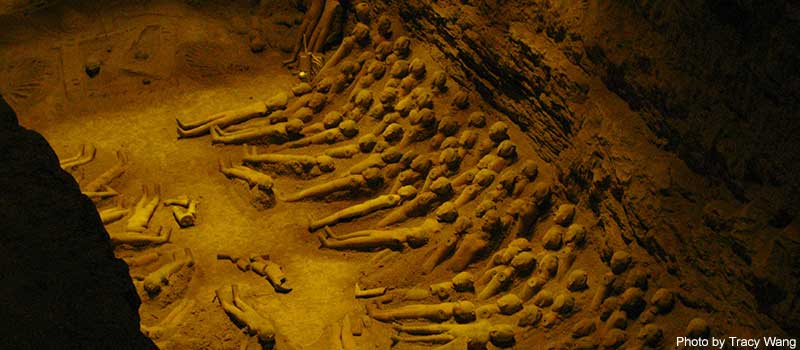 Han Yang Ling Museum: Protection Hall of Burial Pit
2. Riding a Bike atop the Ancient City Walls
Unlike so many places in the world which take a "hands-off", "do-not-touch" approach to ancient relics (a wise policy in nearly every case), the thick, ancient stone walls encircling the center of Xi'an are actually open to the public! Anyone can either walk, jog, or even take their bikes around the top the 8 mile (14km) city wall. At 40ft (12m) high, the view of the surrounding area is breathtaking. Bikes can be rented for a nominal fee.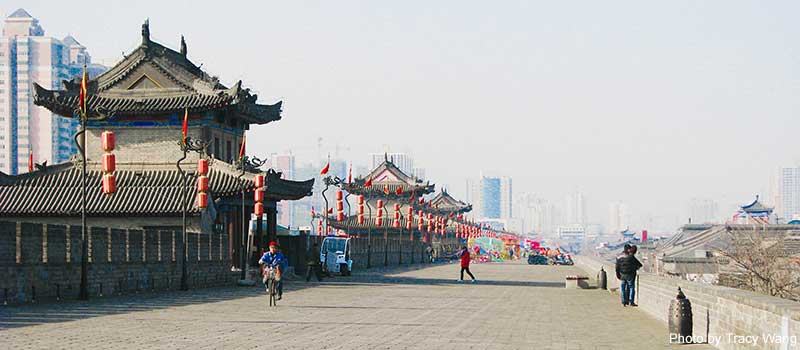 The fortifications of Xi'an
3. Taste Xi'an Cuisine
Being so old and located at the terminus of the ancient silk road means that Xi'an has been at the crossroads of different cultures for literally 1,000s of years. This makes their cuisine unique from the rest of China. For those not familiar with Chinese cuisine, Xi'an 's flavor more resembles that of middle-eastern food than what people would expect from a visit to Hong Kong – more bread-type dishes with more "exotic" spices such as cumin, mint, and cardamom. Yet, it's not middle eastern at all, but a mouth-watering fusion of Western Asia meets Eastern Asia. For this writer, it's some of the best cuisine China has to offer.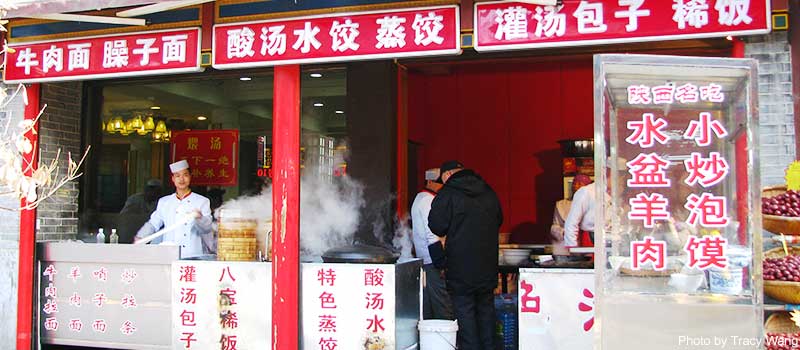 4. Shadow Puppet Theater
Nearly guaranteed to put a smile on the face of the young and old alike, Shadow Puppet theater is one of the most unique, ancient Chinese art forms and you'll be hard-pressed to find shadow puppet theater outside of China. Colorful, translucent stick-like puppets are held between a thin white screen and a strong light source, casting their colored shadows onto the screen. Voices and ancient Chinese musical instruments like slide-whistles and symbols combine to carry the story forward. Xi 'an is the birthplace of Shadow Puppets in China and there are ample local theaters which have nightly performances.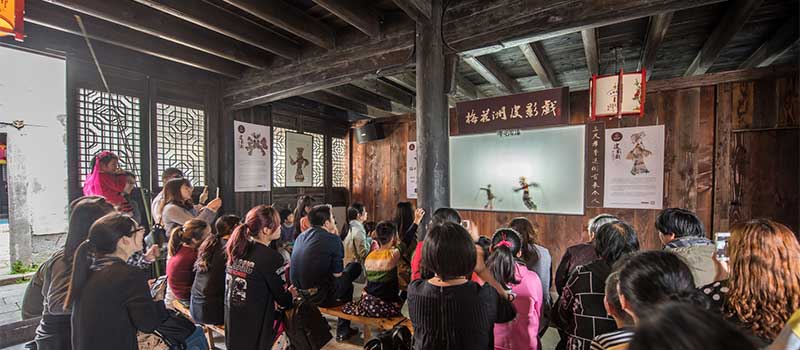 Xi'an Shadow Puppet Show (Piying Show or Piying Xi)
5. The Muslim Quarter and the Great Mosque
Outside of the mostly Muslim far-west province of Xinjiang, there are limited opportunities to see Chinese Muslim culture and Xi'an is one of the best. The Muslim quarter is a wonderfully preserved labyrinth of streets dating back several hundred years. The architecture itself is impressive, but many visitors will be even more enthralled with the area's cultural uniqueness. Nearby is one of the largest, oldest, and most impressive mosques in the country – the Great Mosque.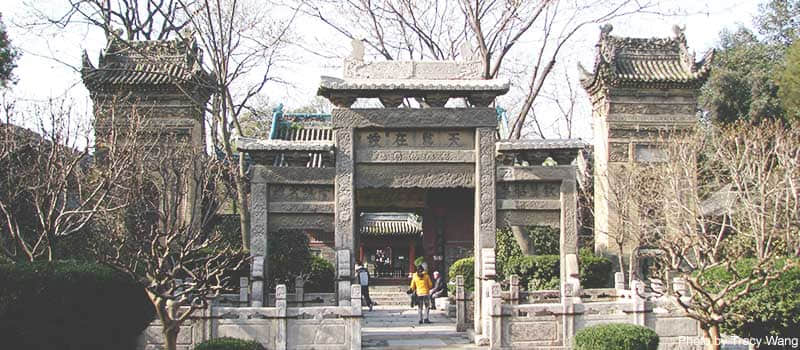 Xi'an Great Mosque is the best-preserved Islamic mosques in China
6. The Bell Tower and Drum Tower
For a jaw-dropping experience that will last decades after your China trip, remember these 3 words – go .. at .. night. While the daytime versions of these sites are certainly worthwhile, they are simply spectacular at night! These are ancient styled, 10-story high, stone and wood towers built inside separate traffic round-a-bouts, separating them from any other building by at least 100 yards/meters. At night, they are illuminated in bright red, yellow, and white making them an absolute must-see for photographers and lovers of ancient Chinese architecture alike. Visitors are allowed to the upstairs mini-museums for a small fee and a combined ticket is sold to enter both towers. The rooms showcase ancient furniture, musical instruments, and other relics of Xi'an 's storied past. And the view from the top? Oh yeah, that's an added bonus.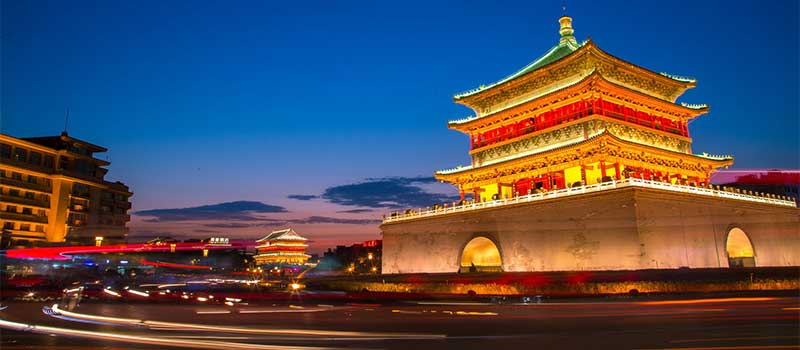 The Bell Tower and Drum Tower are famous landmarks in Xi'an
Our Xi'an Trips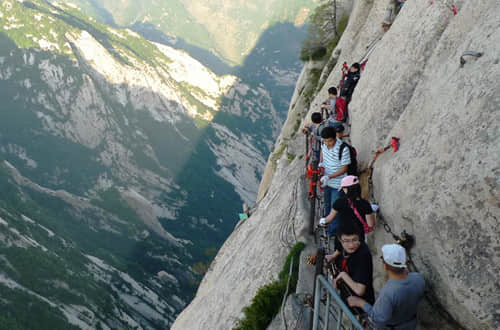 Discover Terracotta Warriors and Mount Hua with Local Experts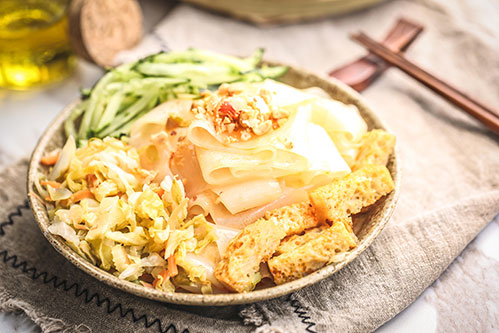 Xi'an Food Adventure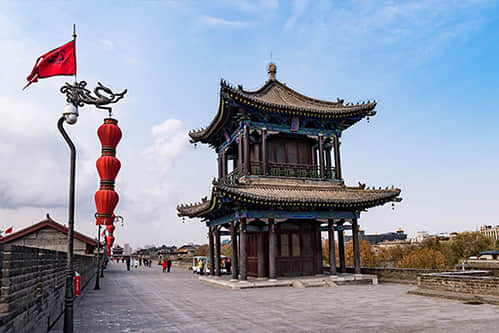 Xi'an Highlight Tour from Beijing
Xi'an Transportation
Transportation Within Xi'an
Taxi
Taxis are plentiful, efficient, affordable, and safe in Xi'an (as well as in most of the China) The base rate is 8-9 RMB, depending on the type of car, and then 1.9 RMB for every kilometer. A night subsidy is charged from 23:00 to 6:00. All taxis have easily displayed meters and usually the drivers are very good about using them. If you do get in a taxi and the meter (with bright red LED numbers) is not turned on within the first few seconds of the trip (again, very rare), just point to it and the driver will turn it on.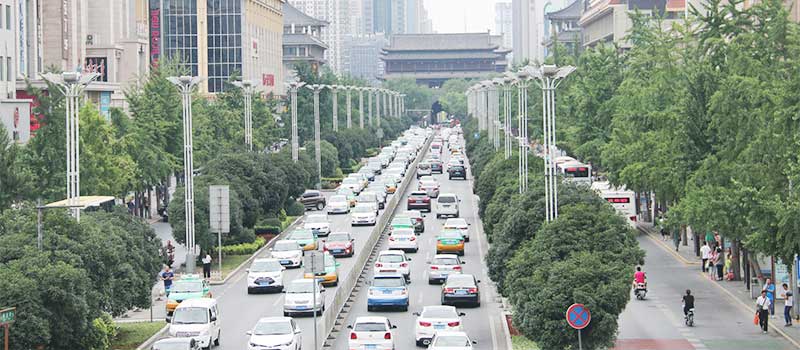 The road traffic in Xi'an is very convenient
Tip: If you're traveling in summer and the driver has the windows down and the AC off (which is more common than you may think), if you'd really like for it to be on, you can usually communicate this wish by pointing in the area of the AC control and then waving your hand back and forth in front of your face indicating that you're hot. However, since most distances are fairly short and the ride will be over in 5-15min, it may not be enough time for the car to cool down. So, before you get in a taxi on a hot day, just make sure the windows are UP and check to make sure the car is cool as soon as you open the door – or be prepared to sweat. During the day, don't be afraid to pass on a taxi, even if you stopped it, as the driver will easily find another passenger.
A great way to hail taxi's now is through a taxi-hailing app. The most popular, and arguably best one, is the Apple backed app "Didi Chuxing", simply called "Didi".
Subway
The subway is the fastest, nicest, coolest, and the most convenient way to move around Xi'an . Modern, climate-controlled trains whisk you around the city quickly efficiently, and best of all, very affordably. While taxis are affordable by western standards, you'd need to take several subway trips before equaling the cost of just one taxi ride. True, you'll need to walk a little to get to your final destination, but Xi'an 's subway system has stops at most major (and even minor) popular destinations – and traffic is never an issue.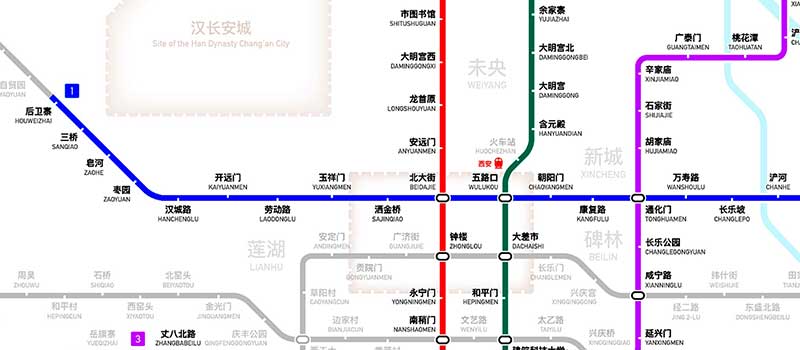 Click here to enlarge Xi'an Subway Map
Notes and Tips:
Taking the subway, even at night, is extremely safe. All stations are well lit and have security guards. Westerns who are used to doggy, dingy, or poorly lit subways with no security are in for a treat. China's subways are the complete opposite.
Subway maps, found inside the trains and all over the stations, use both Chinese characters and their Pinyin counterparts (Pinyin is Chinese written using the Roman alphabet). For those not familiar with riding subways, the following is important: before boarding a train, find your destination on a map and then look at the FINAL DESINTATION going in that direction. The name of the final destination is important in order to find which train you need.
Here are some of the more popular attractions and their corresponding subway lines :
» Line 1: Yongxingfang, Xi'an City Wall
» Line 2: Daming Palace Site Park, Bell and Drum Tower, Huimin Street, Small Wild Goose Pagoda, Shaanxi History Museum
» Line 4: Daming Palace Site Park, Xi'an Railway Station, Yongxingfang, Xi'an City Wall, Big Wild Goose Pagoda
Bus
• Buses are as cheap as the subway (usually only 1-2 RMB)
• China is famous for having very comprehensive bus systems covering nearly every corner of every city meaning you won't have to walk very far once getting off.
• Buses come frequently with popular lines arriving possibly every minute during rush hour, but rarely longer than every 10 minutes.
• Buses are modern and usually based on Japanese or German designs.
• Some buses even use hybrid engines making them better for the environment.
• During summer, they always have the AC on.
Transportation to Xi'an
How Far is Xi'an from Major Cities
| | | | |
| --- | --- | --- | --- |
| Cities | Distance to Xi'an (km) | By Air to Xi'an | By High-Speed Railway to Xi'an |
| Beijing | 1120 | 2hrs 10m | 4.5hrs |
| Shanghai | 1509 | 2hrs 40m | 7hrs |
| Guangzhou | 2176 | 2hrs 45m | 9hrs |
| Shenzhen | 2172 | 2hrs 50m | 9hrs |
| Hong Kong | 2160 | 3hrs | Transfer from Shenzhen or Guangzhou, about 12 hours |
| Hangzhou | 1444 | 2.5hrs | 6hrs |
| Nanjing | 1208 | 2hrs | 5hrs |
| Zhangjiajie | 1052 | 1.5hrs | No direct High-Speed train. Traditional train about 15 hours |
| Chengdu | 842 | 1.5hrs | 4hrs |
| Lhasa | 2864 | 3hrs | No direct High-Speed train. Traditional train about 33 hours |
| Luoyang | 387 | No direct flight | 1.5hrs |
Top Xi'an Food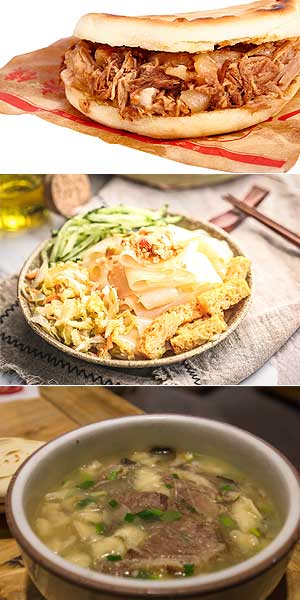 Xi 'an snacks
Shaanxi Sandwich (Roujiamo)
"Roujiamo" means putting meat between two baked pancakes. The meat can be mutton or beef, but it can never be pork, because many people in Xi'an are Muslims. The baked pancakes are a little bit tough as people like to chew to fully enjoy the flavor. The meat is well stewed with rich-flavored sauce, which is made with over 30 condiments.
Cold Noodles (Liangmian)
The cold noodles in Xi'an are soft, smooth and elastic. Normally cold noodles are a mixture of noodles, wheat gluten, cucumber and pepper sauce. Wheat gluten is the most appetizing ingredient in noodles, so that noodles with more wheat gluten are more expensive. During the Qing Dynasty, a merchant made cold noodles for the Emperor in Beijing. The Emperor liked the noodles very much and so awarded the noodles the title of Royal Noodles.
Crumbled Flatbread in Mutton Stew (Yangroupaomo)
"Yangrou Paomo", crumbled flatbread soaked in mutton stew, is the most popular nutritious meal throughout northwestern China, especially in Shaanxi Province. The mutton stew is highly seasoned with over 13 flavorings imported from western Asia. When it is cold in winter, this will surely warm you up. Both the Lao Sun Jia and Tong Sheng Xiang restaurants strongly recommended laces for visitors to try this.
See more about Xi'an Food
Xi'an Restaurants
Xi'an Fanzhuang
The almost 100-year old restaurant is your first choice for dining in Xi'an. It serves all kinds of famous Shaanxi snacks and noodles. The must-try dish is Gourd-Shaped Chicken.
Grandmother's Impression
The Grandmother's Impression is located on the Xiwu Road. Fried Pork, Beef and Fish are the most frequently ordered dishes in the restaurant. Their juices and desserts are also very popular. It is one of the most popular dining places for locals and visitors as the food is delicious and it is inexpensive.
Muslim Street
Every local in Xi'an loves the delicacies available along Muslim Street. There are over 300 different kinds of snacks on the street. Most of the foods on the street are prepared by the Muslims, such as roasted mutton and beef, noodles, dumplings and pastries.
Read more about 6 Xi'an Restaurant Recommendations.
Shopping in Xi'an
Top Items to take back Home
After enjoying the professionals of Xi'an preparing your meals, you may want to try and recreate some of the dishes, or beverages, back home, and you may also want to take an interesting and authentic piece of Xi'an (or China) with you. Here are a few items to consider.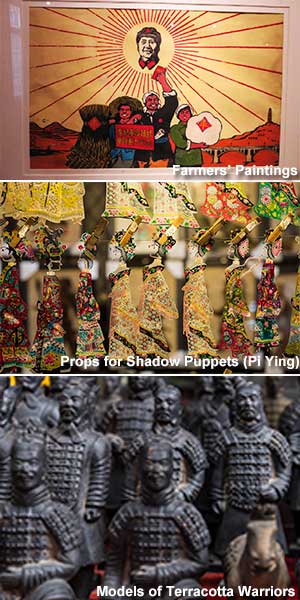 Souvenirs in Xi'an
Farmers' Paintings
The most renowned Farmers Paintings in Xi'an are from Hu County. The farmers there express their wish for a bumper harvest by painting scenes of a farmer working in his field, happy children playing, or satisfied diners sitting around a table. Anything that can make someone happy may appear as a theme in their paintings.
Props for Shadow Puppets (Pi Ying)
After seeing one of the (highly recommended) Shadow Puppet Theater shows, visitors often want to take part of the show back home with them. Especially for children, setting up their own home puppet show is not only a novel way for them to spend time, but teaches them about another cultural art form and you're practically guaranteed to be the only house in the neighborhood (or even county) that has authentic Chinese Shadow Puppets. They're lightweight, thin, and excellent for packing. Even if you're not interesting in making a home shadow puppet theater, the puppets themselves make excellent gifts for kids (aged 5-12).
Models of Terracotta Warriors
Sure, this may seem tacky and touristy to some, but a good clay recreation of the famous Terracotta Warriors that was actually made and purchased in Xi'an can make interesting and attractive talking pieces back home. For those who love these warriors, it's much more authentic to pick one up in Xi'an than ordering one online.
Red Chili Oil (you po la zi)
This is the most popular noodle sauce in Xi'an . Qin pepper ground chili powder, peanuts, and other spices are mixed and then added to an oil base to get a rich, savory, slightly spicy cooking oil that can be added to meat as it's frying or made into a sauce. It adds another layer of savory goodness to any dish and can easily be used even with non-Asian dishes. Versions of this oil can generally be found in Asian markets all over the west but buying a bottle in Xi'an will be easier and faster for most than searching all over the city for one of a few places that might sell it. Plus, you get a nice memory from Xi'an every time you use it. Makes a great gift for the culinary gifted.
The steamed bun baked by heated rocks (Shi Zi Mo)
These are steamed and baked buns that follow an ancient recipe and cooking method. The bins are baked on top of heated stones that impart a unique flavor and they can be stored for a long time. In fact, people used to make Shi Zi Mo to take on long trips. After you get home, heat them in the oven before eating.
Top Places for Shopping
Shuyuanmen Pedestrian St. Chinese Visual Art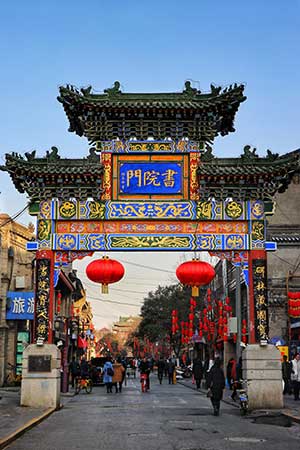 Shuyuanmen 书院门
A mass of shops that sell calligraphy, painting, and traditional Chinese stationery in Ming and Qing style. Visitors can find original and reproductions here. If you're interested in Chinese calligraphy, painting, and other visual-forms of Chinese art, this is a good place to find a large selection. Located right outside the North Gate.
Address: Shulin Gate, Beilin District
BaXi'an Antique Market
If you are interested in Chinese antiques and odd, old things, this is a good place to go. It will give many visitors the impression of being a flea market and can be as interesting of an experiencing coming just to look around as it is to shop. The market is known for selling both real and fake items to head caution before making any large purchases. As a general rule of thumb, if you're very familiar with the type of item you're buying and you feel comfortable spotting a fake, then spending a lot of a real antique here could be a fantastic buying opportunity. However, for those not as familiar with what they're buying, it's probably best to avoid believing tall tales regarding the authenticity of many items. Bargain hard here. Located near the East Gate, outside of the wall.
Address: No. 12, North Fire Lane, Changlefang, Beilin District
Luo Ma Walking Street
If you're looking for a typical, Xi'an pedestrian street where locals shop daily, this is a good one. It has a market atmosphere and allows you to shop right along side regular locals going about their day. There are even bustling underground malls and numerous food stalls. Located near the Bell Tower inside the wall.
Address: East Street (near Minsheng Department Store)
Nightlife in Xi'an
Defu Lane
Like the Sanlitun in Beijing and Xintiandi in Shanghai, Defu Lane is a bar street in Xi'an. The lane was part of the royal city in Tang Dynasty. There were lots of old houses in Defu Lane, and in 1993 the government redeveloped the lane to become a cultural street. From that time on more and more bars emerged.
Once Lost Here
This restaurant is located near the college city and so many students spend their evenings here. The bar is a very relaxing place to be. For those who have all but forgotten their college days, it is a great place to revive those memories.
Moon Key Bar
This Rock and Roll bar is a wonderful place for those who are still young at heart to relieve their stress and melancholy while rocking to some loud music.
Tempo Bar
This is a Jazz bar. At the bar customers can stand up and sing the songs themselves accompanied by brilliant musicians whose repertoire includes every song their customers want to sing. The excellent sound quality and light effects add to the ambience of the venue.
Recommended Hotels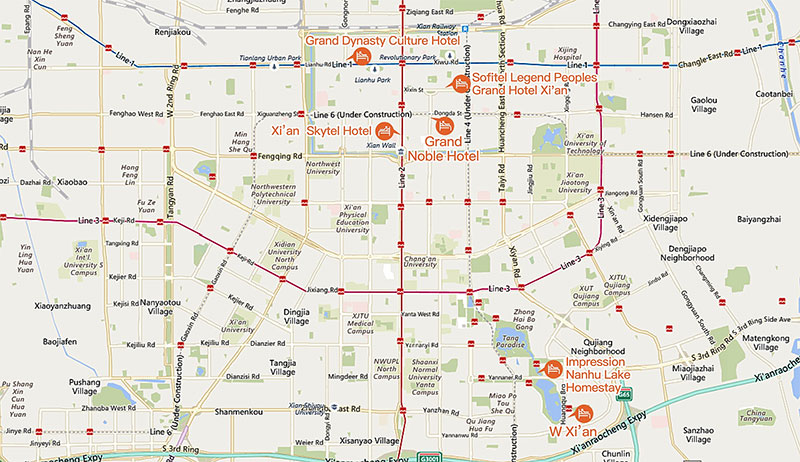 The location of the recommended hotels in Xi'an
W Xi'an - Fashionable Deluxe
Resembling a blue pyramid at night, and a scene out of the movie "Blade Runner", this is a sleek, cosmopolitan, uber-modern architectural marvel. The interior is full of art and their facilities are luxurious and avant-garde. In China, the "W Hotel" is a national chain and this location is their largest.
Address: No. 333, Qujiang Chi East Road, Qujiang New District
Sofitel Legend Peoples Grand Hotel Xi'an - Elegant Deluxe
A stately looking building resembling the architecture found in the British empire, it's actually a blend of French and Sino-Russian inspiration. The building isn't as old as it looks, dating back only to 1953 when it opened as a state guesthouse. Countless important figures have stayed here over those years and today the inside has been beautifully renovated making spacious rooms with lofty ceilings, elegant molding, and art deco features.
Located inside the city walls and within walking distance of the historic Bell and Drum towers, this is one of the best located options in the city for its level of comfort.
Address: No.319 Dongxin Street, Xincheng District
Grand Noble Hotel - Business Comfortable
While this hotel doesn't boast the architectural pleasure of other hotels in its category, it's still a fantastic option and online discounts (which can be around $50 USD/night) can often be found making it an excellent value and exceedingly affordable. It's luxurious inside with rooms full of amenities. Even for those travelers who don't often stay in such luxury accommodations, this might be a nice time for an affordable splurge.
Also located inside the city wall, it makes it wonderfully convenient (only slightly further away from the Muslim Quarter than the Sofitel Legend). The Bell Tower and Forest of Stone Steles Museum is only a 10-minute walk.
Address: No. 334, East Main Street, Beilin District
Impression Nanhu Lake Homestay - Ancient-style Comfortable
Don't let the word "homestay" in the name fool you – this is not a homestay at all. This is a unique, boutique style hotel that's a refreshing change from the more boxy, large hotels. Everything is on one single floor here and all rooms are located around a pleasant courtyard. This hotel retains the quaint architectural style of a Guanzhong residence, with a Ming architectural style and an oriental charm. Impression Nanhu features comfortable, welcoming rooms all designed slightly differently in a classic Chinese style, and come fully equipped with all amenities. Worth a look for those seeking a more unique Xi'an experience.
Located only about 3 miles (5 km) from the South Gate, in a quiet, pleasant area of the city, next to Furong Lake and Qujiang Pool (not a swimming pool).
Address: No.7 Courtyard, Fenghuangchi Commercial Area, Qujiang Chibei Road, Yanta District
Grand Dynasty Culture Hotel - Perfect location Comfortable
A straightforward, simple design houses nice, comfortable rooms at affordable prices. Online deals can also make this hotel a good value. It has all the amenities of a 4-star hotel with indoor pool and well-equipped rooms. It's not as luxurious as other options on this list but should be more than adequately comfortable and pleasant for most travelers.
Super conveniently located inside the wall, just 1 minute from the upper West Gate, making it a 5-minute walk (or less) from the Muslim Quarter.
Address: No.172, Lianhu Road, Lianhu District, Xi'an , Shaanxi Province 710002
Xi'an Skytel Hotel - Meeting Comfortable
A slightly newer option, the Skytel is simple, modern, and comfortable. It offers basic amenities and makes for a very affordable, conveniently located option. The simple and bright rooms are equipped with central air conditioning, large LCD TV, Bailan mattress (softer, with more cushion than many mattresses found in Chinese hotels), and high speed wifi.
Located inside the wall just a minute or so from the South Gate and several minutes from the Bell tower.
Address: No. 32, South Street, Beilin District
(Note: this hotel has scheduled renovation work starting in September, 2019)
Check Out our Xi'an Travel Guide PDF eBook - Free Download