Xiaoyan Temple is a Buddhist heritage construction situated in Jianfu Temple. It was built in the Tang Dynasty, and has witnessed over 70 earthquakes in a history of over 1200 years. Thirteen stories out of its originally fifteen are preserved until today.
Quick Facts
Chinese name: 小雁塔 Xiǎo Yàn Tǎ
Duration: One-two hours
Entrance fee: Free
Opening hours: 9:00—16:00 (Closed on Tuesdays)
Best time to visit: All year round
How to get there: Bus 21 and 402
Which is better: Small or Big Wild Goose Pagoda?
The two Wild Goose Pagodas are both in Xi'an and near to each other. They share similar shapes but different scales, with Big Wild Goose Pagoda being larger.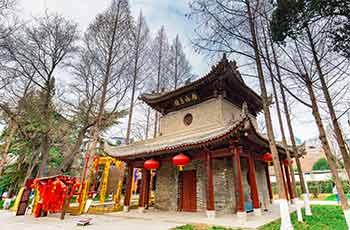 morning ring of the Small Wild Goose Pagoda
If you are interested in pagodas, temples or Buddhism and like to visit historic sites, then the Big Wild Goose Pagoda is recommended.
On the other hand, if you prefer a quiet environment, then the Small Wild Goose Pagoda with fewer tourists is a better choice. You can also visit Xi'an Museum, which is near Small Wild Goose Pagoda.
In the Qing Dynasty, the bell in the Small Wild Goose Pagoda rang every morning, which was famously known as "morning ring of the Small Wild Goose Pagoda". Nowadays, the bell rings on every New Year's Day and people are blessed here.
Xi'an Museum is also in the Jianfu Temple. You can learn about the history and development of Xi'an as a capital city by visiting the Exhibition "Ancient Capital Xi'an". The "City Models" of Xi'an from the Zhou Dynasty to the Qing Dynasty indicate the scale, layout and living scenes of different dynasties.
In addition, there are exhibitions of Buddhist statue art, ancient calligraphy and painting, jade articles, etc.