It is a very important thing for people to eat not only for survival but for enjoyment. Snacks inherit the local culture, and leave an indelible mark on people's daily lives, the unique cooking styles deeply buried in people's hearts. 'To retain the heart of the visitor, first keep his stomach', is especially believed in the 'legendary paradise' Shangri-La. You can have delicious snacks and watch beautiful scenery at the same time.
1. Dukezhong Ancient Town Snack Street
This memorable snack street is located in the ancient city of Dukezong. The storefront style is historical, and most of the Shangri-La stalls are here. Situated in the ancient city, they become part of the ancient city culture. These delicious foods that have been passed down for generations attract thousands of people every day to take a bite of the local snacks.
Recommended shops: Yintong Convenience Kitchen, Shunshun Snacks, Yabu Kitchen
Address: 127 Dalalang, Shangri-La
Transportation: take bus no.1 to the Prefecture Government stop and walk 692 meters; take bus no.1 or no.3 to Zhaohu 23 Stop, then walk 154 meters
Nearby Attractions: Dukezong Ancient Town, Baiji Temple, Martyr Memorial Park
2. Moonlight Square Snack Street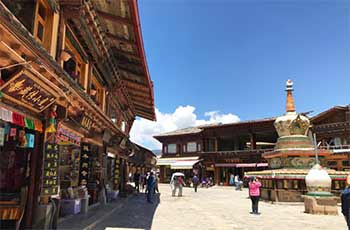 Moonlight Square Snack Street is the gathering place for 'brand name stores', and the restaurants in the street are relatively fancy. Although the price is expensive, the most important thing is that the dishes are delicious and good value for money. Besides the food stalls, there are also many restaurants for foodies who want to sit in. At night, it is very lively and busy.
Recommended shops: Tibetan Shangri-La Travelers Posthouse
Address: 16 Cangfang Lane, Shangri-La
Transportation: Take bus no.1 to Prefecture Hospital, then walk 100 meters; take bus no.3 to Zhaohu 23 stop, walk 690 meters; take bus no.6 to Zhaohu 7 stop, then walk 1400 meters.
Nearby Attractions: Moonlight Square, Turtle Hill Park, Turtle Hill Temple, Zhongdian Tibetan Classical Court.
3. Sun, Moon and Star Snack Street
The area where the snack street is located is at the core of the Shangri-La It has a strong commercial atmosphere and a large number of customers. Most of the snack bars here have their own special shops. It is a modern snack street and the most popular one. It was believed that it would become the characteristic commercial snack street represented by Shangri-La in the future.
Recommended shops: Night Snail Grills, Original Wood Grill Fish, Dai Barbecue
Address: 200 meters from the intersection of Xiangbala Road and Renan Road, Shangri-La
Transportation: Take bus no.1 to Zhaohu 15 stop, then walk 320 meters; take bus no.6 to Zhaohu 8 stop, then walk 800 meters
Nearby Attractions: Tiny Turtle Hill, Longtan Lake Park