Baofeng Lake is one of the first batch of World Natural Heritage listed sites, a Global Geopark, a national AAAAA (top rate) tourist area, and part of the Wulingyuan scenic area of Zhangjiajie, Hunan Province. The landform it exhibits is exclusive to Zhangjiajie and the lake scenery serves to connect the natural landscape with the folk culture.
The classic lake is located in the core area of Wulingyuan scenic area, Zhangjiajie. It is clear how the scenic area combines the natural landscape and folk culture when you see the lake over the high gorge and the towering waterfall, as well as the mysterious ancient temples deep in the mountain area.
Quick Facts
Chinese Name: 宝峰湖 Bǎofēng hú
Duration: 2-3 hours
Entrance fee: RMB 96 + RMB 2 (insurance premium)
Opening hours: between April and November, 7:00-18:00 (peak season) and November to March, 7:30-17:00 (off season)
Address: Baofeng Road, Wulingyuan District, Zhangjiajie City, Hunan Province, China
Best time to visit: April, May, August and September
How to get there: Take a coach from the urban coach station of Zhangjiajie and reach Wulingyuan District in about 40 minutes. Then hire a taxi from Wulingyuan District to Baofeng Lake in 10 minutes. Or tourists can take the bus No. 2 from Wulingyuan District to Baofeng Lake.
Highlights of Baofeng Lake
Baofeng Lake is a triumph for both man and nature. In the 1970s, villagers decided to build a dam for hydroelectric power. The beautiful scenic lake is the by-product of that construction. it is sitting right in front of Baofeng Mountain, and is therefore named after it. The park is made up of Baofeng Lake and Eagle's Nest Stronghold. Baofeng Lake, Baofeng Waterfall, Eagle's Nest and Strip of the Sky are the four best parts of Wulingyuan Scenic Area. The green lake over a high gorge is beautifully surrounded by green mountains.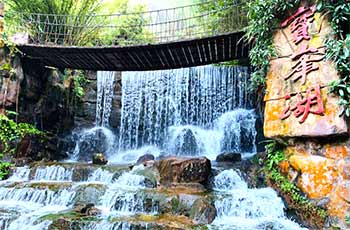 Baofeng Waterfall
1. Baofeng Waterfall
40 meters to the left of Baofeng Bridge, there is the waterfall. After a short travel, the water gets included in a pool surround by iron chains. There are actually two pools overlapping each other and they are surrounded by green bamboo and trees with red blossoms. The reflection of nature is really like a painting. Calligrapher Shen Peng, on his tour in Baofeng Lake, carved "Falling Water Over the Boundary Mountain" over the cliff. The tiny waterfall upon the manual work has been widened into a grand fall.
2. Eagle's Nest Stronghold
Hundreds of steps lead to the tiny path between the cracked peaks. The parapets of an ancient city wall are set at the entrance. The old temple far away welcomes numerous religious pilgrims. The path along the cliff leads to a stronghold that used to be the home to bandits in the old times. The location is like where an eagle would perch. So, it is called Eagle's Nest Stronghold.