Briefing about Zhangjiajie (张家界)
Located in the northwest of Hunan Province, Zhangjiajie has been known to western countries since 2010 due to the movie Avatar. It consists of two districts, Yongding District (the city downtown) and Wulingyuan District (the scenic area). Tianmen Mountain in Yongding District and Zhangjiajie National Forest Park in Wulingyuan District are the two must-sees for visitors. It has the largest quartz sandstone landform of nearly 400 square kilometers, which makes it a paradise for photographers from home and abroad.
4-Day Zhangjiajie Weather Forecast

| | Day | Night | Description | Temperature |
| --- | --- | --- | --- | --- |
The Best Time to Go
Located in mid-subtropical zone, Zhangjiajie has four distinct seasons: a comfortable spring and autumn, a rainy summer and a cold winter.
The best time to visit Zhangjiajie is in September and October when the temperature is the most comfortable.
During the raining season, from April to June, it rains a lot and photo taking can be difficult because it is quite misty.
It's hot and crowded in July and August, and so it is not recommended for you to come then.
Winter is very chilly but it is best time to come if you want to avoid crowds.
Jan
Feb
Mar
Apr
May
Jun
Jul
Aug
Sep
Oct
Nov
Dec
Mean Maximum Temperature
°C
8
10
15
21
26
30
33
33
28
23
16
11
ºF
47
49
58
70
79
86
91
91
82
73
62
51
Mean Minimum Temperature
°C
-1
1
6
12
18
22
25
25
19
13
7
2
ºF
31
35
43
54
64
71
77
76
67
56
45
35
Rainfall Amount
mm
34
57
92
134
151
212
151
132
84
89
58
28
Days with Rain*
days
8
10
13
14
13
12
11
9
9
10
9
7
* denotes number of days with at least 1.0 mm of rainfall
What to See
Zhangjiajie National Forest Park, along with Tianzi Mountain Nature Reserve and Suoxi Valley Natural Resource Reserve, are the major sites of the Wulingyuan Scenic and Historic Interest Area, listed in UNESCO World Heritage Site in 1992.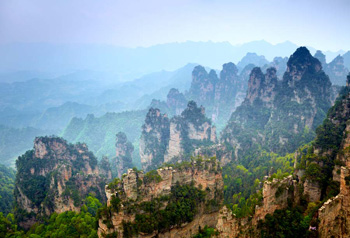 The Hallelujah Mountain in Avatar was inspired by the Heavenly Pillar at the Yuanjiajie area in the Park. The Heavenly Pillar was re-named as Hallelujah Mountain and has been admired by hundreds of tourists from all over the world since then.
Golden Whip Stream is the best choice for hikers to explore the old forest.
Yangjiajie, the newly-developed section, is famed for the narrow and towering natural walls of rock.
Tianzi Mountain, north of Wulingyuan Scenic Area, is the most picturesque area with its pointed peaks.
Tianmen Mountain, 8KM from city center, is famous for a having naturally shaped cave going through the mountain. The longest cable car in the world could take you from the city to the top of the mountain.
Recommended Tour of Zhangjiajie Essentials (4 Days)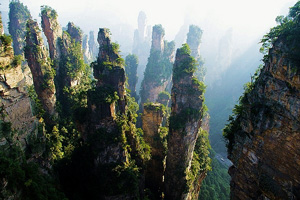 Day 1 Zhangjiajie Arrival
Upon arrival at Zhangjiajie Hehua International Airport or the train station, your personal tour guide will be waiting for you outside of the luggage claim area. You will be transferred straight to your hotel for a good rest.
Day 2 Explore the Forest Park (B,L)
An early start is recommended to avoid big crowds. Your first stop is Wulingyuan Scenic area. You will take a cable car up to Tianzi Mountain and be fascinated by the oddly-shaped hills and peaks. Your guide will accompany you as you stroll around on top of the mountains to appreciate its beauty. Continue to Yuanjiajie Scenic Area for The Hallelujah Mountain after a simple lunch.
Day 3 Un-spoilt Yangjiajie (B,L)
Yangjiajie is a newly opened area in the National Park. The flat rock formation is shaped like natural walls. Its enchanting landscape has become widely known throughout the world in the last 2 years. Your guide will take you to the best spots for photo taking. Lunch will be served in local restaurants on the mountain again. In the afternoon, take a cable car to the foot of the hill and continue to hike along the Golden Whip Brook. It is the best way to enjoy the quietness and nature's masterpiece.
Day 4 Tianmenshan and Departure (B)
Today you will experience the longest cable car in the world as you visit Tianmenshan. The cable car, the scary glass walkway and the 99-bend driveway is so impressive that you will never forget it. After the tour is completed, you will be transferred to the airport or train station for your next destination.
You can also check out other Zhangjiajie tours or contact us and tailor make a Zhangjiajie tour for you.
How to get there
Zhangjiajie can be accessed by various means from major cities in China.
| Cities | Distance to Zhangjiajie (km) | By Air to Zhangjiajie | By High-Speed Railway to Zhangjiajie |
| --- | --- | --- | --- |
| Beijing | 1665 | 3hrs | No direct High-Speed train. Traditional train about 25 hours |
| Xian | 1052 | 1.5hrs | No direct High-Speed train. Traditional train about 18 hours |
| Shanghai | 1512 | 2.5hrs | No direct High-Speed train. Traditional train about 21 hours |
| Chengdu | 1098 | 1.5hrs | No direct train |
| Guangzhou | 1103 | 1.6hrs | No direct High-Speed train. Traditional train about 14 hours |
| Changsha | 320 | 1hrs | No direct High-Speed train. Traditional train about 5.5 hours |
Recommended Hotels
Location
Category
Hotel Name
Hotel Class
Why Recommend
Ranking on Trip Advisor
Wulingyuan District (Close to the National Park)
International
Zhangjiajie Pullman Hotel
5 star

International chain hotel
Convenient transportation to the National Park
Night Entertainment Available

#1
Boutique
Harmona Resort Spa Zhangjiajie
5 star

Good location with beautiful setting
Convenient transportation to the National Park

#3
Standard
Zhuanjiacun Hotel
4 star

Good value for money
Convenient transportation to the National Park

#32
Yongding District (City Center)
Best Value
Best Western Grand Hotel Zhangjiajie
5 star

Close to the airport and train station
Good for late arrival or early departure
Convenient for shopping and dining

#5
The National Park
Best Value
Xiang Dian International Hotel
4 star

Best Value for money
5 minutes walk to the gate of the National Park

#18
Hostel
Milan Inn
-

Inside the Park, good for sunrise or sunset

#52
Tianzishan Inn
-

Inside the Park, good for sunrise or sunset

#35