Known for its unique quartz sandstone forest landforms, Zhangjiajie National Forest Park is like no other place in the world. Three thousand sandstone peaks spring up with distinctive shapes, among which are a deep and tranquil canyon and flowing rivers. These pillar-like structures are a distinct feature of China's landscape and can be seen in most Chinese paintings. In spring, flowers bloom all over the mountains with strong fragrance; in summer, with a cool breeze blowing, it is the very best summer resort; in autumn, maple leaves turn red and fruits hang on the branches; in winter, the mountains are all covered with snow.
Although it was recognized as the first national forest park in 1982 and was declared a World Heritage Site by UNESCO in 1992, due to the lack of transportation and bad publicity, Zhangjiajie National Forest Park did not get noticed until 2009 when the Hollywood movie Avatar was released. The Forest Park houses thousands of Avatar Mountains. Now it is very easy to fly to Zhangjiajie from any of the major cities in China. It is also included in the high speed train network now.
Quick Facts
Chinese Name: 张家界国家森林公园 Zhāng Jiā Jiè Guó Jiā Sēn Lín Gōng Yuán
Building time: In 1982
Time needed: 2-3 days
Entrance fee: RMB248 valid for 4 days. Your fingerprint will be scanned upon entry so the ticket cannot be resold.
Opening hours:
Peak season (April-October): 8:00 – 18:00
Slack season (November-March): 8:30 – 17: 30
Address: Jinbian Road, Wulingyuan District, Zhangjiajie City
Best time to visit: All year round but avoid major holidays in China
How to get to the park from City center: You can take a bus from Zhangjiajie Central Bus Terminal (Guanli Road, Yongding District). The bus runs every 10 min, charges RMB 12 per person, and takes about 45 min for the whole journey of 32 km.
Highlights of Zhangjiajie National Forest Park:
Yuanjiajie: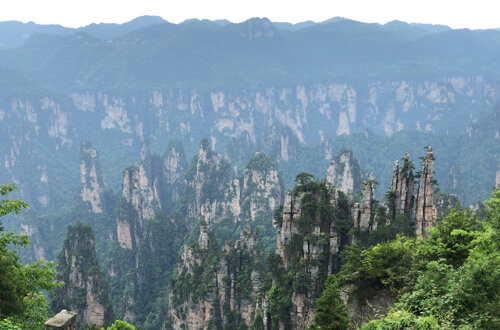 Literally means "Domain of the Yuan family". Yuanjiajie is arguably the most popular section of Zhangjiajie National Forest Park. Located at the northern part of the Park, Yuanjiajie is a scenic spot in the Zhangjiajie Park and is known as the mysterious world of Pandora. Here you can explore the magical world of the floating mountains in the movie Avatar. The highlights of Yuanjiajie include:
Hallelujah Mountain: a pillar which stands at 1,080 meters tall. Locally, it's known as 'The Pillar Which Connects Heaven & Earth,' or just the 'Heavenly Pillar'.
No. 1 Bridge under Heaven: a natural bridge-like stone that connects two peaks. It is 350m above ground level and is 20 m long. At some point it is as narrow as 1.5 meters.
Mihuntai Platform, or Lost Soul Platform, is one the best viewing stages for peaks of various shapes and sizes in Yuanjiajie.
Yangjiajie: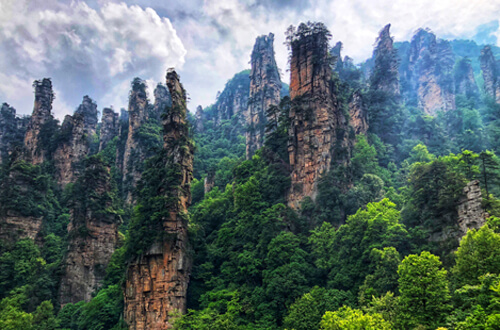 Literally means "Domain of the Yang family". Yangjiajie is inhabited by descendants of the Yang Family. The Yang Family is a military family from the earlier years of the Song Dynasty (960–1279 CE). A novel recounted the unflinching loyalty and the remarkable bravery of the general from the Yang family as they sacrificed themselves to defend their country from foreign military powers, namely the Liao Dynasty (907–1125 CE) and Western Xia (1038–1227 CE).
Yangjiajie especially stands out due to its magnificent peak walls. Besides the peak walls, Yangjiajie also has stone pillars, waterfalls and streams.
The highlights of Yangjiajie include:
Wulong Village, which is actually a steep sandstone rock with very flat edges. There used to be a bandit den here. You can easily find out why when you come here. At some points, you'll need to squeeze through a narrow 0.6m passageway in between two stone walls. This section is known as 'Thread Valley'. And at other points, you'll find yourself looping around the rock during your ascent, as if you were climbing a spiral staircase.
Tianbo Mansion is named after the residence of the Yang family, and it is not a mansion, but instead a viewing platform for the peak dykes. You can view the "natural Great Wall" from here.
Huangshizhai (Yellow Stone Village):
Situated in the center part of the park, Huangshizhai (Yellow Stone Village) is named after Huang Shigong (Yellow Stone old man), a semi-mythological figure and a Taoist hermit who lived during the 3rd century BCE. He assisted Zhang Liang with a treatise on military strategy called Huang Shigong San Lue that allowed Zhang Liang to transform into an adept statesman and helped Liu Bang to establish the Western Han Dynasty (202BCE – 8CE).
Yellow Stone Village is 1080m above sea level. It is not a village but large viewing platform. The top of it is open and flat, surrounded by steep cliffs. All the scenic points can be viewed on a circular route of about 3.8 km. It takes about 2 hours to finish the loop, and you'll find all kinds of rock formations like Star Picking Stand, Five Fingers Peak, and Mounds Left From Heavens Bridge along the way. Note that there are monkeys at certain areas, hence be wary as they may be aggressive and snatch your food.
Bailong Elevator: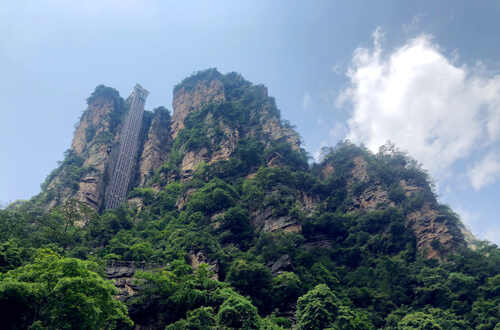 The 326-meter-tall glass Bailong Elevator was built onto the side of a cliff in the national park. It is the world's tallest outdoor lift. It consists of three double-decker lifts, each of which can transport up to 46 visitors up the mountain in less than two minutes per trip. The three elevators run in parallel, offering dizzying views of the sandstone pillars and surrounding mountains and forest. The lift serves as an easy gateway to some of the main attractions of the park including Golden Whip Stream, Tianzi Mountain and views of the Hallelujah Mountain.
Golden Whip Brook:
Golden Whip Brook is a naturally-shaped beautiful river, getting its name because it flows through the Jinbian Stone ('biānzi' 鞭子 means whip). Golden Whip Stream is the most popular scenic area of Zhangjiajie National Forest Park's ground level. In total, it stretches out to over 7 kilometers. And as the name suggests, a paved trail takes visitors along a tranquil stream for the course's entire duration. It is called "gallery of mountains and rivers" and "fairyland on earth" for its flourishing vegetation and clear rivers. Due to the fresh and clean air, hiking for one or two hours is highly recommended.
Tianzi Mountain:
The scenery of Tianzi Mountain can be summarized as "primitive landscape with natural beauty". The scenic spots here are all created by nature without any artificial carving. You have the chance to appreciate the four wonders of mist, a moonlit night, rosy clouds and winter snow. Tianzi Mountain has leagues of primitive forests filled with rare flowers and plants, and precious birds and beasts, with distinctive scenery all year round on the mountain. In addition to strange mountains and clear waters, there are also simple folk conditions, unique traditional customs and distinctive ethnic food waiting for you.
Recommended Tour itinerary:
It is recommended that you take at least 2 days to visit the highlights and scenic spots in the Zhangjiajie National Forest Park. We have attached a recommended itinerary for your reference.
Day 1: Take the cable up to Huangshizhai (Yellow Stone Village), walk the loop to see Six Wonders Pavilion, Palm Peak, Star Picking Terrace and the Relic Piers of the Heaven Bridge. Then Visit Golden Whip Brook, Zicao Purple Grass Pool and Water Around Four Gates.
Day 2: Visit Tianzi Mountain, the highlights include He Long Park, Imperial Writing Brush Peaks, Fairy Offering Flowers, West Sea Stone Forest etc. In the afternoon, visit Yuanjiajie Scenic Area (including No.1 Bridge in World and Mount Hallelujah), and experience a ride on the Bailong Elevator.
Zhangjiajie National Forest Park Travel Tips:
Since the park is very popular among domestic tourists, it's good to check for national holidays when you plan your trip and avoid those. Summer season (July and August) is also best avoided as it is summer holiday for schools in China.
Exploring the area requires some good walking shoes, ideally hiking shoes. Due to the height, you should also take some sunscreen, sunglasses, snacks and an extra layer of clothes depending on the different seasons.
Leave enough time for the park. You'll be fine with 2 days if you travel with a guide; however it's good to have some extra days in case of rainy or foggy weather. The entrance ticket is good for 4 consecutive days.
We strongly recommend that you join in a tour or at least hire an English speaking guide. The area is huge and there are numerous trails in the park.
Where to Stay
There are two main areas in Zhangjiajie. One is Zhangjiajie city area, and the other one is Wulingyuan area. There are 30km (18.7miles) between these two areas. Zhangjiajie city area is where the city center and Tianmen Mountain are located and Wulingyuan area is where the main entrance to Zhangjiajie National Forest Park is. We recommend staying one night at Zhangjiajie city area for your arrival and to visit Tianmen Mountain, and the remainder of the nights at Wulingyuan area, to visit Zhangjiajie National Forest Park and other attractions like Yellow Dragon Cave and Baofeng Lake.