GL-01:

Guilin Private One-day Tour

Taking a cruise ship downstream to Yangshuo is the most popular way to appreciate the Li River and surrounding Karst landscape. The gorgeous Chinese-painting-like views will amaze you at every bend of the limpid river. Do not miss the photo opportunities of Yellow Cloth Shoal and Nine Horses Painted Hill, both of which are famous sights on the Li River. You will totally immerse yourself into the natural world during this 4-hour cruise ship tour. Besides that, you can observe the local countryside life: water buffalos patrolling fields, peasants busy in rice paddies, children splashing water, and fishermen sitting on bamboo rafts. The cruise ships are in two categories (3-star and 4-star) and with three types of decks (upper deck, lower deck, and VIP cabin) to choose.
Trip Highlights
Local expert guide speaking fluent English
Pre-prepared lunch box
Fun outdoor adventures as optional in Yangshuo
Explore the countryside by private car or biking
A private car journey back from Yangshuo to Guilin
Full itinerary for 1 Day Li River Cruise and Yangshuo Sightseeing
Pick you up at your hotel lobby and transfer you to the pier. The ride is about 45 minutes or longer depending on the traffic conditions.
Note:
1. 3-star cruise ship departs from Mopanshan Pier and ends at Longtoushan Pier. Your guide will take you to West Street by taking electric carts from the pier.
2. Passengers who book the 4-star cruise ship need to embark at Zhujiang Pier and disembark at Shuidongmen Pier, which is within walking distance of West Street.
3. Both categories of cruise boats may dock at Longtoushan Pier in Yangshuo in the case of a lower or higher water level.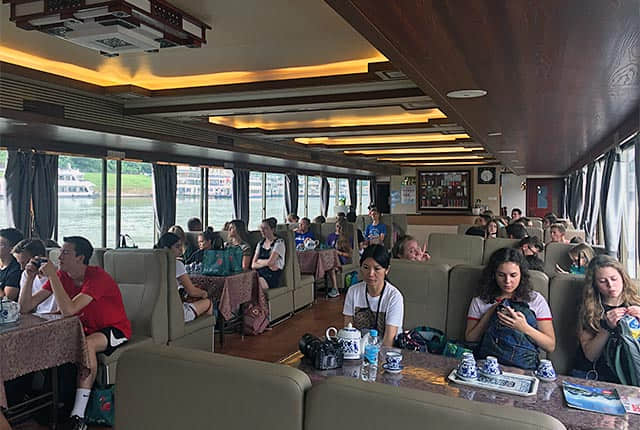 The Lower Deck in 3-star Cruise Ship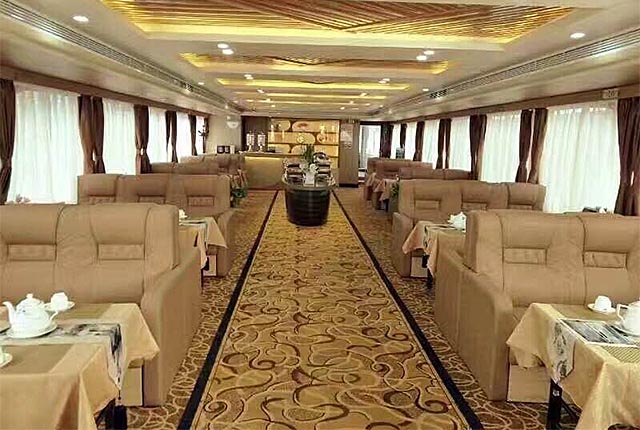 The Lower Deck in 4-star Cruise Ship
While sitting in the comfortable cabin, enjoy the vision of classic watercolor painting scenery of lush bamboo forests, rolling karst hills, and steep cliffs along Li River banks as well as the authentic Chinese countryside filled with rice fields, farmhouses, water buffaloes, fishing boats, cormorants, mountain goats, and school children on the local ferry. Lunch will be served onboard. For customers taking 3 star boats, we will prepare a lunch box to take with you as food onboard is not so tasty. During the lunch time, you may try some fresh catches from the river at your own expense.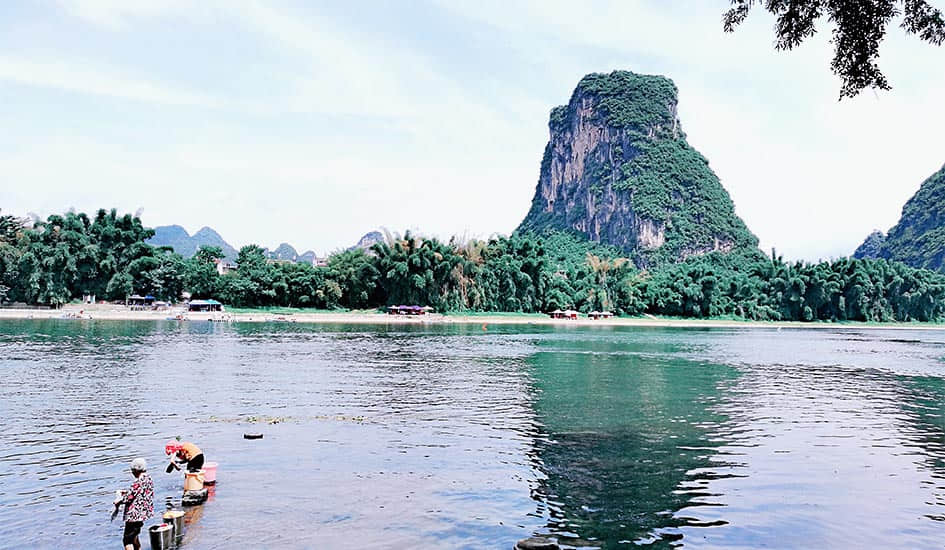 Upon arriving in Yangshuo, you can spend some time on West Street, buying some souvenirs, or trying a cup of local coffee. After that, your guide will take you to explore the countryside of Yangshuo. You can choose to sit in the car or take a bike ride. You will visit a local village, talk to the local farmers, and learn about the countryside lifestyle.
(Note: alternative activity – bamboo rafting on Yulong River is also available with extra cost.)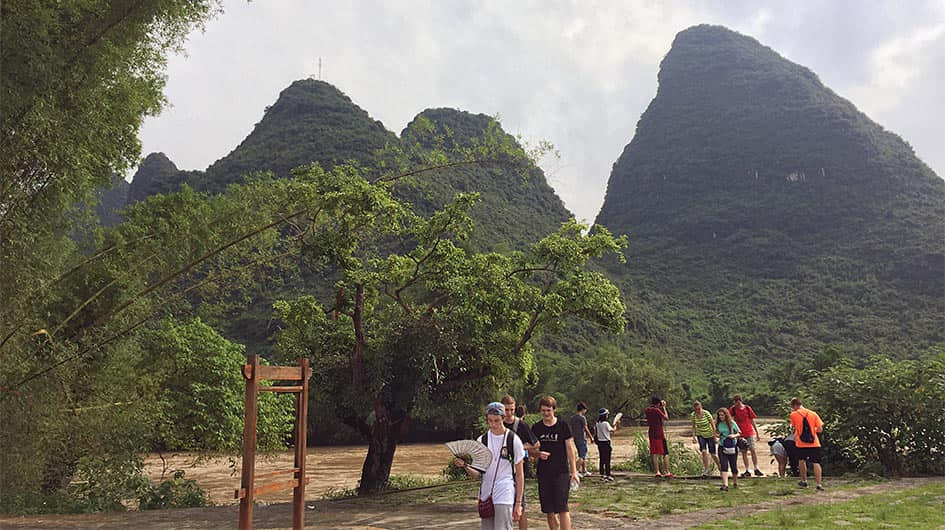 You will be transferred back to your hotel in Guilin after the tour. The exact return time is subject to change based on traffic conditions. If you are going to stay overnight in Yangshuo, please bring your luggage along. Your guide will then escort you to your hotel in Yangshuo. Tour ends here.
What's Included
Admission fee to the scenic spots as listed
One lunch (box or onboard)
Private English-speaking guide
Comfortable private car and professional driver
What Our Customers Say On This Tour
-Karen Logan, United States
-Nick Grimmett, Australia