SH-13:

A one-day tour to Hangzhou, round-trip from Shanghai

Although Hangzhou is about 200 kilometers from Shanghai, it is very convenient to have a Hangzhou day trip by one-hour speed train. In this rapidly developing city, you still can find peace and quiet. There are many folk legends and fairy tales spreading out around West Lake from ancient times. As the most recognized temple in Hangzhou, Lingyin Temple attracts thousands of visitors and Buddhist faithful every day. Flying Peak on the opposite side reflects the art of stone carving and Buddhist culture in the Five Dynasties and the Yuan Dynasty. You will have a chance to taste the famous West Lake Dragon Well green tea and visit Meijiawu Tea Fields.
Trip Highlights
Be touched by the love story of Madame White Snake
Experience the advanced Chinese high-speed train
Learn about the Buddhist culture through the stone carving on Flying Peak
Listen to the anecdotes about Lingyin Temple
Taste fresh green tea in Meijiawu
Full itinerary for One Day Hangzhou Tour from Shanghai
The day before your tour begins
Your guide will call your hotel between 7pm and 9pm to confirm your stay and pickup time for the next morning, usually leaving a message with hotel staff to deliver.
After breakfast, you will meet our guide at your hotel lobby and go to the train station. The guide will escort you to Hangzhou taking the speed train G7505 (0900-0954). You will arrive at Hangzhou Dong station at 09:54.
Note: You can prepare some snacks to have on the way.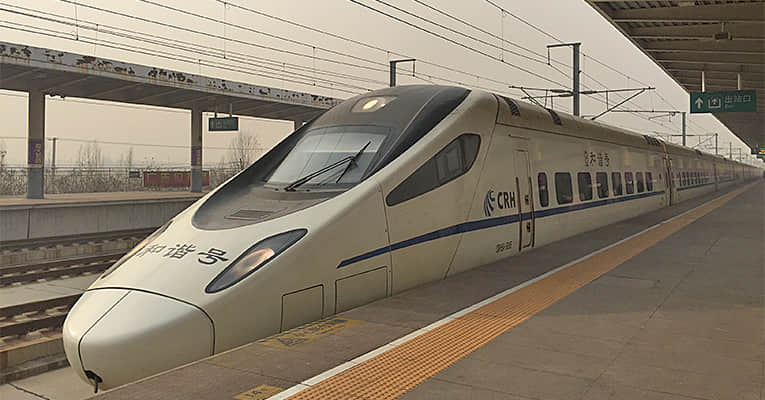 It is said that West Lake was formed by the pearl falling from the heavenly palace. There are more than 100 attractions. You will visit the must-see ones: Broken Bridge, Leifeng Pagoda and Su Causeway. Broken Bridge and Leifeng Pagoda spread about the beautiful love legend of White Snake. Su Causeway is a large tree-lined dike that runs through the north and south scenic areas of west lake.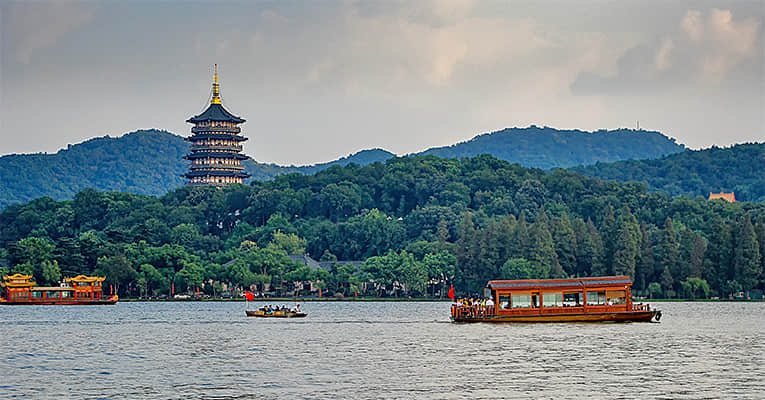 Leifeng Pagoda
Lingyin Temple is situated at the west end of West Lake. It attracts many eminent monks and scholars gathering in Buddhism, arts, literary, calligraphy, and exchanges in Buddhist and Taoism, which present the longstanding cultural heritage. There are Heavenly Kings Hall, the Mahavira Hall, the Medicine Buddha Hall, and the Avatamska Hall in the central axis. Flying Peak is separated from Lingyin Temple by a stream called Lengquan. A large number of Buddhist grottoes can be found on the peak; the statue of Maitreya Buddha carved in the Song Dynasty in 1000 CE is the masterpiece.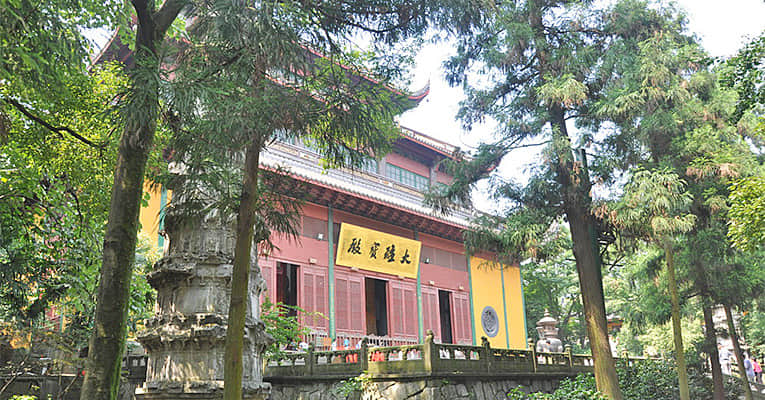 the Mahavira Hall
You will have late lunch today. Try out some local cuisine.
The villages in Meijiawu are surrounded by green mountains. They are full of lush tea trees and you can smell the refreshing fragrance of tea. It's great to take a walk here and breathe the fresh air. They produce excellent Dragon Well green tea here. You can have a try.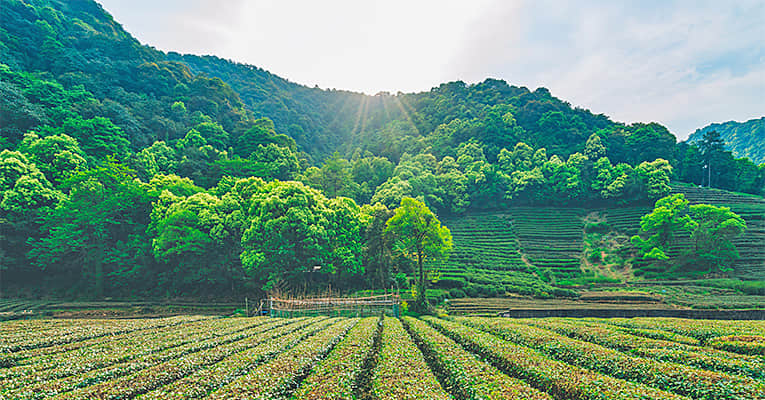 We will take you back to Hangzhou Dong station. The guide will accompany you to take the speed train G1322 (17:16-18:22) back to Shanghai. After arriving in Shanghai, we will transfer you back to your hotel. Your tour ends here.
What's Included
Shanghai tour guide accompanies passengers on high-speed trains
Return land transportation between the hotel and train station in Shanghai
Pick up and drop off service at Hangzhou train station
Free hotel pick up within Middle Ring Road in Shanghai
Private overland transportation with a professional driver
Excellent English speaking tour guide
Entrance fee of the listed attractions
One traditional Chinese lunch
Departure information
Tours are available every day of the week.
Our hotel pick-up service is offered in the following area: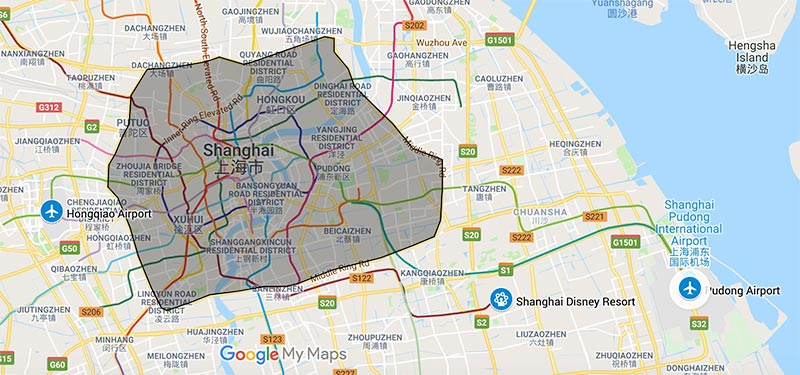 Click here to see on Google Map
For guests who stay outside of this area, we ask them to meet our driver at a mutually agreed upon location (which is usually the lobby of one of the below hotels).