CD-8:

4 Days Hiking Tour at Mount Siguniang

Mount Siguniang, or Four Girls Mountains, consists of 4 adjacent snow peaks, lined up within 3.5 km in a row. A Tibetan legend says the four mountains are the embodiment of four beautiful girls. Hence the name. The vast scenic area of flat grassland, lush forests, beautiful valleys, highland lakes and snow-capped mountains makes it a paradise for hikers and mountaineers. Yaomei (the youngest sister) Peak (6,250m) is the second highest peak in Sichuan Province, which is known as 'Alps in the East' for its breathtaking scenery. The hiking route is suggested for the ones who love hiking with a bit of a challenge at the high plateau.
Difficulty:

Scenery:
Recommendation:
Elevation: between 3,200m (10,490 ft) and 3,900m (12,795 ft)
Duration: 4 Days 3 nights (12-14h hiking)
Distance: 29km (18 miles)
Trip Highlights
Suitable For: Hiker, Explorer
Map of this Trip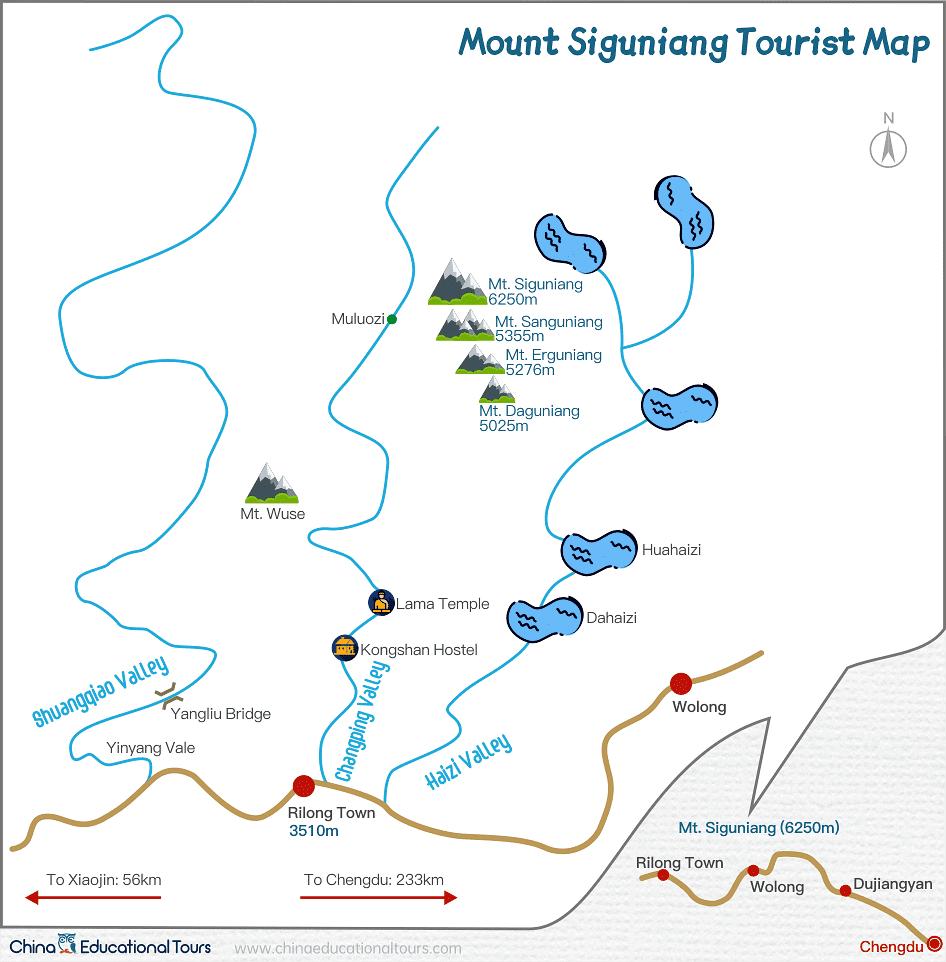 Click to enlarge
Full itinerary for Hiking the East Alps - Mount Siguniang
Day 1
Chengdu-Wolong-Mt. Siguniang (240km/149 miles, 5h driving)
Depart Chengdu in the early morning, you will arrive at Wolong Panda Reserve Center in about 2 hours. As one of largest conservation and breeding bases for Giant Pandas, Wolong is where you can see the wild nature of the pandas. You will spend 2 hours here to learn about this lovely creature, their daily food, their habits and daily timetable, breeding and raising. After lunch, you will continue driving toward the flat Chengdu Plain, with the breathtaking snow-capped mountains in the distance. You will then reach Mt. Siguniang Town in about 3.5 hours.
Overnight at Kongshan Hostel
Altitude: 3200 meters (10,490 ft)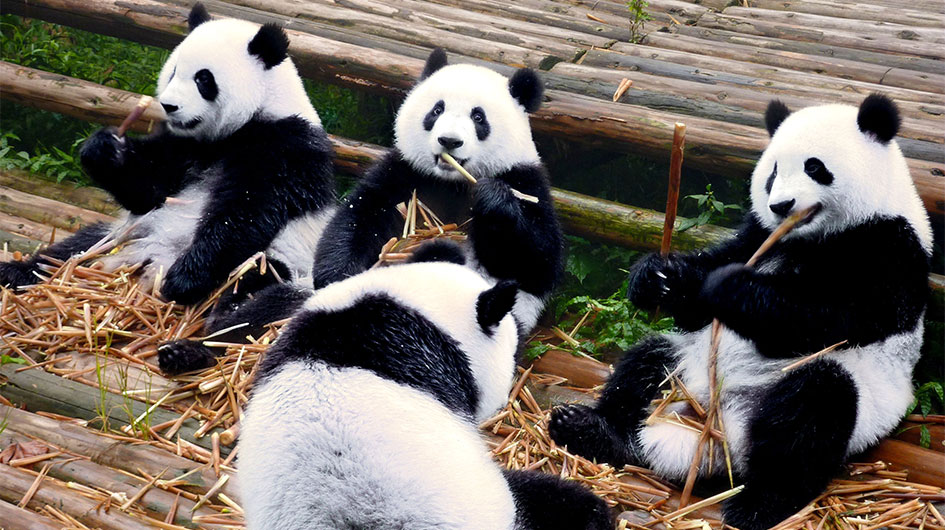 Day 2
Hiking at Shuangqiao and Changping Valley (6-7h hiking)
After enjoying a lovely breakfast with snowy mountains in the view, you will set off to hike to Shuangqiao (Double-Bridges) Valley. Local residents who have lived in the valley for generations built two wooden bridges, one is Yangliu Bridge made of willow tree and the other is Bian Bridge which makes their lives a lot more convenient. As one of the three parallel valleys in Mt. Siguniang scenic area, Shuangqiao Valley is the most suitable for visitors, with an easy hiking plank path and shuttle buses which can take you to the end of the valley. The total length of the valley is 34.8km (21.6m), combining 54 scenic spots. The primitive forests are very well preserved with various types of high plateau trees and flowers. We will spend 2-3 hours hiking part of it to appreciate its gorgeous scenery. The crystal clear lakes, Mt. Wuse (five colors), Yinyang Vale and lush trees make it a compact gallery which you won't want to leave.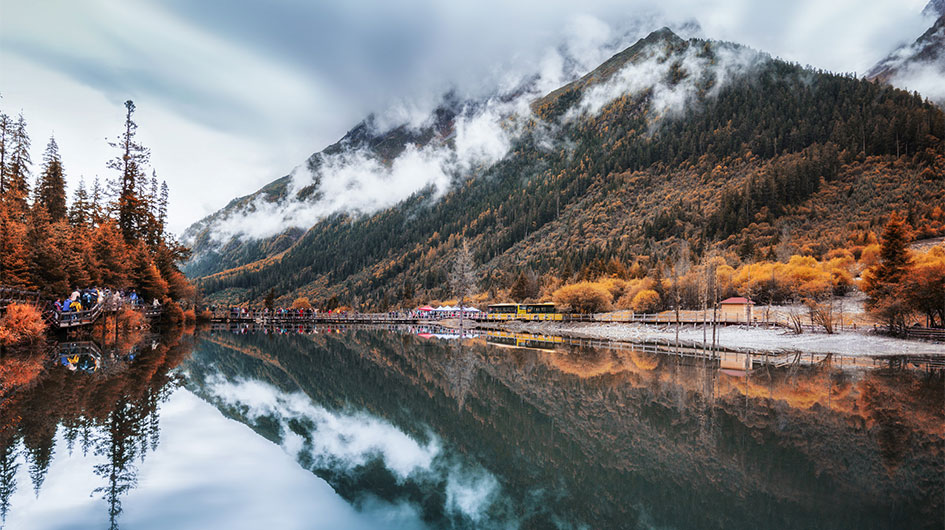 In the afternoon, you will head to Changping Valley , the one located in the middle of the three valleys. This is where you can appreciate the whole view of the four mountains. It is also a paradise for mountain climbers as the base camps to climb the third and main peak are set here. Along with the hiking, you will see a solemn monastery, waterfalls, deep valleys, and ancient withered trees standing in a lake.
Overnight at Kongshan Hostel
Altitude: 3200m (10,490 ft) to 3,900m (12,795 ft)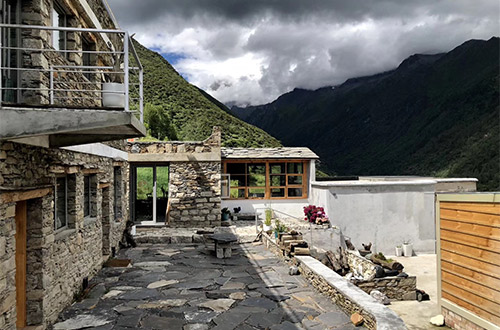 Kongshan Hostel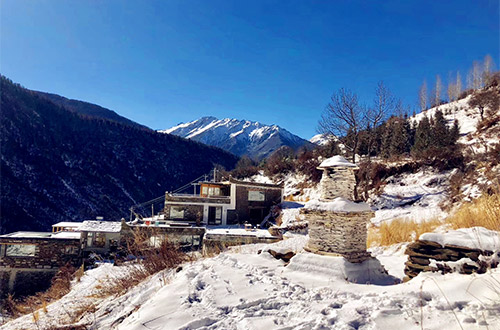 Day 3
Hiking at Haizi Valley (6-7h hiking)
Totally different from the previous two valleys, Haizi (lakes and ponds) Valley is wilder, and more mysterious and primitive. It is mainly alpine meadow in the first half. Among which, Chaoshanping is the best spot to have a closer look at Mount Siguniang, and take a great picture of it. The clear-blue sky, snow-capped mountain peaks, vast, green meadow, blooming flowers, and roaming cattle all make it an inspiring photo. There are more than ten alpine lakes in the latter part of the valley, such as Flower Lake, Floating Lake and Blue Lake. Haizi Valley has a total length of 19.2km (12m) and we will hike part of it. It will make a perfect ending to the hiking trip.
Overnight at Kongshan Hostel
Altitude: 3200m (10,490 ft) to 3,800m (12,470 ft)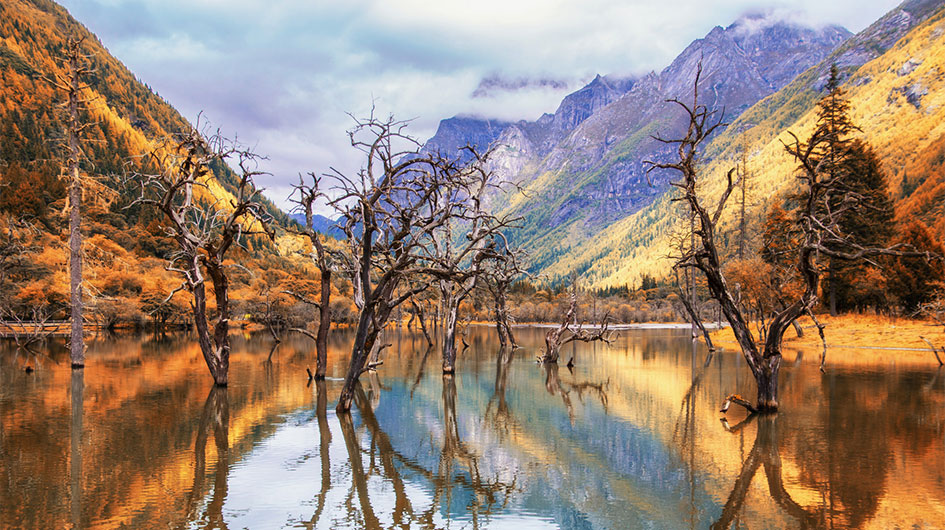 Day 4
Return to Chengdu (4.5h driving)
You may have a later start today and enjoy some tranquil time at the hotel, chatting with the host who would love to share his story of building this hostel with you. Return to Chengdu and we can send you to the airport or train station if you are heading to another destination.
Mount Siguniang Hiking Tips:
Physical Condition Requirements: Due to the higher altitude, hiking Mt. Siguniang is more challenging. Travelers who are lacking in physical strength, have hypertension, coronary heart disease, heart disease and etc. are not suggested to try this route. It is recommended to consult your doctor to be sure if your physical condition meets the altitude or not.
Best Time: To avoid the rainy season and severe cold, the best time to hike Mt. Siguniang is from late May to July (June is the best), and from September to November (October to early November is the best).
Packing Essentials: Along with personal necessities for the overnight stay, sun-block cream, sunglasses, trekking pole, outdoor jacket and hiking boots are amust. Bottled water, energy bars, drugs for altitude sickness are also recommended.