YN-04:

2 Days Tiger Leaping Gorge Hiking Tour

Known as the world's deepest gorge, hiking Tiger Leaping Gorge will take you to a wonderland of steep cliffs, local Naxi residents, and a raging river. With Haba Snow Mountain and Jade Dragon Snow Mountain on both sides, Jinsha River roars through the gorge. This hike will take you along the upper road for most of the time and then descend to the lowest point of the gorge, to the roaring sound of the Jinsha River. The hiking level is for the intermediate that requires good physical condition.
Difficulty:

Scenery:
Recommendation:
Elevation: between 1,600m (5,250 ft) and 2,650m (8,694ft)
Duration: 2 Days 1 night (12-15h hiking)
Distance: 27km (16.7 miles)
Trip Highlights
Suitable For: Hiker, Explorer
Map of this Trip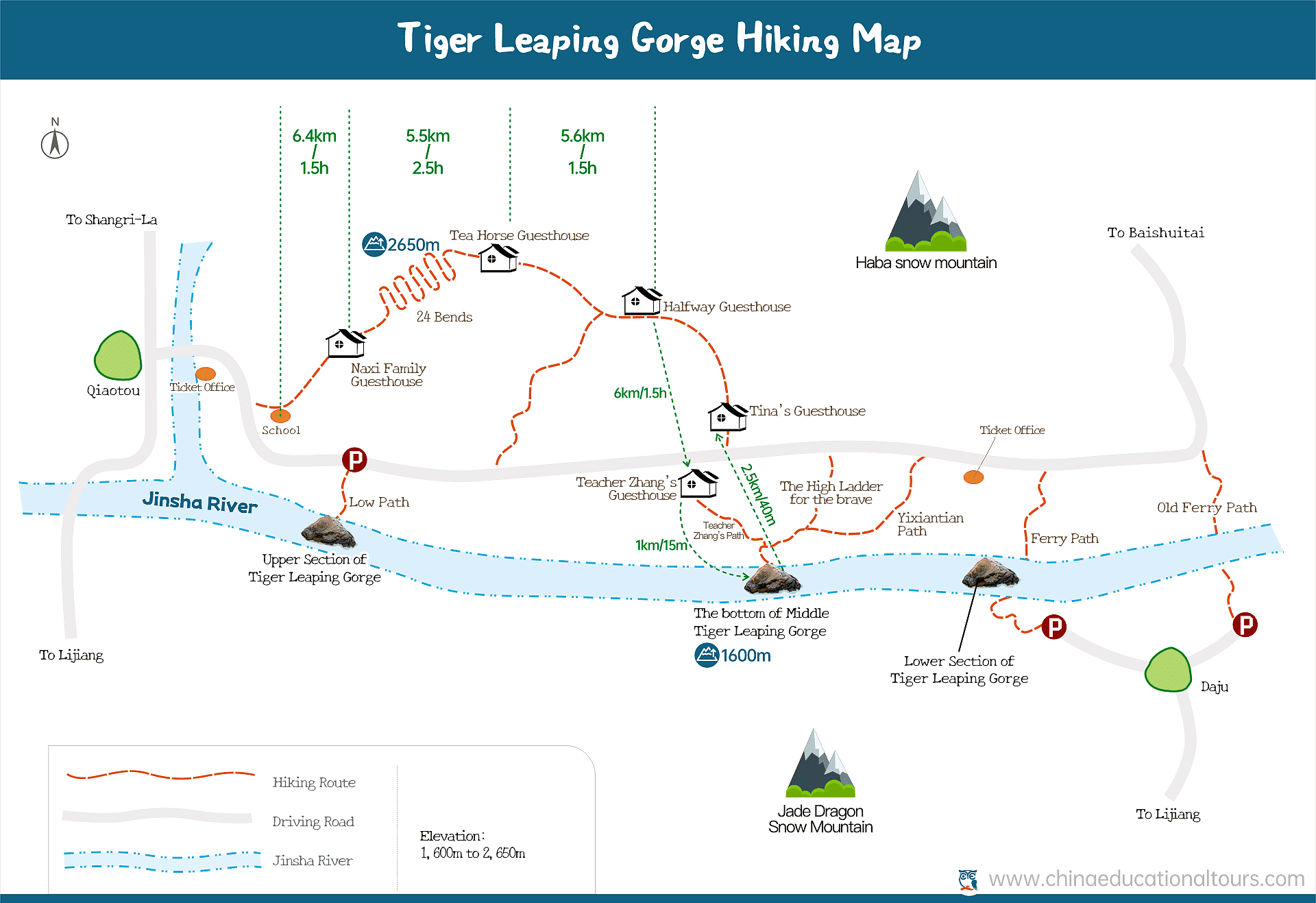 Click to enlarge
Full itinerary for Hiking Tiger Leaping Gorge
Day 1
Lijiang to Tiger Leaping Gorge
The local school in Qiaotou Town - Naxi Family Guesthouse – 24 Bends - Tea Horse Guesthouse – Halfway Guesthouse (17km/10.5m, 7-8h)
At 8am, your guide and driver will pick you up from your hotel in Lijiang and transfer you to Qiaotou Town, where Lijiang meets Shangri-la.
Today's hiking starts from a local school and ends at Halfway Guesthouse.
The first segment of the hike is relatively easy, with a slight uprise that will take you to the Naxi Family Guesthouse in about 2 hours. This is where you can rest and enjoy some local food and cold refreshments or tea/coffee. There you will meet some like-minded hikers. Talking to them and learn about their traveling story is an interesting part of the journey.
The following section may be challenging, but exciting, with 24 bends, which will lead you to the highest point of the route. With every step upwards, the rugged terrain will give you new perspectives of the depths that make up the Tiger Leaping Gorge. You will be in awe when you are standing on the top admiring the magnificent views of the gorge.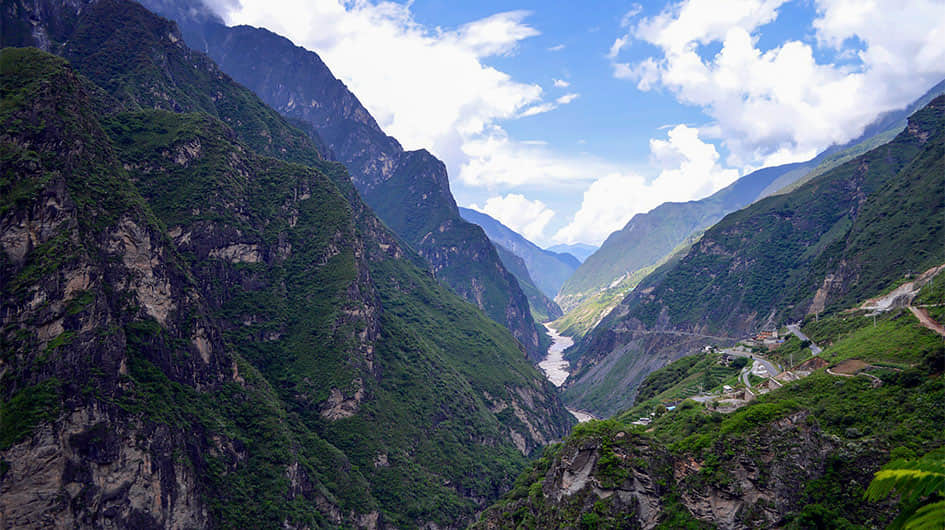 You will then continue the trek along the old Tea Horse Road, passing Tea Horse Guesthouse for some rest, and then to the Halfway Guesthouse. Just like its name, Halfway Guesthouse marks the halfway of the entire trek. It is the best spot to feast your eyes on the unbeatable view of the surrounding snow-capped mountains. Take a well-deserved rest in the evening underneath the breath-taking starry sky.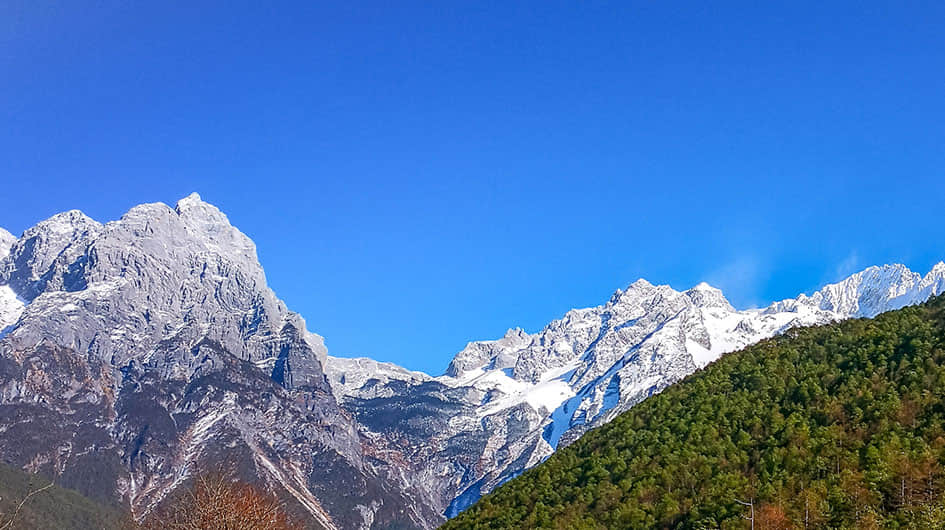 Day 2
Tiger Leaping Gorge to Lijiang
Halfway Guesthouse – Teacher Zhang's Guesthouse – Middle Tiger Leaping Gorge – Tina's Guesthouse (10km/6.2m, 5h)
Enjoy a lovely breakfast before you start your descent.
Hiking along the paths with sheer cliffs on one side and a deep gorge on the other, for about 2 hours.
This route will take you to Teacher Zhang's Guesthouse. This is the starting point of the goat paths down to the bottom of Middle Tiger Leaping Gorge. The path was built by Teacher Zhang and he is planning on another more challenging trekking trail.
As you approach the bottom, you will hear the roaring and crushing sound of the Jinsha River, with giant boulders in its path. There is a huge rock in the middle of the river, where you can stand and enjoy the rushing river through towering cliffs, and take photos to record your trek.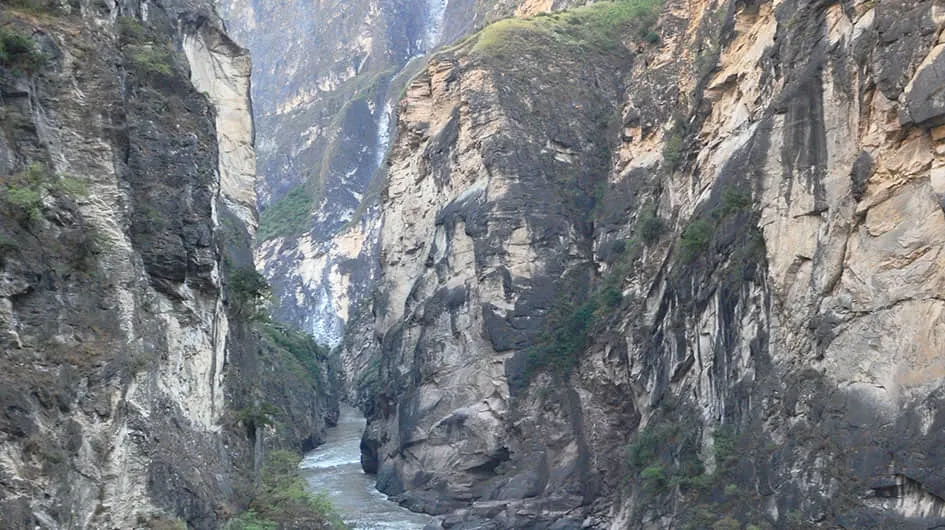 Congratulations, for reaching this accomplishment.
Afterward, you will trek back up to Tina's Guesthouse, climbing Tianti (the High Ladder for the brave). This is where you will meet your driver, who will escort you back to Lijiang or the airport/train station for your next destination.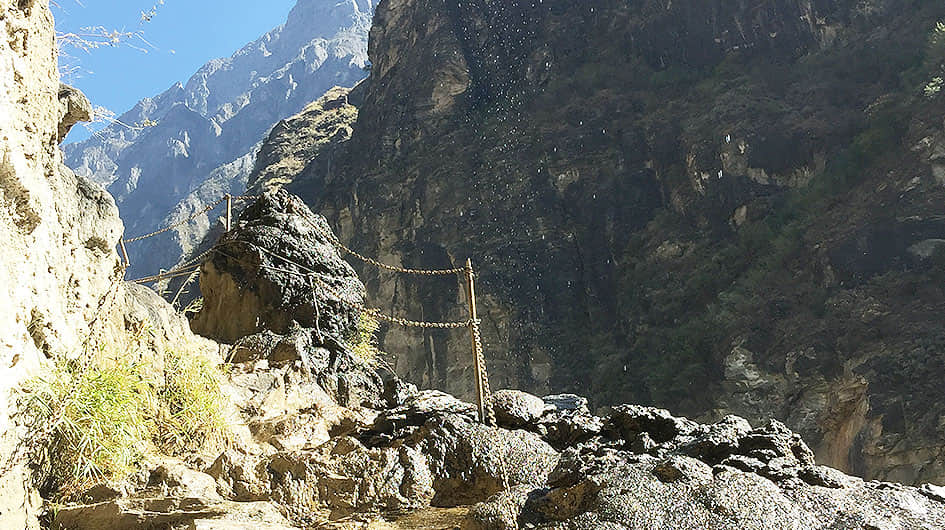 Tiger Leaping Gorge Hiking Tips:
Physical Condition Requirements: Tiger Leaping Gorge hiking is recommended for all hikers with physical confition slightly above average level, unless you have heart issues, bad knees or serious acrophobia.
Best Time: From April to June, and from September to November, are good seasons to hike Tiger Leaping Gorge. Raining seasons from late June to August are not recommended as the paths can get really sloppy and slippery.
Packing Essentials: A light backpack is highly recommended to keep the long-time trekking easier. Personal necessaties, such as underwear, toothbrush and toiletpaper are needed for one overnight in local guesthouse. Sun-blocking cream, sunglasses, trekking pole, outdoor jacket and hiking boots are the essentials. Bottled water and snacks are available in the small grocery stores along the trekking path.