How to Take a Train in China

The train is the most popular long-distance transportation in China. Taking a train in China, however, can be very challenging due to the language barrier. This is a handy guide for taking a train from before departure to destination arrival. The train stations are always crowded and noisy. Please keep in mind that the best way to manage is to ask the staff for help.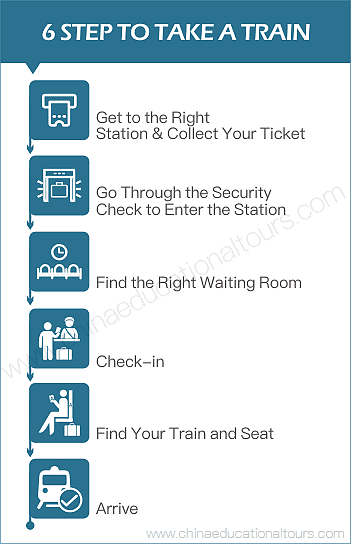 Preparation Before Departure
Your train ticket or a booking number

The valid documentation to buy the ticket

Valid documents that can be used:
• Passport
• Residence Permit for Foreigners
• Exit and Entry Permit for Foreigners
• Diplomats card
• Certificate at the Consulate
• Seamen's Book/Passport
• Foreign Identity Certificate Issued by the Ministry of Foreign Affairs
• Passport Loss Report Certificate
1. Get to the Right Station & Collect Your Ticket
Double check which station you are supposed to depart from as most cities have more than one train station; make sure you know which one to go to.
If you already have a paper ticket, you can arrive at the train station one hour in advance.If you haven't picked up your ticket yet, at least 2 hours in advance is recommended.
Collect Your Ticket:
When you book your ticket online, you will receive a ticket collection number. A collection number is composed of the letter "E" and nine numbers, e.g. E123456789; EA12345678.
With your collection number and valid document, you can collect your ticket at any ticket window except for the refund and cancellation window.There are usually long queues at all windows, so it is wise to leave enough time for this. It is recommended that you collect your ticket well in advance if your traveling time coincides with Chinese holidays.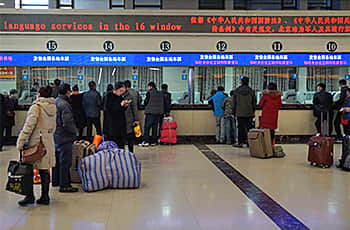 Ticket Window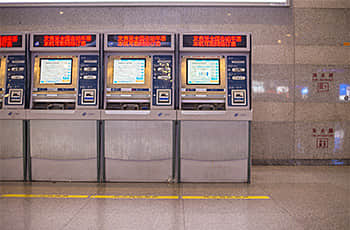 Automatic Ticketing Machine
2. Enter the Station
Put the passport/certificate and ticket together, pass it to the staff at the entrance, and take back the card and ticket after verification. If there is any luggage, put it on the security check machine, and then pass through the security inspection channel and pick up your luggage.
Security Check
The following items are not allowed in your luggage:
Guns, bullets (including parts)
Explosive material
Knives and weapons
Inflammable goods
Highly toxic, corrosive, radioactive and infectious dangerous goods
Items that can interfere with the train's strong magnetization and endanger the train's operation or public health
Limits on the following items:
Less than 20ml: nail polish, polish remover, hair dye
Less than 120ml: sunscreen spray, mousse, hair gel, insecticide, air freshener and other self-spraying pressure vessels
Safety matches 2 small boxes
Two ordinary lighters
Tips:
1. Please consult your tour guide or hotel staff about whether you can carry specific things
2. Water and food can be brought into the train station, but you may be asked to take a sip of your water.
3. General animals and pets are not allowed to take the train, with the exception of guide dogs with certificates.
3. Find the Right Waiting Room
After the security check, you will find an LED screen showing which train is allocated to which waiting room. It may show Chinese language only on the screen;the following picture may help you find the information you need. Of course, the best way is to ask the staff for help. Most Chinese people have a certain level of English, especially the youth, they will be happy to help you as well.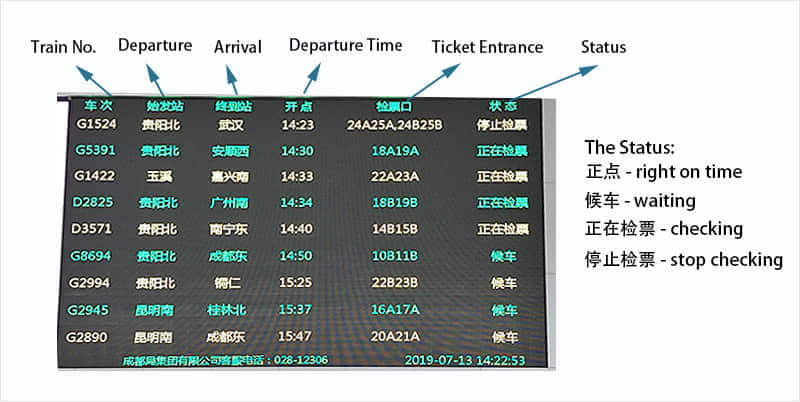 Toilets, convenience stores, newsstands, and drinking water are available in the waiting rooms.The waiting room will be crowded during rush hours, so you need to take care of your belongings and your wallet. Special tickets, such as the business seat on the high-speed train, will have a VIP waiting lounge. Voice announcements will be made for check-in and arrival.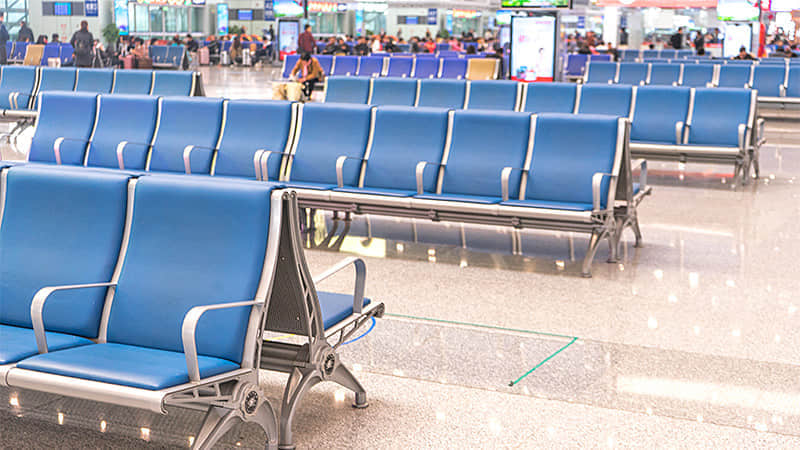 Waiting Room
4. Check-in
Check-in usually starts 20-30 minutes before departure, and ends 5 minutes before, in an originating station. Just find the LED screen or card with your train number on it. You can also see the train status on the LED screen.
Tickets with different colors have different counters to check in. If you have a blue ticket, you can enter the auto-checked access; just put it into the check-in machine.If your ticket is red, staff members need to check it manually.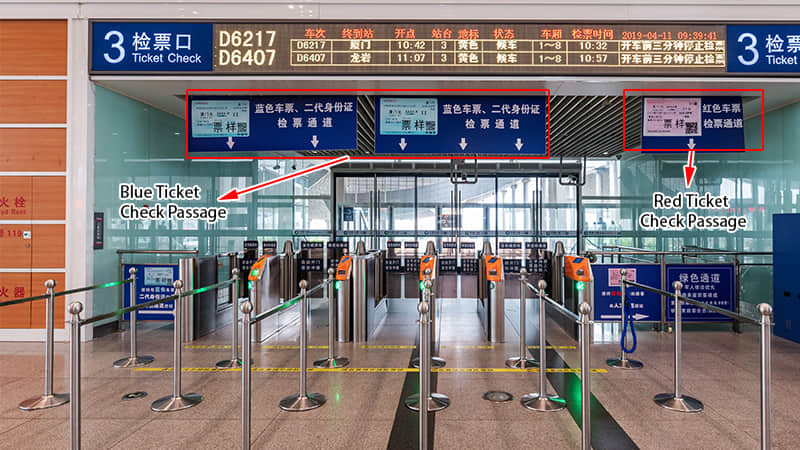 Ticket Check
5. Find Your Train and Seat
After check-in, walk with the flow of people or follow the LED boards to your platform. When you are boarding your train, show your ticket to a staff member and make sure you are boarding the right train.Some small stations don't have elevators, so you will have to carry your luggage up and down the stairs.
After getting on the train, find your seat/bunk according to your ticket. The seats are arranged in order and are not difficult to find. Put your luggage on the rack overhead or under your bunk. On high-speed trains, you can put any big luggage in the luggage space between 2 carriages.
Tickets need to be kept during the journey. A conductor may check your ticket during the journey. When you get to your destination and exit the station, your ticket will be checked again.
Tips:
Most of train stations have "little red hat" people (baggage porters), and you can ask for help if your luggage is too heavy and there are no elevators or escalators. It costs about RMB 20-50 per luggage piece.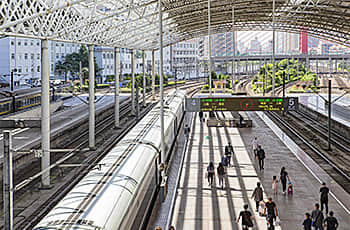 Train Platform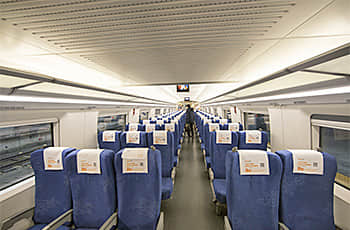 Second Class Carriage
6. Arrival and Disembarkation
The LED screen in the train and the voice announcement will tell you which station it will arrive at next. Pick up your luggage a few minutes in advance and move to the gates to wait as the stopping time is only a few minutes. It is recommended to have your ticket in hand or to keep it in a place where it is easily accessible, as you will need to show your ticket again when you leave the station.There are always obvious signs for the way out of the train station, so follow the signs you will easily find the exit. For railway stations with only one exit, following the crowds is an option to find your way quickly. However, it is worth noting that many large railway stations in China have more than one exit. Please confirm the exit direction.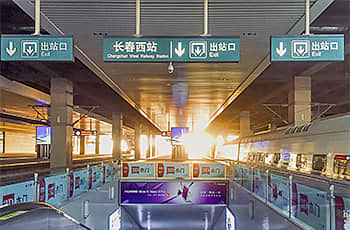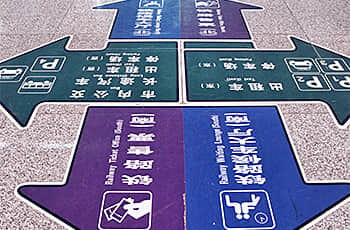 If you need to transfer to another train at the same station, you don't need to get out of the station and re-enter. There will be bilingual signs on the platform telling you the direction to the waiting room for your next train.

Have a question?
OR
Are you eager to begin your Chinese cultural journey?
Drop us a line and we will promptly connect you with our leading China expert!