China High Speed Rail: New Way Travel in China

There are a number of different definitions for high-speed rail in use worldwide and there is no single standard, however there are certain parameters that are unique to high-speed rail (HSR). UIC (International Uni on of Railways) and EC Directive 96/58 define high-speed rail as systems of rolling stock and infrastructure which regularly operate at or above 250 km/h on new tracks, or 200 km/h on existing tracks. HSR is efficient, comfortable and affordable. It is the best choice for travel below 1,200 km (750 miles).
According to the white paper titled "Sustainable Development of Transport in China" released in December 2020, by the end of 2019, the length of high-speed rail lines across the country exceeded 35,000 km (21,875 miles), making up more than two-thirds of the world's total. China's HSR network is set to grow even larger in the near future. The final goal of the HSR network in China is 45,000km (28,125 miles), that is set to be finished in 2030.
The impacts of HSR go well beyond the transportation sector and include changed patterns of urban development, increases in tourism, and promotion of regional economic growth. Large numbers of people are now able to travel more easily and reliably than ever before, and the network has laid the groundwork for future reductions in greenhouse gas emissions.
We have listed the most frequently asked questions about HSR in China below:
Why Should I Travel by High-speed Rail in China?
More and more people choose HSR instead of bus or plane because of the following advantages of HSR: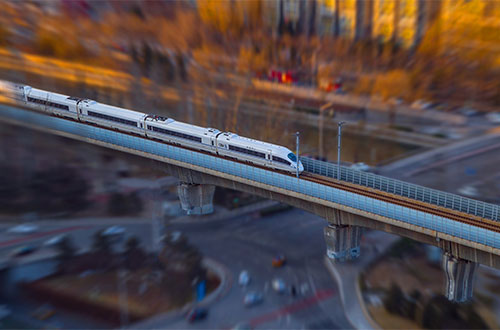 Fast
The HSR is very fast. The maximum speed of HSR can reach 350 km/h (218 mph). It takes you only 4.5 hrs from Shanghai to Beijing, and they are 1,318 km (823 miles) from each other. For travel less than 1,200 km (750 miles), most people will choose HSR instead of flying. The reasons are quite easy to grasp. Firstly, when taking into consideration what flying entails – travelling from home to the airport, time spent in check-in and security, as well as additional transport and baggage pickup – taking the train offers big overall travel time savings.
Convenient
The HSR network can take you to 30 provinces out of China's 33 in China. You can't get much more convenient than that. In comparison to a flight, the railways are usually much closer to the city, meaning that you don't have to travel as far out to get to the station.
Punctual
Unlike conventional train services in China, which, to be fair, aren't delayed all that often anyway, it is almost unheard of for a HSR to be delayed. But it is very common for flights to get delayed.
Comfortable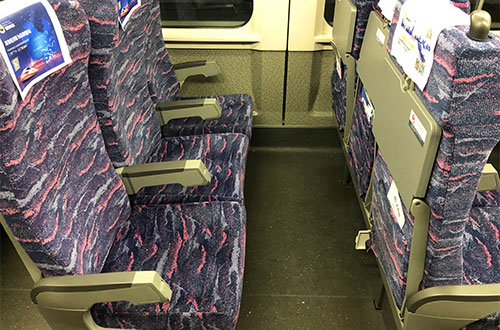 The HSR are quiet and clean. There are a few classes to choose from, but even at second class, the cheapest class, it's pretty darn comfortable. There's a large amount of space – much more than on an airplane – and you can walk around freely. One important notice for smokers: Smoking is prohibited on the train.
Types of High-Speed Rail in China
There are 3 different classes of HSR in China: C-Class, G-Class, and D-Class.
C-Class High-Speed Rail
'C' is for Chengji 城际 or intercity train services, connecting two major cities that are not far from each other. For example, the C-class High-Speed Rail operates between Beijing and Tianjin. This line was designed with a max speed of 350 km/h (218 mph) and sees, on average, speeds of 226 km/h (141 mph). It takes you only half an hour for the166km (103 miles) journey.
G-Class China High-Speed Rail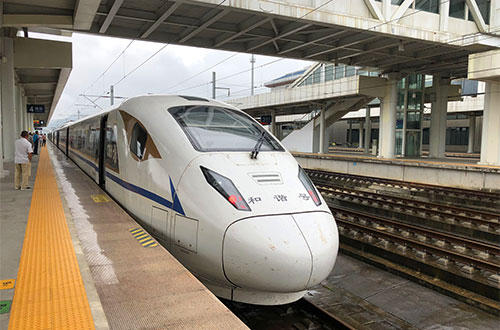 'G' is for Gaotie 高铁 or high speed train. In China, high-speed rails were collectively known as Gaotie. It is one of the most common types of high-speed rail in China, the designated speed of which is 300 km/h (187 mph) to 350 km/h (218 mph). In reality, the average speed is from 260 km/h (162 mph) to 320 km/h (200 mph). Fuxing Hao, the newest version of HSR, with an average speed of 350 km/h (218 mph), is currently the fastest and the most advanced high-speed train in China. It can span 1,318 km (823 miles) from Beijing to Shanghai in 4.5 hrs.
D-Class China High-Speed Rail
'D' is for Dongche 动车, another term used to refer to a type of high-speed rail in China. The D-class train is slower than the G-class train; the speed for D-class train is from 200 km/h (125 mph) to 250 km/h (156 mph). The advantage of D-Class High-Speed train is: it can operate on conventional tracks.
Is China High Speed Rail Safe?
Generally speaking, HSR is safer than driving or flying. But China's HSR system did suffer a fatal accident in 2011, a crash in Wenzhou in eastern China's Zhejiang province in which 40 people died and 200 were injured. The accident was caused by a lightning strike that resulted in a signal failure.
After the crash, Chinese engineers worked very hard to improve the safety of the HSR, there have been no accidents since 2011.
To date, China's high-speed rail products and technology have been exported to nearly 100 countries and regions on six continents.
China High Speed Rail Network
According to the National Medium and Long-term Railway Network Plan released in 2016, China planned to build eight vertical rail lines linking north and south, and eight horizontal lines connecting east to west, and adjacent large- and medium-sized cities should be connected by lines with travel times ranging from 1 to 4 hours. It's the China's Eight Vertical and Eight Horizontal railway network.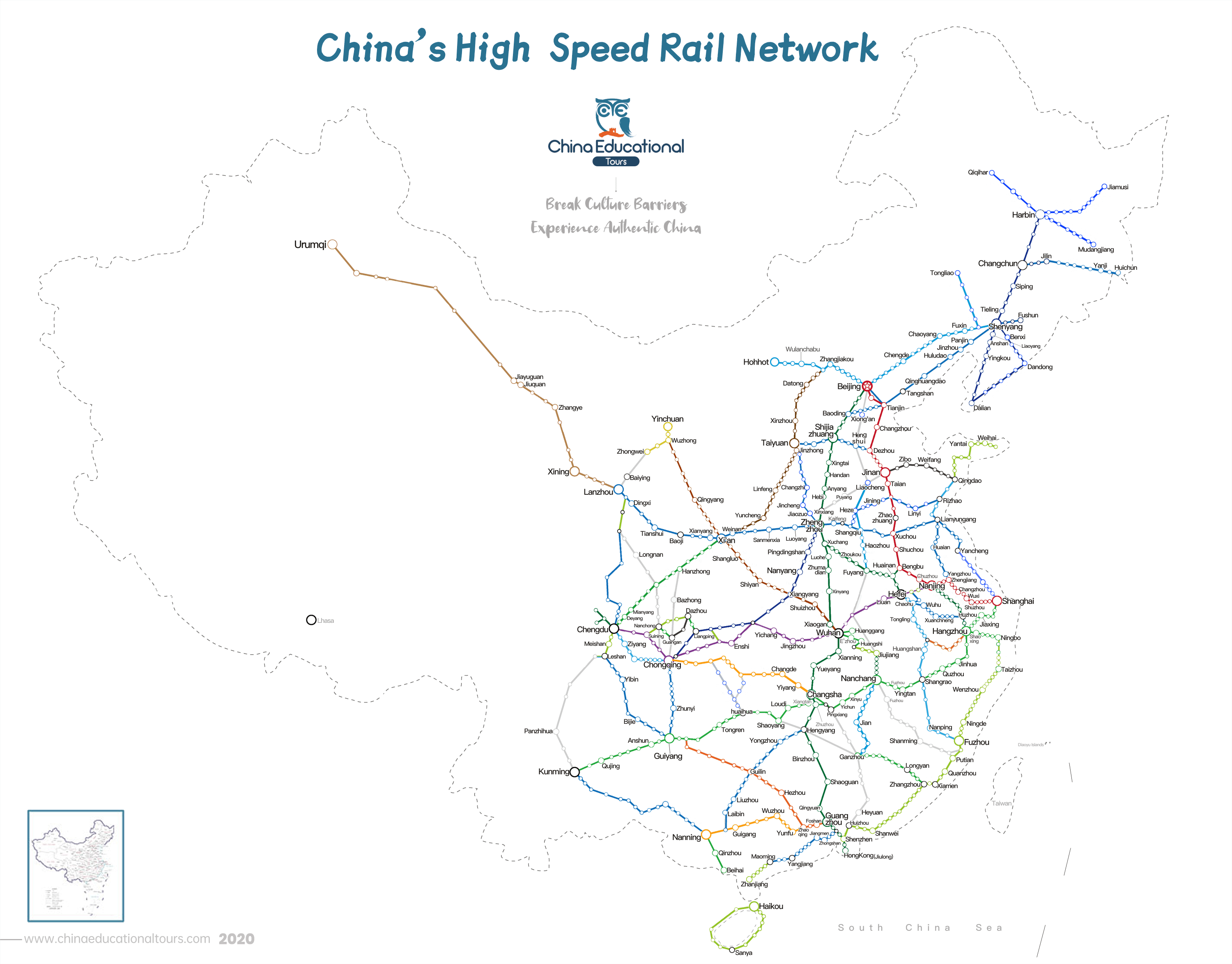 Click to enlarge
The "Eight Verticals"
1. Coastal passageway connecting Dalian and Dandong to Tianjin, Shanghai, Fuzhou, Shenzhen and Beihai
2. Beijing–Shanghai passageway
3. Beijing–Hong Kong passageway
4. Harbin–Hong Kong (Macau) Passageway
5. Hohhot–Nanning passageway via Datong, Taiyuan, Zhengzhou, Changde, Yongzhou and Guilin.
6. Beijing–Kunming passageway via Taiyuan, Xi'an and Chengdu/Chongqing
7. Baotou /Yinchuan–Hainan passageway via Yanan, Chongqing and Nanning
8. Lanzhou /Xining–Guangzhou passageway via Chengdu/Chongqing and Guiyang
The "Eight Horizontals"
1. Suifenhe–Manzhouli passageway via Harbin
2. Beijing–Lanzhou passageway via Hohhot and Yinchuan
3. Qingdao–Yinchuan passageway via Jinan and Taiyuan
4. Eurasia Continental Bridge passageway: Lianyungang – Urumqi via Xuzhou, Zhengzhou and Xining
5. Yangtze River passageway: Shanghai – Chengdu via Nanjing, Anqing, Wuhan, Yichang and Chongqing
6. Shanghai–Kunming passageway via Nanchang, Changsha and Guiyang
7. Xiamen–Chongqing passageway via Longyan, Changsha and Zhangjiajie
8. Guangzhou–Kunming passageway via Nanning
Which is the Most Profitable High Speed Rail in China?
It is the Beijing-Shanghai High speed rail. It transported 215 million passengers in 2019, net profit is 11.9 billion yuan (1.83 billion USD) .
The rail officially started on April 18, 2008; on June 30, 2011, the entire line was officially opened to traffic. The Beijing-Shanghai high-speed railway runs from Beijing South Station to Shanghai Hongqiao Station, with a total length of 1,318 km (823 miles) and 24 stations. The designated maximum speed is 380 kilometers per hour. As of September 2017, the Beijing-Shanghai high-speed railway operates at a speed of 350 km/h (218.7 mph). On January 16, 2020, Beijing-Shanghai High-speed Railway Co., Ltd. was listed on the main board of the Shanghai Stock Exchange, becoming China's most profitable high-speed rail.
How Much are the High Speed Rail Tickets?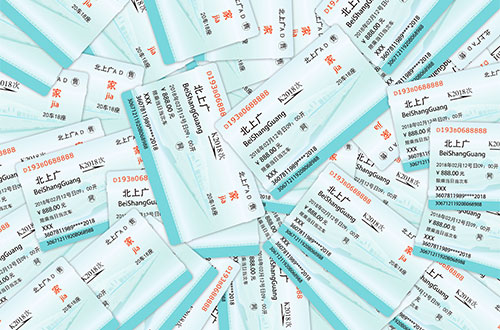 The high-speed train has four classes: second class, first class, premium class, and business class. Despite its name, second class seats are also very spacious, and that is also the choice for most passengers. The ticket fare for second class seat on a G- class train is about 7.4 USD per 100km (62.5 miles), and about 5 USD per 100km on a D-class train.
The price for a 1st class seat is about 1.7 times that of a second class seat, and a business class seat is about 3.3 times that of the second class seat. From Beijing to Shanghai, the price for a second class seat is 598 yuan (about 92 USD),1006 yuan (about 155 USD) for a 1st class seat and 1998 yuan (about 307 USD) for a business class seat.
How Long Did it Take China to Build the High Speed Rail System?
China's first high-speed railway track was officially inaugurated in August 2008. Connecting the capital Beijing and the city of Tianjin in about 30 minutes, the line is still in use and can reach a top speed of 350 km/h.
The year 2008 also saw the inauguration of the first track of the Shanghai-Wuhan-Chengdu line running between the eastern and western parts of the country. In 2011, Shanghai to Beijing HSR was opened; it links the capital with the eastern coastal economic hub of Shanghai. As of June 2020, about 1.11 million trains had used the line with an excellent safety record.
In 2016, the Shanghai-Kunming line was completed, it spans from the east coast and Shanghai to several southwestern cities. Trains running on its 2,200 km-long tracks pass in front of some of the most breath-taking landscapes China has to offer, making the Shanghai-Kunming line one of the most beautiful routes in the country. According to the plan, the government intended to further extend the railway southwards, creating a high-speed connection between China, Laos and other Southeast Asian countries.
In January 2021, The Beijing to Harbin line was completed. Harbin is the capital city of northeastern China's Heilongjiang Province. The new railway service forges a closer link between the national capital and the northeastern provinces of Liaoning, Jilin, and Heilongjiang. The new train can withstand harsh winter conditions i.e. temperatures as low as -40 °C (-40°F).
Zhan Tianyou, a Yale educated railway engineer, worked as the Chief Engineer responsible for construction of the Imperial Peking-Kalgan (Beijing to Zhangjiakou) Railway from 1906-1909, which was the first railway constructed in China without foreign assistance. The speed of the train is 35 km/h (21.8mph). In 2019, exactly 110 years later, a new driverless bullet train connecting the Beijing and Zhangjiakou is capable of reaching a top speed of up to 350 km/h (218 mph), making it the world's fastest autonomous train in operation.
The new service, launched in the build-up to the Beijing 2022 Winter Olympic and Paralympic games, will reduce travel time between the capital and Zhangjiakou, which will stage most of the skiing events, from three hours to a mere 51 minutes. The trains will start and stop at stations automatically to a precise timetable, and change speed depending on limits between stations. However, a monitoring attendant will still be on board in case of emergencies.
Zhangjiakou, in the northern Hebei province, will host snowboarding, freestyle skiing, cross-country skiing, and ski jumping at the Games. Another major Olympic host on the new line is Yanqing, where alpine skiing, bobsleigh, skeleton and luge events will take place. Skating, curling, ice-hockey and freestyle skiing will be held in the capital. Welcome to come and watch the Beijing 2022 Winter Olympic Games.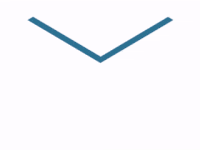 Have a question? Or can't wait to immerse yourself in the engaging journey of Chinese culture? Send us a message! Our top China specialist is ready to assist and connect with you without delay!