What Activities Can We do in Spring: Top Things to do

Going on spring outings in Qingming Festival is an important activity. When it coincides with a bright spring day, then men and women, old and young, like going outside to take a tour or play sports.
Given the great number of domestic tourists in this period, you are suggested to avoid it if you are planning a China tour.
Appreciating canola flowers and climbing mountains in Wuyuan County
The best time to visit Wuyuan County is from March to April when the canola flowers are in full bloom. Climbing to some higher places to admire the blossoms on the terraces and along the roadside, see grey tiles and white walls all decked out with the cheerful flowers. It is the epitome of the most beautiful village in China.
Address: Jiangling, Wuyuan County Scenic area, Shangrao City, Jiangxi Province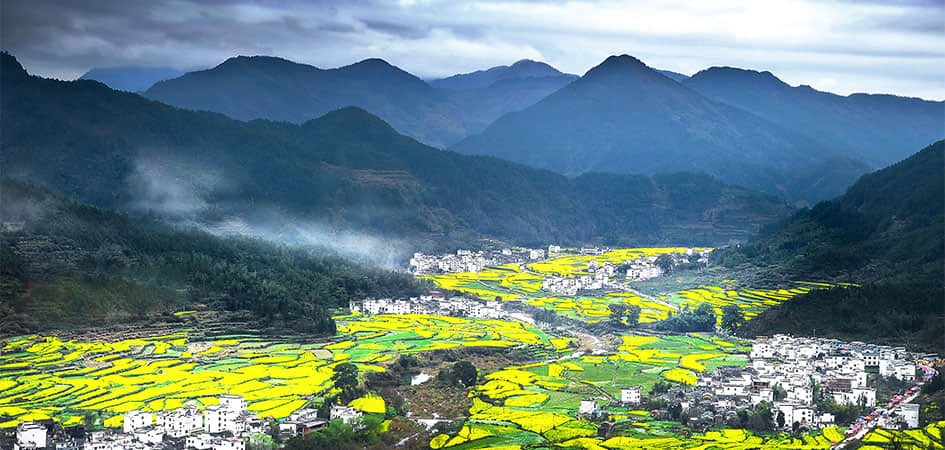 Admiring Peonies in Luoyang
The Peonies in Luoyang are renowned for having a huge flower, and their vibrant colors can be enjoyed all across China, as these flowers have been much loved by Chinese people for more than 1500 years. Millions of visitors come to Henan's city of Luoyang in spring just to get a glimpse of the regal flowers. The China Luoyang Peony Cultural Festival is held from April to May every year. At that time, there are several places worth visiting such as Luoyang National Park, Peony Park, and Xiyuan Park.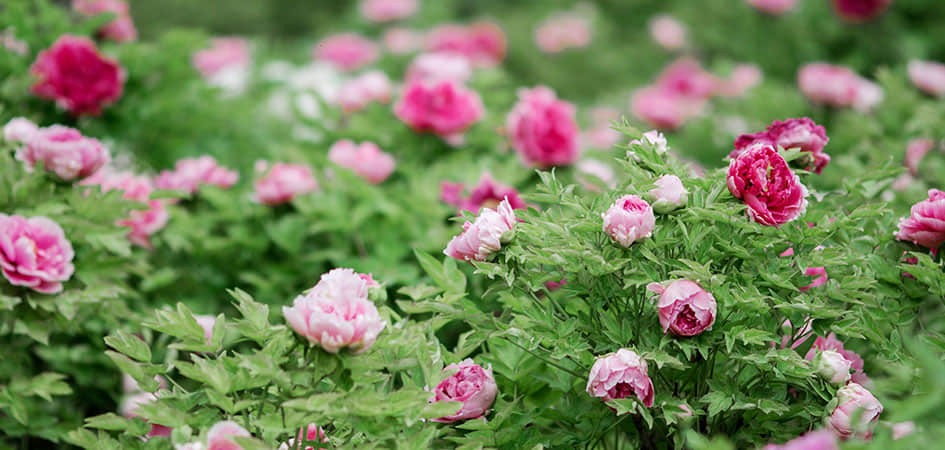 Riding a Bicycle around Qiandaohu Lake
There are cycle tracks around Qiandaohu Lake for cyclists with roads in good condition and delightful scenery. A chain of mountains and the sparkling water of the lake are highlights of the journey. Visitors can choose from several different routes according to their energy.
Address: Menggu road, Chun'an County, Hangzhou City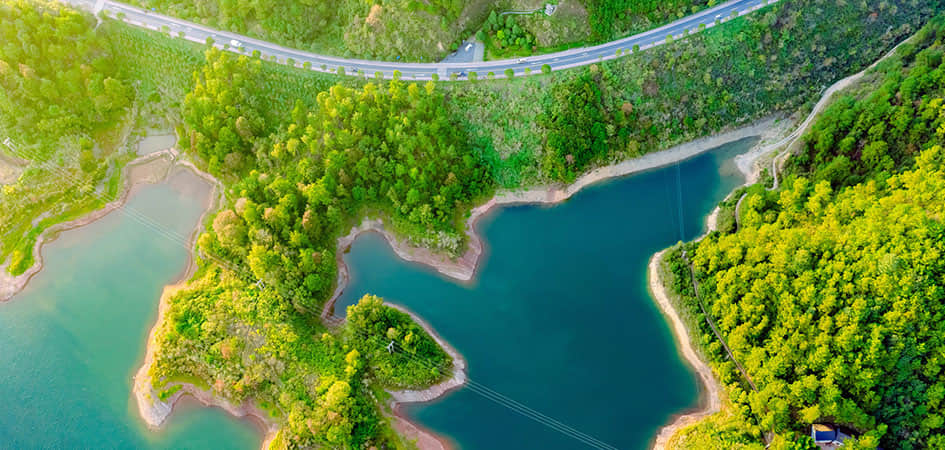 Taking Jiayang Steam Train
Located in Qianwei County, Leshan City, Sichuan, Jiayang steam train is the only operational narrow gauge railway in China, with a gauge of 762mm wide, about half of the standard gauge (1435mm). It is a really great invention and heritage of the 18th Century's Industrial Revolution, and takes about 2 hours for a round trip. In March, the rustic scene of the vast meadows of canola flowers beside the railway line conjures an image of a bygone era.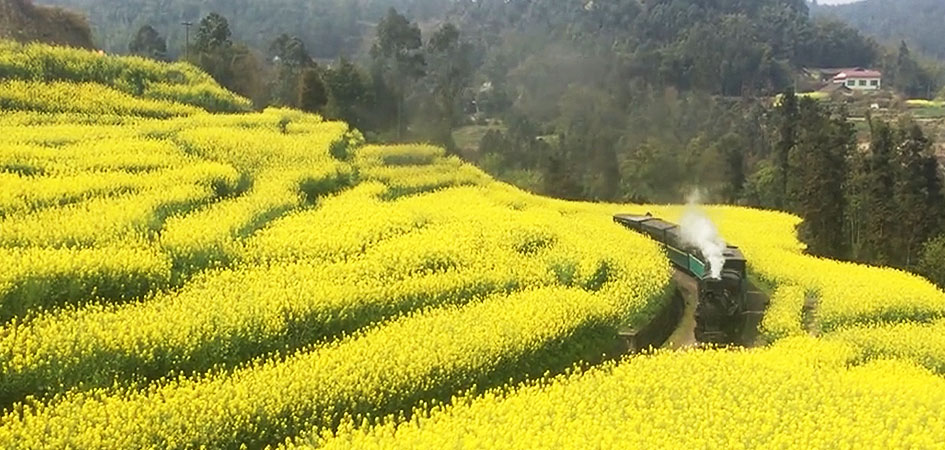 Visiting Canola Flowers in Luoping County
There are 200,000 mu (nearly 33,000 acres) of Canola flower fields in Luoping County. During February and March, the yellow canola blooms gently sway in the breeze as their fresh scent fills the air. Viewed from a higher elevation, the county roads crisscross the landscape of golden flowers dotted with lush trees and a few grassy hills. In mid-April of each year, the Water-Sprinkling Festival is held in the ethnic minority area of Yunnan, including folk performances and sprinkling water onto each other to pray for fortune and safety.
Address: Luoping County, Qujing City, Yunnan Province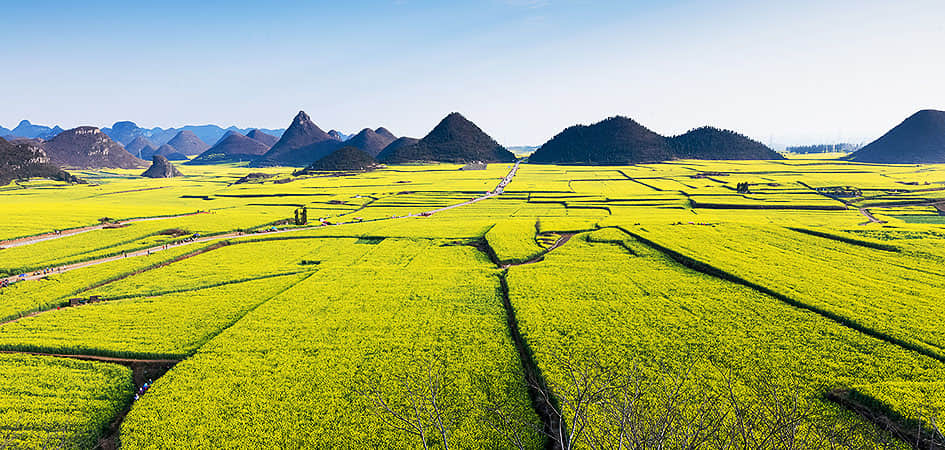 Viewing Cherry Blossoms in Guizhou Province
The best area for viewing cherry blossoms is along the Hongfeng Lake. With the vast area of cherry trees in blossom during March, all of the visitors walk under the cherry trees to enjoy the white, pink, and pale red flowers. When the petals float away on with wind, the whole scene resembles a romantic watercolor painting.
In April, the Sister Festival in Taijiang County is a great annual festival. It is not only a celebration of love but also a local carnival for displaying culture and the beautiful costumes of the Hmong ethnic group.
Address: West of Qingzhen, Guiyang City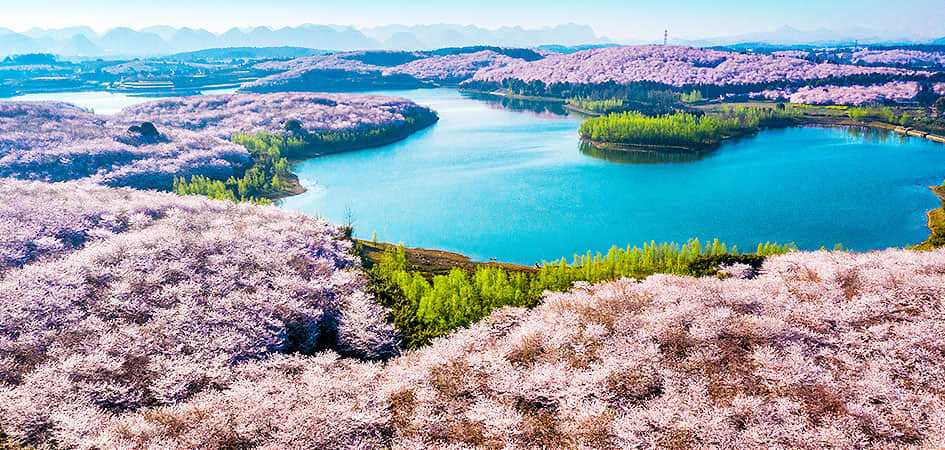 Climbing Mount Emei in Sichuan Province
Mt. Emei is one of China's four sacred Buddhist mountains. There are about 30 temples with a constant flow of pilgrims collecting a lot of Buddhist treasures. Spring is a really ideal time for sightseeing with the variety of flowers in bloom. When a pilgrimage is held on the mountain, people can admire the thousands of butter lamps lit up.
Address: Mt. Emei, Leshan City, Sichuan Province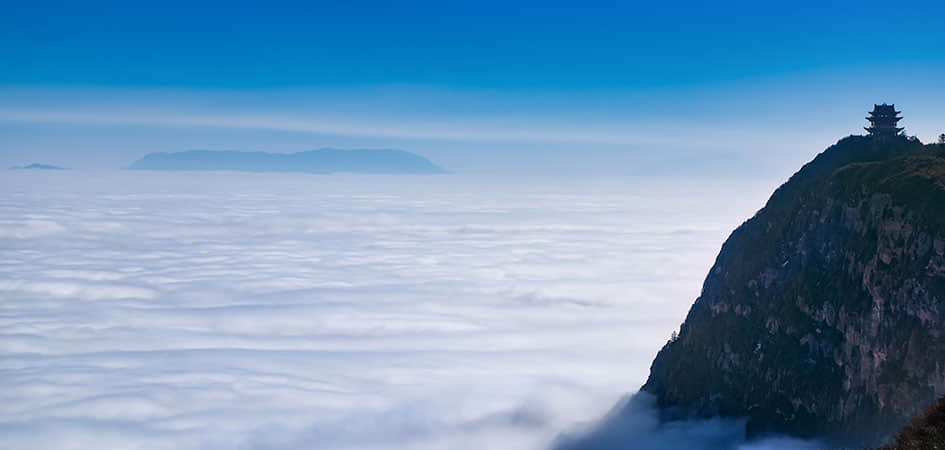 Immersing yourself in the natural oxygen bar of the Zhangjiajie National Park
Wulingyuan Scenic Area of Zhangjiajie is well suited to visits in spring. Standing on the glass bridge gives a panoramic view of the Zhangjiajie National Park. You will see the stunning landforms of Tianmen Mountain, shoals of tiny fish in Golden Whip Stream, scented flowers and green grass on the bank where you will enjoy an original ecology and oxygen bar.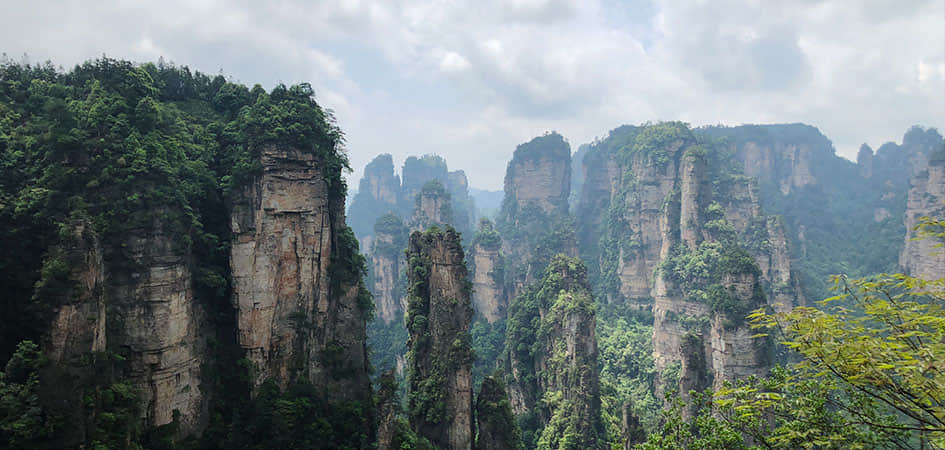 Wading through a Sea of Peach Blossoms in Linzhi Prefecture, Tibet
At the foot of a range of snow-capped mountains, the peach flower trees appear like vast layers of pink clouds against the backdrop of the blue sky. During March and April each year, Linzhi Peach Cultural Tourism Festival shows off the natural beauty and charm of the local culture, such as native singing and dancing performances and the whistling arrows competition.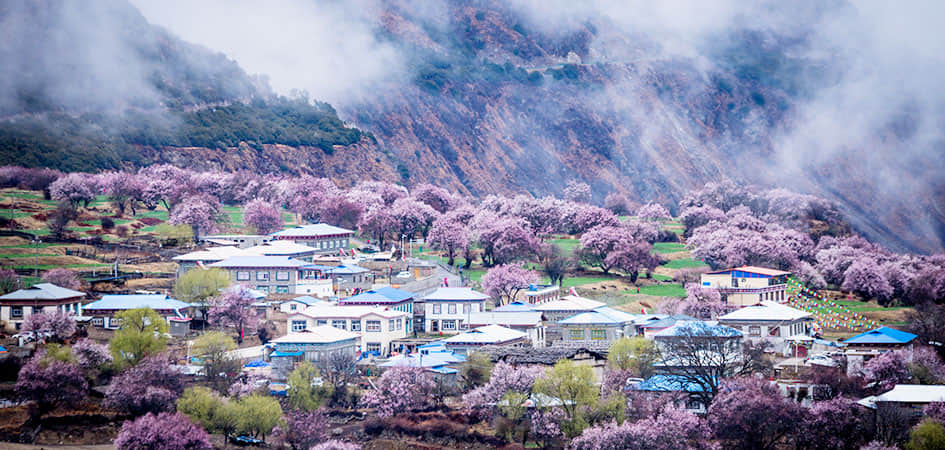 Enjoying hiking in Guilin
Hiking along the Li River is a wise choice to really experience spring. Here you will see a chain of mountains, water buffalo in the farmland, ducks swimming in a row, all of which are like something straight out of a Chinese painting set on the Li River.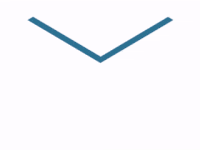 Have a question?
OR
Are you eager to begin your Chinese cultural journey?
Drop us a line and we will promptly connect you with our leading China expert!