Visiting China in April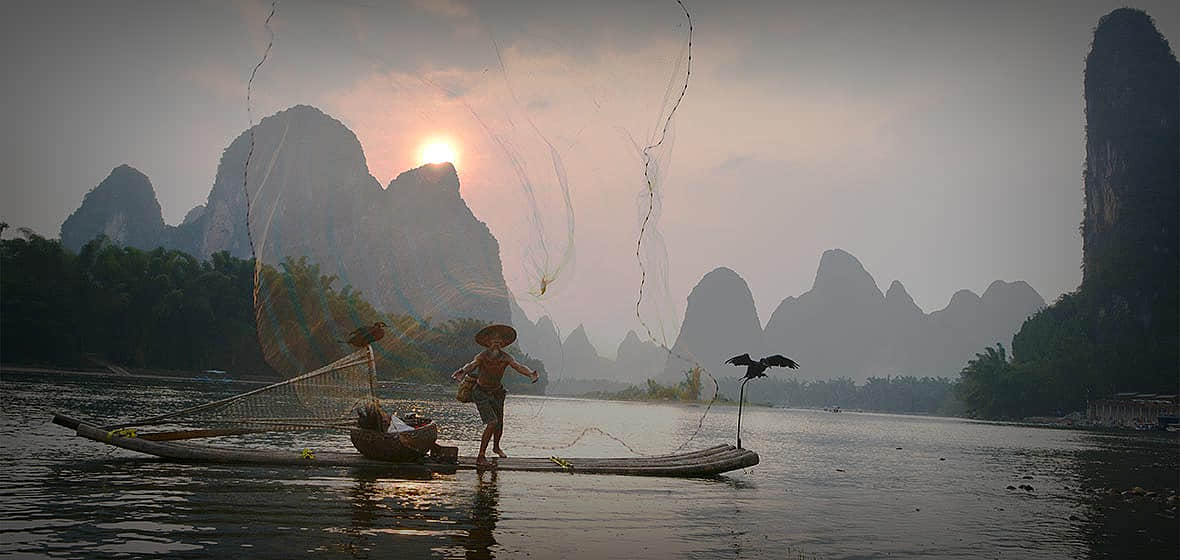 China Weather in April
In April, spring is in the air. Fruit trees are in blossom. Farmers begin to irrigate their fields and plant crops. The temperature is mild in the day and cooler in the evenings. With the country's massive size and geography, you will find that the weather is pleasant to explore and roam around to enjoy outdoor activities. Though it often drizzles in eastern and southern China it will not spoil your visit. In the far north and mountainous regions, it can still be chilly.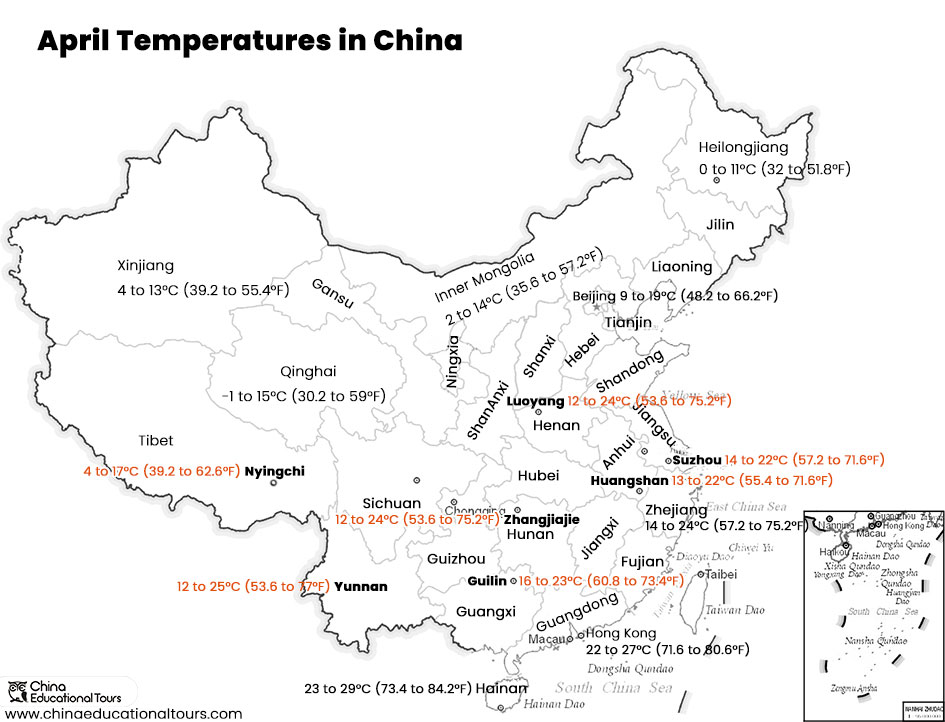 April Temperatures in China
Is April a Good Time to Visit China?
April is one of the most comfortable and pleasant months to travel around China due to the mild weather and picturesque scenery ranging from its flourishing rape flowers and colorful blossom trees to the mountainous terrains and karst mountains. With the mild weather and peak season has not begun there are fewer crowds compared to summer. We have selected the following destinations we recommend to visit during April.
Where to go and What to do in April
1. Yunnan – Enjoy Spring Vitality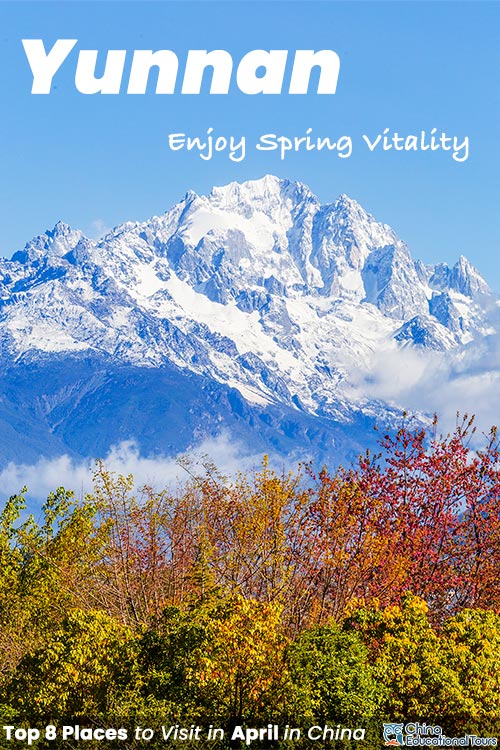 Location: Central South China
Average Temperature in April: 12–25°C (53.6–77°F)
Why Yunnan and Things to do:
Yunnan is a lovely destination for traveling all year round due to its comfortable weather.
In April, spring is awakened and is full of vitality everywhere.
There are abundant natural wonders in Yunnan, such as deep gorges, rainforests, freshwater lakes, and sacred snow-capped mountains.
You can have bike along the Erhai Lake in Dali, visit a flower farm and local Bai People's home. It is a pleasant experience strolling along the stone-paved path in Shaxi Old Town. Hiking on a hidden trail to Jade Dragon Snow Mountain you will enjoy the azalea flowers along the slopes.
Shangri-la is another good option to visit during this month, where you can learn about Tibetan culture, and visit the monasteries and national parks that are the top things to do in Shangri-la.
Highlight spots: Dali Ancient Town and Erhai Lake, Shaxi Old Town, Jade Dragon Snow Mountain, Ganden Sumtseling Monastery, Pudacuo National Park
Recommended Colorful Yunnan Vacation Packages in April:
2. Guilin – The Water-color Painting of Karst Landforms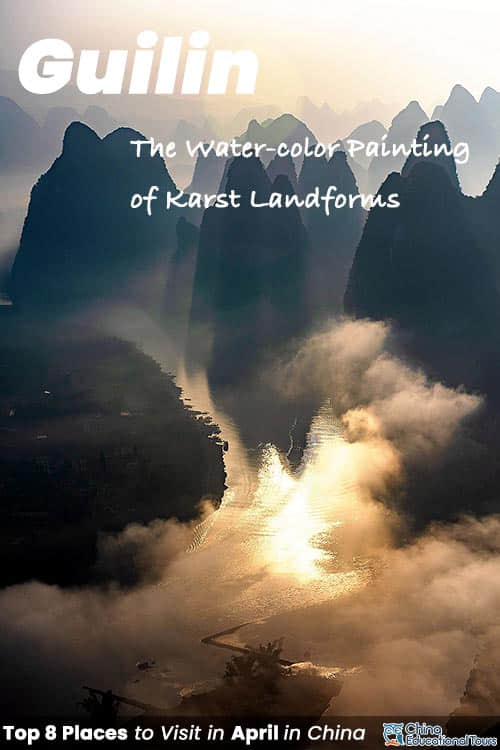 Location: Northeast of Guangxi Province, Southern China
Average Temperature in April: 16–23°C (60.8–73.4°F)
Why Guilin and Things to do:
Guilin is where you can appreciate the breathtaking mountain formations of Karst landforms, peaceful countryside scenery, and colorful minority culture and customs.
Karst mountains along the Li River and Yulong River form a masterpiece of Chinese water-color paintings. Often, you can find farmers plowing rice fields with their water buffalo, fishermen fishing with their cormorants, village women doing laundry in the river, and much more. Guilin and its surrounding areas, including Yangshuo and Longsheng, offer some beautiful portraits that will make your visit an interesting one.
Highlight spots: Li River Cruise, Longji Rice Terraces, outdoor activities in Yangshuo (cycling, rock-climbing, kayaking, etc.), Daxu Ancient Town, Reed Flute Cave
Guilin April Tours and Trip Packages:
3. Huangshan – The Gorgeous Mountain Peaks and Ancient Villages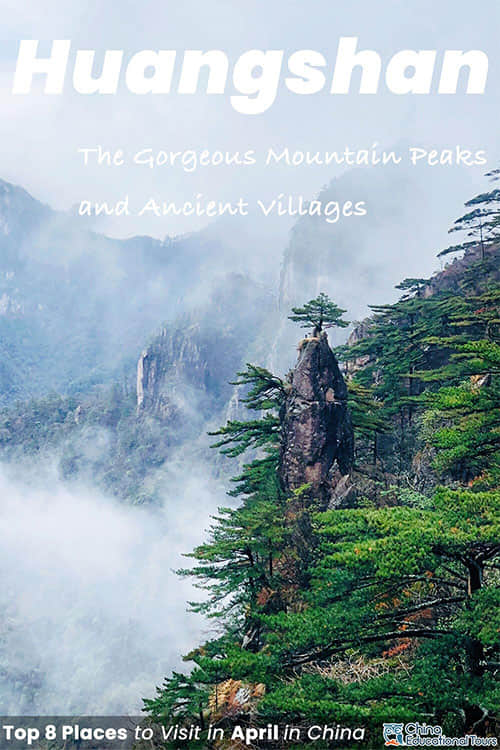 Location: South of Anhui Province, Eastern China
Average Temperature in April: 13-22°C (55.4–71.6°F)
Why Huangshan and Things to do:
Listed as a UNESCO World Heritage Site in 1990, Yellow Mountains Scenic Area is topping other mountains in China. Lofty and steep peaks and rocks, various pine trees, the sea of clouds, and hot springs are the four wonders of the Yellow Mountains. Every step you climb and corner you turn, you will find the views magnificent and unforgettable.
The ancient villages at the foot of the mountains add another exquisite element to traveling in the area. The old houses, water ponds, and spring flowers form a picturesque Chinese painting.
The comfortable weather of April is good for hiking between ancient villages. It will be still a bit chilly at the top of the mountains, therefore a heavy jacket is needed.
Highlight spots: Yellow Mountains Scenic Area, Hongcun Village, Xidi Village
Recommended Huangshan Tour Packages in April:
4. Beijing – Spring Scenery and Cultural Relics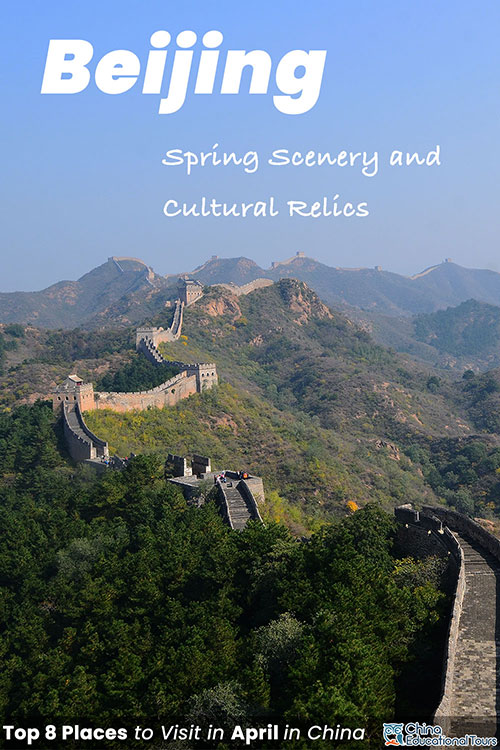 Location: The Capital City, Northern China
Average Temperature in April: 10-23°C (50–73.4°F)
Why Beijing and Things to do:
April is one of the best seasons to visit Beijing as the flowers are about to bloom, and tree branches are sprouting.
As the capital of ancient and modern China, the cultural relics, historical sites, museums, and art spots are no doubt the must-see. The beautiful gardens at the Summer Palace and hike along The Great Wall shouldn't be missed during this time of the year.
You will also enjoy amazing blossoms of azalea, peach, cherry, redbud, apple, and peony. As still considered low season, the crowds are fewer compared to summer.
Highlight spots: The Forbidden City, Summer Palace, Great Wall, Temple of Heaven, National Museum of China
Recommended Beijing Tours in April:
5. Suzhou – When Spring falls on Traditional Chinese Gardenst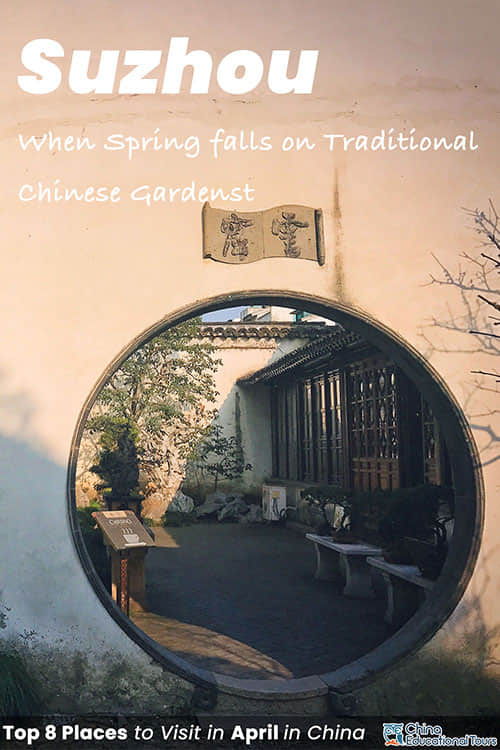 Location: Jiangsu Province, Eastern China
Average Temperature in April: 14-22°C (57.2–71.6°F)
Why Suzhou and Things to do:
With a history of over 2,500 years, Suzhou is a treasure city with elegant classical gardens, peaceful water towns, the Grand Canal, and famously known for its silk. Visiting one of the gardens, you will admire the perfect harmony of natural elements and artistic buildings.
When spring arrives, wisteria blossoms in the Humble Administrator's Garden and begonia flowers in Lingering Garden add vibrant colors to hundreds-years-old architecture.
Placid water towns, like Wuzhen and Tongli, are our favorite sites of the area. You can find riverside willows sprout green shoots, reflecting on calm rivers, which make up a tranquil Chinese water-color painting along with black roof tiles, white walls, and stone bridges.
Highlight spots: Humble Administrator's Garden, Lingering Garden, Suzhou Museum, Wuzhen, Tongli, Master-of-Nets Garden, Tiger Hill
Most Recommended Suzhou Tours in April:
6. Luoyang – Ancient Capital, Historical Treasures and Home of Peony
Location: Henan Province, Central China
Average Temperature in April: 12-24°C (53.6–75.2°F)
Why Luoyang and Things to do:
As a Chinese ancient capital of 13 dynasties, Luoyang has a history of thousands of years and innumerable cultural legacies.
Longmen Grottoes, along with Yungang Grottoes in Datong, Mogao Grottoes in Dunhuang are the top 3 grottoes in China. There are lots of vivid Buddhist statues. You can admire centuries-old Buddhist culture and splendid traditional arts and crafts.
A visit to the White Horse Temple - China's first Buddhist temple helps you understand where, when, and how Buddhism was introduced to China.
As temperatures warm during April, peony flowers become the most high-profile scene in Luoyang. Peony is China's national flower, symbolizing elegance, notability, and splendor, which is also wildly known as "the King of Flowers". If you encounter Luoyang Peony Festival held from early April to early May annually, you will admire the beautiful peony blossom of various types and colors and learn about the folktales surrounding it.
Shaolin Temple, the origin of Chinese Kungfu, is about 1.5 hours drive from Luoyang city, and worth an extended day trip.
Highlight spots: Longmen Grottoes, White Horse Temple, Peony Festival, Shaolin Temple
7. Nyingchi– Fall in love with Alpine Spring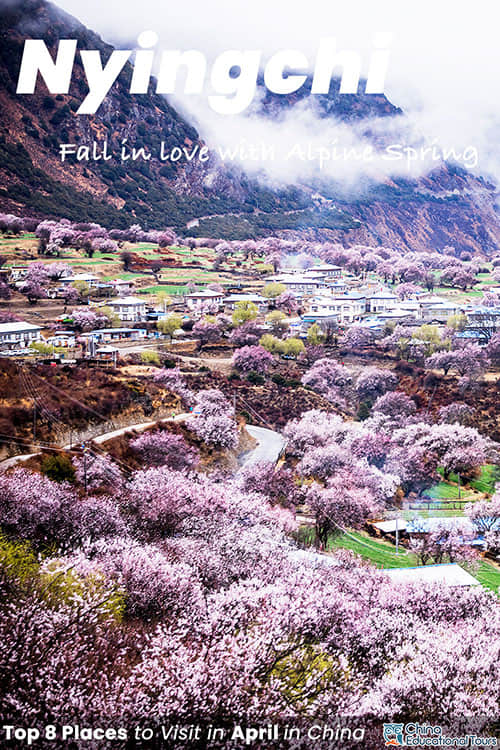 Location: Southeast of Tibet, Northern China
Average Temperature in April: 4-17°C (39.2–62.6°F)
Why Nyingchi and Things to do in April:
Known as the spring city in Tibet, Nyingchi is appealing to visitors from all over China for its gorgeous natural beauty of snow-capped mountains, green lands, primitive forests, crystal glaciers, emerald lakes, and Tibetan customs.
Springtime from late March to May is the busiest season. It forms a majestic fairyland when myriad clumps of pink peach flowers gather above the green fields with the holy snow mountains standing in distance. It won't be seen in other areas in Tibet.
Highlight spots: Nyingchi Peach Blossom Festival, Basum Tso Lake, Lulang Forest
8. Zhangjiajie – Unveil the Pandora World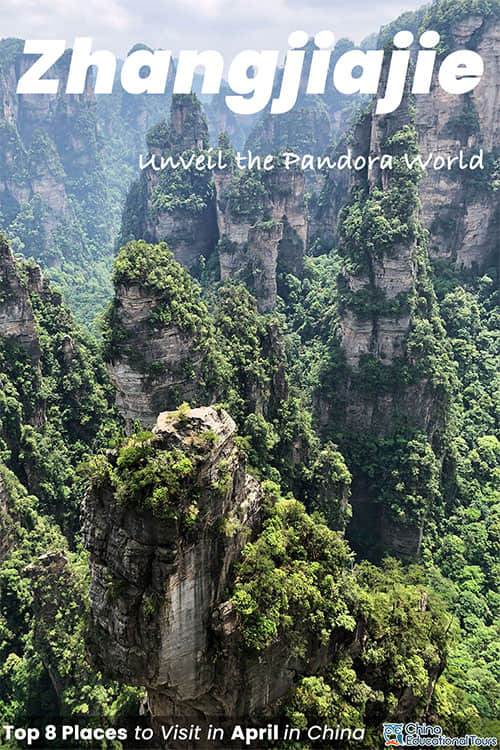 Location: Northwest of Hunan Province, Southern China
Average Temperature in April: 15-25°C (59–77°F)
Why Zhangjiajie & Things to do:
Zhangjiajie famously known due to the filming of "Avatar" that was shot at "Hallelujah Mountain". It is also a notable UNESCO World Heritage site in China. With no exception, everyone feels awestruck when standing at foot of the peculiar sandstone peak forest and imposing karst landform. Over 3,000 stone pinnacles rise abruptly out of the ground. It is a paradise for photographers, nature lovers, and hikers. Zhangjiajie National Forest Park is spectacular in spring when colorful flowers and verdant trees cover the peaks. Rivers and brooks flow through the mountains, where you can do some leisurely hiking. The big cable car and zig-zag driving path at Tianmen Mountain, Zhangjiajie Grand Canyon with the big Glass Bridge, and not to be missed is the local delicacies are highly recommended all year round.
Highlight spots: Zhangjiajie National Forest Park, Zhangjiajie Grand Canyon, Zhangjiajie Glass Bridge, Tianmen Mountain
Recommended Zhangjiajie Tour Packages in April:
---
If you are looking for more options, please contact us and tell us your interests, we will tailor-make a great winter holiday for you. For more about China Spring is a good season to visit most destinations in China for the mild temperatures and beautiful flowers. If you want to plan a trip to China, we suggest April is the best time, as the temperature warms and fewer crowds as peak season has not begun. Talk to us and we can help you plan your getaway catered to your interest and timeframe.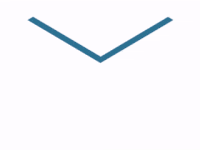 Have a question?
OR
Are you eager to begin your Chinese cultural journey?
Drop us a line and we will promptly connect you with our leading China expert!