Top Chengdu Delicacies
As a gourmet capital, the delicacies in Chengdu are always served in proper amounts and various patterns at affordable prices. Delicacies from all ethnic minorities in Sichuan can be found in Chengdu.
Salty and spicy delicacies:
1. Dandan noodles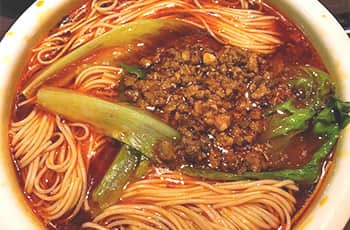 Dandan noodles were first sold by vendors who carried them using a bamboo pole (called Dandan) over their shoulders on the street. The noodle is cooked in water. Fried minced meat is then dressed over the noodle. The thin, smooth noodle dressed with sauce tastes delicious and spicy, as the aroma can be smelt from far away.
Characteristics: It looks lustrous and tastes spicy, delicious and sour.
Recommendation:
Xiaomingtang Dandan Tianshui Noodle
Address: 1F, Dazhou Hotel, No. 1, Jiangjun Street, Qingyang District, Chengdu City, Sichuan Province, China
2. Feichang Fen (intestine vermicelli)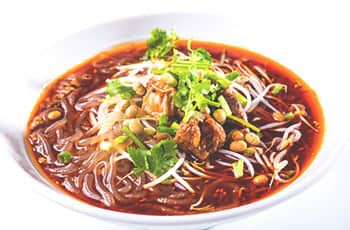 Visitors could see a Feichang Fen restaurant in almost every lane here in Chengdu. The spicy and delicious intestine vermicelli was invented during the late Qing Dynasty. The hand-made vermicelli is chewy and the intestine has a unique fragrance.
How to eat: The local authentic method of having intestine vermicelli is in a crusty pancake called Guo Kui.
Recommendation:
White's Feichang Fen
Address: No. 16, Section 3, Hongxing Road, Jinjiang District, Chengdu City, Sichuan Province, China
3.Rabbit head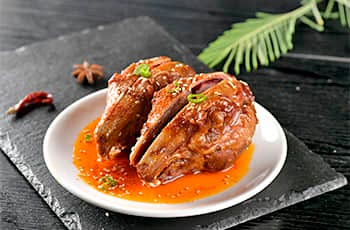 Rabbit head is a very authentic Chengdu delicacy, or a delicacy that can probably only be enjoyed by the locals, and ferociously. Rabbit heads are serve stir-fried, dressed with sauce, marinated, seasoned with spices (chili excluded, for your information), Ma La spicy (using Sichuan peppercorn) flavored, etc. Foodies have to go through the bones to pick out the rabbit meat, technically speaking. Rabbit heads are a true snack for the locals.
Characteristics: One cannot pick very much meat from a rabbit head. But the tender brain is really favored by those loyal foodies, in this case, the natives.
How to eat: Remove the jaw, the face bone and the back of the head carefully and you can share the experience of a good zombie.
Recommendation: Lao Ma Rabbit Head (rabbit heads made by a caring mother for her child)
Address: No. 245, Changshun Street, Qingyang District, Chengdu City, Sichuan Province, China
4. Bo Bo Chicken (Bo Bo Ji)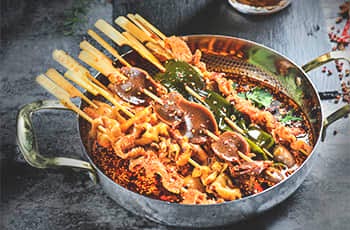 Skewers made from bamboo sticks have been served for hundreds of years. They are named after the use of earthenware jars. Sichuan folks call it a Bo Bo Ji. The well-cooked food is first loaded onto the bamboo sticks. Then they are submerged into the well prepared spicy sauce in a jar. In the early days, only chicken, skin and wings were used. Now, people favor vegetables, cattle strips, lotus roots and many other foods that used to be dedicated to the hot pot materials. Maybe people will still come up with more ideas for the delicious sauce in the jar.
Characteristics: the Ma La (local peppercorn used) crispy Bo Bo Chicken is neither too salty nor too sweet. The tender meat and fresh vegetables can be dipped into the red oil or the one with wild peppercorns can be used.
Recommendation:
Leshan Xianwei Bobo Chicken
Address: No. 16-19 Caotang North Road, Qingyang District, Chengdu City, Sichuan Province, China
5. Long Chaoshou (Dragon Wontons)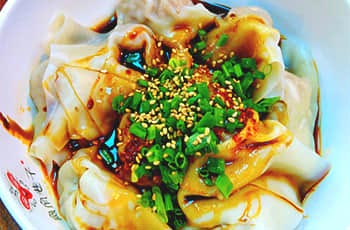 Wontons are referred to as Chaoshou in Sichuan. The skin of a wonton is as thin as paper. It is translucent when cooked. The minced meat is tender and smooth. Visitors can choose either the white soup, which is made of slow cooked poultry's bones, or the red soup, which is prepared with the red oil or local peppercorns and chili. The original water that the wontons are cooked in or the boiled chicken soup are also available.
Characteristics: it has thin skin, tender stuffing and delicious soup.
Recommendation:
Long Chaoshou (Dragon Wontons)
Address: No. 6-8, South Section of Chunxi Road, Jinjiang District, Chengdu City, Sichuan Province, China
6. Guo Kui (Crusty Pancake with the shape of a pot cover, or Guo Kui)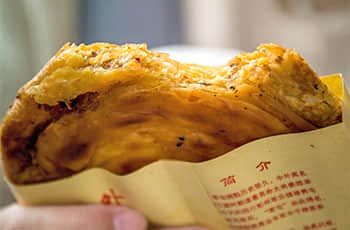 Sichuan's Guo Kui has a crisper outer layer than its brother Roujiamo from North China. Baimian Guo Kui, Jun Tun Guo Kui and Nan Bu Guo Kui are the three most commonly seen kinds. Baimian can be stuffed with vegetables and meat. So it is quite like what the people in the north do. Jun Tun is made of flour dough with minced meat kneaded into it. The finished Jun Tun is a golden color. Spicy Bean Jelly (Ma La Liangfen) and dishes such as Sliced Beef Tripe and Offal in Chili Sauce (Fuqi Feipian) can be stuffed into it, too.
How to eat: Guo Kui goes well with Feichang Fen (intestine vermicelli).
Recommendation:
Qile Guo Kui
1F, Sunshine Department Store, No.1, East Section of Chunxi Road, Jinjiang District, Chengdu City, Sichuan Province, China.
Grandma Yan's Guo Kui
Address: No.156-1, Section 1, Jiefang Road, Jinniu District, Chengdu City, Sichuan Province, China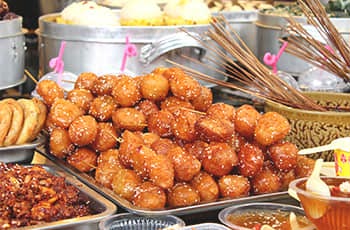 Sweet delicacies
1. Sugar and Oil Guozi (fried sticky rice balls with brown sugar and sesame seeds)
Deep-fried hollow dumplings with all white sesame stuffing sprinkled over are served on bamboo sticks. They look golden. And a bite of the crisp outside and glutinous inside is a delectable sensation.
2. Dan Hong Gao (folded tender cake with eggs in the flour)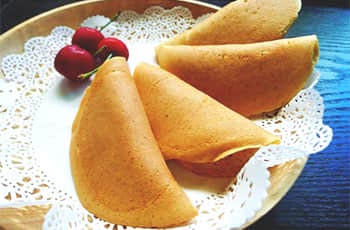 Add eggs and brown sugar to some fermented flour. Fry it in a pan and wrap it around salty or sweet fillings. The crust is crispy and the inside is soft. The fillings themselves are all time-honored snacks in Chengdu.
Characteristics: the following can be used in Dan Hong Gao, fillings such as stir-fried sliced green pepper and potato, beef and pork slices, sesame and sugar, mixed beans, preserved dates and raisins.
Recommendation:
He's Dan Hong Gao
Address: No. 29 Xiaotianzhong Street, Wuhou District, Chengdu City, Sichuan Province, China
3. Cool Rice Cake (Liang Gao)
This Sichuan-style dessert has many options for its raw ingredients. The square or round block made from glutinous rice is submerged in cold water (to think of the old days when fridges were not invented). The refreshing product with brown sugar water is sold everywhere in the streets.
Characteristics: In addition to the traditional recipe, many new recipes have joined the menu, such Cool Rice Cakes made from mung beans, milk and red beans, coffee, green tea, coconut milk, as well as chocolate.
How to eat: Pour the brown sugar water over the cooled cake. Storage in the fridge would add to its flavor.
4. San Dapao (sticky rice balls, making a lot of noise in its process)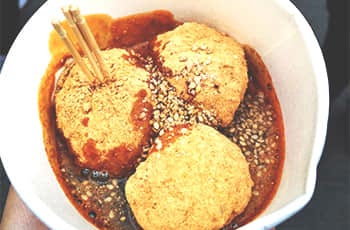 San Dapao is mainly made of glutinous rice and soy flour. As the dough gives out three lots of loud noises when thrown into the steel plate, it is called San Dabao (bombing for three times). Characteristics: the sweet and delicious Dapao never sticks to your teeth. For one helping, you could only get three pieces.
How to eat: Covering Dapao with sesame seeds and brown sugar water will serve you better.
Recommendation:
Li Changqing's San Dapao
Address: No. 10, Jiupi Street, Jinli Lane, Wuhou District, Chengdu City, Sichuan Province, China
Have a question?
OR
Are you eager to begin your Chinese cultural journey?
Drop us a line and we will promptly connect you with our leading China expert!