Eating & Drinking Food Cost in China
Chinese cuisine is an important part of Chinese culture and it is an important part of the travel experience for every international visitor to China. Chinese cuisine is as diverse as its culture where every region has its cooking styles, unique flavors, ingredients, and smells. The most prominent regional cuisines in China are Anhui, Cantonese, Fujian, Hunan, Jiangsu, Shandong, Sichuan (Szechuan), and Zhejiang.
Eating out in China is not much different than eating out in other parts of the world. You have a variety of choices; there are Chinese foods from street vendors to high-end restaurants, and also fast-food chains such as McDonald's and KFC. When you first arrive and are not comfortable trying Chinese food yet, there are always restaurants close by that offer the food you prefer. However, what makes the restaurants in China unique is that Chinese people like to sit around the tables and share different dishes of food, like having a potluck every day. Another thing is tipping is not expected in restaurants in China.
To help you to budget for your trip to China and make your trip to our beautiful country a once-in-a-lifetime experience, we have composed the following article about the cost of eating out in China.Trying local cuisine will tingle your taste buds and is an essential part of any travel. Eat your way around China:
Chinese Breakfast Cost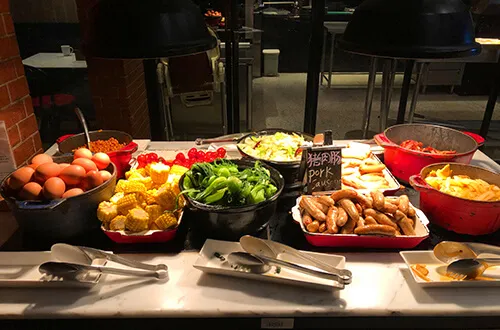 For most hotels in China, they have restaurants that provide three meals a day. You can include breakfast in your hotel booking. Breakfasts in hotel restauranst are usually buffets with both Chinese and western food. If you want to experience Chinese breakfast, you can just walk out of your hotel and find a local breakfast stall. Although China has an extremely varied cuisine, there is surprising uniformity among breakfast choices. The same dishes are commonly found throughout the country, but each one is subtly adapted to local preferences. The following are the most common food you can have for breakfast all over China:
Deep-Fried Dough Sticks and Soybean Milk (The pairing of a fried dough stick and soybean drink is like bread and butter)
Steamed Buns (baozi)
Beancurd Jelly(doufunao)Rice Dumplings (Zongzi)
Wontons with Noodles
Wheat Noodles- fried or in soup
Rice Noodles-fried or in soup
Rice Porridge (congee)
Pancakes (jianbing)
Dim Sum
Here are the most popular breakfasts and price ranges in each city:
Beijing: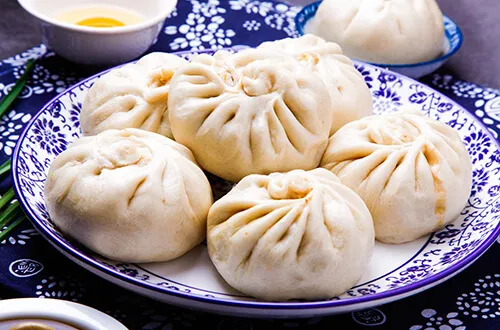 Baozi(包子), steamed, bread-like buns filled with meat, vegetables, or a sweet bean paste. Baozi is usually paired with congee. A breakfast set - Baozi and congee costs 6 to 15 yuan(0.9 to 2.3 USD).
Jianbing(煎饼) is a wheat flour crepe cooked on a circular grill then topped with an egg, chopped scallion, cilantro, sweet soy bean paste, and a piece of the crispy wonton wrapper. Jianbing is usually paired with soybean milk, and costs 8-16yuan(1.2 to 2.5 USD) for a set.
Douzhir (豆汁) is a fermend mung-bean drink) enjoyed by most Beijingers. It has an acquired taste, sharp and tangy and typically consumed with jiaoquan (焦圈), crispy circles of fried dough, on the side for dipping. The cost for douzhi and Jiaoquan varies from 6 to 15yuan (0.9 to 2.3 USD) .
Xi'an: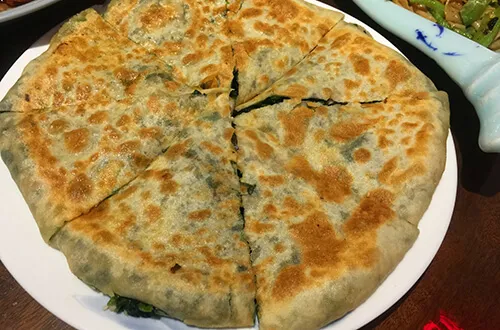 Beef Pancake (牛肉饼), is a layered, rolled, crispy pancake with spiced meat in the middle. A sure delight to begin your day. The beef pancakes cost between 2.5 to 5 yuan each.
Hulatang(胡辣汤)—literally: "peppery, spicy soup"— a peppery soup of carrots, potatoes, onions, cauliflower, beef, and cabbage, served with Mo, a local flatbread. The price for a set of Hulatang and Mo varies from 12 to 25 yuan (1.8 to 3.8 USD).
Shanghai: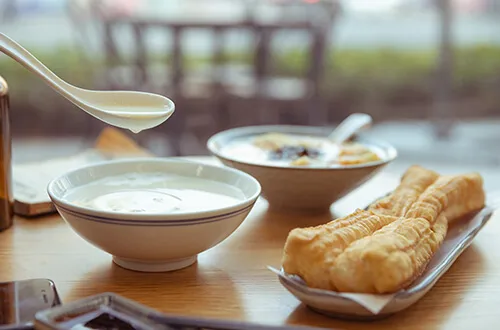 The Shanghainese dearly call their top four choices of Chinese breakfast: the four warriors (四大金刚): sesame pancake(大饼), deep-fried dough sticks (油条), soybean milk(豆浆) and steamed sticky rice with fried dough wrapped inside(粢饭).
A breakfast set with sesame pancake, deep-fried dough sticks with soy milk costs 5 to 20 yuan (0.8 to 3 USD). Besides the "four warriors", breakfast repertoire, there is also the pan-fried buns, deep-fried glutinous rice cake (糍饭糕Cí Fàn Gāo), scallion pancakes (葱油饼), wonton soup (馄饨), noodle soups, and much more to help you get your day started.
Chengdu:
Wontons in Hot Chili Oil (红油抄手) from 7 to 15yuan (1 to 2.3USD) are made with thin fresh wrappers, pork or pork and vegetable filling boiled in and served in slightly sweet chili oil. Another option is wheat noodles, served with a spicy sauce and topped with preserved vegetables, minced meat, peppercorns, and scallions. This popular noodle dish will set you back 8 to 20 yuan (1.2 to 3 USD).
Guilin: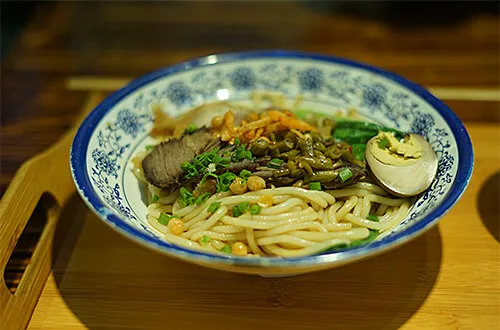 Rice Noodles are popular in the south, and especially in Guilin, you cannot leave without trying their famous Guilin Rice Noodles 桂林米粉 to start your day. A bowl of these soft silky rice noodles is served with a delicate sauce and topped with condiments of spring onions, pickled beans, fried soybeans, and chilies that would cost about 6 yuan (1 USD).
Guangzhou:
Guangzhou, the capital of Guangdong, is the birthplace of Cantonese cuisine and is famous throughout China. Here you will indulge and enjoy the sweet and savory dishes of 'dim sum'. Dim Sum is small dishes like tapas, and they are either steamed or fried. It is also known as 'yum cha' which simply translates as 'drinking tea'. At any local restaurant that serves 'dim sum', it is always with a pot of tea. This is a delightful and relaxing way to begin any day, and prices range from 30 yuan (4.6USD) to 120yuan (18.4USD) per person. If you have time on your hand, you can sit back and enjoy a variety of dishes. If you don't have enough time on your hand, we do recommend that you at least try a few dishes: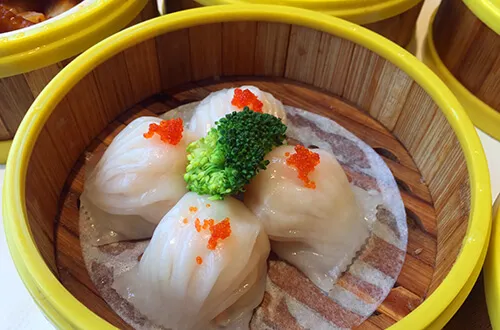 Rice noodle rolls: 5 to 15 yuan (0.8 to 2.3 USD) per plate.
Wontons with noodles: 9 to 30 yuan (1.4 to 4.6USD) per bowl.
Sampan congee – is a rice porridge, with seafood, fried peanuts and shallots: 9 to 17yuan (1.3 to 2.6USD) per bowl.
Barbeque pork buns – 5 to 15 yuan (0.8 to 2.3 USD) per plate
How Much Does a Lunch and Dinner Cost in China
Like any country in the world, there are many different types of restaurants in China, from fast food to fine dining. The food, service, and atmosphere of restaurants differ according to their style or concept.
We have listed below the price range based on fast-food restaurants, casual dining to fine dining.
Beijing :
Chinese Fast-Food Restaurant, 20 to 40yuan ( to USD) per person
Casual Dining, 100 to 160yuan( to USD)per person
Fine Dining, 180 to 1200yuan ( to USD) per person
In Beijing, the must try dish is Peking Roast Duck. Peking roast duck is served with an assortment of side dishes, sliced cucumbers, sliced scallions, pancakes, a sweet bean sauce, and sugar. The price for a whole roast duck varies from 120 to 300 yuan (18 to 46 USD) in different restaurants. Our recommendation is the Quanjude, Bianyufang, Da Dong and Liqun restaurant for authentic Peking Roast Duck.
Xi'an:
Chinese Fast-Food Restaurant, 20 to 40 yuan ( 3 to 6 USD) per person
Casual Dining, 100 to 160 yuan ( 15.3 to 24.6 USD) per person
Fine Dining, 180 to 1400 yuan (27.6 to 215 USD) per person
While visiting this ancient capital, there is a dinner show called the Tang Dynasty. The dance and music performances reflect the the ancient Tang Dynasty style. The theater also offers dinner, which serves food alongside the show, providing a taste of imperial palace luxury. The price varies from US$65 TO US$95 per person based on your choice of food.
Shanghai:
Chinese Fast-Food Restaurant, 20 to 40 yuan (3 to 6USD) per person
Casual Dining, 100 to 160 yuan (15 to 24.6 USD) per person
Fine Dining, 180 to 5000 yuan (27.6 to 769 USD) per person
If Shanghai is your last destination, and you are craving for European cuisine, the city is an international metropolis, wtih many western and Asian restaurants. You can find them near the Bund and Xitiandi area.
Chengdu:
Chinese Fast-Food Restaurant, 20 to 40 yuan ( 3 to 6 USD) per person
Casual Dining , 100 to 160 yuan( 15.3 to 25 USD) per person
Fine Dining, 180 to 1400 yuan (27.6 to 215 USD) per person.
Chengdu is home to Sichuan (Szechuan) style hotpot, that should not missed. The soup base is prepared with mouth-numbing Sichuan pepper, red chilies, and many fragrant spices. You can select your choice of meat or seafood, vegetables and then cooked in the firey broth of soup. There are many hotpot restaurants in Chengdu, but Haidilao HotPot restaurant is well known, offering you a unique dining experience. Each table will have a dedicated server, who will attend to your every whim and desire. Its founder Zhang Yong is in the top of Forbes Singapore Rich List of 2020 with a net worth of $13.8 billion, thanks to his successful restaurant chain.
Guilin: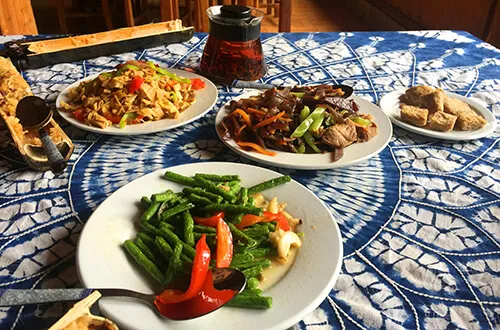 Chinese Fast-Food Restaurant, 20 to 40 yuan (3 to 6 USD) per person
Casual Dining, 80 to 160 yuan ( 12 to 24 USD) per person
Fine Dining, 180 to 500 yuan(27.6 to 77 USD) per person
Guilin dishes are influenced from the spicy Sichuan (Chuan) and Hunan (Xiang) Cuisines. The spicy, acidic flavors benefits most from the integration of the cooking styles from these provinces. There are a number of restaurants where you can experience the rich blends of this cuisine found HERE.
Guangzhou:
Chinese Fast-Food Restaurant, 20 to 40 yuan (3 to 6 USD) per person
Casual Dining, 100 to 160 yuan (15.3 to 25USD) per person
Fine Dining, 180 to 1500 yuan (27.6 to 230USD) per person
Going out for Dim Sum in Guangzhou is can also be referred to as Yum Cha, meaning 'drinking tea' . Chinese tea is always accompanied with the meal . Going out for Yum Cha in Guangzhou is a common weekend family activity, and you can expect long queues at popular restaurants. Yum Cha is normally served from early morning until just after lunch. Most restaurants will not serve dim sum in the evening, but only Dian Dou De restaurant is an exception.
The most famous dim sum restaurants are Guangzhou restaurant (广州酒家), Dian Dou De(点都德), Bei Yuan Restauran t(北园酒家), Nan Yuan Restaurant (南园酒家), etc. You can have dim sum for either breakfast or lunch. The prices vary from 30 to 120 yuan (4.6 to 18 USD) per person.
Midnight Snacks Cost
Eating out is common in China, whether it's from fine dining to street food. The Chinese have a deep love for food from morning to night. Even after a hearty dinner, there is always room for midnight snacks, or in Chinese 'xiaoye'. Every Chinese city has at least one or more snack streets that offer a range of delicious snacks. You will never go away hungry when you are visiting China.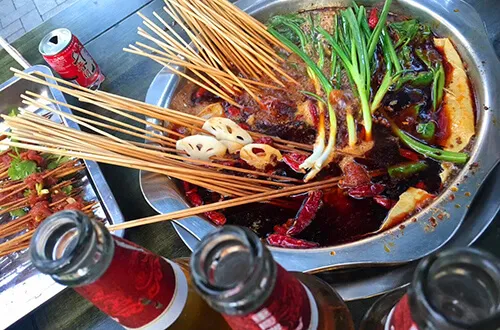 The most popular food for midnight snacks is Chuan'r, also known as kebabs, are pieces of meat skewered onto thinly cut bamboo sticks. There is a variety of meats, vegetables and even insects are sold. Street vendors prepare them by marinating the meat with salt, dried chili flakes and ground cumin spice, and then barbequed over hot charcoal. Chuan'r are common throughout China, and mostly eaten at outdoor night stalls when the weather is warm from April to October. The price for Chuan'r varies from 2 to 20 yuan (0.3 to 3 USD) each. Chuan'r paired with draft beer are a favorite pastime for many during summer. You will often see locals sitting on tiny stools, oredering up several chuan'r, enjoying them with a pint of local beer. You're guaranteed a memorable night when you visit the street vendors. To help you explore local midnight snack streets, we have listed the most popular snack streets for each city below:
Beijing:Wangfujing Snack Street (王府井小吃街), Huguosi Snack Street (护国寺小吃街) and Guijie Street (簋街).
Xi'an:Muslim Quarter (回民街) and Yongxing Fang(永兴坊).
Shanghai:South Yunnan Road (云南南路美食街), Huanghe (the Yellow River) Road (黄河路), East Nanjing Road (南京东路), Jinxian Road (进贤路) and Huaihai Road (淮海路).
Chengdu:Jinli Street (锦里), Yulin Shenghuo Square (玉林生活广场) and Hongpailou Snack Street (红牌楼)
Guilin:Zhengyang Pedestrian Street(正阳步行街), Shangshui Snack Street (尚水街), Guilin Workers' Palace of Culture (工人文化宫), The Temple Street (庙街) and East-West Alley (东西巷).
Guangzhou:Shangxiajiu Pedestrian Street (上下九步行街), Huifu Gourmet Food Street (惠福美食花街), Beijing Road Pedestrian Street (北京路步行街), Xihua Road (西华路) and Tiyu West Horizontal Street (体育西横街).
Drinking Cost
There is a wide range of drinks served at many restaurants. Restaurants offer free tea or hot water, but some restaurants charge a fee for tea.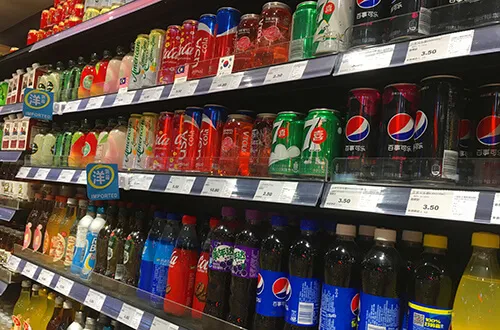 Soft Drinks:
Cola: about 15 yuan (2.3USD) per bottle (1.25L).
Sprite: about 15yuan (2.3USD) per bottle (1.25L).
Coconut milk: about 18 yuan (2.8USD) per bottle (1L).
Juice: about 15yuan (2.3USD) per bottle (1.25L). For fresh juice, the prices vary from 30 to 60 yuan (4.6 to 9.2 USD) for a pitcher(1.25 to2 L ).
Chinese Alcoholic Beverages Cost
Beer: Beer is popular and an affordable alcoholic beverages in China. You can find any local beer brand in most cities. The price for a bottle of beer (600ml) varies from 10 to 20 yuan (1.5 to 3 US). China's famous brands are Tsingtao Beer, Pearl River Beer, Shancheng Beer, Snow, and Yanjing, to name a few. If you enjoy a cold beer during summer, then you must try some of these local brands before leaving China.
Red Wine: Many Chinese people believe drinking red wine is good for their health.Rred wine can be found in many restaurants throughout China. Imported wines account for about 40% of the Chinese wine market. The popular Chinese wine brands are Changyu, Great Wall, and Dynasty. The price for a bottle of red wine (750ml) varies from 50 yuan to 2000 yuan (7.6 to 308USD). When dining at a restaurant in China, usually it is sold by the bottle, not by glass.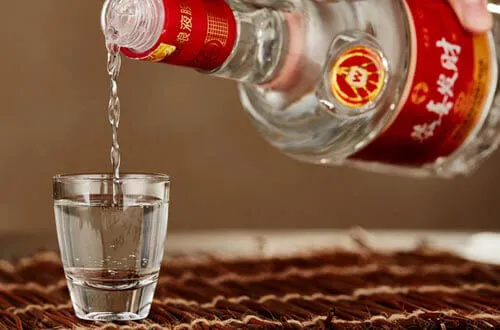 Baijiu: Nicked named as firewater, Baijiu is distilled from fermented grains, usually sorghum, wheat, rice, sticky rice, and corn. Depending on the materials, the manufacturing process or starters, baijiu varieties can greatly differ in the final taste profile, but high-quality baijiu should always have a complex, full-bodied flavor. Based on its aroma, the drink is classified into four categories: rice aroma – from the south made with glutinous rice, has a sweeter and mellow delicate flavor; light aroma – made in the north, is sorghum based and not rice based; strong – mostly from Sichuan, and made with at least two different grains, giving it a strong aroma and complex flavors; and finally, the sauce baijiu – has a strong aroma, and complex smells. It is usually bottled at 50% ABV, and it should be served in small-sized wine goblet. There's a huge price difference between the different brands. The prices vary from 20 to 2500 yuan (3 to 384USD) per bottle (500ml). The famous brands include Moutai, Wuliangye, and Luzhoulaojiao, which makes a nice gift to give to friends back home.
To help you to explore local delicacies in each city, we have created these food tours to tingle your tastebuds across the country below.
Have a question?
OR
Are you eager to begin your Chinese cultural journey?
Drop us a line and we will promptly connect you with our leading China expert!