The Science Behind Making Chinese Chopsticks

If you are looking to try out authentic Chinese dishes, the one thing that you cannot do without are chopsticks. From disposable to expensive handcrafted, chopsticks are an important eating utensil in Asian countries. You can find them in Asian grocery stores and have become popular all across the world.
A typical Chinese chopsticks manufacturing process begins with milling the wood and cutting it into several pairs of sticks, which are wider and longer than the end product. The sticks are then inlaid with contrasting wood, which gives them a unique texture. After the chopsticks completely dry up, they are removed from the wood block and milled again to get the chopstick shape. The rectangle ends are made smooth and curved using a sandpaper so that you don't get splinters in the mouth while eating food. Rest of the chopsticks are smoothened using sandpaper. In the last step, the chopsticks are either finished with paint, oil, or lacquer.
Creative Chopstick Innovations You Need to Know About
Over the years, there have been many creative innovations in the chopsticks world. Some innovations have made chopsticks more comfortable to use, while others have made chopsticks a wonderful gifting option. Let's take a look at 12 creative chopstick innovations you need to know about:
1. Mater's angle chopsticks
If you love dining classy, you will love Mater's angle chopsticks. They are made of stainless steel and designed ergonomically to reduce the stress on your wrists while picking food up.
2. Narrowed chopsticks
As the name suggests, narrowed chopsticks are narrowed in the area where you hold them. The innovation gives a comfortable grip to the user.
3. Magnetic chopsticks
If you have a tendency to keep one chopstick away from the other, you need to purchase magnetic chopsticks. They also create the feeling of pulling disposable wooden chopsticks apart.
4. Clothespin chopsticks
Clothespin chopsticks make an amazing gift for someone who has just started to learn how to use chopsticks. Two chopsticks are held together with a metal spring, which helps the user get a hang of the movement.
5. Sauce dispensing chopsticks
Sauce dispensing chopsticks is one of the best inventions ever. You have to unscrew the lower part of the chopstick and fill liquid in the upper half. Screw them up. Every time you pick up the piece of food, the sauce will trickle down. You can fill the chopsticks with two different sauces.
6. Frogget Mee chopsticks
If you are busy on call or finishing assignments, the Frogget Mee chopsticks will help you pick up the food pieces easily. The pair comes with a soup spoon on the other end, which you can use to drink the soup.
7. Chimp chopsticks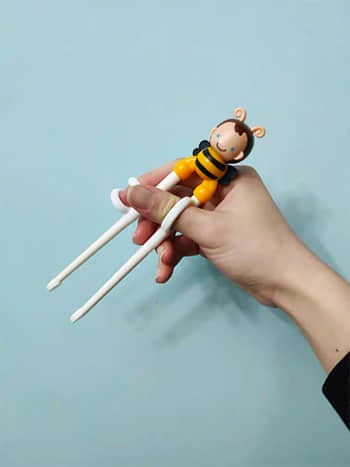 Chimp chopsticks
Kids love to use chopsticks even if they aren't able to pick up food with them. You can get them chimp chopsticks, which are joint at one end and have tiny hands at the other end. They are also smaller than an average-sized pair of Chinese chopsticks, which offers the kids are a more manageable experience.
8. Tukaani chopsticks
Tukaani chopsticks are great for learners. They are curved and linked at one end, so picking food up with them is very easy.
9. Carbon fiber chopsticks
Carbon fiber chopsticks look like any other pair of chopsticks but they are environmentally sustainable and extremely durable. They are available in multiple colors but we suggest you to stick to uncolored ones because the color might contain lead.
10. Folding chopsticks
If you are backpacking in Asia, you might need this pair of folding chopsticks. After you use them, wash clean and fold and keep the chopsticks in the backpack. They fold into half the size of average Chinese chopsticks.
11. Forkchops chopsticks
Forkchops chopsticks have a knife and a fork at the other end. You can use them to cut up steak or veggies in small pieces before eating with the chopstick end. They are mostly made up of disposable plastic and a great replacement to the usual fork and knife during parties.
12. Kobayashi Chopsticks
Kobayashi chopsticks are slightly curved at the narrow end. When you place them on the table, the narrow end doesn't touch the surface.
Gifting The Best Chopsticks
We use chopsticks made out of wood, plastic, or bamboo, which are affordable options. They are also available in silver, gold, platinum, bone, ivory, and jade, which make them wonderful gift options. You can personalize the chopsticks by getting them painted or carving the person's name on them.
European and American tourists who have visited Asia over the years take home elaborately designed chopsticks as souvenirs for friends and family. Here are four tips to remember while selecting chopsticks as a gift:
1. Why Do You Want to Gift It?
Do you want to gift chopsticks for them to keep it on the showcase as a memory or do you want them to use it? Porcelain chopsticks are a great choice if you want to gift it as a remembrance of your time together or friendship. If you want them to use it, you can gift gold-plated wooden chopsticks.
2. Avoid Sleek Surfaces
Lacquered chopsticks or stainless steel chopsticks have a smooth surface and are difficult to use. If the person you are gifting to is a newbie, you should purchase a pair that has slight texturing for a better grip.
3. Choosing the Tip
There are different varieties of chopsticks to choose from the shape of the tip is the most important. Chopsticks with squared tips are the easiest to use, while those with round tips can be a little tricky.
4. Chopstick Storage
Chopsticks as a gift are incomplete without giving a box to store them in. Engrave the person's name on the box to make the gift even more special.
Chopsticks make a unique gift, and no matter who you are gifting it to, we are sure they will love it.
Have a question?
OR
Are you eager to begin your Chinese cultural journey?
Drop us a line and we will promptly connect you with our leading China expert!