10 Famous Peking Opera Artists

If you were on a game show would you be able to answer a trivia question about famous Peking Opera performers?
10 Famous Opera Masters
Mei Lanfang |
梅兰芳 méi lán fāng | 梅蘭芳 Mui Lan Fong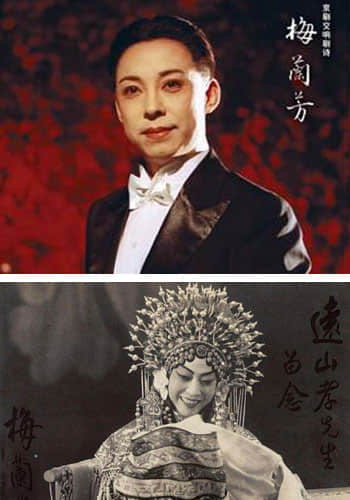 Source from Internet, only for display and study.
The best known name associated with Peking Opera is Mei Lanfang (1894 – 1961), not just in China, but around the world. He was, after all, the first to perform with his company away from China, and achieved extraordinary success in countries like Japan (1919 and 1924), the US (1930), and the Soviet Union (1932).
He was a legendary player of the 'Dan' roles (female roles), and developed a whole new performing school in his own style. Mei Lanfang (1894 – 1961) was so much more than just an actor, he was an opera master. He started studying when he was 8, and played his first role at 12. When he was 14 he joined the XI Lian Cheng theatre company, and performed in Shanghai and elsewhere.
Mei rediscovered and revived many old and forgotten theatrical masterpieces, adding his own style to them, and so revived the traditional Chinese arts of dance and pantomime, enriching it with Kungfu swordplay.
There were actually four very famous masters who played 'Dan' roles. Along with Mei Lanfang there were Cheng Yanqiu (1904 – 1958), Shang Xiaoyun (1899 – 1976), and Xun Huisheng (1899 – 1968).
Cheng Yanqiu |
程砚秋 chéng yàn qiū | 程硯秋 Ching Yin Chow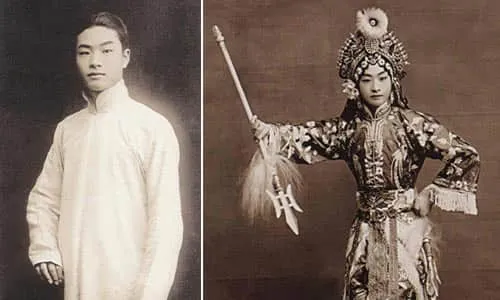 Source from Internet, only for display and study.
Cheng Yanqiu began to learn at the age of six, first training in martial roles ('Wusheng') and later training in the role of a vivacious maiden with questionable character ('Huadan') and also the role of a noble middle-aged woman ('Qingyi'). He also took Mei Lanfang as his tutor. There was something unique about his singing, which was firm but gentle, soft, and pleasing and which expressed the character's feelings in a way that touched the audience's emotions, and which became known as the 'Chen' style.
Shang Xiaoyun |
尚小云 shàng xiǎo yún | 尚小雲 Sheung Siu Wan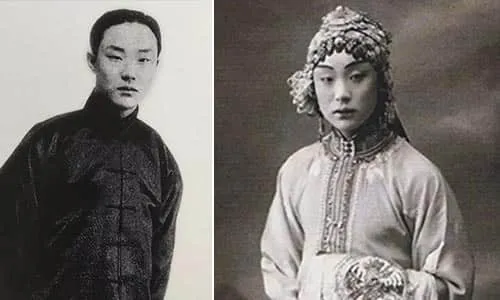 Source from Internet, only for display and study.
Shang Xiaoyun was the founder of the 'Rong Chun' Opera School. He became a student of Li Chunfu when his family fell on hard times after his father's death, learning the old male character role and then the marital male. Later, with his good looks and great voice he started playing female Qingyi characters studying under Sun Yiyun. By 1914 he had become extremely popular in this role, and was well known for his dance and acrobatic skills over and above his singing. He studied specific techniques under Wang Yaoqing, including posture, action of waving his sleeves, and his singing methods, becoming a mature player. In 1927 he started his own Troupe, Xieqing, and he wrote, and rewrote, about 30 plays.
Xun Huisheng |
荀慧生 xún huì shēng | 荀慧生 Shun Wai Sang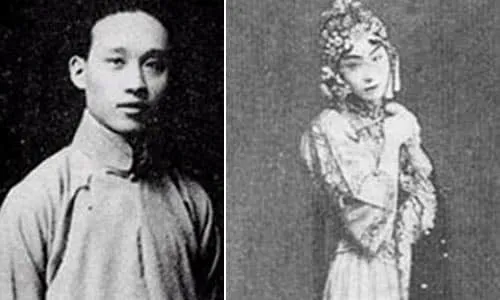 Source from Internet, only for display and study.
Xun Huisheng came from a family so poor that, in order to make a living, he and his brother were sold to an opera troupe. He stuck with it when his brother left and became such a notable 'Qingyi' and 'Huadan' player that his special performing style was known as 'Xun' style. This came from his exceptional ability to play the part of an innocent, cheerful girl, with a soft and feminine manner that was ideal for depicting the 'Dan' roles. He brought the best methods of Bangzi of Herbei into Peking Opera. He practiced hard, toughening himself by wearing heavy clothes in summer, and only a thin shirt with ice underfoot in winter. His singing style had great artistic appeal as he expressed the suffering of the character with a perfect mixture of a sweet voice and the lingering on the high notes. While remaining faithful to tradition, he made innovations and explored new possibilities in his transcripts and in singing, acting, monologue and dress.
6 Other Famous Players
There were other notable famous players who had a lasting effect on the art of Peking Opera.
Tan Xinpei (1847 – 1917) who played 'Lao Sheng' (senior male) roles, and founded the 'Tan' style. Many other players started to imitate his style. His descendants have followed in his footsteps including his son, Tan Xiaopei, grandson, Tan Fuying (the most successful), great grandson Tan Yuanshou, and even his great great grandson.
Ma Lianliang (1901 – 1966) was another 'Laosheng' (senior male) player who founded the 'Ma' style.
Qiu Shengrong (1915 – 1971) was a great 'Jing' (male with painted face) player, and founder of the 'Qiu' style.
Zhang Junqiu (1920 – 1997) was a player of the female 'Qingyi' (middle-aged woman) role.
Yan Jupeng (1890 – 1942) followed Tan Xinpei, and developed his own 'Yan' singing style which emphasizes his arias.
Zhou Xinfang (1895 – 1975) specialized in 'Laosheng' (old male) roles. He is considered one of the greatest masters of Peking Opera, and the best known in the Shanghai School of Peking Opera. He was persecuted and died during the Cultural Revolution. He has performed over 650 repertoire titles in Peking Opera, more than any other actor.
Of course all of these four famous masters of the Peking Opera have now passed on, but as is the way with Chinese masters, youngsters have been trained to imitate them to perfection and take their place.
In 2014, on the 120th anniversary of Mei Lanfang's birthday, his contemporary artistic descendants did a tour of the United States, performing in New York and Washington. The Jingju Theater Company of Beijing and the Mei Lanfang Jingju Troupe performed excerpts from five operas based on the classic plays of the Mei School, and Lady Mu Guiying Takes Command. The Mei Lanfang Troupe is run by Mei Baojiu, son of the late Mei Lanfang and who is now 80 and with 50 years of experience. Although Mei Baojiu has no children, he has passed on his father's techniques to his disciples, both male and female, as half of the actors and musicians nowadays are women.
Mei Baojiu's disciples are required to learn Mei Lanfang's style precisely and to perfection, and so it is perpetuated. However, there are some changes. High-tech lighting and sound are employed, as well as English supertitles, and the music has a richer, fuller sound, not as high-pitched as in traditional Peking Opera.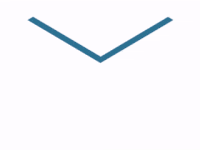 Have a question?
OR
Are you eager to begin your Chinese cultural journey?
Drop us a line and we will promptly connect you with our leading China expert!