Guilin dishes stand out among the dishes in the whole of Guangxi Province. Dishes are borrowed from delicious, spicy Sichuan (Chuan) and Hunan (Xiang) Cuisines. The spicy, acidic category probably benefits most from the integration of the cooking styles from other provinces. A number of different restaurants could be the best places for tourists to experience the rich cooking selections. Here are just a few of them.
1.Chunji Roast Goose (Zhongshan Store)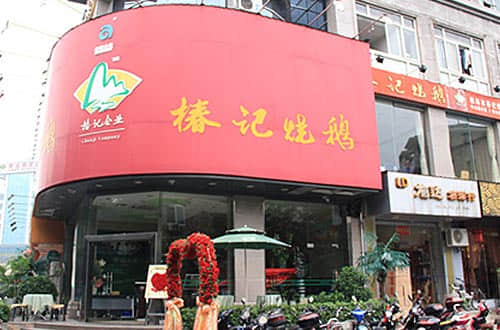 Chunji is a famous local restaurant. The foods here combine the features of Hunan and Guangdong cuisines with Guilin local flavor. Among them the roast goose is a well-known specialty. It has crisp skin and tender flesh, tasty and juicy, but not too oily. Apart from this, the Crispy Durian Cake, the Custard Buns, and the Goose Liver Fried with Sauce are all excellent dishes. Chunji has branches in both Guilin and Yangshuo. The dining environment and ambience is nice and the waiters are polite and helpful. As this restaurant is usually packed with customers, make sure you make reservations in advance.
Average price per person: RMB 72
Opening hours: 11:00-14:30, 17:00-21:00
Address: Zhongshan Hotel, No.2 Zhongshan Middle Road, Xiufeng District, Guilin
2.Ah-Gan Restaurant (Zhongshan Middle Road)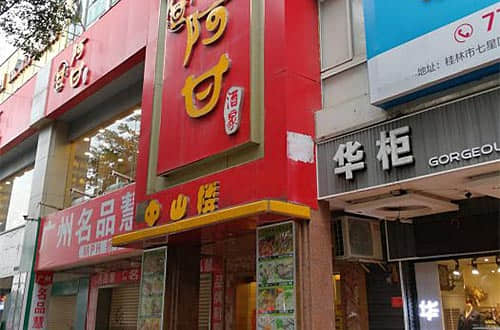 A famous local restaurant with many branches inside the city, it serves large portions of dishes and the authentic local tastes are well preserved in these dishes. Poached Sword-bone Fish and Sliced Taro with Salted and Dried Pork are among the most popular ones. The fish is tasty and tender, and the taro is cooked until it is soft and mushy, with the flavor of the pork pieces well-blended into the taro. Apart from these, the (herbal) Momordica grosvenori Tea and the Fish Cooked with Beer are also worth a try.
Average price per person: RMB 72
Opening hours: 10:00-21:00
Address: Dining Hall, 2nd Floor, Guantai Hotel, Zhongshan Middle Road, Xiufeng District, Guilin
3.Kali Mirch (black pepper) Indian Cuisine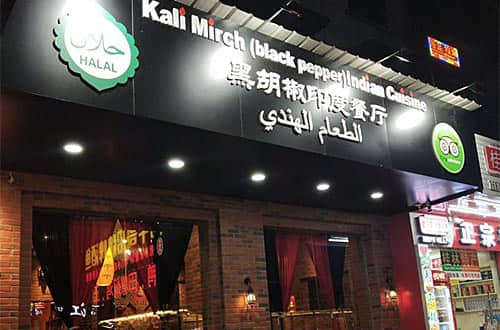 Kali Mirch (black pepper), a halal restaurant, is the first themed restaurant to serve traditional Indian cuisine in Guilin. It will be a great choice if you need a break from Chinese food during your visit. The masks on the walls, the statues, and the vivid paintings all create a casual ambience. The authentic Indian curry tastes spicy and rich. Guests can choose the level of spiciness. They offer a wide selection of dishes, including for a vegetarian diet. The recommended ones are curry mutton, tandoori chicken, and garlic naan.
Average price per person: RMB 65
Opening hours: 11:00 – 22:00
Address: No.5 Renmin street, Zhengyang pedestrian street behind the Sheraton hotel, Guilin
4.The MC Found (Qixing Road)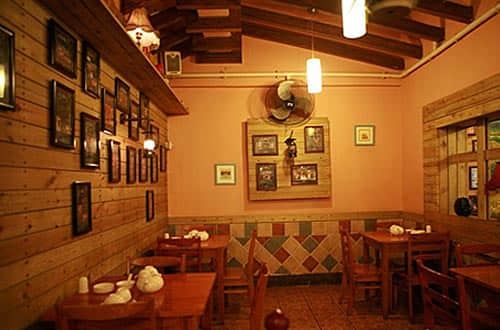 Founded in 1996, the MC Found specializes in classic cooked wheaten food, western grilled dishes and private meal customization. Its Chinese name Mai Xiang Fang implies what kind of restaurant it is. Mai means wheat in Chinese; Xiang expresses the meaning of good appetite; while Fang refers to an old house. The owner wants the guests to enjoy a dining vibe like at home. Beef roll with black pepper, tomato beef noodles with soup, beef with bean sauce, dumplings, and deep-fried bean paste wrapped in egg white with icing sugar are popular dishes by locals.
Average price per person: RMB 50
Opening hours: 11:00 – 21:00
Address: No.15 Qixing Road, Qixing District, Guilin
5.Rice Noodles Pub
Rice Noodles Pub once won the first prize of Guilin Rice Noodle King Competition. Compared with other Guilin rice noodles shops, this one could be rated, so to speak, as a luxury 5-star dining environment. The rice noodles are presented quite exquisitely. There are all sorts of toppings and side dishes to choose, including vegetarian. Beverages are also served, such as coffee, beer (home-brewed beer, Guilin beer, German beer), smoothies, milk, yoghourt, and tea. The menu is very user friendly, laid out for non-Chinese speakers. English service is also available.
Average price per person: RMB 40
Opening hours: 10:00 – 24:00
Address: No.142 Walking Street, Zhengyang Road, Guilin
6.Rosemary Café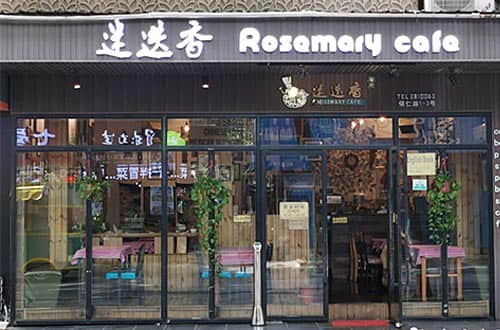 Rosemary Café is kind of an old western restaurant in Guilin. It is a little café tucked away on one of the feeder streets in the Zhengyang pedestrian street complex. They set several tables and there is a large floor-to-ceiling window on the street side, allowing for a better view. The decoration is old-fashioned in a western style, giving guests a cozy vibe. One of the walls is covered with lots of messages and photos from past diners which may well prove how popular this café is. The food ranges from pizza to burritos, while rich chocolate cake topped with ice cream is highly recommended. It is also a good place to come across other foreign travelers and expats.
Average price per person: RMB 78
Opening hours: 10:30 – 23:30
Address: No. 1-3 Yiren Road, Xiufeng District, Guilin
7.Ah-Yuan Roast Goose (Wenming Road Branch)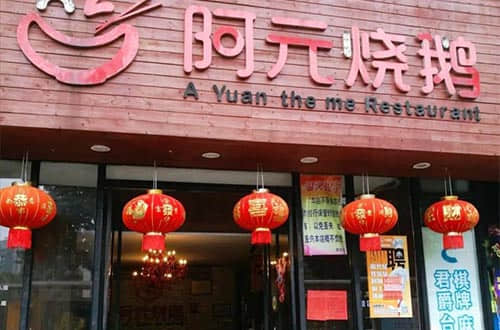 Ah-Yuan Roast Goose has a 10-year history and has outlets in Diecai, Wenming, and Lingui, all packed with customers. To ensure the quality of the goose, the restaurant owner will import geese from Guangzhou. Every goose is hand-picked and cooked with excellent skills. The goose takes on an inviting color and gloss after roasting. Take a bite and you will have a mouthful of crisp skin and tender flesh. The finished roast goose is juicy and tasty, a mouthwatering dish with bright color, enticing smell, and superb flavor. Other dishes in this restaurant are also yummy and unforgettable, like the Dancing Shrimp Salad with Garlic and the Steel Tube Roast Chicken.
Average price per person: RMB 57
Opening hours: 11:00-21:00
Address: No.3 Wenming Road , Guilin
8.Pusujia Customized Vegetable Food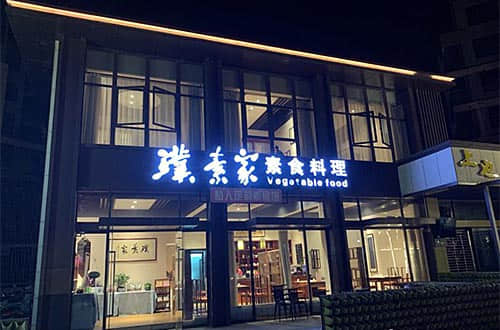 Pusujia Customized Vegetable Food, opened in recent years, is a one-of-a-kind vegetarian restaurant in Guilin. You do not need to worry about calories when dining there. The owner selects every ingredient for its high quality, such as rose rock salt from the Himalayas, sea grapes from the Pacific, matsutake from the virgin forests, and black truffles from Europe. Only some general seasonings (soy sauce in its first extraction without additives, the French sea salt, vegetable oil, and filtered pure water) are used to release the nature of the ingredients. Every dish is a delicacy. The decoration is in the ancient Chinese style and private rooms are available on the second floor with a view of the Li River and hills.
Average price per person: RMB 95
Opening hours: 10:00 – 14:00 (lunch); 16:00 – 21:00 (dinner)
Address: No.258 Linjiang Road, Qixing District, Guilin
9.Spring · LO【KKEE】(Chunzhuang · Dashan)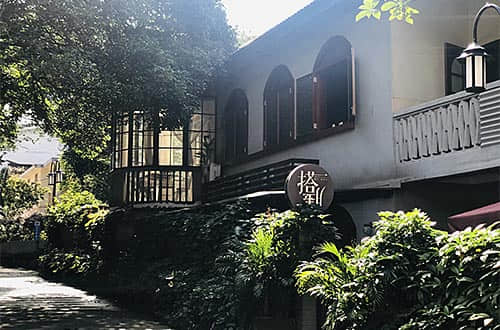 This boutique restaurant serves creative cuisine, settled in a two-story old house which is part of a community. Its Republic of China style reminds you of the period when the Chinese cheongsam and Chinese tunic suit were commonly worn. It's hard to exactly define the type of cuisine they provide, because it varies from baked pumpkin with cheese to Thai style chicken with pepper and sesame, and even hot pot. Butter toast is the specialty dish. New dishes come out regularly. They set dining tables for 2 – 6 people in public areas which are a courtyard, an aisle, and the sitting room. Private rooms are set in the bedrooms. Please make sure to make a reservation in advance.
Average price per person: RMB 100
Opening hours: 09:00 – 14:00 (lunch); 16:30 – 22:00 (dinner)
Address: Building 4, No.18 Longyin Road, Qixing District, Guilin
10.New Guoji Oil Tea (Fubo branch)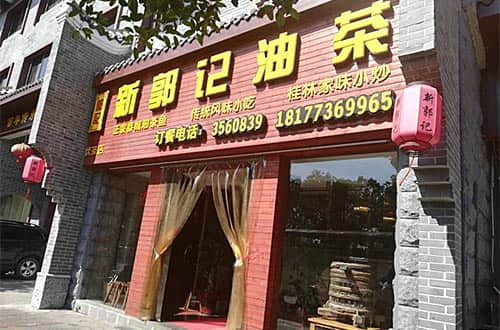 New Guoji Oil Tea is more popular among the numerous oil tea restaurants in Guilin. It is a very Chinese kind of vibe restaurant, with people speaking loudly in a shared space. It is always crowded every day during dining time. A private room needs to be booked in advance. The oil tea is the primary part of your meal, with various cakes and pastries as side dishes. Other specialty dishes are sweet and sour songzi (pine nut) fish, Zhuang characteristics food placed on a dustpan (in China, a dustpan is a farm tool used to winnow rice from impurities and empty shells. In rural areas, it is also used to place food need to be dried under the sun.), tea fragrant pig's trotters, and stewed duck feet and snails with spicy seasoning. It is a very local taste.
Average price per person: RMB 60
Opening hours: 08:00 - 14:30 (lunch); 17:00 – 21:30 (dinner)
Address: No. 120 Bingjiang Road, Xiufeng District, Guilin