Although Hong Kong is at the collision point between Chinese traditional culture and British industrial culture, she also has her own characteristics in terms of cuisine. Learning more about the local cuisines, you will find that she is deeply imprinted with the brand of Chinese traditional culture, and has developed this brand into a perfect condition, which shows the wisdom of Hong Kong people.
1.Stir-fried Crab in the Typhoon Shelter Style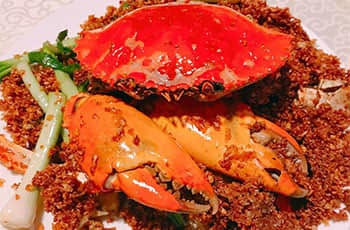 Stir-fried crabs in typhoon shelters style is a common and delicious dish. The sauce has the unique flavor of garlic, combined with the spicy and astringent taste. Being cooked together with the sauce, the delicious crab meat is fully infused with the taste of the garlic. The two complement with each other brilliantly.
Features: Sweet and with a delightful aroma, crisp but not overcooked.
Address: iSquare, 63 Nathan Road, Hong Kong
Where to eat: Hijack Crab General
2.Siu Mei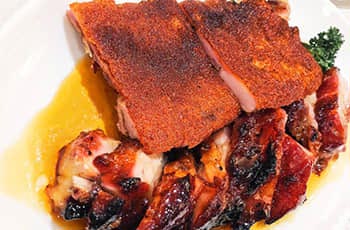 Siu mei (meat roasted on a spit) is very popular in Hong Kong cuisine, including oyster sauce chicken, pork roast, roast meat, suckling pig, roast goose, and pork shoulder. Among them, the pork roast, which has the fat and lean meat in between, is very popular and the roast goose is also a classic in Hong Kong style siu mei. Ordering a bowl of rice served with the combination of two siu mei dishes, will form a totally delicious meal.
Features: tender, juicy meat with sweet fragrance
Where to eat: Ayi Seaview Hotel
Address: 29/F, iSquare International Plaza, 63 Nathan Road, Tsim Sha Tsui
3.Horsd'oeuvre froid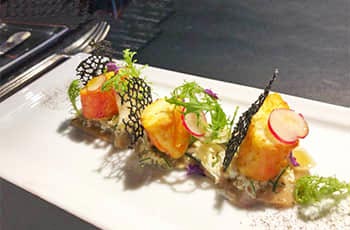 This dish is an avocado Alaska crab roll. With fresh, sweet crab meat combined with avocado, the taste will never be monotonous. On the side, there are also chips with cuttlefish sauce, covered with fish seeds and gold foil. It is nice both in terms of the color, the aroma, and the flavor, and it is really worth a try.
Features: Fresh crab meat with a fruity fragrance
Where to eat: L'Atelier de Joel Robuchon Western Restaurant
Address: 4F, Landmark Plaza, 15 Queen's Road, Central District, Hong Kong (Exit G, Central MTR Station)
4.Curry Squid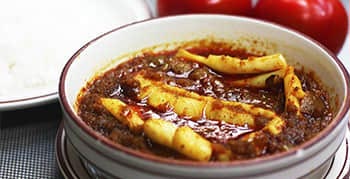 Curried squid is a cuisine which takes curry and squid as the main ingredients. It is one of Hong Kong's specialties.
Features: strong taste
Where to eat: Lotus House
Address: 2-3/F, 46-50 Des Voeux Road West, Sheung Wan, Hong Kong
5.Shrimp Dumpling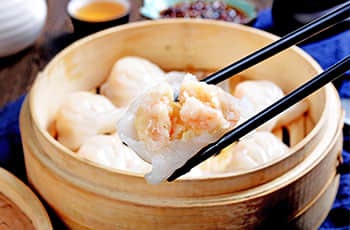 Shrimp dumplings belong to the Cantonese cuisine, originating from the tea house near the river market outside Guangzhou. Those places are rich in fish and shrimp. The tea master made a meat filling together with pork and bamboo shoots. At that time, the outer skin of the shrimp dumplings was made of sticky rice flour, and the skin was thicker. However, it got popular quickly because of the delicious taste of the fresh shrimp. The tea house in the city introduced the shrimp dumplings. After improvement, they took one or two shrimps as the main filling, covered with a layer of crust. The size of the dumpling is limited to one bite. The traditional shrimp dumplings are half-moon shaped, and there are twelve pleats in the so-called 'spider's belly'. The filling contains shrimp, meat, and bamboo shoots.
Feature: Fresh and silky, very delicious.
Where to eat: Lotus House
Address: 2-3/F, 46-50 Des Voeux Road West, Sheung Wan, Hong Kong
6.Li Yunzi Prawn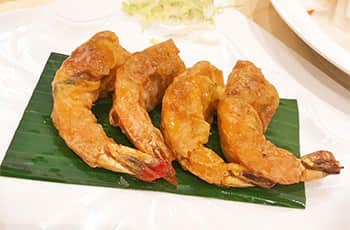 Having won the highest honor of gold medal, the Li Yunzi Prawn contains six fresh sea prawns in each dish. Each prawn, together with Li Yunzi (the seeds of the salted crab), slivers of bamboo shoots and the seasoned sea prawn, are wrapped with tofu skin and fried again. The Li Yunzi is fresh and sweet, matches perfectly with the taste of the two seafoods, namely the shrimp and crab.
Features: crispy outside and tender inside, with delicious shrimps.
Where to eat: Yu Kee Restaurant
Address: Yu Kee Building, 32-40 Wellington Street, Central District, Hong Kong (next to Lan Kwai Fong)
7.Salty Mantis Shrimp with Pepper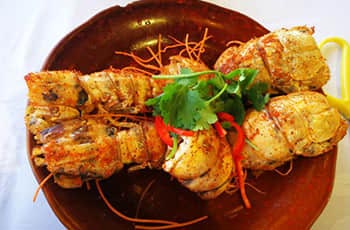 Salty mantis shrimp with pepper is a very delicious dish in the New Territories of Hong Kong. The main way of cooking is to fry the shrimps with red peppers, onions, ginger and garlic to make them golden yellow. This dish is rich in minerals, and can protect your cardiovascular system. Therefore, it is also good dish for your health.
Features: delicious with tender, silky meat.
Where to eat: Quanji Seafood Restaurant (Haicang Street)
Address: G/F, 53 Hoi Yu Street, Sai Kung, New Territories