Hong Kong, or the Hong Kong Special Administrative Region of the People's Republic of China, is also called "Gang" for short in official papers. It is located east of the Pearl River Estuary in South China. Between 1842 and 1997, Hong Kong was a British colony. After the return of Hong Kong to China in 1997, it became a special administrative region and maintained its original capitalist system and its way of life.
Hong Kong is one of the world's three major financial centers, and an important international financial, trade, and shipping center. New York, London and Hong Kong are together called "Nylonkong". Hong Kong is considered one of the world's freest economies and one of the most competitive cities in the world. It enjoys a high reputation and is rated as a world first-tier city.
Basic Facts
English Name: Hong Kong
Chinese Name: 香港 (Xiāng Gǎng)
Government: Special Administrative Region
Location: South China(114°15'E,22°15'N)
Area code & Zip Code:
Area Code:852;Zip Code:999077
Airports:Hong Kong International Airport
Railway Stations: Hung Hom Station, West Kowloon Train Station
Suburban Districts: Wan Chai, Central and Western, Yau Mong, Sha Tin, Tsuen Wan
Population: about 7.44million
The Best Time to Visit Hong Kong
March to October is the best time to travel to Hong Kong. During this time, the temperature is at its most agreeable. In summer, the temperature is higher and the air is moister. Shopping in Hong Kong in April and May usually means discounts and promotional campaigns. Try to avoid traveling in Hong Kong during public holidays, especially during the National Day Holidays (October 1st to October 7th). Crowds will spoil your journey.
Recommended Scenic Spots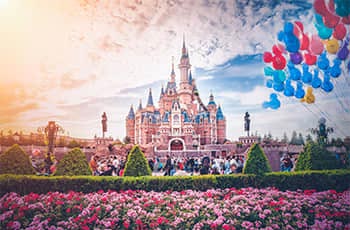 Hong Kong Disneyland
Hong Kong Disneyland– In Disneyland, known as the world of fairy tales, you can see many different fairy tale characters, such as Snow White, Winnie the Pooh, and Mickey Mouse, and you can experience strange, interesting, or thrilling fairy scenes.
Hong Kong Ocean Park– This is a world-class theme park that demonstrates both sea and land animals, interactive games, and large-scale performances. Tourists can enjoy not only a magnificent visual treatment, but can also experience exciting games for themselves.
Victoria Peak– located in the northwest of Hong Kong Island, it is one of Hong Kong's famous landmarks. It overlooks both Lantau Island and Hong Kong. Skyscrapers and Victoria Harbour are all part of the night views that can be enjoyed there.
Natural landscape
| | | |
| --- | --- | --- |
| Lantau Island | Lamma Island | Repulse Bay |
| Tai O | Hong Kong Park | Kowloon Park |
Cultural attractions
| | | |
| --- | --- | --- |
| Madame Tussauds Hong Kong | Wong Tai Sin Temple | Sky 100 Hong Kong Observation Desk |
| Hong Kong Museum of History | Hong Kong Science Museum | Tian Tan Buddha |
How to get there
The Hong Kong International Airport connects to almost half of the world's places of residence. Visitors can simply set their course to Hong Kong International Airport. Alternatively, travelers can take a train with the destination of either Hung Hom Railway Station or Tai Po Market Station.
How Far is Hong Kong from Major Cities
| Cities | Distance from Hong Kong (km) | By Air to Hong Kong | By High-Speed Railway to Hong Kong |
| --- | --- | --- | --- |
| Beijing | 2,263 | 3hrs 25m | 24hrs 21m |
| Shanghai | 1,514 | 2hrs 55m | 8hrs 19m |
| Guangzhou | 1,728 | 1hr 5m | 55m |
| Shenzhen | 49 | No direct flight. | 19m |
| Hangzhou | 1,300 | 2hrs 30m | 7hrs 28m |
| Nanjing | 1,411 | 2hrs 35m | 7hrs 39m |
| Xi'an | 1,847 | 3hrs 35m | No direct High-Speed train. |
| Wuhan | 1,127 | 2hrs 10m | 4hrs 38m |
| Tianjin | 2,279 | 2hrs 30m | No direct High-Speed train. |
| Lhasa | 3,668 | No direct flight. | No direct High-Speed train. |
Courmet Food in Hong Kong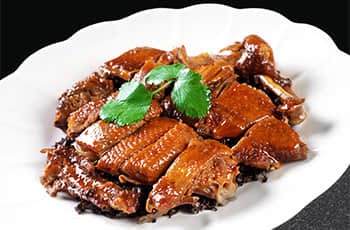 Hong Kong-Style roast meat
Hong Kong-Style roast meat
tourists cannot miss Hong Kong-style roast meat when they are in Hong Kong. It includes marinated dishes such as roast goose, suckling pig and squab. Hong Kong-style roast duck and roast goose are the most welcomed dishes. Siu mei has crispy skin and tender meat and its appearance is typically enticing. Siu mei shops can be found easily in Hong Kong. Never worry about finding one.
Typhoon Shelter Fried Crab
This is a famous traditional dish in Hong Kong. It is on the menu of Cantonese Cuisine. As a must-have dish on the dinner table of Hong Kong people, its essence is the minced garlic, which is well browned and crisp. When cooked with crabs, a fantastic flavor is bought forth.
Fish eggs
these are a popular snack in Hong Kong people's daily life. There are many small shops selling fish eggs in Hong Kong and people can even find them in convenience stores. Generally, the fish eggs are offered in two flavors, spicy or original. The spicy fish eggs are usually heated in curry sauce or sautéed sauce while the original fish eggs are heated in the broth. People will find respective reasons for choosing either of the flavors.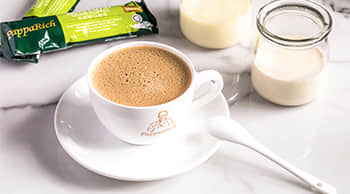 Hong Kong-style milk tea
Hong Kong-style milk tea
a unique drink to Hong Kong. The tea is rather bitter, but it has a smooth texture and offers a rich fragrance. The initial bitter taste is therefore quickly replaced by the marvelous fragrance. Tea restaurants thrive in Hong Kong, and renowned ones include Cafe Tsui Wah and Tai Ping Koon.
Souvenir and Shopping
Cosmetics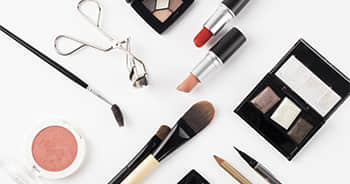 Cosmetics
Cosmetics brands from all over the world can be found in Hong Kong, which can meet the needs of consumers right across the spectrum. Cosmetics shipped from different regions have different characteristics. Global top brands can be found in Lane Crawford at Harbour City while Japanese brands are sold in SOGO Causeway Bay. DFS in Tsim Sha Tsui is a shopping paradise for its generous discount campaigns in certain seasons.
Luxury watches
Hong Kong has many watch and clock shops, offering comprehensive styles and designs. For Audemars Piguet, Vacheron Constantin, Baodi and other top brands, the Oriental Watch chains are a good choice. Causeway Bay and Tsim Sha Tsui are places where people can find all kinds of watches. High-end watches are always available.
Gold jewelry
Hong Kong is dotted with gold and silver jewelry stores. Nathan Road in Tsim Sha Tsui, Des Voeux Central and Queen's Road in Central are the right locations. Gold jewelry manufacturers in Hong Kong can fall into two categories: the old school include TSL Jewellery, Chow Sang Sang, Chow Tai Fook, Lukfook Jewellery and King Fook Jewellery. They provide 24k gold jewelry and other parts gold as well as pearl jewelry. They attach importance to both the design and craftsmanship. While manufacturers such as Emphasis Jewellery and JUST GOLD focus on fashion and personality as they stick to creativity and styles.