According to the travel writer (who would possibly be a blogger or on Trip Advisor nowadays) and geographer Mr. Xu Xiake of the Ming Dynasty, the unparalleled scenery of Mount Huangshan (literally meaning the Yellow Mountain) towers above all the Five Great Mountains in China. Given the fact that all the mountains in China are again dwarfed by the Five Great Mountains in the first place, it is no wonder that tourists are overwhelmed by the majesty of Mt. Huangshan at first sight. In fact, Huangshan offers more than just scenery. The local delicacies along the streets will live up to all the travelers' expectations for cuisine and customs in Anhui Province.
1. Old Tunxi Street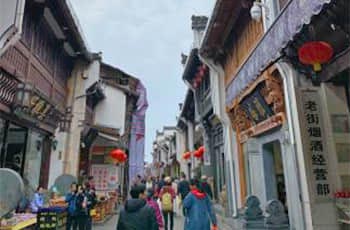 A well preserved cobblestoned street can be found right at the foot of Huangshan. The buildings of Anhui architectural styles of the Ming and Qing Dynasties are established along 1 vertical lane, and 3 horizontal lanes, as well as 18 branches therein. It is a fulfilling experience for foodies. You may well deviate from your true goal here when you are surrounded by the delicacies offered at Sanmalu (literally 'the third road').
Recommendation:The First House in Old Street, Delicacy House, Xinsu Ancient Anhui Restaurant and Wangyitiao Wonton.
Address: No. 2, Old Tunxi Street, Tunxi District, Huangshan City, Anhui Province, China
How to get there: Take the bus No. 2 or No. 5 and get off at Yimalu (literally 'the first road'). It is within walking distance. Or take the bus No. 6 and get off at Sanmalu. It is within walking distance.
Attractions nearby: Huangshan Grottos and Anhui Arts and Treasures Museum
2. Yan Xi Street in Tangkou Town
As the access to the south of Huangshan scenic area, it is a street for shopping for the necessities for mountain hiking and delicacies. Specialties on Huangshan can be found here. Some people call it "Gateway to Huangshan", probably for its convenient accommodation. But it is interesting to point out that it is not the closest town in terms of the setoff point for mountain hiking.
Recommendation: Hui Cuisine House and the Lady Chef's
Address: Near Expressway G205 (G for national level expressway in China), Tangkou Town, Huangshan City, Anhui Province, China.
How to get there:Take Xinguoxian Coach and get off at Tangkou Town, Huangshan Scenic Area.
Attractions nearby:Huangshan Impression Performance, Qingtan Feng (peak, and this is one of the 36 renowned peaks of Huangshan. Numbers such as 36, 72, etc., are favored by Chinese literature if you have ever noticed) and Jiulong (literally 'nine Chinese dragons') Pu (Waterfall, and this is the grandest waterfall of Huangshan).