Nightlife in Shanghai
Hip, chic, trendy, with still a sprinkle of ancient, Shanghai is not only China's most populous city, but its most stylish, glitzy, and cosmopolitan too (no disrespect to Hong Kong which many will argue comes in a very close 2nd). Once known for being somewhat chaotic, dark, and run down, Shanghai has long since shed that reputation and is now (along with Hong Kong and Macau) internationally famous for being one of the coolest, safest, and most exciting cities in the world. Perhaps best of all, Shanghai has some of China's best nightlife, so if you're looking for a unique, fun, and glamorous city to party in, this is one of the best choices in all of Asia.
Millions of Lights – Shanghai's Iconic Skyline, "The Bund"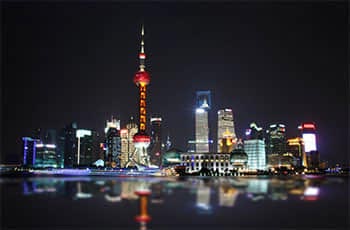 The unique, beaded design of Shanghai's Oriental Pearl Tower, glistening with its dual red orbs, makes Shanghai's skyline one of the most recognized in the world and being perfectly located right on the Huangpu river and directly across from "The Bund" also makes it one of the most stunning. Visitors get an impeccably unobstructed view complete with reflections – a key factor in making a skyline globally famous. Over 50 (recently built) skyscrapers make up Shanghai's skyline, which is technically the city's financial district called "Lujiazui" in the Pudong district. The most recent is called the Shanghai Tower and boasts 128 floors, almost 2,000 ft (nearly 600 mts), and at the beginning of 2019 was the 2nd tallest building in the world (after the Burj Khalifa in Dubai). If you're interested, you can in fact go to nearly the top (for a fee).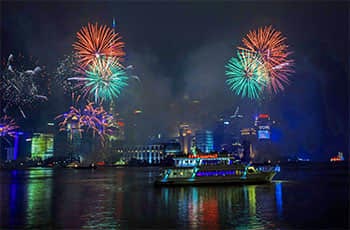 Daytime is wonderful, especially during a clear day, but nighttime is simply spectacular! Easily one of the top 10 nighttime views in the world, Shanghai's skyline comes alive at night with millions and millions of dancing, changing lights. Nearly every building puts on its own coordinated light show using super bright LED lights that inject mesmerizing excitement into the thousands of office lights still on from late-working personnel. Standing on Shanghai's +1km long boardwalk, known as The Bund, gives people the best view. However, it's an easy trip across the river where, for a more intimate and up-close experience, you can crane your neck stiff by looking up at these colorful steel giants. For a more relaxing, or romantic evening, you can take a river cruise – truly unforgettable. Cruises run from 10am to 9pm and you can choose from several routes ranging from 30 minutes to 3.5 hours. But don't wait until too late – the lights are on only from 19:00 to 23:00 in summer and from 18:00 to 22:00 in winter. Getting there – Take subway Line 2 and 10, exit at East Nanjing Road Station.
Keep in mind that The Bund will be full of people on weekend evenings and during public holidays, especially on New Year's Eve (expect it to be packed). An epic, once-in-a-lifetime fireworks show is held on New Year's Eve and the first day of Chinese New Year (which usually falls during the end of January to the beginning of February). If you're curious as to which of the two shows are more epic, the one for Chinese New Year is usually a safe bet.
Acrobatic Shows
Chinese acrobatics is one of China's original, traditional performing arts and dates back centuries. A live acrobatic show in Shanghai is one of the most jaw-dropping shows in the country. World-class acrobatic teams put on dazzling performances doing death-defying and mindboggling aerial tricks.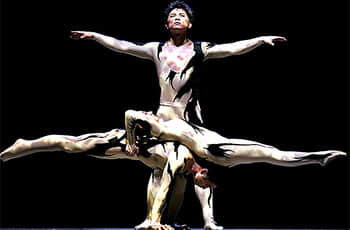 © official website of Shanghai Acrobatic Troupe
One of the most famous acts to catch is the world famous Shanghai Acrobatic Troupe. Formed in 1951, they have performed all over the globe and now perform nightly in the beautifully modern Shanghai Centre Theatre. Their show is one-of-a-kind and includes the very best modern, traditional, and extreme acrobatic feats. The show starts at 19:30 and lasts 1.5 hours, suitable for all ages.
Another popular show is called "ERA, Intersection of Time", which skews slightly to a more modern style of acrobatics complete with a gorgeous accompanying light display. Eight of the show's highlights are: Mirror Mirage, Magic Water, Floating Gondola, Music of ERA, Jar Juggling, Wheel of Life, Forever, and Space Motorcycles. The show tells the story of China's evolution over the past several hundred years.
Bar and Club Scene
Shanghai boasts a much more international vibe than most other cities in China with people from all over the world living and working here. Thus, the bar and club scene is varied and lively. General areas of the city that are famous for their nightlife are Xintiandi, Hengshan Road, and around The Bund.
Top Recommendations
1. Glamour Bar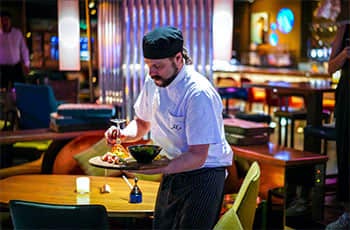 © wechat of Glamour Bar
As the name implies, this is an upscale place with spectacular views of The Bund and Pudong area. A swanky environment with signature cocktails, make sure you bring the appropriate attire. They also regularly have live music, themed parties, private cocktail parties, and even corporate events for product launches.
Address: 6th Floor, No. 5 The Bund, corner Guangdong Lu, Shanghai 200002 China
Telephone: +86 21 6329 3751
Opening hours: 17:00 - 01:00
2. Bar Rouge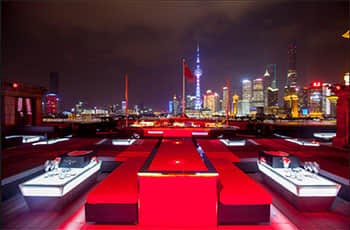 © official website of Bar Rouge
Another good option in The Bund district for those that like upscale. Open since 2004, they have a fantastic rooftop lounge both indoor and outdoor. The decor is a combination of classy, sleek interiors and iconic French style. The music is mostly house or disco but they play hip pop or Latin on special nights.
Address: 7 F, Bund 18, 18 Zhongshan East 1st Rd, Huangpu, Shanghai 200002 China
Telephone: +86 21 6339 1199
Opening hours:
Monday-Wednesday: 18:00-02:00
Thursday-Saturday: 18:00-04:30
Sunday: 18:00-02:00
3. Arkham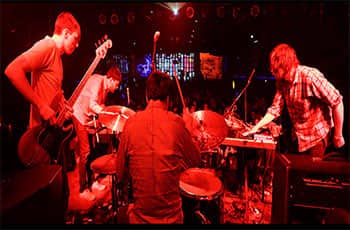 © official website of Arkham
This is a high-energy place conveniently located in the popular French Concession district (lots of good places to stay around here). Located underground in a huge, modern space, Arkham pumps out all forms of techno (electronic) music and often have visiting DJs and live music – sometimes even famous international acts will perform here so check out their entertainment schedule before coming to make sure you don't miss the chance to catch a famous act in this incredibly unique environment. Drinks are quite a bit more affordable here than the above two choices and the crowd tends to also be younger.
Address: No. 168 Julu Lu, Xuhui district, Shanghai, 200030 China
Telephone: +86 21 6258 0355
Opening hours: Thursday - Saturday, at 22:00
If the above three choices don't fit your style, a quick online search for the type of atmosphere you're looking for will usually turn up plenty of options.
Other great recommendations:
Bars – Captain Bar, New Heights, Barbarossa, O'Malley's, Big bamboo, Arch, Face Bar, Time Passage, C's, and Bund Brewery.
Live Music – JZ Club, House of Blues and Jazz, Logo.
Dance clubs – Attica, Bonbon, Pu-J's
Gay/Lesbian – Eddy's Bar, Pink Home.
Nightlife – the Chinese Way
If you're curious to know how most Chinese like to unwind, keep an open mind and leave your preconceptions behind.
1) Public Square Dancing – without a doubt, this is one of the most popular entertainment activities for middle-aged and retired women (and some men too). Most evenings, around 20:00 after dinner time, people from each neighborhood, or community, gather in public parks or squares, to dance in sync to Chinese music. Unlike in western countries, people dance individually here and rarely with a partner. A facilitator/organizer will bring the music and start the dances. Anyone is welcome – yes, even men and foreigners – and although it's not usually required for foreigners to pay, Chinese residents normally chip in around 10 RMB / month, so if you wanted to leave a few RMB (1-5) with the organizer, it would be greatly appreciated – or 'splurge' and pay the entire monthly fee. It's a fantastic way to meet locals as these groups are generally very welcoming, but don't expect this age group to speak any English. The dances are fairly slow (no high tempo aerobics here) and it's a great way to stretch out at the end of the day.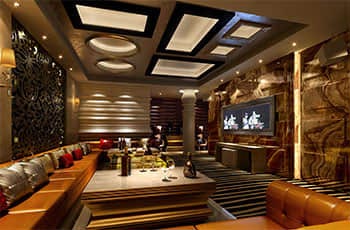 2) Karaoke (KTV) – While bars and clubs are popular in the West, China instead chooses to spend its evenings in Karaoke establishments. Known in China not by the Japanese word "karaoke" but by the letters "KTV", this is - hands down - the most popular night time activity in the country. KTV's will have people in them from Monday to Sunday, although Friday, Saturday (and even Sunday) nights are by far the busiest.
Unlike Karaoke bars in many western countries which are usually a one-room place where strangers sing in front of other strangers, China's KTVs are enormous, multi-floor locations filled with private rooms of varying sizes. Patrons simply pick the size of room they want, pay at the front desk, and then a staff member will escort them to the room. The room is rented out by the hour, or by multi-hour blocks (like for 3 hours). Weekdays are usually cheaper than weekends when prices for most places go up.
Rooms normally have comfortable sofas, tables and chairs. People can lay down, stand up, walk around – it's like being in a large living room with dim lighting. Some rooms even have fridges and sinks and others are theme decorated (jungle, historical, space ship, etc.). Smoking is permitted and frequently enjoyed.
The playlist for most KTVs are extensive and contain numerous English songs – but don't expect every popular song now and within the last 30 years to be on there. For obvious reasons, you'll find only the English songs which were (or are) popular in China – so expect a LOT of Michael Jackson and many other 80's artists, some 90's and 2000's, and some modern tracks. In fact, one of the most enjoyable aspects for westerns going to a KTV is having many of those, "You're kidding! They have THIS song by THIS artist?" moments.
While it's perfectly fine to go to a KTV with other foreigners, the real fun (and cultural experience) is to go with a group of locals. How is this possible when everyone is there on vacation and you don't have any Chinese friends? Well, there's no fool proof method, but most KTVs have a common area and snack shop and if you hang out there long enough (before going to a room), you may be able to strike up a conversation with someone there which may lead to an invitation to join the group. Do it! It's a very safe environment and you won't get a better idea of how the Chinese party until you've done the KTV thing. Expect lots of alcohol, lots of Chinese music, and lots of unabashed singers. If you're lucky, you might even get some talented voices, but just like in Karaoke bars across the world, don't hold your breath.
Food, as in snacks, can be ordered in-house to be brought into the room (there are servers who come around periodically to clean, wipe up spilled drinks (oh yeah, this is a party place), and take orders for more booze and food. Outside food is not allowed, but as you're in a private room, as long as you don't set 5 bags of KFC directly on the table (instead, keep it out of direct sight), hardly anyone will ever say something.
Recommended KTVs: Haoledi, Cashbox and V-Show.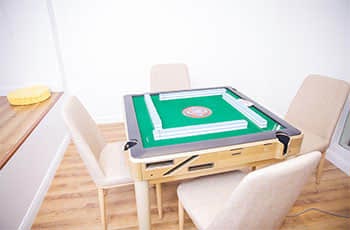 3) Mahjong – The ancient game of Mahjong is still going strong after several thousand years. The closest the West has to Mahjong is Dominoes, but you'd be advised to read up on the game before going to play. If you choose to wing it and just learn on the street, it's going to be challenging. For one, the rules and the strategy are slightly complicated at first. And secondly, while the game is hugely popular in China, it's almost exclusively played by the older generation – who in general do not speak any English. In China, it's a game that senior citizens play, somewhat like the card game "Bridge" in the West, and its strategy, puzzle-like play is purportedly helpful to keep aging minds active.
While the game is often played in homes, many Chinese people don't have other people to play with at home or prefer to play somewhere public where they meet up with other friends. Hence, if you're interested in trying out a game, go to one of many "Game Parlors" where people play card and board games – one of which is Mahjong. Four people maximum play and the parlors charge by the hour, by the round, or by the person (try to establish which prior to playing). Costs are very economical, running from around $2.50 USD to $10 USD per hour. The parlors also have Chinese chess, international chess, poker and other card games but these are not casinos and playing to win money is not as much the objective as playing for fun and hanging out with friends. In fact, often real money (as in chips backed by hard cash) is not even used. Oh, and don't expect the senior crowd to be mellow – expect a lively environment with lots of loud talking and the clackity-clak of the hard Mahjong pieces being slammed against the tables. Recommended Mahjong parlors:
1) Que Sheng Hui Board and Card Games Club (雀圣汇棋牌会所), 25-55 RMB per hour, depending on the size of the room, 428 Wuning Nan Lu, near Yuyao Lu (武宁南路428号, 近余姚路), +86 21 5108 3833, 24 hours.
2) Day Day Holiday Julu Lu Branch (天天周末巨鹿路店), 68 RMB per hour, depending on the size of your group, 225 Julu Lu, near Ruijin Yi Lu (巨鹿路225号, 近瑞金一路), + 86 21 5306 1816, +86 21 139 1648 1596, 10 a.m.-midnight.
3) Yubianhui (御匾会), 58 RMB per hour for a VIP room, 3/F, 1579 Xietu Lu (斜土路1579号3楼), + 86 21 3416 0160, 24 hours.
4) Home Party Changning Branch (桌游世界长宁店), 30 RMB per hour, Rm. 3004, 789 Tianshan Lu, near Loushanguan Lu (天山路789号3004室, 近娄山关路), Monday-Friday: 10:30 a.m.-midnight, Saturday-Sunday: 10:30 a.m.-2 a.m.,+86 21 6233 0858
The above are established, professional, comfortable parlors with very nice tables, chairs, etc. However, for a more authentic, cultural experience, try hunting around some of the old neighborhoods (like a Hutong) and it's usually not hard to find smaller, open-air, neighborhood parlors with people sitting out into the street playing. These are cheaper parlors with a similar pay structure as the bigger ones recommended above.
Commercial Area – High End Shopping Malls
If you need a shopping mall or high-end shopping district, here are the best ones:
East Zhongshan 1st Road the Bund - high-end shopping malls like Henderson Celebrity Shopping Center and Shanghai New World Daimaru.
People's Square - Raffles Square and New World City Plaza; nearby attractions include the popular Madame Tussauds Shanghai, Urban Planning Exhibition Hall, Shanghai Grand Theatre and Shanghai Museum.
Huaihai Road - the Golden Bell Plaza, Shanghai Times Square, and Hong Kong Plaza.
Pudong Lujiazui Financial Area - Shanghai IFC Mall and Super Brand Mall.
Shanghai French Concession - IAPM Shopping Mall and Xintiandi.
Xujiahui – For more modestly priced malls, try Grand Gateway 66, Orient Shopping Center and Pacific Department Store.
Traditional Street Vendors
Non-touristy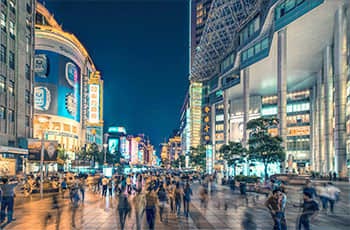 If you are not a big fan of these high-end shopping malls, there are many shopping streets with tables or stalls run by locals selling items at bargain, to reasonable, prices.
Most famous street: Nanjing Road Pedestrian Street (over 100 years old), lined with over 600 shops from top-end to inexpensive, traditional street food is plentiful.
Old-fashioned stores: The Old Phoenixes (jewelry), Cai Tong De (Chinese medicine), Duo Yun Pavilion (Chinese paintings and calligraphy) and Wu Liang Cai (glasses).
Famous local food stores: Zhen Lao Da Fang (smoked fish and fresh pork moon cakes), Shanghai First Food Hall (local snacks), Wangjiasha Pastry Shop (wontons and desserts), Shen Da Cheng (desserts like pastry balls) and Shao Wan Sheng (food preserved in alcohol).
Touristy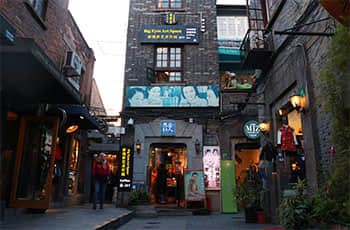 Tianzifang is a newly renovated, pedestrian area that has kept its quaint, old-world charm. Highlighted even by the New York Times, this is a great place to come explore, hangout, shop, eat, take pictures, and more. It boasts the old Shikumen architectural style similar to what is found in the Xintiandi area of the French Concession district. There are abundant shops, bars, cafes, crafts, design studios, galleries, and boutiques all in an artistic, inviting environment.
Practical Tips
1) Shanghai is so big, they've divided the city into 16 different districts – each one can be considered its own small city with its own personality. If you divide your days by concentrating on one district at a time, you'll save valuable walking energy, valuable time, and have a more meaningful experience.
2) Many of the buildings in the center allow people to travel to near-the-top floor for a fee, which usually ranges $20 USD or more (+200RMB) per person. The views are absolutely worth it on clear days, if you're into having a bird's eye view overtop one of the most modern cities in the world. Your biggest decision will be to go during the day, or at night. While convention might say daytime is the obvious choice, don't discount the sizzling, flashing allure of the night view. Nighttime is actually best on cloudy or hazy days since the LED lights easily cut through the mist. On clear days, you should consider going just before sunset to catch both views – but don't cut it too close as the lines can be somewhat long. The Shanghai Tower and the Oriental Pearl are two excellent options – the Pearl being the best for those who aren't fond of heights as the lower orb provides nice views without being too high off the ground. As an added bonus, the Pearl also has a 360o glass bottom floor on both the lower and upper orbs for an unforgettable Shang"high" experience.
Have a question?
OR
Are you eager to begin your Chinese cultural journey?
Drop us a line and we will promptly connect you with our leading China expert!