Shopping in Shanghai
Shanghai is the international hub of China. Famed as the "Paris of the East" Shanghai offers a similar shopping experience to that of France.
An ever-growing presence of renowned global brands calls for more and more competition. You will find shops with very high quality store designs and very unique products to offer.
What Types of Products can I Find in Shanghai?
In Shanghai, there are no shortages of traditional Chinese merchandise, souvenirs and even your favorite brands from home. International brands have grown wildly successful in China, making Shanghai the perfect location for flagship stores. No matter what you are looking for, you can always find it here.
Some of the Best Places to Shop in Shanghai
You will enjoy a variety of shopping experiences in Shanghai. From traditional outdoor shopping streets to modern, high-tech luxury shopping malls, travelers will enjoy a wide range of products and shopping trips to choose from.
Shopping Streets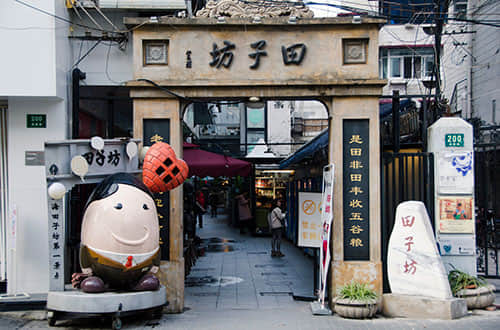 Tian Zi Fang 田子坊
Tian Zi Fang – This is a popular shopping street that exemplifies traditional Chinese and Shanghainese culture. When walking through the narrow corridors of Tian Zi Fang, you will find a variety of fun stores that sell exciting traditional Chinese arts and crafts. There are also many stores to find a variety of clothing or accessories of many qualities and styles. Tian Zi Fang also offers a wide selection of snack food and restaurants to enjoy some Shanghainese Style meals.
Address: 210弄 Taikang Rd, Da Pu Qiao, Huangpu, China
Hours: Flexible hours based on individual merchants
Six minutes Walking Distance from Dapuqiao Metro Station
West and East Nanjing Road – Featuring malls and shopping streets alike, Nanjing Road is the hub of international brands in Shanghai. This is one of the most popular tourist destinations for shopping in Shanghai. Here you will find many foreign company's Chinese flagship stores. These stores, such as Nike, are several times larger than any other store of its kind. You will find a vast amount of products from many international brands at this famed shopping street. Nanjing Road takes you along various other popular tourist destinations in Shanghai, such as People's Square and Jing An Temple.
Address: (East Nanjing Road Starting Point People's Square): 819 Nanjing Road, Huangpu District, Shanghai
Hours: Average Hours of 10 am -10 pm. Many free-standing stores have different hours
Eight minutes Walking Distance from People's Square Station.
Yuyuan Bazaar – Located surrounding the popular Yu Garden, the Yuyuan Bazaar is a collection of stores that sell a wide variety of Chinese souvenirs. Here you can find not only products that are specific to Shanghainese culture, but many products from all around China. While Shanghai is a popular destination for international visitors, it is also a destination that is popular with Chinese travelers. Yuyuan Bazaar is the go-to location to find a wide variety of high-quality souvenirs and keepsakes.
Address: 279 Yuyuan Old St, Huangpu, Shanghai, China
Hours: 10 am- 10pm
Four Minutes Walking Distance from Yuyuan Garden Metro Station
Shopping Malls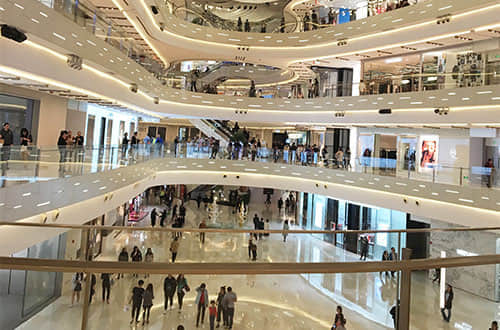 IAPM Mall
IAPM Mall – This is a modern mall that features the flagship stores of many international luxury brands. This up-scale mall features stores and restaurants that are very unique to Shanghai. At IAPM, you will find a selection of fine dining options, with the presence of two Michelin Star restaurants in the mall. There are many international brands and restaurants that offer styles and tastes of home.
Address: 999 Middle HuaiHai Road, Xuhui District, Shanghai
Hours: 10 am – 10 pm
Two Minutes Walking Distance from South Shaanxi Road Metro Station
Cloud Nine Shopping Mall – Off the beaten path, the Cloud Nine Shopping Mall is the pride of Zhongshan Park. This massive mall has restaurants and stores galore. Here you will find many domestic brands and an assortment of international brands as well. If you are looking for a more modern Chinese shopping experience at a mid-level price tier, then the Cloud Nine Mall is the perfect option for you. You will find popular Chinese brands for a younger audience as well as many Chinese technology stores with the latest phones, computers, and gadgets.
Address: 1018 Changning Rd, Zhong Shan Park, Changning District, China
Hours: 10 am – 10 pm
Five Minutes Walking Distance from Zhonshan Park Metro Station
Jing'an Kerry Center – The Kerry Center is one of the most recognized malls in all of Shanghai. Lying in the heart of Jing'an District, the Kerry Center is the most popular trendy mall in the area. Here, you will find many unique items from international brands. There are also some very well-known restaurants located in or around the mall. Walking around the Kerry Center in the evening is a great way to experience modern Shanghai night life.
Address: 1515 West Nanjing Road, Jing'an District, Shanghai, China
Hours: 10 am – 10 pm
5 minutes walking from the Jing'an Temple Metro Stop
"Fake" Markets
Shanghai AP Plaza – Located at the Shanghai Science and Technology Museum stop on Metro line 2, the AP Plaza Market is the largest fake market in Shanghai. Here, you will find a collection of fake products of all types, including, but not limited to: bags, shoes, leather goods, sports jerseys, technology, and glasses. All of your favorite designer brands are found in a knock-off style lining the shelves of this fake market.
The fun part of shopping at a fake market is that you get to use your bargaining skills to get a better price on anything that catches your eye. Remember that all of the items are overpriced at their base price, so bargaining is a must. Take a look at our Shopping in China article to learn more about bargaining at various types of markets.
Address: Inside Metro Line 2, Shanghai Science & Technology Museum, 2000 Shiji Da Dao
Hours: Variable Hours Starting at 5 or 6am closing at around 10 or 11 pm
2 minutes Walking Distance from Shanghai Science & Technology Museum Metro Station
Popular Products to Buy in Shanghai, And Where to Find Them
Qipao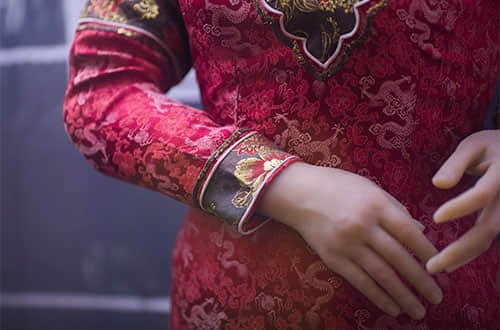 Qipao
A Qipao, also known as a Cheongsam, is a traditional Chinese dress. There are a variety of patterns and fabrics that make Qipao unique. The style of the dress is a great way to show off your exciting memories of China and make for a fun cultural conversation piece. Qipao can be bought pre-made or tailor-made to your exact specification. Unsurprisingly, the tailored Qipao will cost much more than the pre-made versions. A good Qipao found in Yuyuan Bazar, AP Plaza or Tian Zi Fang will cost anywhere between 800-10,000RMB.
Tea
Tea is a classic Chinese delicacy. If you are looking for a delicious gift or memory from your travels in China, then some signature Chinese teas are the best options for you. Teas and unique tea accessories vary in price considerably. To find the widest selection of teas and accessories, take a look at Tianshan Tea City. Just a short walk from Cloud Nine Mall, Tianshan Tea City has a wide range of teas from all around China and unique tea sets that make for beautiful kitchen accessories and gifts.
Silk
China's most well-known luxury export throughout history is silk. There are uncountable silk products that you can find in China, each will a unique design and attention to detail. One of the best places to find a variety of silk products or silk prepared for garment making is in the South Bund Fabric Market. You will find a wide variety of high quality silks and fabrics lining the walls of the vendor's stores in this one-of-a-kind fabric market.
Art
Chinese art holds a unique important to the development of the country. Various long-standing art styles are still practiced today. If you want to find the best place to shop around for some traditional and modern Chinese art, take a trip to the M50 Art district. Here you will find many galleries that sell art of all forms and styles. This is one of the newest and trendiest locations in Shanghai, making it a great place to enjoy a sunny day.
Handmade crafts
Similarly to the Qipao, Yuyuan Bazar, AP Plaza, and Tian Zi Fang are all great places to purchase handicrafts made by local sellers. These great objects are unique to each seller, as they display a regional art style and individual craftsmanship. If you are looking for some unique crafts to remember your trip, take a close look at all the sellers in these locations. Handmade crafts are individualized to you style and reflect a unique experience that you had while in China.
Conclusion
Shopping in Shanghai is never a bore. With a wide range of products and malls to browse, there is bound to be a unique product for anyone. Enjoy the traditional markets or pamper yourself in the lavish modern mall. You will find a selection of stores and restaurants at each location that makes for a fun shopping day. Shopping around Shanghai is a great way to find some conversation pieces and gifts for friends and family back home!
Have a question?
OR
Are you eager to begin your Chinese cultural journey?
Drop us a line and we will promptly connect you with our leading China expert!