The weather in Xiamen is cool, and the average temperate is between 10.9℃/51.62℉ and 17.2℃/62.96℉. The lowest minimum temperate is 5℃/41℉. There are more cloudy and rainy days than sunny days.
| | | | | |
| --- | --- | --- | --- | --- |
| | Average Maximum | Average Minimum | Highest Maximum | Lowest Minimum |
| ℃ | 17.2 | 10.9 | 24 | 5 |
| ℉ | 62.96 | 51.62 | 75.2 | 41 |
Sunny Days: about 5 days
Cloudy Days: about 13 days
Rainy Days: about 10 days
Overcast Days: about 3 days
What to wear and bring?
In early January There will probably be a couple of sunny days and a couple of cloudy days in early January, and the other days are rainy days, with light to moderate rain. The maximum temperatures are between 12℃/53.6℉ and 24℃/75.2℉, so you could get away with wearing thin sweaters, a thin dress, and a windbreaker or a coat. But don't forget to bring an umbrella in case it is a rainy day.
It is usually nice on New Year's day, with a maximum temperature of about 19℃/66.2℉, and the minimum temperature is about 11℃/51.8℉. On this sunny day, you just need to wear a long sleeved shirt or dress, with a wind-proof coat, long pants, and shoes with soft soles.
In mid-January Compared to early January, there are a couple more sunny days in mid-January when the lowest temperature is around 5℃/41℉. You can wear a thin sweater, a wind-proof coat, or a jacket. And you'd better take an umbrella in case it rains when you want to go out.
In late January In late January, there is about a week of cloudy days. It is so pleasant that you can go outside to enjoy yourself. At the same time, it is necessary to take rain gear because the wet weather is continuous.
Historical Weather in January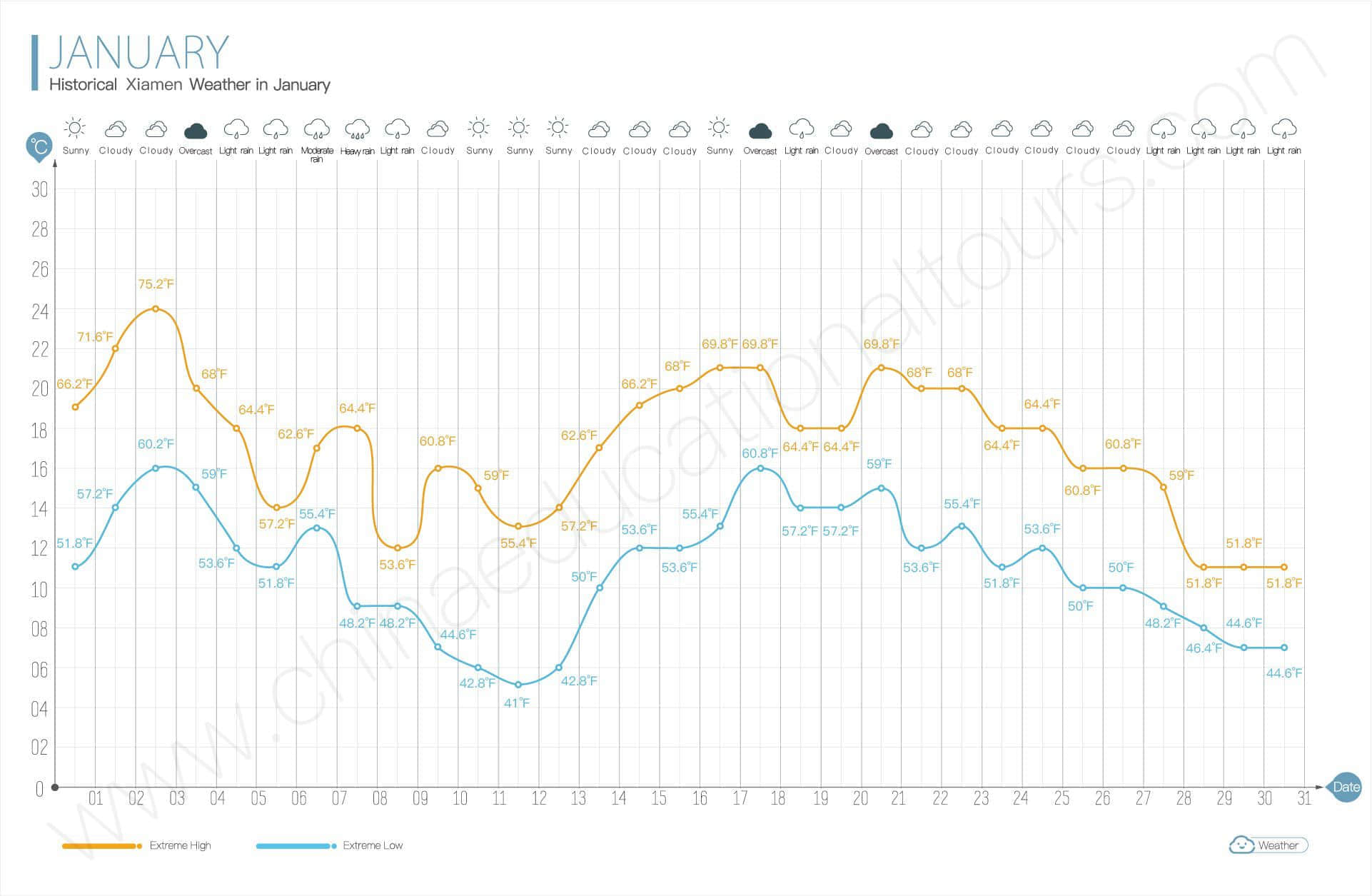 click here to enlarge