CET-11:

14 Days Guangzhou - Guilin - Xi'an - Beijing China Tour

We're honored to have helped over 100 loving adoptive families explore China, including welfare institutions in provinces such as Guangxi, Guangdong, Jiangsu, Guizhou, Fujian, Hunan, Hubei, Jiangxi, Anhui, Hebei, Henan, Zhejiang, etc.

Our most recent booking is for Nov. 6, 2023.

In the adoptive family return tours we organize, we have had the pleasure of serving numerous families who have adopted multiple children. We are also more than happy to arrange visits to the orphanages of each adopted child, creating a meaningful and enriching experience for everyone involved.

We believe that heritage tours should be designed to meet your unique preferences, so the sample itinerary we provide is just a starting point. Simply share your wishes with us, and our caring heritage tour specialists will craft a personalized itinerary to ensure you and your child create unforgettable memories in China. Let's work together to plan your heartfelt return journey now.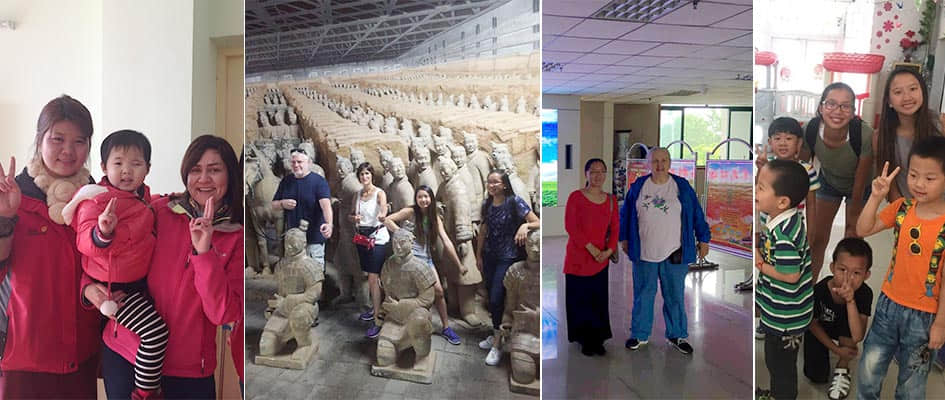 This heritage tour is designed for you to take your adopted child back to visit his/her motherland of China. You will not only visit the orphanage where he/she was brought up and the exact spot where he/she was found, but also better appreciate China's ancient history and rich culture. You will arrive first in Guangzhou (this destination is subject to adjustment based on where your adopted child is from) and explore the city. You will not miss Guilin which has the best scenery in the world and learn about the historic treasures of ancient China in Xi'an and Beijing. This will be the most educational and enriching experience which you and your child will cherish forever. If this China heritage tour itinerary is not what you want, let's create your own heritage tour.
Trip Highlights
Visit the orphanage, finding site and foster family
Family friendly guides speaking fluent English and Chinese Mandarin
Ride a bike on a thousand-year-old City Wall
Learn to cook delicious and popular Chinese food
Practice Taichi with locals at the Temple of Heaven
Learn Chinese calligraphy and brush-painting
Suitable For: Adoptive Family
Full itinerary for China Adoption Return & Heritage Tour
Day 1
Guangzhou Arrival: Welcome to South China
Welcome to China! Your private guide awaits you outside of the luggage claim area at Guangzhou Baiyun International Airport (CAN). After being transferred to your hotel by your comfortable private vehicle, you can enjoy the rest of the day to walk around the hotel's neighborhood or just relax at your hotel.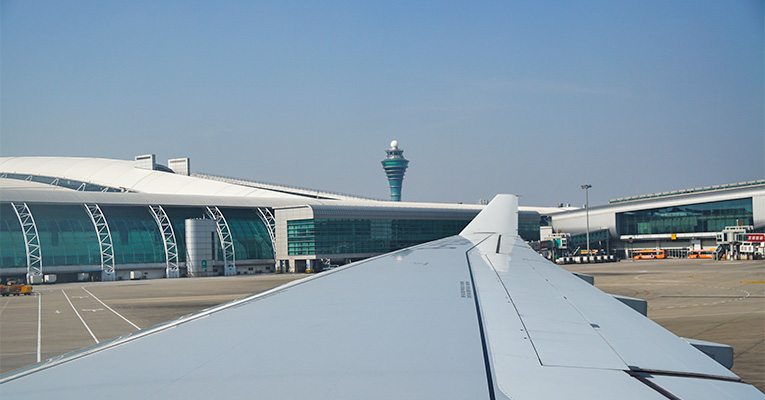 Guangzhou Baiyun International Airport
Day 2
Guangzhou: City Tour (breakfast & lunch)
Morning
You may start the day a bit later if you are still jetlagged. There is a lot to discover at this international metropolis. Chen Clan Ancestral Hall shows you the prosperous past of Guangzhou. It is a splendid hall of decorative folk arts, with its skillful use of wood carving, brick carving, stone carving, grey plastic sculpture, ceramic sculpture, copper and iron casting, and painting. The main theme is based on Lingnam folk arts. You can also see the residence of the rich and powerful businessman in the late Qing Dynasty called Sai Kwan Mansion. There were more than 800 houses at its height, but now only 10 remain. You will have a general idea about the customs of local people's living. You must try Cantonese Cuisine for lunch. It features just the right amount, with rich and clever ingredients, and beautiful decoration.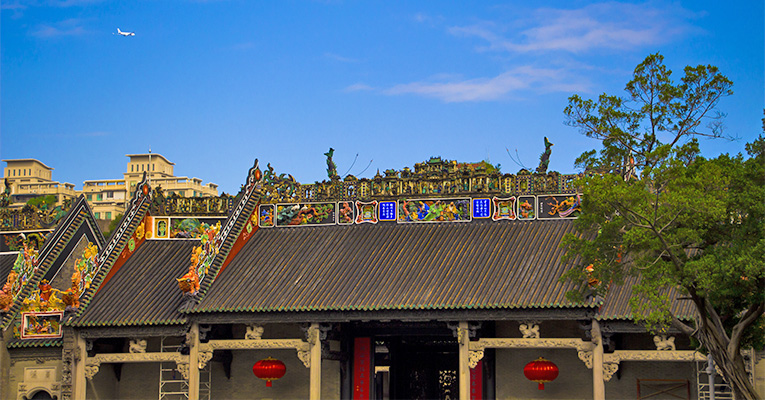 Chen Clan Ancestral Hall,Ornate Roof
Afternoon
Stroll around Shamian Island, you will feel like you are in Europe. The beautiful houses and buildings were built during the time when the French and English were the big influence in China. Qing Ping Market is close to it. It is the biggest traditional Chinese medicine market in Guangzhou City. You will see various Chinese herbs and understand their functions.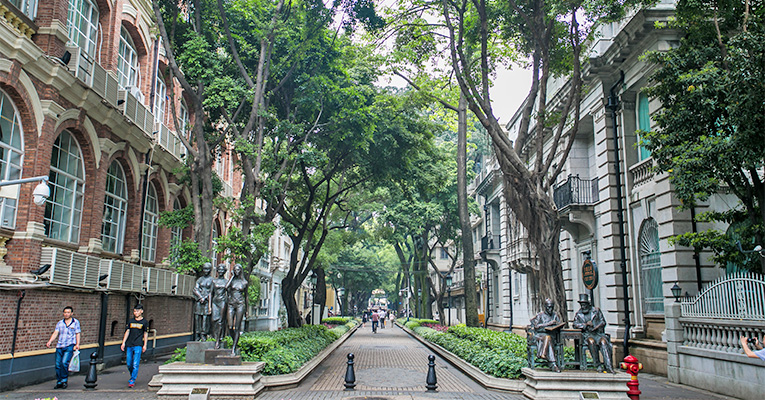 Shamian Island
Day 3
Guangzhou – Orphanage: on the way (breakfast)
You will travel to the city where the orphanage your child was adopted is located. The transportation can be flight, speed train or car depending on which city it is. On arrival, your guide will show you around for your child to get to know his/her hometown. You will have a chance to stop by the local supermarket if you want to prepare some presents for the children and the staff in the orphanage.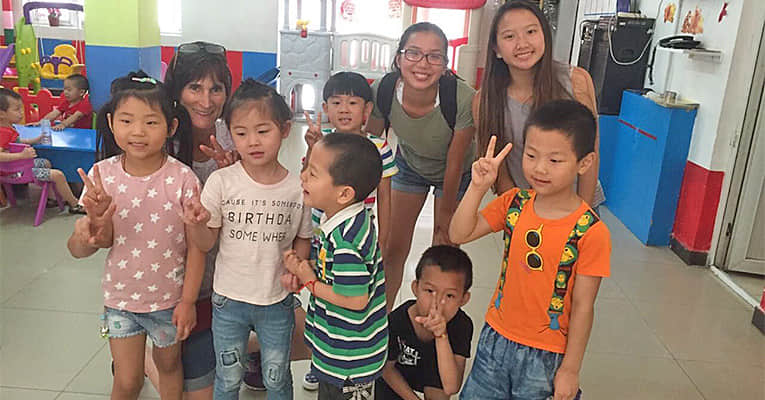 Day 4
Orphanage – Guangzhou: Whole Day Tour (breakfast & lunch)
Spend the whole day visiting the orphanage, you will have chance to talk with the orphanage director and staff, visit the place where your child was first found, where they lived and played. You can also meet with the people who were related to the adoption and the foster family, if there is one, to see the detailed information that is provided. Have lunch at a local restaurant.
This day will be a lifelong memory for you and your child. Return to Guangzhou, or take flight/speed train to your next destination.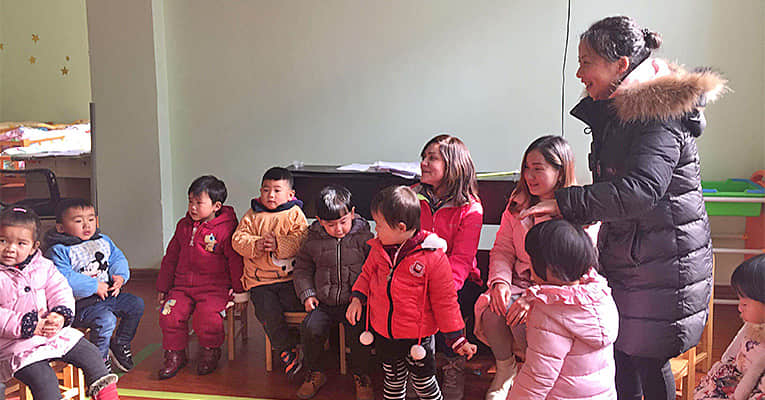 Play with kids in the orphanage
Day 5
Guangzhou – Guilin by Speed Train: Natural Beauty (breakfast & lunch)
Morning
You will take a speed train to Guilin after a leisurely breakfast at your hotel. On your arrival, you will see your personal guide waiting at the exit of the train station. And then the guide will escort you to the city center for lunch.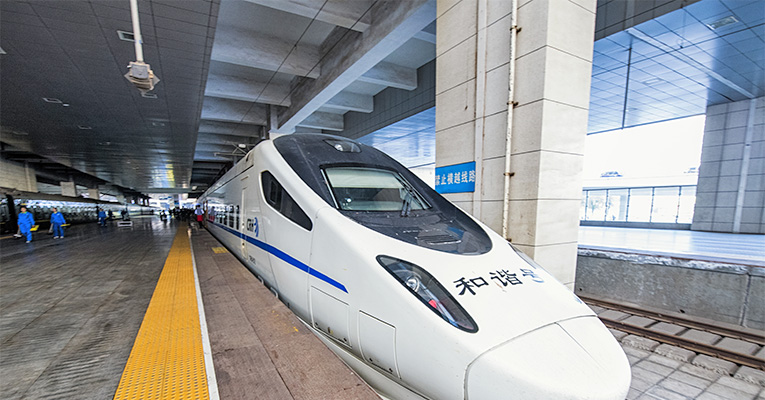 the Speed Train
Afternoon
Guilin is surrounded by Karst Mountains and is as famous as the beauty of the naturally formed scenery. Reed Flute Cave is one example. There are lots of caverns and large limestone formations. You will need some imagination to visualize the story behind the formations. And then you will go to Fubo Hill Park. This is a complex park with a lot to see, like the Sword-Testing Stone, a cave with Buddha statues carved into the wall and a great view from the top of the hill.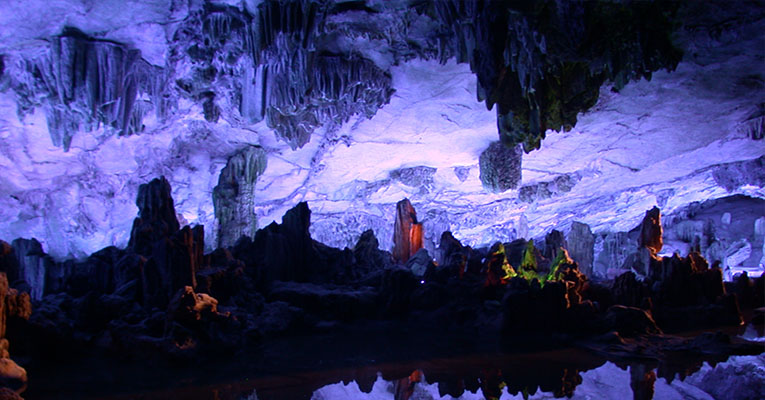 Reed Flute Cave
Day 6
Guilin: Longji Rice Terraced Day Trip (breakfast & lunch)
Morning
After breakfast, you will go to Longji (Dragon's Backbone) which is about a 2 hour drive from downtown Guilin. The terraces were made by local ethnic minority groups after the Yuan Dynasty (1271 – 1368 AD). Zhuang and Yao minority villages dot the area with their unique wooden architecture. A good hike is planned for today, so a pair of comfortable walking shoes are highly recommended.
Ancient Zhuang Village is a quiet village inhabited by Baiyi Zhuang – White Clothes Zhuang people – while Ping'an village is inhabited by Yao People. You'll have a 2 hour hike from Ancient Zhuang Village to Ping'an Village.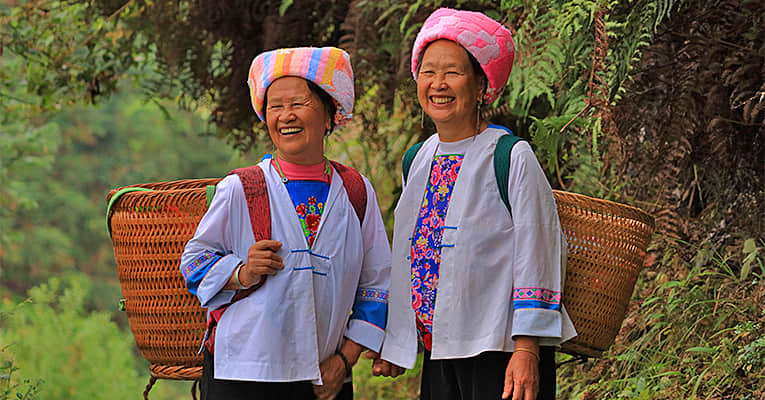 Baiyi Zhuang Women
Afternoon
Lunch with organic food at one of the local restaurants on the mountain is just delicious. After lunch, you can either continue climbing to the mountain top to overlook the whole village or just walk around the village. Return to your hotel in Guilin in the late afternoon.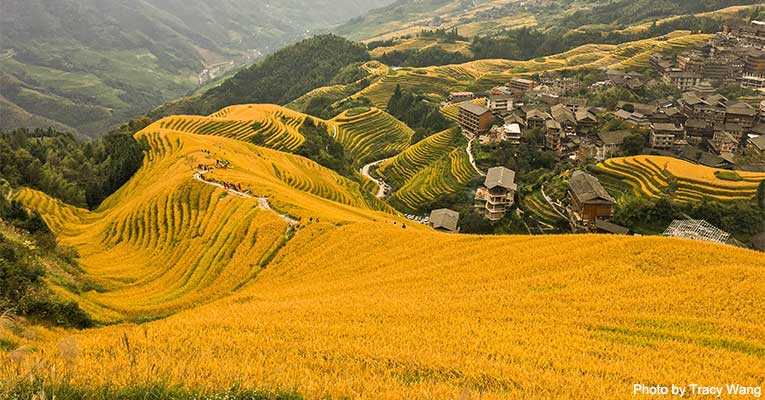 Nine Dragons Five Tigers in Autumn, Longji Terraced Fields Scenic Area
Day 7
Guilin – Yangshuo: Li River Cruise (breakfast & lunch)
Morning
Today is one of the highlights of your entire trip. Your guide will pick you up from your hotel lobby at around 08:00. And then you will embark on your boat trip at the wharf which is about a 45 minute drive from your hotel. The Li River Cruise from Guilin to Yangshuo is the best way to appreciate the breathtaking landscape of the Karst Mountains along the river side. Natural scenery, farm lands, fishermen, school kids, water buffalos, mountain goats and cormorants are all in the same picture. A simple lunch is served onboard. Or you can order some fresh catches at your own expense.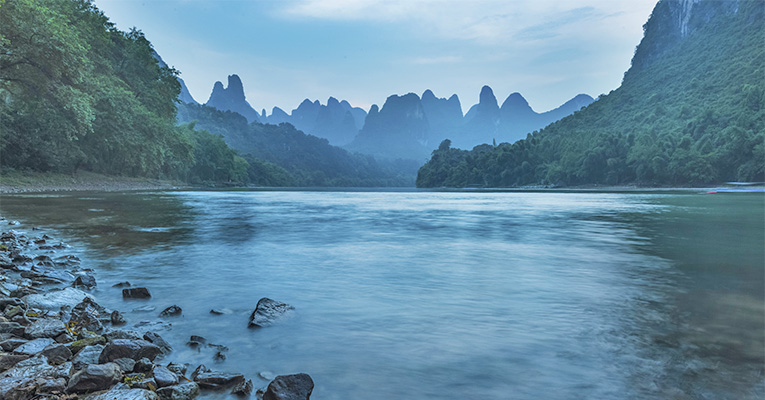 Beautiful Scenery on the Li River
Afternoon
After disembarking in Yangshuo, you will stroll through West Street, to feel the harmonious combination of Chinese and western culture. Hire a mountain bike, your guide will take you to explore the countryside of Yangshuo. Biking on the paved path with rice paddies and beautiful mountains on both sides is such a pleasure. You can visit one of the local houses if you wish to learn about the peasants' life style.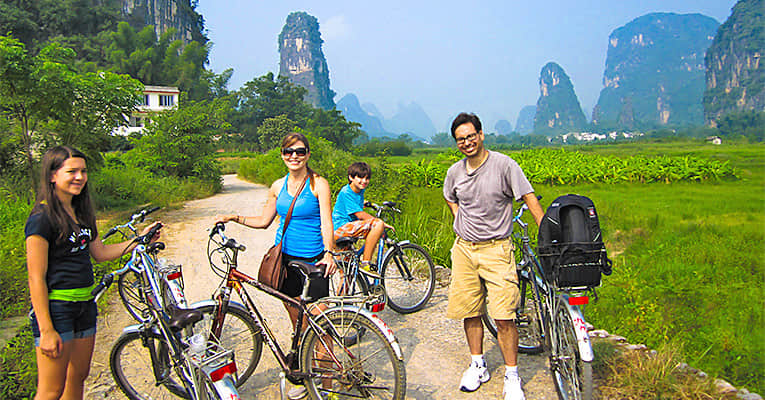 Cycling in the countryside
Evening
Recommended activity:
1. Impression Sanjie Liu Show uses the Li River as the stage and the mountains as the backdrop to give audiences a visual feast performed by more than 600 actors.
2. Yangshuo West Street is the oldest street, with a history of more than 1,400 years, which is attractive to a lot of foreigners. It comes alive with pubs and clubs open at night.
Day 8
Yangshuo / Guilin – Xi'an by Plane: Cooking Class (breakfast & lunch)
Morning
Enjoy a lovely breakfast at your hotel. Your guide will take you to join a Cookery Class. The tour starts with buying the ingredients from the local food market. You can learn about all the types of food material that Chinese people eat every day. After returning from the market, you will learn to make three popular dishes with the Chinese cooking style. The chef will show you the process step by step. Enjoy what you cooked for lunch.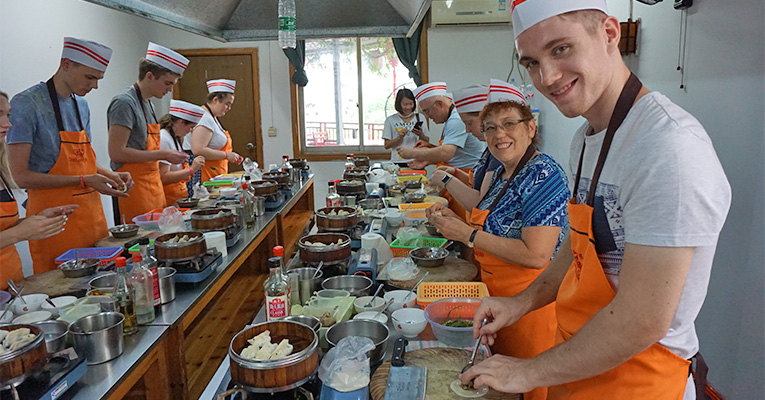 Afternoon
After a short break, your guide and driver will escort you from Yangshuo to Guilin airport for your flight to Xi'an.
Evening
Upon arrival, you will meet your guide and be sent to the hotel for a good rest. Xi'an is a city with a rich history and very palatable food.
Day 9
Xi'an: Terracotta Warriors and Ancient City Wall (breakfast & lunch)
Morning
The Terracotta Warriors and Horses, listed at World Heritage Sites by UNESCO in 1987, shouldn't be missed. It is one of the greatest archeological discoveries on earth. Thousands of clay soldiers, bronze chariots and horses were made 2000 years ago to protect Emperor Qinshihuang's tomb. From Pit 1 to Pit 3, you will be amazed by the exquisite artwork. Your lunch today will be served in a restaurant near the museum so you can try different types of famous cold dishes and noodles.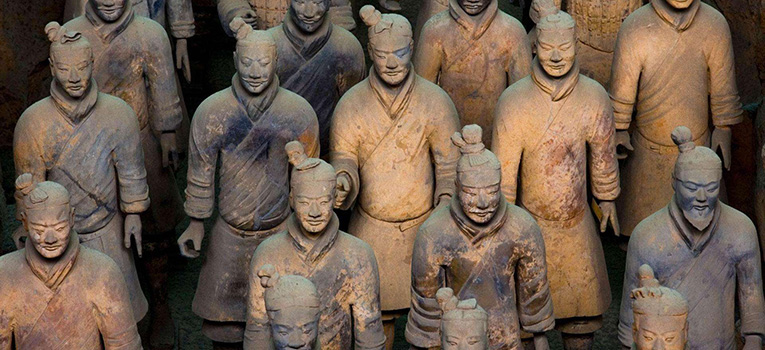 Terracotta Warriors and Horses: Created by China's first emperor, Qin Shi Huang
Afternoon
Then you will head back to the city to visit the Ancient City Wall. This is the best-preserved city wall in China. You can walk, or ride a bike or an electric cart on the Wall. Walk for 10 minutes from there, and you will arrive at the Muslim Quarter, a busy and interesting walking street with lots of food stands and souvenir shops. It is where the local Muslim residents live, and a fun place to wander around.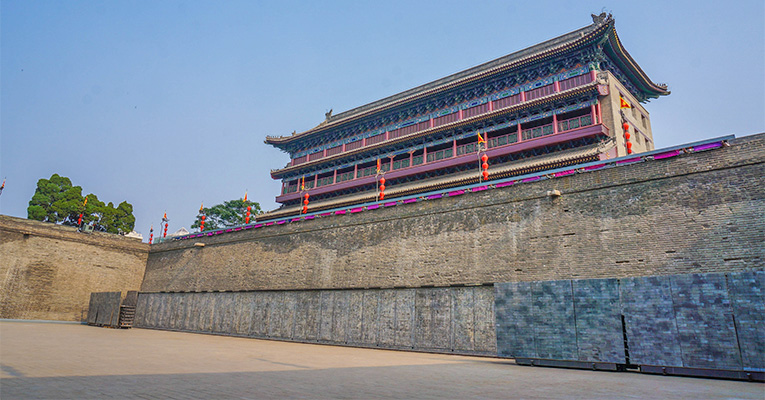 Xi'an Ancient City Wall
Evening
Recommended activity:
1. The music fountain at the north square of the Big Wild Goose Pagoda is free to the public. You can stroll around it after dinner to experience local life.
2. Tang-Dynasty Palace Music and Dances is a performance that was re-created by many famous artists in Shaanxi province, displaying the essence of music, rhythm, and dance art in the Tang Dynasty.
Day 10
Xi'an - Beijing by Speed Train: City Tour (breakfast & lunch)
Morning
After breakfast, you will visit the Small Wild Goose Pagoda. It is the same architecture style with the Big Wild Goose Pagoda, but much quieter with less tourists. It is a typical work of the square Miyan style brick pagoda in early China and is Buddhist architectural art heritage of the Tang Dynasty. You can learn how Buddhism was introduced into the Central Plains and integrated into the Han culture. And then you will have a chance to watch a Shadow Puppets Show, which is a kind of folk drama. It tells stories in silhouettes of characters made of animal skins or cardboard. Enjoy your lunch at a local restaurant nearby.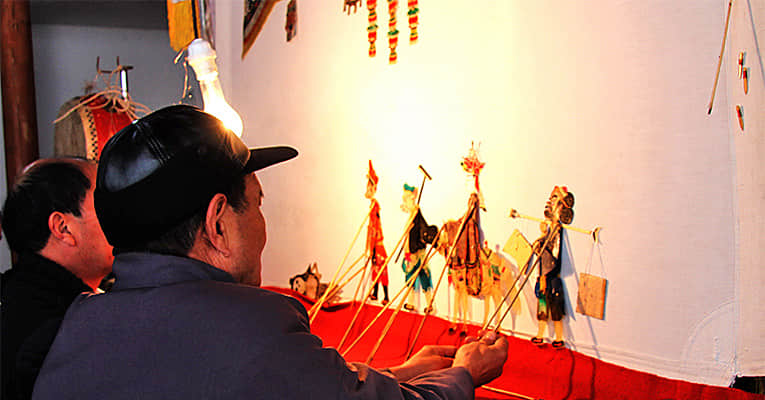 Shadow Puppets Show
Afternoon
After lunch, you will head to Xi'an North Train Station for your speed train to Beijing. During the 4.5-hour ride, you will enjoy the view of the rural area of northern China.
Evening
Your guide in Beijing will be waiting for you with your name sign and take you to your hotel.
Day 11
Beijing: the Temple of Heaven and the Great Wall (breakfast & lunch)
Morning
In old China, the emperors prayed for a good harvest every year. That was how the Temple of Heaven was built. Now it has been turned into a public park where local people do morning exercises and play board games. A Tai Chi lover will teach you some basic movements and the theory of Tai Chi here. It can balance the "Yin" and "Yang" in your body to make you healthy. And then we will drive you to the Great Wall. Lunch will be at a farmyard on the way.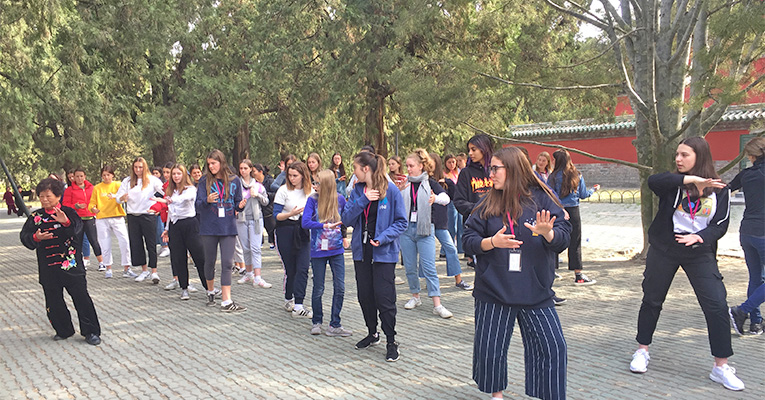 Play Tai Chi
Afternoon
Located 73km from Beijing downtown, Mutianyu Great Wall is the most scenic and well-protected section. Take a cable car up to the half-way point, from where you can hike east or west. Strolling on this thousand-year-old defense project, you can feel the history and imagine the wars which happened here in the past. Return to your hotel in the city in the late afternoon.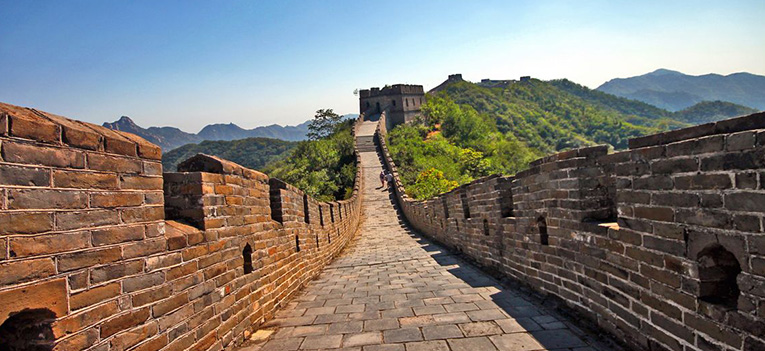 Mutianyu section of the Great Wall
Evening
Recommended activity:
1. The Legend of Kungfu premiered in 2004. In contrast to the traditional Kungfu shows, it demonstrates Kungfu through dramatic stories. The group also tours abroad and has a good reputation.
2. Acrobatics at Chaoyang Theatre was founded in 1984. Their performances have won more than 30 awards at home and abroad. "Blue And White Porcelain" (balancing a stack of bowls on the head), which is one of them, was on the stage of the Spring Festival Gala in 2015.
3. Peking Opera is one of five major operas in China and the quintessence of Chinese culture with a history of nearly 200 years. It was entertainment only for the court in the beginning and then slowly opened to common people as well.
Day 12
Beijing: City Highlights (breakfast & lunch)
Morning
Your tour of the city highlights starts from Tiananmen Square, the world's largest city square. You can, however, have an early start at 05:30 to watch the flag raising ceremony along with hundreds of Chinese people. Some important government buildings are located around the square, such as the Great Hall of the People, National Museum, Chairman Mao Memorial Hall and Monument of the People's Heroes. Across Chang'an Avenue from Tiananmen Square, lies the magnificent Forbidden City. This big palace is a collection of valuable culture relics and ancient Chinese architecture. You can listen to the stories of the royalty's life. Have lunch at a local restaurant.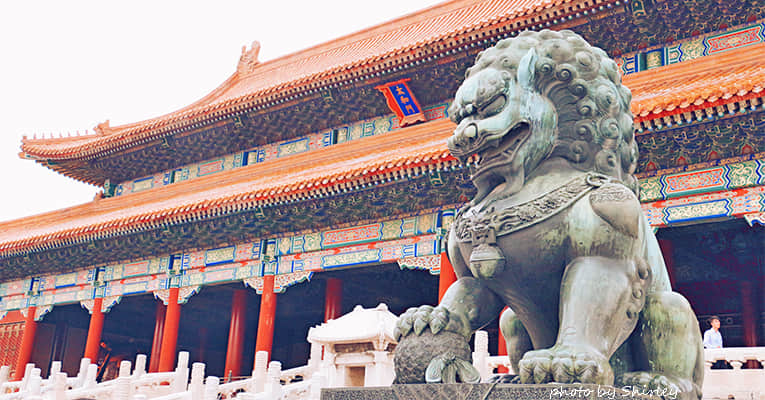 The Forbidden City: a palace complex in central Beijing, China
Afternoon
Situated to the north of the Forbidden City, Jingshan Park is a beautiful royal landscape garden. The mid summit of Jingshan Hill is the highest point in the city, where you can get a full and clear view of the Forbidden City.
After that you will visit Shijia Hutong Museum (closed on Mondays). It documents the ways of hutong life back in the 'good old days'. Exhibits include a mockup family home from the mid-20th century, and a 'Sounds of the Hutong' audio experience that allows visitors to immerse themselves in the atmosphere of a bygone era.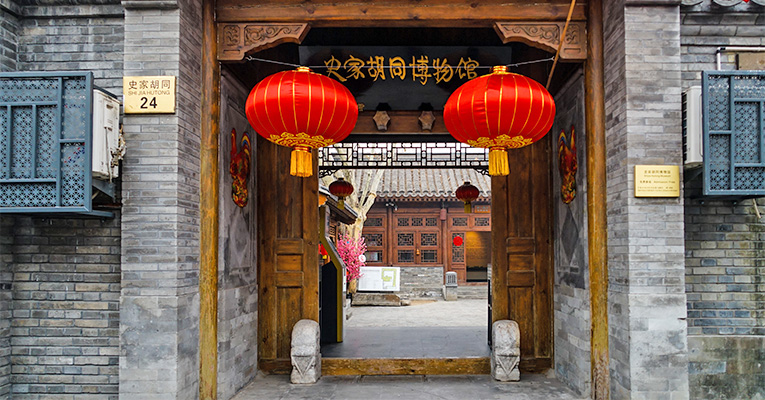 Shijia Hutong Museum
Day 13
Beijing: Immerse yourself in Chinese Culture and People (breakfast & lunch)
Morning
Today is a more casual day. You will spend the whole morning strolling in the Summer Palace, the summer retreat of Empress Dowager Cixi. The landscape, the architecture and the lake, everything is a feast for your eyes. You will enjoy a 20 minute boat ride (available from April to October) on the lake. Have lunch at a local restaurant.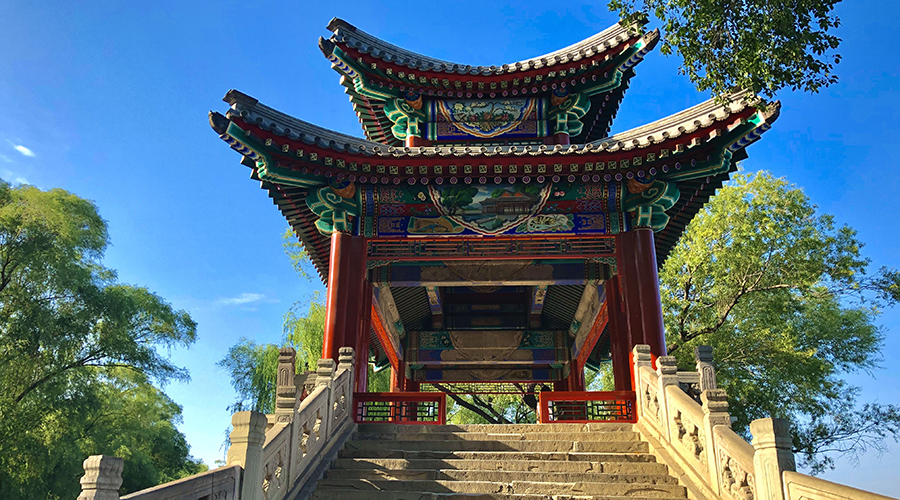 Afternoon
You will spend the remaining half day in Gaobeidian Village. You will join a Chinese Calligraphy class to learn brush painting. This whole day is for you to get to know more about Chinese culture, language and people.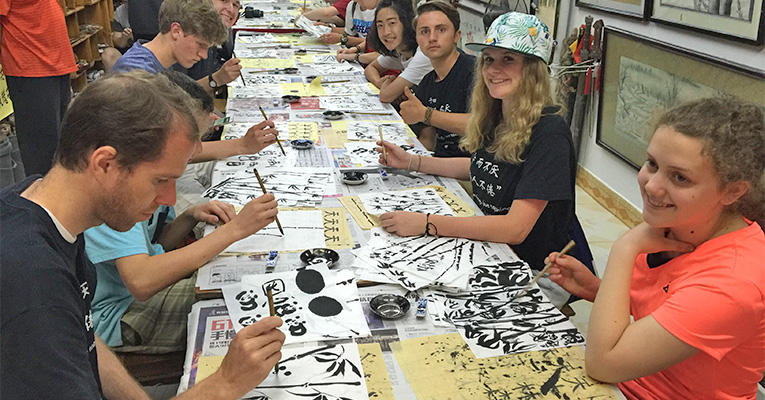 Brush Painting
Day 14
Farewell China (breakfast)
Enjoy a leisurely breakfast and pack your luggage. Your guide will take you to the airport for your international flight home. Our service will end here.
Featured Hotel
| | Comfortable | Deluxe |
| --- | --- | --- |
| Guangzhou | Landmark Canton Hotel Guangzhou | White Swan Hotel Guangzhou |
| Guilin | Guilin Bravo Hotel | Sheraton Guilin Hotel |
| Yangshuo | Green Lotus Hotel Yangshuo | Yangshuo Resort |
| Xi'an | Grand Noble Hotel Xi'an | Wyndham Grand Xian South |
| Beijing | Penta Hotel Beijing | Regent Beijing |
What's Included
Hotel accommodation with daily breakfast
Your own attentive and knowledgeable English speaking tour guide
Experienced driver with comfortable vehicle
Visit permit to the orphanage
All meals as listed at authentic Chinese restaurants
Entrance fees to all listed scenic spots
Speed train tickets from Guangzhou to Guilin, from Xi'an to Beijing
Flight ticket from Guilin to Xi'an
What Our Customers Say On This Heritage Tour