CET-22:

15 Days Student Tour of Global Leadership: Shanghai, Lijiang, Shaxi and Beijing

China's rich history, cultural diversity, significant sustained investment into the global community, and notable leadership on global environmental concerns, make it an ideal destination for enabling students to develop their leadership ability, international awareness, cross-cultural understanding, and professional skills. Through exploring the diverse cities of Shanghai, Lijiang, Shaxi and Beijing, students will have the opportunity to participate in organizational visits, briefings by embassy officials, and tours of significant cultural and historical landmarks over two weeks. Students will have a deep and nuanced understanding of Chinese business and economics, environmental efforts, international relations, and ethnic diversity, which are important knowledge for all future leaders.
Note: The organizations mentioned in the following itinerary are for reference only and subject to change due to availability. The final ones will be confirmed upon your request.
Trip Highlights
Obtain first-hand insight into renewable and green energy
Receive valuable advice from industry leaders and experts
Attend diverse cultural activities in Shaxi Old Town
Learn about Azhali Buddhism at the Pear Orchard Temple
Hike on the marvelous Mutianyu Great Wall
Learn how to do business with Chinese enterprises
Suitable For: Undergraduate, Postgraduate
Full itinerary for Global Leadership Program
Day 1
Shanghai Arrival
You will meet your guide at the airport on your arrival and be escorted to your hotel. The guide can help you with hotel check-in. You are at your leisure for the rest of the day.
Day 2
Shanghai: Jewish Tour and Yu Garden (breakfast & lunch)
Morning
After breakfast, students will have a half day Tour of Jewish Shanghai in the morning. The tour is guided by an Israeli journalist named Dvir Bar-Gal. The Peace Hotel, Ohel Moishe Synagogue, and the Old Ghetto Alleys are included in the itinerary. Travelers usually start at the Peace hotel (built by Sir Victor Sassoon) and go to Hongkou district (known as the Shanghai ghetto), visiting various places there which include Ohel Moshe, a monument and Chinese (former Jewish refugee) home. After that, lunch will be served at a local restaurant.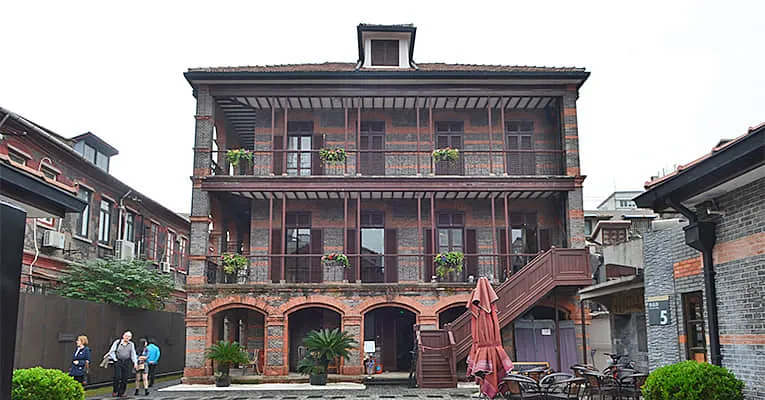 Shanghai Jewish Refugees Museum
Afternoon
After lunch, students will visit Yu Garden, a private garden built in the Ming Dynasty. It used to be the main place for holding important events in town, such as Flower Show, Lantern Festival Celebration, Strange Stone Exhibition, Painting and Calligraphy Exhibition, and Tea Ceremony Activity. Students will do the Tea Ceremony in the Garden to learn about tea culture. The Yuyuan Bazaar is located right outside of the garden. You can find clothing, snacks, and souvenirs. There are lots of restaurants with tasty offerings. This is your chance to really have fun practicing your bargaining skills.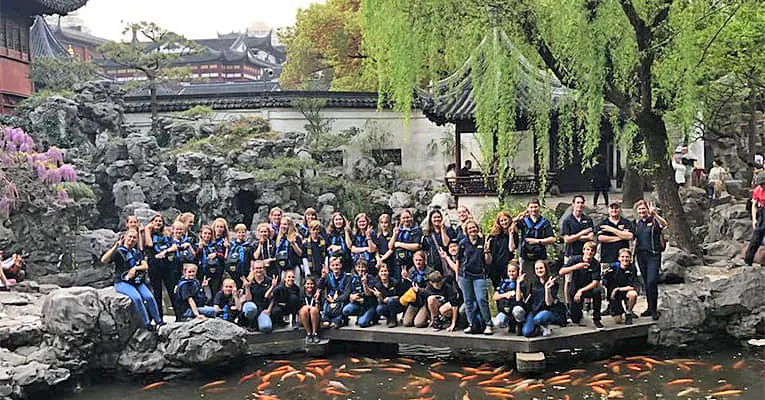 Students Group Visiting Yu Garden
Day 3
Shanghai: Language Learning and AustCham Shanghai Visit (breakfast, lunch & dinner)
Morning
After breakfast, students will have a Chinese language learning class at the Hutong School for two hours. The course has been specially designed to suit learners of different ages and levels. Then enjoy lunch at a local restaurant.
Afternoon
Jingan Temple, built in 247, is the oldest Buddhist temple in Shanghai. It is very popular among pilgrims.
Jingan Temple
And then you will head to AustCham Shanghai, where a symposium will provide students with first-hand insights into business in China and the Australia-China trade relationship. The students can get to know the implications of The Belt and Road, including its potential for economic transformation, regional development, and intergovernmental cooperation, and any challenges that AustCham predicts for its implementation. There will be a Q & A session at the end.
After dinner at a local restaurant, you will be transferred back to your hotel for overnight.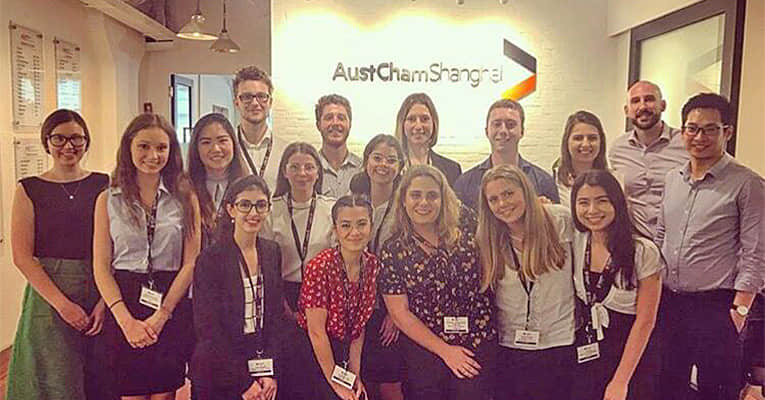 AustCham Shanghai
Day 4
Shanghai: Organization and University Visit (breakfast & lunch)
Morning
Start the day with a visit to the New Development Bank. A briefing is a pertinent addition to the program, allowing students to obtain first-hand insight into the role of the Bank in sustainable development in emerging countries. It will be followed by a Q & A session. Students will have lunch at a local restaurant after that.
Afternoon
The next destination is Fudan University, a world-renowned top Chinese university and comprehensive research institution. There are over 130 university-level exchange programs with universities from 30 countries.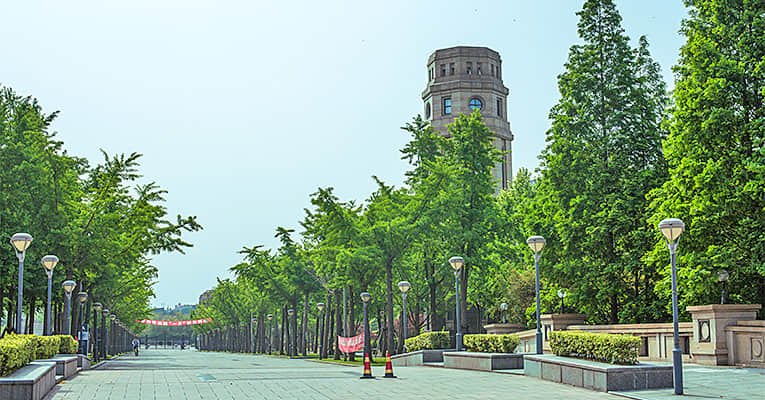 Fudan University Campus
The Bund is a walkway along the Huangpu River and the best place to see the skyscrapers in Pudong (east of Huangpu River) and historical buildings in Puxi (west of Huangpu River). The night lights are what you shouldn't miss.
You will then be dropped off at TianZi Fang, a popular shopping and dining area in Shanghai. You will have some free time to explore it and find good and interesting eateries for dinner on your own.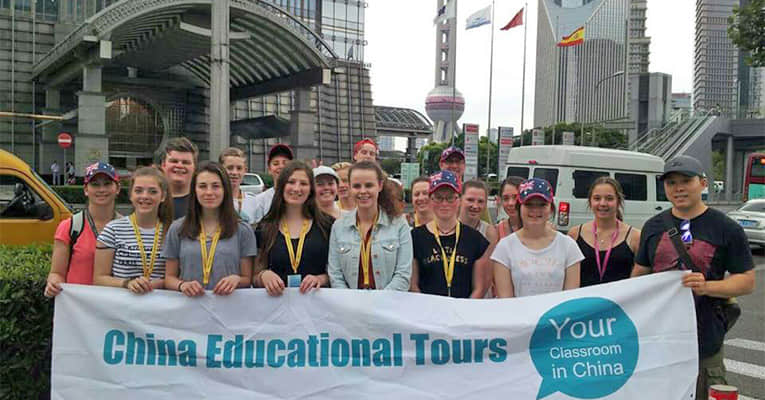 College Students on the Bund
Day 5
Shanghai to Lijiang by air: traveling day (breakfast & lunch)
Enjoy a free and leisurely morning before being transferred to Shanghai Pudong Airport for the afternoon flight to Lijiang.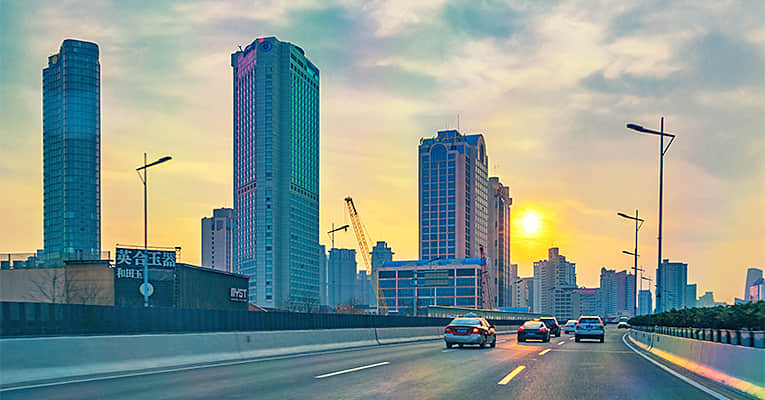 on the Way to the Airport
Upon arrival at Lijiang airport, you will find your guide waiting outside of the luggage claim area with your name sign. Transfer to your hotel to check-in. Good night and sleep tight.
Day 6
Lijiang to Shaxi by Road: Local Cultural Activities (breakfast, lunch & dinner)
Morning
After breakfast, your guide and driver will take you to Shaxi, about 90 minutes driving from Lijiang. Shaxi Town was an important post house on the Ancient Tea Horse Road. It still retains the Horse Caravan culture and its original look, beautiful and peaceful. On arrival, students will have a Dancing Class at Old Theatre Inn. Five Bai ethnic ladies from Diantou Village's women's dance troupe in their traditional costume perform Bai ceremonial dance and teach students how to incorporate these basic actions into local music. This will be a lot of fun, and a good way to learn about the local culture.
Today's lunch will be served in a local restaurant with some local delicacies.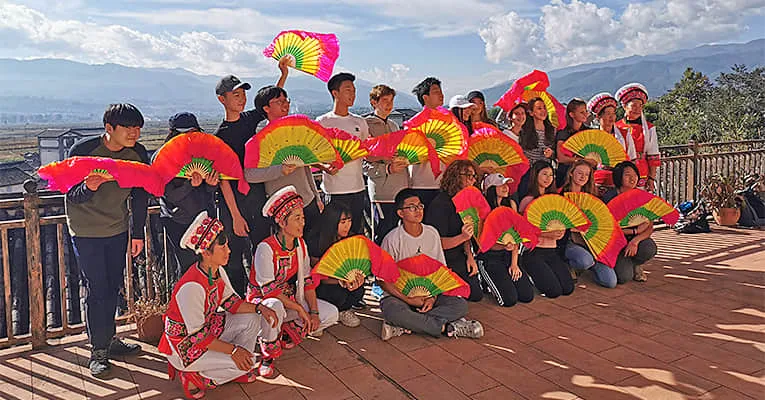 Dance Class with Bai Ethnic Ladies
Afternoon
A hidden cultural treasure is waiting to be explored. We will drive you up to Shibao Mountain to see the grottoes around Shizhong Temple. You will see delicate stonework featuring vivid images, unique meanings, and strong local ethnic features. Women go there to pray for fertility and a smooth childbirth. And then you will walk down the mountain. Dinner will be arranged at Shaxi Old Theatre Inn.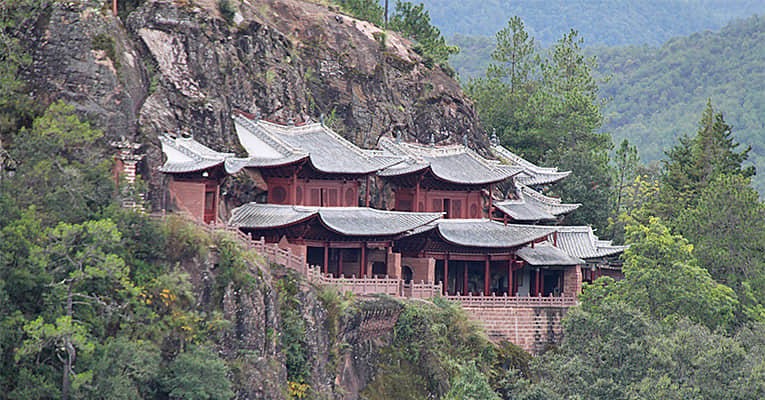 Grottoes on Shibao Mountain
Day 7
Shaxi: Local Cultural Activities (breakfast, lunch & dinner)
Morning
Nothing could be more interesting than a tour to the Friday Market led by a chef, where you can buy ingredients for your cooking class. Market day on every Friday is the highlight of the week in Shaxi valley, so please make sure that one day of your stay in Shaxi falls on a Friday. You will find a wide range of local fruits and vegetables grown with their very own green thumbs, as well as freshly made goats cheese, cow bells, craftsman made horse tackle, even wigs. Traveling vendors fill the main street, hawking everything from farm tools to fruit trees.
Head to the Pear Orchard Temple, a recently restored 500 year-old folk temple where there is a new kitchen just for cooking classes. Here you'll spend the next 2 ½ hours preparing and enjoying four dishes you will cook yourself. Gaze out over the Shaxi Valley from the dining terrace (weather permitting) and enjoy a complimentary pot of tea.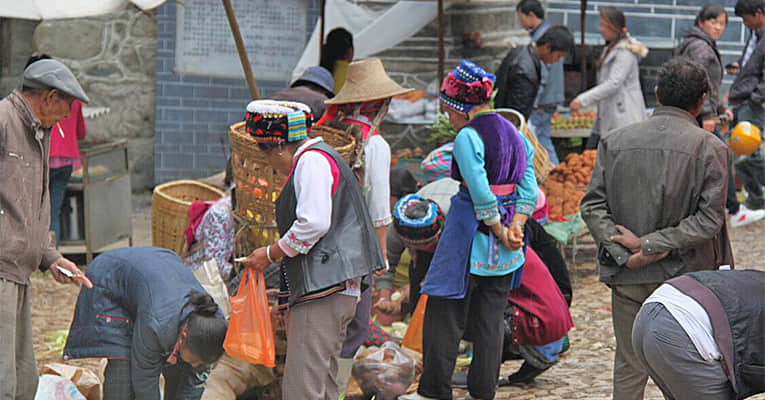 Friday Market
Afternoon
After a short rest, students will learn about A-Zha-Li Buddhism at the Pear Orchard Temple. There were three main ways of practicing A-Zha-Li: masters teaching students from scriptures in secret, and using mantras and magic spells; adoption of body postures and hand positions to practice; and meditation.
You can share your feelings and comments about the tours and activities as we've booked a meeting room for you in the hotel. Dinner will be served after the meeting inside your hotel.
Day 8
Shaxi to Lijiang by Road: Lijiang Green Education Center Visit (breakfast, lunch & dinner)
After breakfast, our guide and driver will escort you back to Lijiang. Today is a full day visit to Lijiang Green Education Center. It is a non-profit and non-governmental organization, mainly carrying out the popularization and promotion of the awareness of sustainable development. The specific activities include the protection of river basins and lakes and the promotion of renewable energy in rural Yunnan.
Day 9
Lijiang: Cultural City Tour (breakfast & lunch)
Morning
You will visit some of the most popular sites in Lijiang today. The first stop is Black Dragon Pond Park, where Black Dragon Pond and Museum of Naxi Dongba Culture are located. The park is known as the back garden of Lijiang Old Town and the crystal clear pond is the water source of Lijiang Old Town. This museum is a fascinating place to learn about the heritage of the Naxi people and their spiritual background.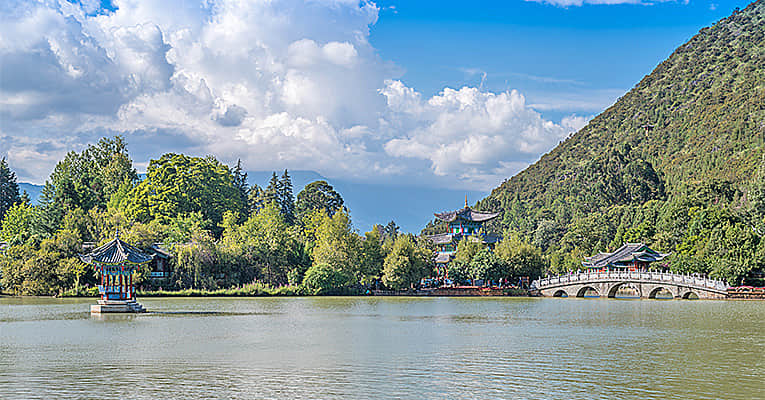 Black Dragon Pond
And then we will head to Baisha Ancient Town to visit the famous wall painting and Mu's Family Embroidery School. The wall painting integrates the culture of Han, Tibetan and Naxi, showing the life stories of Tibetan Buddhism, Confucianism and Taoism. Students will have a chance to learn embroidery which is one of the oldest handwork techniques in the world.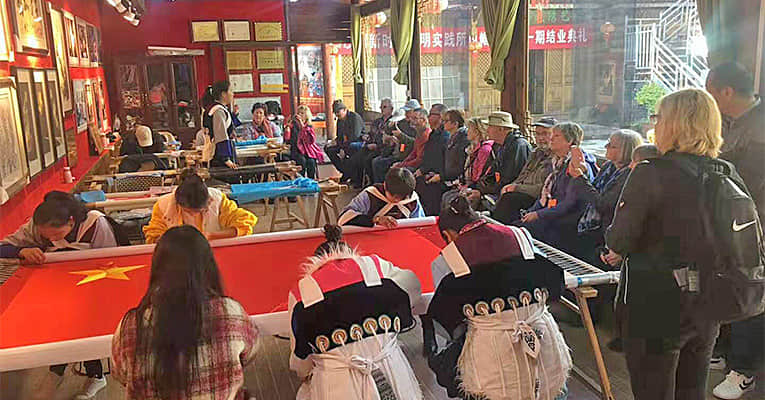 Embroidery Class
Afternoon
Lijiang Impressions Show is currently the only live show to be performed during the day time. The show employs the local people performing an extravaganza that describes some of their culture. The performance place is located in Ganhaizi, Jade Dragon Snow Mountain scenic spot, the highest live performance venue in the world with an altitude of 3050 meters (more than one thousand feet). There is not a theme or a specific story about the show but you will acquire experience of Lijiang in three sections: dialogue with the mountain, dialogue with life, and dialogue with ancestors.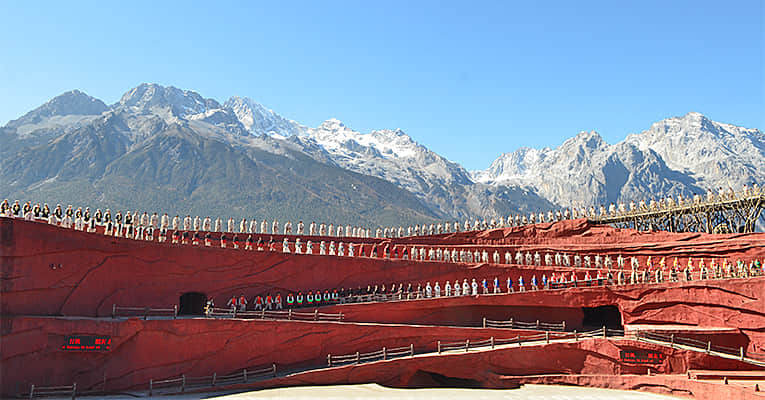 One of the Scenes in Lijiang Impressions Show
Day 10
Lijiang Old Town and fly to Beijing (breakfast & dinner)
Morning
We will spend some time to explore the Old Town of Lijiang (Dayan), a well-preserved old town of ethnic minorities with brilliant culture. The Old Town was built near the mountains and by the rivers, providing a very precious sample of the research on the old-time architecture. The unique geographical location, historical background and multiracial inhabitants make it one of the most charming towns in China.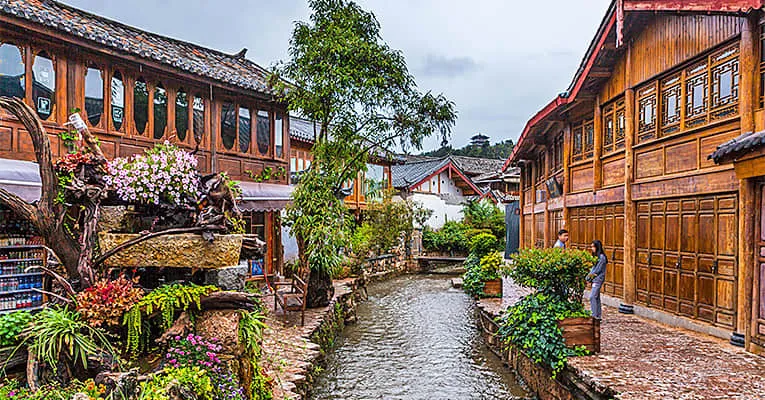 Old Town of Lijiang
Afternoon
You will be escorted to the airport and take a flight to the capital city, Beijing, in the late afternoon.
After arriving at Beijing airport (PEK or PKX), you will be met by your Beijing guide. A lot of historical stories about the Ming and Qing Dynasty will be told from now on.
Day 11
Beijing: Organizations Visit (breakfast & lunch)
Morning
After breakfast, students will visit the Institute of Public & Environmental Affairs (IPE) by appointment. It is a non-profit environmental research organization registered and based in Beijing, China. The staff will give students an introduction into how they work. You can prepare some questions to ask the staff.
Afternoon
It is time to visit the United Nations Development Program. They provide development advisory services and implement projects through innovation and applying their international experience and network in three pillars: supporting China's transformation to a low-carbon economy, facilitating China's shift to using the Sustainable Development Goals as a standard for its inclusive development, and assisting China's emergence as an effective global development partner. Q & A session is available too.
You will explore Nanluoguxiang lane at end of the day. It is a traditional Hutong alley with lots of shops and diners. It is an ideal place to buy souvenirs and try local snacks.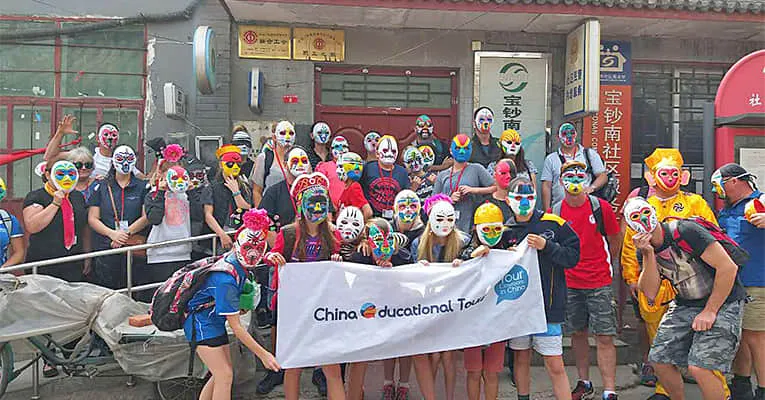 Students in the Hutong
Evening
Recommended entertainments:
1. 'The Legend of Kungfu': In contrast to the traditional Kungfu shows, it demonstrates Kungfu through dramatic stories. The group also tours abroad and has a good reputation.
2. 'Acrobatics at Chaoyang Theatre': Their performances have won more than 30 awards at home and abroad. "Blue And White Porcelain" (balancing a stack of bowls on the head), which is one of them, was on the stage of the Spring Festival Gala in 2015.
3. Peking Opera is one of five major operas in China and the quintessence of Chinese culture with a history of nearly 200 years. It was entertainment only for the court in the beginning and then slowly opened to common people as well.
Day 12
Beijing: Historical Sites (breakfast & lunch)
Morning
Today students will learn about the long history of China. Built in 1420 during the Ming Dynasty, the Temple of Heaven is a complex of Taoist buildings. Chinese emperors held the Heaven Worship Ceremony and prayed for good harvest there in the Ming and Qing Dynasty. Now it is a public park where local residents do exercises in their leisure time. And then you will head to Mutianyu Great Wall. Lunch will be served on the way.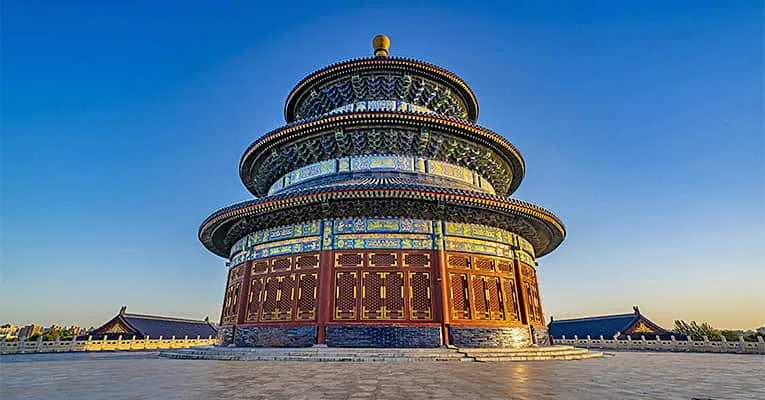 Prayer Hall of Temple of Heaven Park at Sunset
Afternoon
Located in Huairou County, this less-crowded section of the Great Wall is about 2.5 hours' drive from downtown Beijing. A cable-car takes students up to the middle of the mountain. From there, you can walk along the wall, through the watch towers, and enjoy the superb view as it winds 1.4 miles through lofty mountains and along high ridges. You can choose to take the cable car or a toboggan ride down. Drive back to the city and you will be dropped off at Qianmen Street, where there are more fancy restaurants to explore.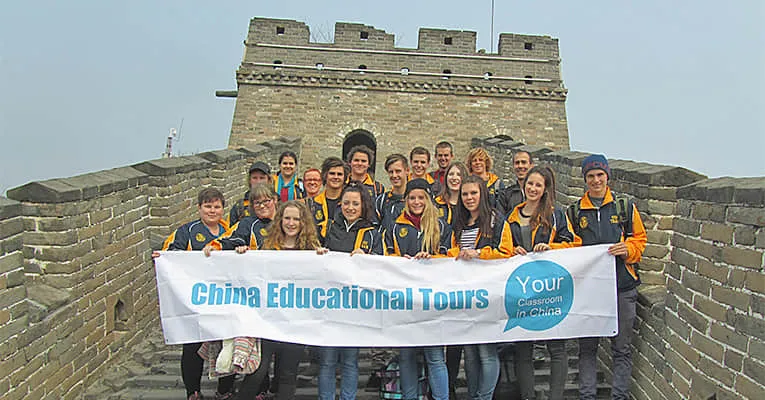 One of the towers on Mutianyu Great Wall
Day 13
Beijing: Organizations Visit (breakfast, lunch & dinner)
Morning
Today, you will visit some more organizations. The first stop is the Asian Infrastructure Investment Bank. It is a multilateral development bank with a mission to improve social and economic outcomes in Asia. By investing in sustainable infrastructure and other productive sectors in Asia and beyond, they will better connect people, services and markets that over time will impact the lives of billions and build a better future. Students can communicate with the staff after the introduction and a brief tour.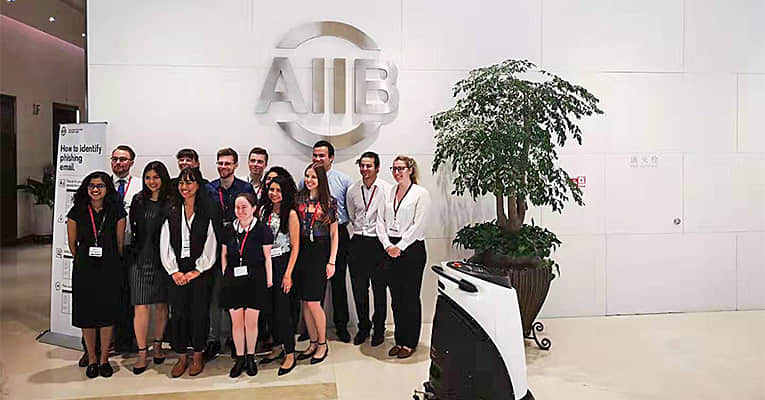 in Asian Infrastructure Investment Bank
Afternoon
After a short rest at lunch, the next destination is the World Health Organization China Office. Students will learn about their ways of working, governance, history and achievement. Discussion and Q&A is available after that.
Then you will head to 798 Art Zone, named after the 798 factory which was built in the 1950s. Lots of artists' studios and contemporary art institutions have been stationed there since 2002. There are galleries, the Arts Centre, artists' studios, design companies, fashion shops, bars and other catering spaces.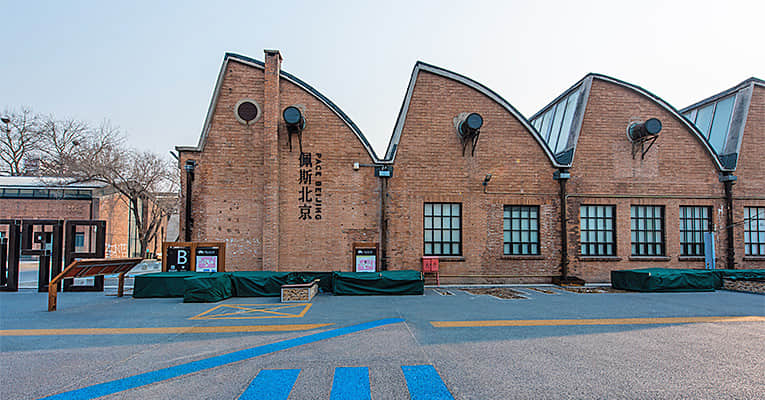 798 Art Zone
Evening
This Food Safari at night is one of the highlights. You will try varieties of local delicacies and beverages during 3 hours, as well as learning about the history and culture of Beijing food. This will help your students to understand the local people's life style better.
Day 14
Beijing: Australian Embassy and City Tour (breakfast, lunch & dinner)
Morning
A tour to the Australian Embassy is a great chance for your students to get to know trade insights and diplomacy methods. They will be better motivated and engaged. Please prepare some questions to ask at the end of the tour.
Afternoon
Starting from Tiananmen Square, this half day tour takes you to visit two of the must-visit sites. Tiananmen Square, the largest city square on earth, is surrounded by many imposing buildings including the National Museum of China, the People's Great Hall and Chairman Mao's Mausoleum. You will enter the Forbidden City (also known as The Imperial Palace) from the Meridian Gate by walking across the underground path. The rich collections represent the broad spectrum of 5,000 years of Chinese civilization. Strolling inside the Palace, looking at the buildings, walking on the brick paths, you can feel the atmosphere dating back to 600 years ago. Today ends at a famous hot pot restaurant.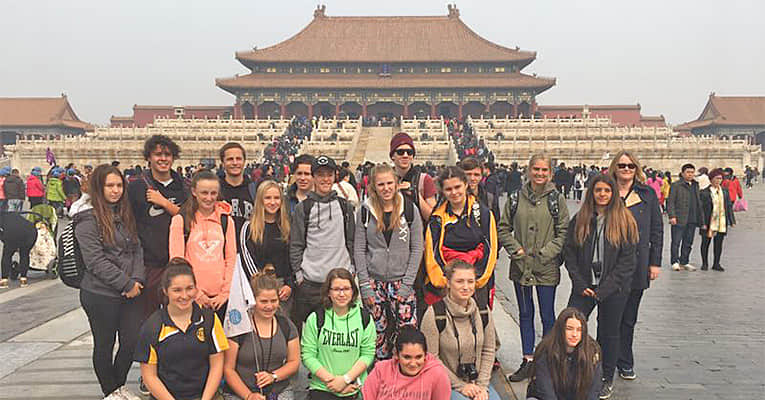 Students in the Forbidden City
Day 15
Beijing Departure (breakfast)
Time flies, and it is time to say goodbye. You will be transferred to the airport for your flight home. We believe the students will bring home not only actual souvenirs but also the knowledge, and experience they would never learn from books. Bon voyage.
Featured Hotel
| | Comfortable | Deluxe |
| --- | --- | --- |
| Shanghai | Narada Boutique Hotel Shanghai Bund | Radisson Blu Hotel Shanghai New World |
| Lijiang | Hexi Hotel Lijiang | Hotel Indigo Lijiang Ancient Town |
| Shaxi | Old Theatre Inn | Old Theatre Inn |
| Beijing | Penta Hotel Beijing | Regent Beijing |
What's Included
Professional English-speaking tour guides
Entrance fee to all spots as listed
In-depth Culture activities as mentioned
Well selected hotels with best value
Diverse meals as listed
Experienced drivers and comfortable vehicles with air-conditioner
Internal flights and tax