Helpful Info for Canadian Travelers
Flights
Since October 13, 1970, China and Canada have decided upon mutual recognition and established diplomatic relations. Canada has become one of the most popular countries for Chinese immigrants over the past 10 years. There are more and more direct flights between the two countries. 20% of China Educational Tours' customers are from Canada, and thus, China is quite a welcome destination for Canadian tourists.
Here are the flight times for some of the direct flights from several Canadian cities to various destinations in China.
Departure City
Arrival City
Flying time
Vancouver
Beijing
10hrs 25mins
Shanghai
10hrs 45mins
Guangzhou
11hrs 50mins
Hong Kong
11hrs 50mins
Toronto
Beijing
12hrs 50mins
Shanghai
13hrs 55mins
Guangzhou
15hrs
Montreal
Beijing
12hrs 40mins
Shanghai
13hrs 50mins
Calgary
Beijing
11hr 15mins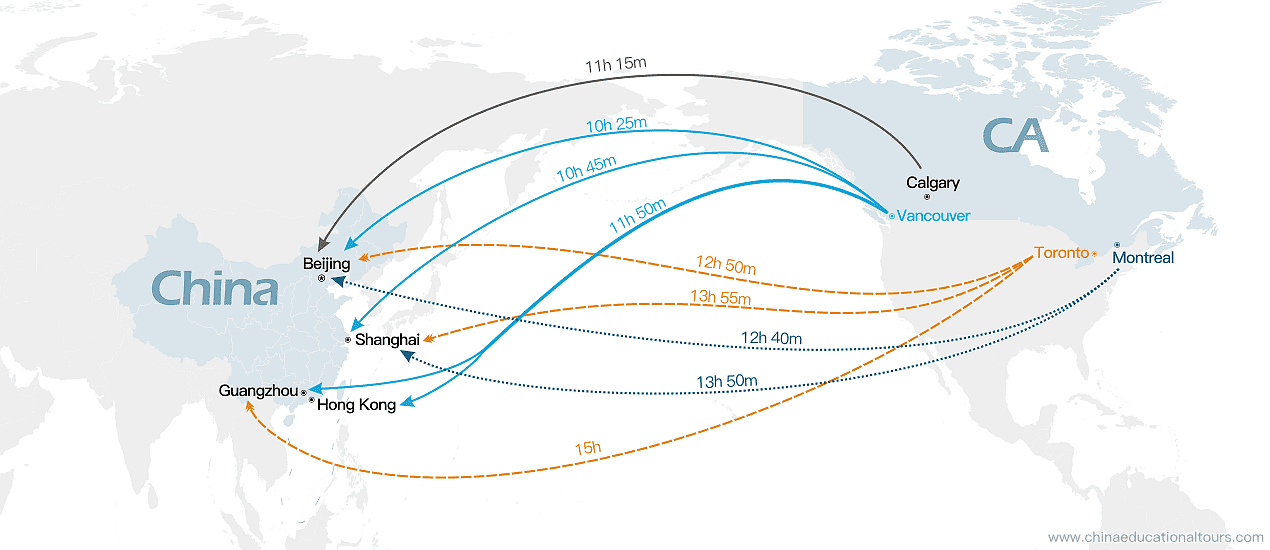 * The information above is for reference only. The actual flight time is based on the specific flight schedule on the travel date.
Tips on how to get a good deal on international flights?
The best prices are often found 2 to 6 months before departure.
Check out each airline's official website (like Air Canada, Air China, China Southern Airline and Cathay Pacific) instead of relying on "discount sites" like Travelocity, Orbitz, Cheapflights, etc. as they often have better prices.
Flights with at least one stopover are usually cheaper than direct flights and on average take about 3 to 5 hours longer.
Visas for China
Canadian citizens nearly always need a pre-arranged visa to visit China's mainland (HK and Macau offer visa-on-arrival). An L type visa is requested for those who intend to go to China as a tourist. The duration of each stay is 30 days. You can check out this page to apply online China Visa Application Service Center or this page for more information: http://www.chinese-embassy.org.uk/eng/visa/
The People's Republic of China currently maintains one Embassy in Ottawa, but also maintains 4 consulates-general in the following Canada cities: Vancouver, BC; Calgary, AB; Toronto, ON; Montreal, QC.
Chinese Visa Processing Time
Regular service: 4 working days.
Express service: 2 working days. Visa can be picked up on the 3rd working day.
Rush service: 1 working day. Visa can be picked up on the 2nd working day.
Visa Fees for Regular Service
| Number of Entry | Canadian Passport Holders | Non- Canadian Passport Holders* |
| --- | --- | --- |
| Single Entry | $100 | $50 |
| Double Entry | $100 | $75 |
| Multiple Entries for 6 Months | $100 | $100 |
| Multiple Entries for 12 Months or more | $100 | $150 |
Note:
Canadian passport holders will be charged $180 if applied individually and $140 per visa if applied as a group.
Express service: an additional fee of $35 per visa will be charged.
Rush service: an additional fee of $50 per visa will be charged.
For more information on other, shorter duration visas and visa fee, click here: 144-hour and 72-hour visa-free transit..
Sample Costs for Traveling in China
| | | | | |
| --- | --- | --- | --- | --- |
| Meal for 1 person – inexpensive restaurant | Meal for 2 people - mid-range restaurant | McDonalds (per person) | Domestic Beer (16oz) | Imported Beer (16oz) |
| $4-$8 CAD | $25-$50 CAD | $6-$9 CAD | $2-$4 CAD | $5-$10 CAD |
| Bottled water (16oz) | Fresh Milk (1 gallon) | Banana (1 pound) | Apple (1 pound) | Flag-Down fare for taxis |
| $0.5-$4 CAD | $8-$10 CAD | $1-$2 CAD | $1-$3 CAD | $3-$4 CAD |