Helpful Info for Travelers from Japan
Flights
If you're planning to attend the 2020 Summer Olympics in Tokyo (from July 24th to August 9th) and interested in Chinese culture, you should consider taking a side trip to China after the games conclude. There are many direct flights between Tokyo and Shanghai or Beijing and take only 3-4 hours. Once there, travelers have abundant, easy options for travel further into the country, from affordable domestic flights to super-fast bullet trains.
Here are the flight times from several Japanese cities to various destinations in China.
Departure City
Arrival City
Flying time
Tokyo
Beijing
3hrs 10mins
Shanghai
3hrs 15mins
Chengdu
5hrs
Hangzhou
3hrs 45mins
Shenzhen / Guangzhou
5hrs 20mins
Harbin
2hrs 55mins
Fuzhou
3hrs 25mins
Xiamen
4hrs 20mins
Qingdao
3hrs 35mins
Dalian
2hrs 50mins
Chongqing
5hrs 15mins
Wuhan
4hrs 5mins
Changsha
4hrs 15mins
Ningbo
3hrs 30mins
Osaka
Beijing
3hrs 20mins
Shanghai
2hrs 35mins
Chengdu
4hrs 25mins
Hangzhou
2hrs 30mins
Shenzhen / Guangzhou
4hrs
Tianjin
3hrs 10mins
Xi'an
4hrs 15mins
Nanjing
2hrs 45mins
Jinan / Dalian
2hrs 45mins
Fuzhou / Hefei
3hrs 5mins
Qingdao
2hrs 30mins
Ningbo
2hrs 55mins
Changsha
4hrs 20mins
Zhengzhou
3hrs 35mins
Wuhan
3hrs 50mins
Nagoya
Beijing
3hrs 35mins
Shanghai
2hrs 35mins
Tianjin
2hrs 55mins
Guangzhou / Shenzhen
4hrs 10mins
Harbin / Qingdao
3hrs
Dalian
2hrs 20mins
Nanjing
3hrs 10mins
Shenyang / Yantai
2hrs 50mins
Xi'an
4hrs 40mins
Changchun
3hrs 30mins
Fukuoka
Shanghai
1hr 45mins
Dalian
2hrs
Qingdao
2hrs 20mins
Yantai
2hrs 50mins
Sapporo
Hangzhou / Shanghai / Nanjing
4hrs
Beijing
4hrs 15mins
* The information above is for reference only. The actual flight time is based on the specific flight schedule on the travel date.
Infographic: The flight times from Tokyo to various destinations in China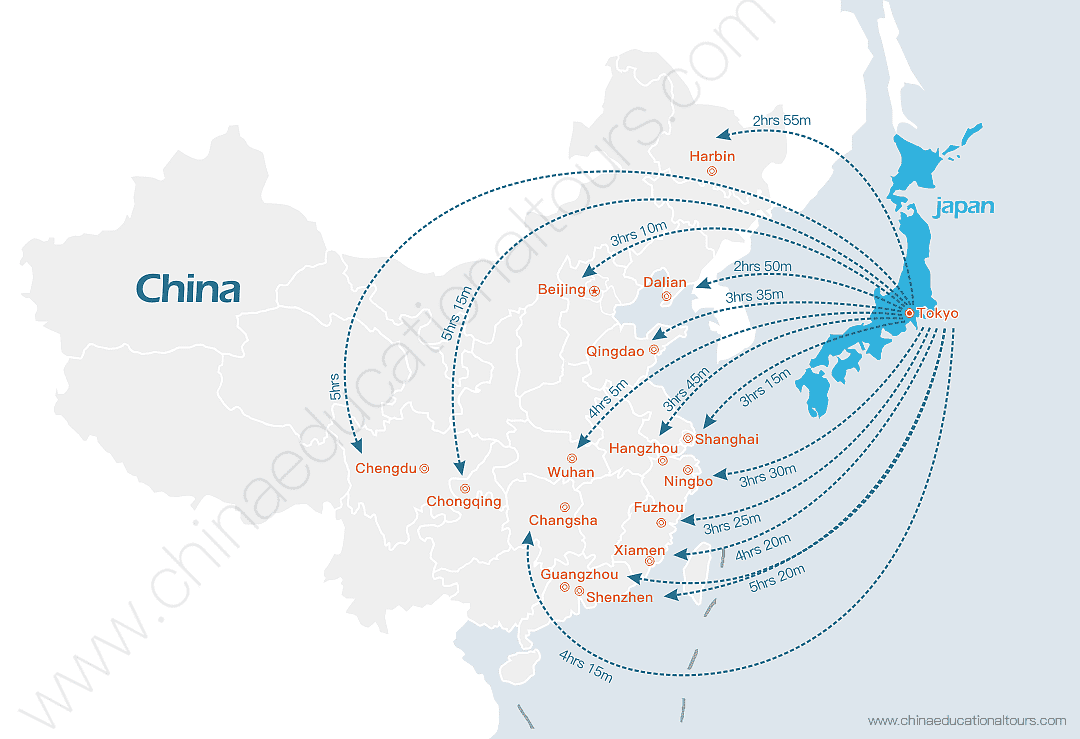 TIP: How to get a good deal on international flights?
There are frequent good deals on flights between Japan and China even if you book only one or two months prior to departure. Winter tends to offer better deals than during the rest of the year, but by checking the following sites frequently during spring, you can still find great deals for summer travel: Expedia, SkyScanner, and Kayak.
Our most recommended online flight booking websites are: Expedia, SkyScanner, and Kayak.
China Visa
Japanese passport holders don't need a Visa for stays of less than 15 days. Other international travelers will need to apply for a Chinese L type visa prior to arrival. The duration of each L visa is 30 days and one should budget around 10-14 days for processing and mailing time (4 working days for processing and an additional several days for mailing).
There are 6 Chinese consulates in Japan: Osaka, Nagoya, Fukuoka, Sapporo, Nagasaki, and Nigata.
For more information on other, shorter duration visas, click here: 144-hour and 72-hour visa-free transit.
Sample Costs for Traveling in China
Meal for 1 person – inexpensive restaurant
Meal for 2 people - mid-range restaurant
McDonalds (per person)
Domestic Beer (500ml)
Bottled water (550ml)
200-600JPY
(2-6USD)
1500-4000JPY
(15-40USD)
500-800JPY
(5-8 USD)
200-300JPY
(2-3 USD)
50-200JPY (0.5-2 USD)
Milk (250ml)
Banana (per kilo)
Apple (per kilo)
Flag-Down fare for taxis
100-200JPY
(1-2 USD)
100-200JPY
(1-2 USD)
200-500JPY
(2-5 USD)
200-300JPY
(2-3USD)