How to Plan a Family Trip to China

China, in the fareast, has a totally different culture, social system, food, and of course, language. Although it may sound overwhelming, all these can be overcome as soon as you start to plan your trip. It is essential to find a reliable local-based travel agency, who will provide authentic expertise on all aspects. We count in all of the details so that you can just sit back and relax.
1. Choose the right places to visit
China is a huge country with a colorful culture, long history, diverse natural landscape and mouth-watering food. You can always find the right things to do for each of your family members. The following destinations are recommended for first time visitors.
Beijing: The Great Wall, the Forbidden City and Summer Palace
Xi'an: The Ancient City Wall, Terra-cotta Warriors
Datong: Yungang Grottoes, Hanging Monastery
Pingyao: Pingyao Ancient City, Wang Family Compound
Luoyang: Longmen Grottoes, Shaolin Temple
Huangshan: Yellow Mountains, Hongcun, Xidi Village
Zhangjiajie: Zhangjiajie National Park, Tianmen Mountain
Hangzhou: West Lake, Longjin Tea Plantation
Guilin: Li River Karst Mountains, Longji Rice Terraces
Chengdu: Giant Pandas, Sichuan hotpot
Shanghai: The Bund, soup dumplings, Disneyland
Harbin: Ski resorts
Sanya: the most beautiful beaches
2. Decide on the best and most suitable traveling time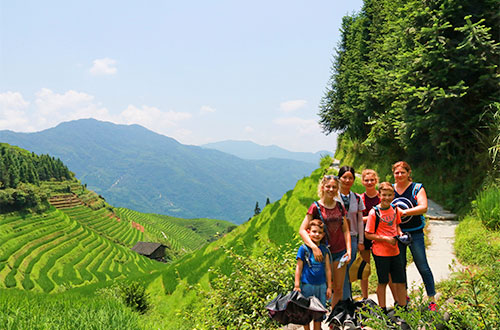 Generally speaking, April to May and September to October are the best months to visit China for the lovely weather and comparatively less crowds. You will also need to check your children's school schedule before making a decision. Traveling in winter is relatively less expensive as flights and hotels offer appealing discounts, but it is cold in northern parts of China, e.g. Beijing, Xi'an, Pingyao and so on. Guilin, Guangzhou and Sanya are recommended for winter time. To come this far, you won't want to just scratch the surface, so we suggest to spend at least 8 days or more. Two weeks or more will allow you more time to be immersed in the culture and have a better understanding of this ancient civilization and modernized country.
3. Get to know China visa policy and gateway cities
Beijing, Shanghai, Guangzhou and Hong Kong are the most convenient gateway cities. If you are taking international cruises, you might arrive in Tianjin, Shanghai, or Hong Kong. These cities are open to 144 hours transit visa free policy. Check more at https://www.chinaeducationaltours.com/guide/article-china-visa.htm.
4. Compare different flight booking platforms
Such as booking.com, expedia.com, to find out the best flights. Based on our experience, the best airfare is released about 6 months in advance.
5. Contact us to tailor-make the best tour for your family
Talk to your travel consultant and design a tour that consists of all the interesting activities for different ages. It is important to keep a slower pace, especially for families with younger children. Sightseeing to popular attractions is recommended for all ages. For outdoor fans with teenage children, we can add hiking on The Great Wall, biking in the countryside, climbing the rocky mountains and maybe the more challenging walking on Changkong Plank at Mt. Hua. We have also designed hands-on activities for both adults and children, such as painting a Peking Opera mask, working as a panda keeper, learning to make dumplings, and trying some farming activities.
6. How to choose a suitable hotel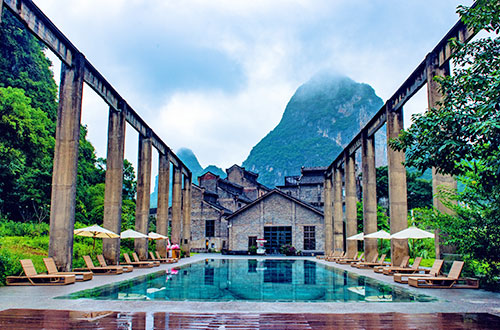 To choose comfortable accommodation when traveling with children is one of the most important elements. The location, food, facility, and service should be taken into consideration. Swimming pools are only available in some international chain 4 star hotels and 5 star hotels. Some of boutique hotels have swimming pools but they are quite small and only open in summer time (June to August). Different from hotels in South-east Asia, Chinese hotels usually don't have suitable rooms for a big family with many kids. The room size is relatively small, averaging 25m2 (270 sq ft) in 4 star hotels and 30m2 (320 sq ft) in 5 star ones. Family rooms are available in some apartment hotels and boutique hotels. Here we list different hotels types and the rooms for your reference.
Hotels (taking Beijing hotels as examples)
Room Type
Room Size
Beds
Max number of guests
Per night Rate in low season
Swimming Pool
4 star hotel (Penta Hotel Beijing)
Superior room
32 sqm
One 1.65m king bed or two 1.1m twin beds
3
$88
N
Family Suite
58 sqm
One 1.8m king bed
3
$180
5 star hotel (Regent Beijing)
Deluxe Room
45 sqm
One 1.8m king bed or two 1.2m single beds
3
$230
Y
Family room
N/A
Apartment Hotel (Ascott Raffles City Beijing)
One-bedroom Executive
75 sqm
1.8m king bed
3
$165
Y
Two Bedroom Executive
147 sqm
1.8m king bed and 2 single beds
5
Price on request
Boutique Hotel (Beijing Double Happiness Courtyard Hotel)
Deluxe Room
26 sqm
One 1.5m double bed or two 1m single beds
2
$130
N
Family room
30 sqm
One 1.5m double bed and two 1m single bed
3
$170
Here are some tips for different family types
The tour type, length, and purpose might be varied when you are traveling with different family members.
1. Travel With Couples
If it is a private tour for just a couple to celebrate their honeymoon, anniversary or any event, 2 weeks are usually preferred. We can combine the most popular sites and some special events to meet your needs. Beijing (3-4 days), Xi'an (2-3 days), Guilin (3-4 days), Huangshan (3-4 days), and Shanghai (2-3 days) are highly recommended. You will get to learn the history and culture, admire the natural landscape, and explore the modern cities. Some free days can be included so that you can enjoy some time to explore the cities on your own.
2. Travel with children (infants, 3-6, 7-11, 12+)
If you are traveling with children at different ages, the top priority is to have your kids well prepared for the upcoming trip to the mysterious nation. You can take them to watch an interesting Chinese movie, try different Chinese food, learn some simple Chinese phrases, and read some books about China. In order to meet the school holiday, most families choose to travel in April and September, when the weather is just perfect. 10-14 days is suitable for most cases. 4 days in Beijing, 3 days in Chengdu and 3 days in Guilin or Shanghai. Hotels with pools are the first choice. Baby cots and car seats are available. A tight schedule is definitely not a good idea for a family with kids so choosing the right places with convenient logistics is essential.
3. Travel with the elderly
Most older people have China on their bucket list. Traveling to China will be a life-long memory to them. It is convenient to travel around in China, with the most advanced high-speed railway system, and the frequent flights. Visiting the world- wonder Great Wall (Beijing), the magical Terra-cotta Warriors (Xi'an), World Heritage sites in Datong (Yungang Grottoes and Hanging Monastery), cruising on the longest Yangtze River, enjoying the peaceful life in the Guilin countryside, and strolling on prosperous streets in Hong Kong, China offers the most diverse tour aspects of any country. Time is usually very flexible so we can fit in more must- see sites. This will definitely be the tour of a life time.
4. Travel with an extended family
This might be the most difficult for a trip planner, as well as the most enjoyable and rewarding. From choosing the travel destination, to visa application and flight bookings, every step needs to be processed carefully enough. This might be a family-reunion trip with family members from different cities/countries and gathering in China, a heritage tour to bring your adopted children back to their homeland, or a root-seeking trip to visit your grandparents or great grandparents' hometown somewhere in Guangdong or Fujian Province. No matter what the purpose of the trip, we can accommodate your needs.