Beijing Pastries
There are a wide variety of Beijing pastries which are suitable for all seasons and which have evolved over the long history of the capital city.
1. Sachima
Sachima is a Manchurian food. It was one of the sacrificial offerings for the first three Emperors before the national state power of the Qing Dynasty was established in Beijing. In the Manchu language, it means "medlar and sugar". (Medlar is a small brown apple-like fruit which is only edible after it has begun to decay.)
They use sugar to blend the fried mix of eggs and flour and shape the mix into small chunks. Sachima is listed in Beijing Style Seasonal Pastries. Sachima is a beige color and it tastes soft and tender. Osmanthus and honey really add to its rich flavor.
2. Beehive Pastry (Fēng gāo)
Beehive pastry is the dessert served at the Manchu-Han Imperial Feast. The fermented dough is kneaded with sugar and fruits. It contains no milk or cream. It can be considered either as main course or dessert.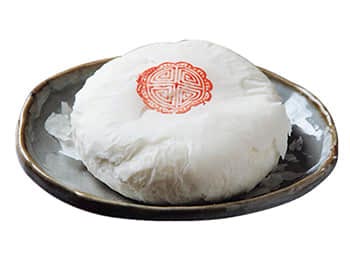 Goose Feather Mooncakes (Fānmáo yuèbǐng)
3.Goose Feather Mooncakes (Fānmáo yuèbǐng)
The outer layers are dense and loose. With a slight pinch, the layers peel off easily.
4. Fried Bar (Lè tè tiáo)
This is probably the oldest Manchurian snack. It is made of dough, cream and sugar. It was the solid food prepared for Manchu hunters. It is as thin as a chopstick and half the length of a chopstick. When the Qing Dynasty crumbled, Manchurian aristocrats went into finacial decline. Finally, they could no longer afford any pastry, and fried bars eventually disappeared.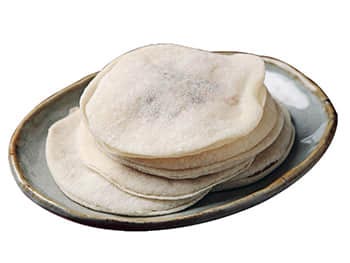 Poria Cocos Cake (Fúlíng bǐng)
5.Poria Cocos Cake (Fúlíng bǐng)
Poria Cocos is a kind of fungus. The poria cocos is dried and ground into powder. The powder and sugar are mixed into a dough and rolled into a pancake. Sugar syrup and honey along with pine nuts, walnuts, hawthorns and other fruits are stuffed into the cake.
6.Crisp Fritter (Báo Cuì)
The Crisp Fritter is rectangular. It is thinner than an oily pancake. It can be eaten directly or it can be eaten along with wheat pancakes. It can be seen from records from the Tang Dynasty that it was once listed as a royal court dish. People in the Tang Dynasty even called it "gone with the wind" as it could be ripped into tiny pieces easily by the wind.
7.Hearth Pastry (Gāng lú)
At the opening of a pastry shop, the trial products from the new hearth were sent to the staff as meals. Eventually people started to make hearth pastries, not for trial, but as a product. There is nothing special about the material of the hearth pastry. Only sugar is added most of the time. For the prime products, osmanthus sugar is used. It was usually a gift taken when visiting relatives who have just given birth. It was the best the poor could afford back then. It is soft, tender and easy to digest. Later, hearth pastries became popular among the wealthy people.
8.Pulpvine Cake (Téngluó bǐng)
Some flowers are used in making pastries and cooking porridge in spring and summer in Beijing. It is a tradition. Pulpvine Cakes are only served in spring when pulpvine flowers are blooming.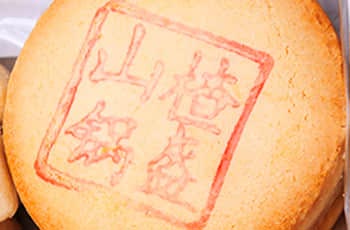 Hawthorn Stuffed Wheat Cake (Shānzhā guōkuī)
9.Flower Cake
A standard flower cake has 9 components to celebrate the Double Ninth Festival. There are four different fillings in the 5 layers, jujube paste, bean paste, wuren (mix of five crushed kernels) and baiguo (apricot kernel). Four fillings and 5 layers make a flower cake. The best flower cake is made in Zhengmingzhai, outside of Qianmen, Beijing.
10.Hawthorn Stuffed Wheat Cake (Shānzhā guōkuī)
The sweet hawthorn filling, the aroma of the wheat and the crispy pumpkin seeds make a really good combination.
11.Cattle-tongue Pastry (Niú shé bǐng)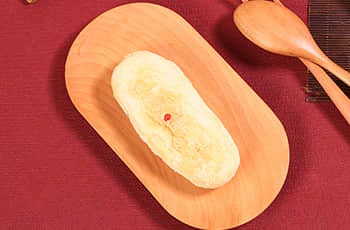 Cattle-tongue Pastry (Niú shé bǐng)
The soft white flat oval pastry has a brown savory stuffing. The fillings are well cooked and not greasy at all. The pastry is stacked up in layers The puff pastry is not oily, and the stuffing is neither too salty nor too sweet.
Tips:
Beijing Daoxiangcun is a century-old time-honored pastry shop. Dozens of traditional pastries and seasonal foods are offered here. People visit Daoxiangcun Store to buy pastries for their families or purchase them as gifts.
Address:
1. Qianmen Branch: No.59, Qianmen Street, Dongcheng District, Beijing (the southwest of the intersection of Qianmen Street and Dashilar)
2. Wangfujing Branch: Ground Floor, Wangfujing Department Store, No. 225, Wangfujing Street, Dongcheng District, Beijing
3. Xidan Branch: No. 48, Xisibei Avenue, Xicheng District, Beijing (near Ping'anli Subway Station)
4. Asian Sports Village Branch: Ground Floor, Building 2, the 3rd Anhuili District, Chaoyang District, Beijing (Near Beichen Shopping Center site, as the Center is closed for the moment)
5. Drum Tower (gulou) Branch: No. 50, A, Di'anmenwai Avenue, Dongcheng District, Beijing (opposite Di'anmen Department Store)
Have a question?
OR
Are you eager to begin your Chinese cultural journey?
Drop us a line and we will promptly connect you with our leading China expert!