Welcome to Beijing
Beijing, the capital of the People's Republic of China, has a history of over 3,000 years. It has played a very important role in the development of Chinese history, economy and culture.
In old China, the emperors believed that Beijing city would bring good luck to their dynasties. Nowadays, Chinese people are proud of Beijing, especially when Beijing was selected in 2001 as the city to hold 2008 Olympic Games. More than people in any other country in the world, Chinese people consider reputation to be very important, even if they know the reputation will not bring them any actual benefit. If you travel to Beijing you will find countless local people who are trying to help you and introduce the city to you. The reason is simply because you are a foreigner. They think they can get a better reputation by helping foreigners. However, they are seldom so friendly to people who have the same nationality as them.
In order to understand the glamour of Beijing, you need to take at least three days to explore the city. You will find both royal families and common people in Beijing are fortunate, because they can live in such a colorful place.
Beijing Facts
English Name: Beijing, Peking
Chinese name: 北京 Beǐ jīng
Location: North of China
Population (city): 21.7 M
Language: Mandarin
Zip code: 110000
Tel code: +86 (010)
Time zone: China standard (UTC+8)
International Airports: Beijing Capital International Airport (PEK), Beijing Daxing International Airport (PKX)
Railway Stations: Beijing Railway Station, East Railway Station, South Railway Station, West Railway Station, North Railway Station, Xinghuo Station
Best Time to Visit Beijing
April to October is the best time to visit Beijing, when the weather is nice and mild. Try to avoid the National Day holiday, from October 1st and 7th, as it will be crowded at all the popular attractions.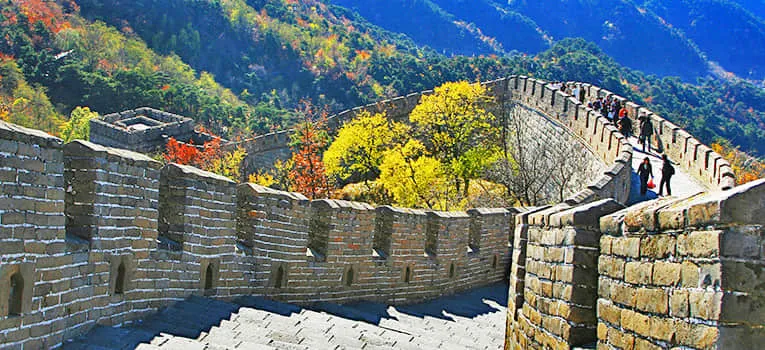 The Mutianyu Great Wall in Autumn
It is also suggested that fans of Chinese culture should travel to Beijing during the Spring Festival (January or February). The traditional festival temple fairs are the best places to celebrate the festival with local people. Besides, it is an amazing experience to visit the Great Wall during winter (December to February). The Great wall looks even more majestic when it is covered with snow. Click here to see How is the weather in Beijing?
Top Things to do
Beijing, like other major cities in China, is packed with things to see and do. Arguably, Beijing has even more attractions, so depending on your interests, plan accordingly to get the most of your trip.
Minimum recommended time – 3 full days/3 nights (less than this and you'll only be able to see the Great Wall and the Forbidden Palace/Tiananmen Square, nothing more.)
Recommended time – 5 days/4-5 nights (this will give most visitors the absolute best experience) For true lovers of Chinese history and culture – 7-10 days (Beijing has plenty to keep you busy for every one of those days)
The Great Wall
Few travelers are aware there was never just "one" Great Wall. In fact, several "Great Walls" were built over time and currently, only some sections have survived. Those sections, if connected, would span over 2000 miles (+3,500km) and run from near the ocean all the way to the far western part of the Gobi Desert. Beijing is famous for being one of the best places to see some of the most spectacular, mountainous sections.
Expert Tip: Research and plan your Great Wall trip carefully. The closest section to Beijing, called "Badaling", is so completely overrun by tourists every day, especially Chinese tourists, that it's difficult to enjoy the Wall's beauty, its history, and its views. Most travel agencies offer their cheapest trips to this section. "Jinshanling" and "Mutianyu" are good alternatives for those with limited time and tight budgets offering mind-blowing, postcard views with fewer tourists. For those with more flexibility in time and budget, there are other sections where you can have the whole wall to yourself, although these sections usually require at least 1 overnight in a nearby town as they're located hours away from Beijing. See Top 10 Sections of the Great Wall of China
Recommended time – 1 full 16-hour day, possibly 2 days/1 night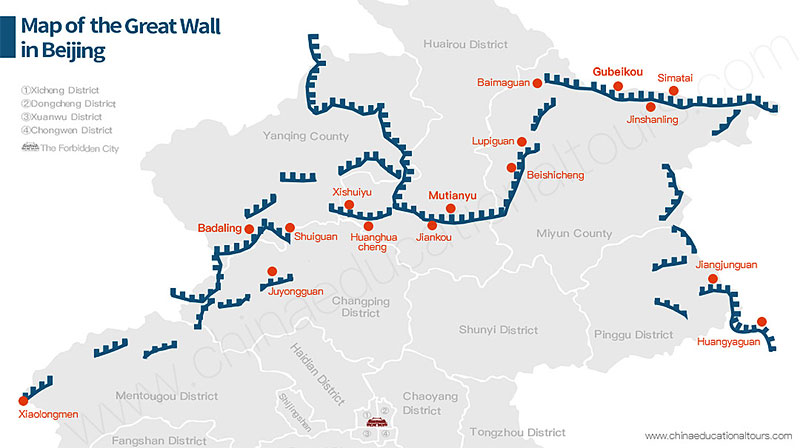 Map of the Great Wall in Beijing
Visit the Forbidden City / Tiananmen square
Step back in time by entering this world famous, meticulously-preserved example of ancient China. The "City" is a sprawling complex that easily takes up an entire city block. Inside, there are dozens and dozens of individual buildings and rooms that have been converted into mini museums showcasing many aspects of ancient life. Most people need at least a ½ day here, but for those who like to take lots of pictures or really enjoy historical items, it's best to plan 1 full day. Conveniently, the famous Tiananmen square is located just in front of the entrance to the City so snap your world-famous photo in front of Chairman Mao's portrait before going in. (Note: the entrance and exit to the Forbidden City are on opposite sides of a city block and Tiananmen Square is located at the entrance. Also, the local police close the square around dusk each day. If you are in the square at this time, you will be asked to leave.) For more details, see The Forbidden City - One of the world's largest imperial palaces.
Caution: The "City" will be packed with tourists, especially Chinese tour and school groups, every day it's open (Attention: The Forbidden City closed every monday). Weekends and holidays are extra packed, so it's highly recommended to come during the week, although be prepared for massive crowds even then.
Recommended time – ½ day minimum (3-4 hours), 1 full day (6-8 hours) best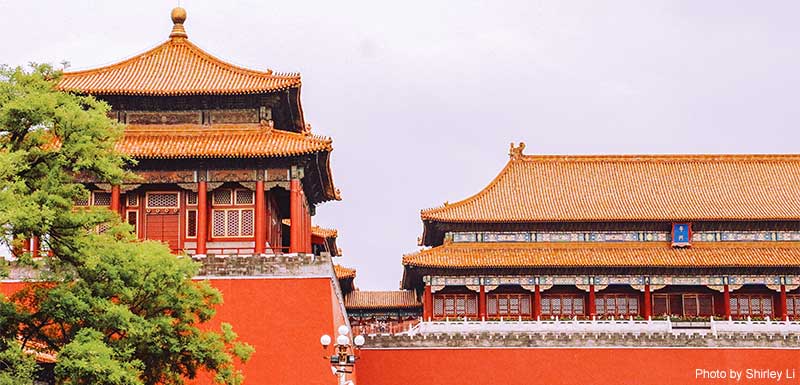 Red walls and yellow roof tiles in the Forbidden City
The Summer Palace
This sprawling complex of lakes, gardens, and gorgeous architecture is not to be missed. Many consider it even more beautiful and enchanting then the Forbidden City. While the "City" might be the more famous of the two, the Palace may be your favorite. Like the City, the inside of the Summer Palace has been restored and converted into mini-museums or showcases of its former glory. It's difficult to find a more splendid, charming example of ancient Chinese architecture in the whole country.
Caution: Due to being so expansive and slightly less popular than the "City", the crowds during the week may not feel as overwhelming as in the Forbidden City.
Recommended time – (Similar to the Forbidden City) ½ day minimum (3-4 hours), 1 full day (6-8 hours) best
Note: true history and architecture lovers can spend 2 days here and see something new each day.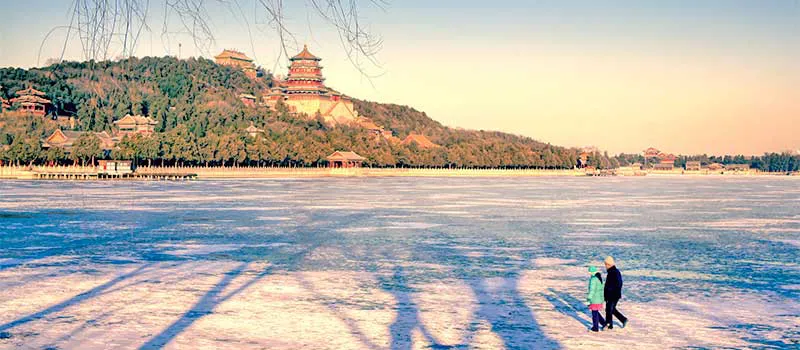 In winter visitors take a walk on Kunming Lake in the Summer Palace
Traditional Beijing neighborhoods: Hutongs
While the Forbidden City is a museum-like experience, Hutongs are where real people still live today. These are very quiet, intimate neighborhoods located around the city that give travelers wonderful insight into the day-to-day life of many Beijing residents.
Recommended time – Depending on individual interests: 1 hour minimum, 3-5 hours for a more relaxing, comprehensive experience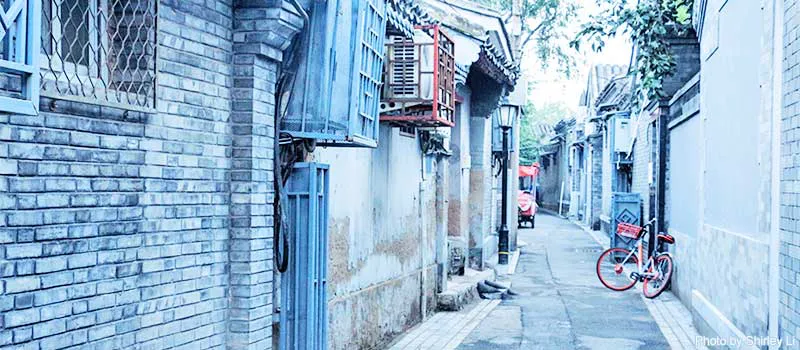 Xiaojinsi Hutong
Temple of Heaven Park
Another popular and photo-worthy monument in Beijing, this park is not just famous for its style but also as a popular place for people doing Tai Chi. In fact, it's one of the more popular places in the city to see, or do, this popular exercise activity.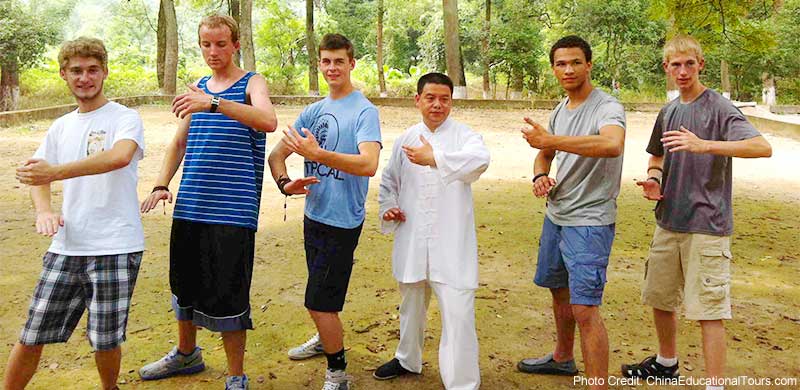 A group of students learns Tai Chi at the Temple of Heaven
Sample different Chinese Cuisines
China, like any large country, has many different styles of cuisine and the flavors and cooking styles (fried verses steamed, for example) can vary greatly. In Beijing, you can not only taste the local Beijing cuisine, but also food from all over China. Even if Chinese food is not your favorite, one of the best, and most fun, experiences on a trip is sampling new food.
For the most adventurous, Beijing even offers an "insect" street where vendors serve up all sorts of tasty, fried insects, organs, and other rarely-eaten delights. Everything here is prepared professionally and adhering to the Department of Health standards. It's popular with tourists because even if you don't try what's being served, it's wicked fun to watch others!
Expert Tip – If you want to try the insects, meat-eaters are often tastier than vegetarians. So, scorpions and spiders are preferred to grasshoppers, beetles, and cicadas. For this writer, a palm-sized, fried, hairy spider tasted remarkably like barbecued chicken. Honestly.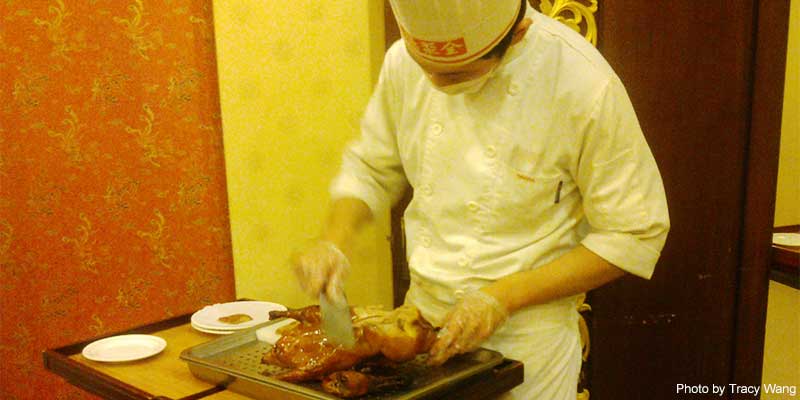 The chef at Quanjude restaurant is cutting Beijing roast duck (Kaoya)
Our Beijing Trips
Beijing Transportation
Transportation Within Beijing
Taxi
Taxis are plentiful, efficient, affordable, and safe in Beijing (as well as in most of the China). The base rate is 14 RMB, depending on the type of car, and then 2.3 RMB for every kilometer. A 20% night subsidy is charged from 23:00 to 6:00. In general, Beijing taxis are standardized with all having easily displayed meters and the drivers are usually good about using them. If you do get in a taxi and the meter (with bright red LED numbers) is not turned on within the first few seconds of the trip (again, very rare), just point to it and the driver will turn it on.
A great way to hail taxis now is through a taxi-hailing app. The most popular, and arguably best one, is the Apple backed "Didi Chuxing", simply called "Didi". How can you use a Chinese app when you don't read Chinese? Well, you're in luck. Beginning in 2017, Didi launched an English version that will auto-translate simple text between you and the driver.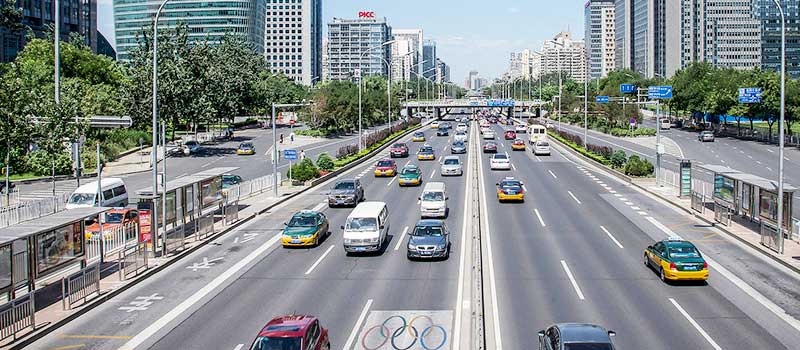 Transportation within Beijing
Subway
The subway is the fastest, nicest, coolest, and the most convenient way to move around Beijing. Modern, climate-controlled trains whisk you around the city quickly, efficiently, and best of all, very affordably. While taxis are affordable by western standards, you'd need to take several subway trips before equaling the cost of just one taxi ride. True, you'll need to walk a little to get to your final destination, but Beijing's subway system has stops at most major (and even minor) popular destinations – and traffic is never an issue.
Notes and Tips:
Taking the subway, even at night, is extremely safe. All stations are well lit and have security guards. Westerns who are used to doggy, dingy, or poorly lit subways with no security are in for a treat. China's subways are the complete opposite.
Subway maps, found inside the trains and all over the stations, use both Chinese characters and their Pinyin counterparts (Pinyin is Chinese written using the Roman alphabet). For those not familiar with riding subways, the following is important: before boarding a train, find your destination on a map and then look at the FINAL DESTINATION going in that direction. The name of the final destination is important in order to find which train you need.
There are 16 subway lines and one dedicated airport line in Beijing now – which costs a very affordable 25 RMB. Ordinary lines costs 3-9 yuan depending on the distance traveled. Visitors should look into getting a Subway/Bus transport card if you'll be in Beijing for several days and plan to take many trips on public transport. The card itself is free and acts as a debit card – load the card with money (50- 100 RMB is usually sufficient) and then instead of waiting in line to buy tokens for the subway, or paying in cash every time you take a bus, you will just scan your card, saving you time as well as money since there is a very slight (around 5%) discount applied. The easiest place to get these cards is at the customer service window located in most subway stations. Usually, attendants can speak enough English to handle this type of transaction.
The below quick reference guide will help you find which lines go to the major tourist destinations.
» Line 1: Xidan, Tiananmen Square, Forbidden City, Wangfujing Commercial Street
» Line 2; Lama Temple, Sanlitun
» Line 4: Summer Palace, Peking University, Tsinghua University, Zoo
» Line 5: Temple of Heaven, Lama Temple
» Line 6: Beihai Park
» Line 8: Bird's Nest and Water Cube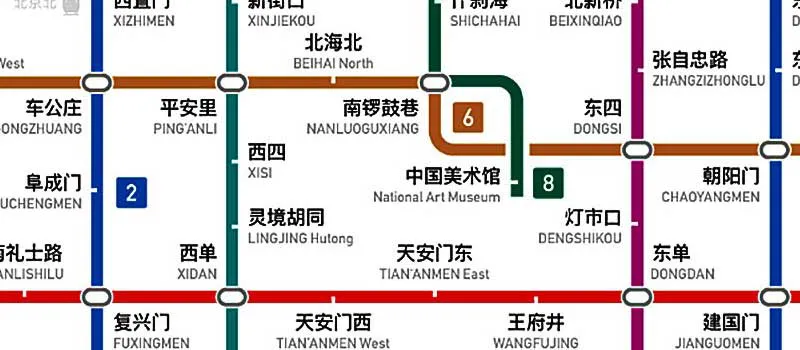 Click photo to see the complete Beijing Subway Map
Bus
» Buses are as cheap as the subway (usually only 1-4 RMB)
» China is famous for having very comprehensive bus systems covering nearly every corner of every city meaning you won't have to walk very far once getting off.
» Buses come frequently with popular lines arriving possibly every minute during rush hour, but rarely longer than every 10 minutes.
» Buses are modern and usually based on Japanese or German designs.
» Some buses even use hybrid engines making them better for the environment.
» During summer, they always have the AC on.
Transportation to Beijing
From Foreign Cities to Beijing
Beijing Capital International Airport connects the city with almost every major city around the world.
| Cities | Distance from Beijing (km) | By Air to Beijing (hour) |
| --- | --- | --- |
| New York | 11,000 | 13.6 |
| Los Angeles | 10,000 | 12 |
| Vancouver | 8,515 | 10.2 |
| Toronto | 13,000 | 12.7 |
| Frankfurt | 8,260 | 10.2 |
| London | 12,304 | 10.5 |
| Paris | 9,000 | 10.6 |
| Rome | 8,600 | 11.2 |
| Cairo | 7,000 | 23 (Stop in Dubai, Doha or Istanbul) |
| Casablanca | 100,073 | 20 (Stop in Dubai or Europe) |
| Cape Town | 12,900 | 30 (Stop in Europe) |
| Dubai | 6,500 | 8 |
| Doha | 61,500 | 9 |
| Tokyo | 2,100 | 3.3 |
| Seoul | 956 | 2 |
| Bangkok | 3,297 | 5 |
| Singapore | 4,479 | 6 |
| Kuala Lumpur | 4,346 | 6 |
| Sydney | 8,951 | 12 |
How Far is Beijing from Major Cities
| Cities | Distance from Beijing (km) | By Air to Beijing | By High-Speed Railway to Beijing |
| --- | --- | --- | --- |
| Shanghai | 1,250 | 2hrs | 5hrs |
| Guangzhou | 2,200 | 3hrs 10m | 9.5hrs |
| Shenzhen | 2,400 | 3hrs 10m | 10hrs |
| Hangzhou | 1,329 | 2hrs 10m | 5.5hrs |
| Nanjing | 1,065 | 2hrs | 4hrs |
| Hong Kong | 2,289 | 3hrs 20m | 9hrs |
| Xian | 1,159 | 2hrs | 5.5hrs |
| Wuhan | 1,200 | 2hrs | 5.5hrs |
| Tianjin | 137 | No direct flight | 30m |
| Lhasa | 3,761 | 3.5hrs | No direct High-Speed train. Traditional train about 40 hours |
What to Eat in Beijing
Beijing Food and Dessert
Beijing Roast Duck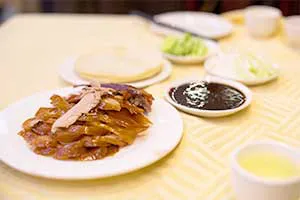 Beijing roast duck is the most famous local food
It would be a blunder to miss the Beijing Roast Duck for tourists in Beijing.
The Beijing Roast Duck has been well-known for over 800 years. An emperor in Jin Dynasty (1115-1234) hunted a white duck in the suburb of Beijing and found it was very delicious. From then on, roast duck became more and more popular in Beijing. Now, people eat roast duck with cucumbers, green onions or sweet sauce. In some duck restaurants in Beijing, cooks cut the skin of a roasted duck down piece by piece in front of guests, so that the skin, the best part of a roasted duck, keeps a proper temperature for eating. The inside part of a roasted duck can be cooked as soup.
The Quanjude Restaurant and Fangzhuang Restaurant are the best places to eat Beijing Roast Duck. They are both chain restaurants and can be found everywhere in Beijing.
Soya Bean Paste Noodles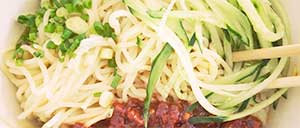 Beijing' signature noodles
This is a "fast food" for Beijing natives. It can be breakfast, lunch and dinner. The paste is the most important element of Soya Bean Paste Noodles. Normally, people fry the soya bean paste with pork, cucumber, bean sprouts or green unions. The noodles just need to be boiled. Mixing the paste and noodles is the final step.
Soya Bean Paste Noodles can be found in almost every small restaurant in Beijing.
Soybean Flour Cake
This is a traditional snack in Beijing. The color can be yellow, white or red. Yellow rice flour, soy bean four, sugar, sesame oil, sweet osmanthus and melon seeds are the main ingredients of the cake. The cake is very soft and sweet, so it is one the favorite snacks for Beijing's children. Actually, the cake originated in Northeast China. When the Manchu people built the Qing Dynasty (1636-1912) and established their capital in Beijing, they also brought the snack to Beijing. The snack is also called Lvdagun, which means "donkey rolling", because when soya bean flour falls down from the outside of the snack, it looks like yellow dust raised by a rolling donkey.
Try to find the best Soybean Flour cakes from street vendors rather than well-decorated cake shops.
You may also like: Beijing Pastries, Top Beijing Delicacies, Top 4 Beijing Snack Streets
Renowned Beijing Restaurants
Quanjude
Beijing Roast Duck is a must-eat food in Beijing and Quanjude is a must-go restaurant for eating Beijing Roast Duck. The assistant chef in Quanjude will cut the roasted duck beside the customers' tables. There are over 30 Quanjudes in Beijing.
Xijiang Restaurant
Xijiang Restaurant is located on the NO.103 Betucheng West Road, Haidian District. The fish, chicken and soup are the most popular dishes in the restaurant. There are always customers waiting outside the restaurant for seats during lunch or dinner times.
Huguo Temple Dessert Restaurant
The Huguo Temple Dessert Restaurant is located on the NO. 180 Di'anmen Outside Avenue, Xicheng District. There are lots of local desserts in the restaurant, such as soybean flour cakes and fried cakes.
See 8 Beijing Cuisine Restaurant Recommendations.
Shopping in Beijing
Top Items to take back Home

Beijing Souvenirs
Gu Gong Weng Chuang (Forbidden City Cultural and Creative Products)
Products that integrate historical and cultural Chinese elements into day-to-day items.
Beijing Daoxiangcun
Beijing Daoxiangcun is a popular, century-old pastry chain serving traditional pastries, shortbreads, and cakey cookie type packaged deserts. Beijing Daoxiangcun has many locations around Beijing and their deserts are often sold in boxes making convenient gifts. Check out the "Beijing eight pieces" – a small sampler box.
Beijing clay figurines
Small, colorful clay figurines that are made into people and animals. The "Rabbit Master" is the most popular and comes from the legendary "The Lady Chang'e Flying to the Moon" and "Jade Rabbit Mashing Herbs". According to local folklore, the Rabbit Master is a god that protects Beijingers from disease.
Cloth Shoes
With a history of over 3,000 years, cloth shoes can be found in almost every street or hutong in Beijing. The surface of cloth shoes is decorated with flowers, animals or renowned architectures of Beijing. The soles of cloth shoes are soft and can protect feet from being hurt by long-distance walking.
Flower Vases
There are lots of antique markets in Beijing, the one in Panjiayuan being the most well-known. Thousands of flower vases and other antiques are available to buy, but the prices are decided by the owners. Sometimes, they may ask for much more than the actual value. However, there are also cheap antiques. It is not bad to buy a flower vase or pot as a souvenir.
Masks for Beijing Opera
Beijing Opera is the essence of Beijing and China. The masks for Beijing Opera can be found in both small shops and shopping malls in China. It is a good feeling to put on a mask and imitate opera performers' voices. The most important thing is that a mask will not make a face dirty.
Top Places for Shopping
Liulichang
A charming little street lined with old, brick and wood shops selling locally produced art. During the Qianlong period, Liulichang became a distribution center for antique calligraphy, paintings, and ancient books.
Address: Nanxinhua Street, Xicheng District, Beijing
Wangfujing Street
A street loaded with food stalls and small street shops offering mostly daily items like clothes, jewelry, electronic accessories, bags, shoes, etc.
Address: Dongcheng District, Beijing City
Silk Street (Xiushui Street)
For people looking for good bargains on day-to-day items, this is a great option. While some shopping streets can be slightly touristy, Silk Street is mostly visited by locals looking for good prices that can be bargained down to super deals. Almost any day-to-day item can be found here.
Address: Core zone of Beijing CBD (Central Business District), the extended line of Chang'an Avenue
Xidan
A high-end district that boasts international name brand shopping popular with the young, rich crowd. It's all Gucci, Coach, Kate Spade, etc. here and at premium prices too.
Address: Xidan North Street, Xicheng District, Beijing
Nightlife in Beijing
Sanlintun and Houhai are the two most renowned bar streets in Beijing. Sanlitun is near the embassy area in Beijing. Lots of foreign people spend their weekend in the bars on Sanlitun Streets. Houhai is an historical site. It was a main canal in the Yuan Dynasty (1271-1368). There are only bars on the Sanlitun Bar Street, but on Houhai Bar Street, both western style bars and Chinese tea houses can be found. Lots of tourists like Houhai because of its combination of historical and modern styles.
Top 5 Bars in Houhai
Houhai NO.5
This is a traditional Beijing quadrangle. The roof of this bar is glass. Guests can see the beautiful sky decorated by stars on cloudless nights. It covers an area of 400 square meters. Over 200 guests can dance at the same time in the bar. Foods include Chinese and Thai dishes and buffets.
Houhai Paradise Slow Roll Bar
Everything is quiet there. Two big terraces enable guests to be immersed in the beautiful Houhai night. Red wine and slow music help guests to escape from their intense daily work. The 1,800 square meters' bar can offer almost every guest a seat even during national holidays.
East Bank Bar
This is all about Jazz here. There are Jazz bands in the bar, but they never refuse to let their audience perform with them. It is almost the best Jazz Bar in Beijing. Their audience will not leave even if they cannot find a seat. Standing on the terrace of the second floor, guests can see the peaceful Houhai Lake. Jazz, cocktail and lake view, what else can you expect on a clear night?
Lemeng Bar
This is a small pop bar. Almost every Chinese pop song can be heard here. The singers in the bar are not professionals, but most guests in the bar are attracted by their voices. Because the singers are singing songs that are very popular in China in the bar, every guest can sing along with the singers. When the singers' eyes meet guests' eyes, they communicate with a nod or a smile. Everyone seems to be the owner of the bar. Lemeng means "happy dream" in Chinese. The bar hopes every guest has a happy dream every night.
Transient Guest Bar
As its name tells guests, the theme of the bar is traveling. The owner of the bar talks to and drinks with guests every night. If guests are tourists in Beijing, they can get some latest travel news of Beijing in the Bar.
Top 5 Bars in Sanlitun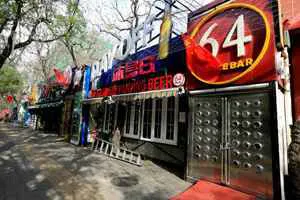 Sanlitun Bars Street
Yese Bar
Men and Ladies often want to make friends with each other in a bar, but there are always some kinds of dangers with making friends in a bar. In Yese Bar, guests do not need to talk to or drink with the ones they want to be acquainted with. They can write what they want to say on an electrical crane and send it to their targets. It is a traditional way to communicate for Chinese people.
Baby Face
Baby Face is a chain bar in China. There is a house hall and a hip hop hall in the Baby Face in Sanlitun. The big screen behind the DJ's table is the highlight of the bar. It is always colorful and shining. The boxes in the bar are good place for a birthday party.
Bar Blu
The bar was redecorated in 2011. Standing on the open air terrace, guests can enjoy the beautiful illumination around the bar. Both domestic and foreign dancers can be found in the bar, and both sexy and funny dances can be seen. Chicken wings are the most popular food in the bar.
D Lounge
This was an old factory, so every room in the bar has very high ceilings. The old films on the wall often make guests feel like they are playing a role in Charlie Chaplin's master works. Whisky is the best stimulus in the bar. Waiters and waitresses are considerate. Most of their guests said they would come back.
Glen Bar
The left part of the bar is actually a restaurant. Guests can avoid the embarrassment of a full house by eating on the left and drinking on the right. Their foods are really quite good. Its Japanese boss is good at both Chinese and English. Their Cocktail is renowned in Beijing.
Top Hotels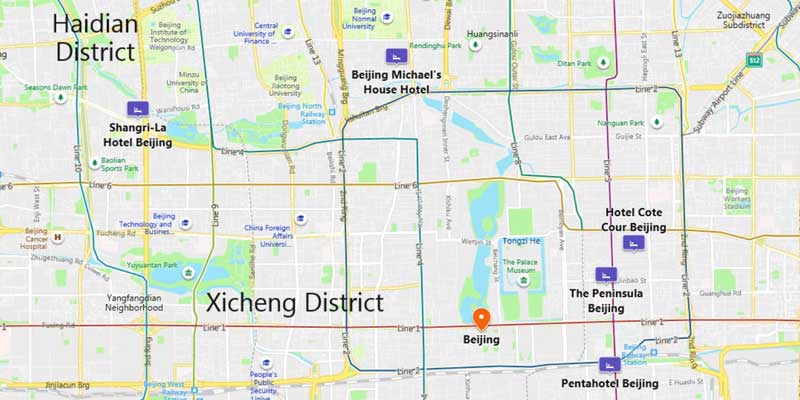 The location of the top hotels in Beijing
The Peninsula Beijing
The Peninsula Beijing was voted "Top 3 Best Hotels in Beijing 2017" by Travel + Leisure US magazine. An extremely unique exterior design makes guests feel they are staying some place extra special combining timeless Chinese artistry and craftsmanship with cutting-edge technology. They offer spacious all-suite guest accommodations, spectacular service, and luxurious comfort right in the heart of the capitol.
Address: No.8, Jinyu Hutong, Wangfujing, Dongcheng District, Beijing 100006, China
Shangri-La Hotel Beijing
Juxtaposing the old and new, Beijing likes to showcase the best both worlds. The Shangri-La Hotel is firmly in the modern world with comfortable, modern touches such as a marble entrance hall, comfortable lighting throughout, an large indoor pool, and spacious rooms with high ceilings and floor-to-ceiling windows offering fantastic views of the city.
Address: No. 29, Zizhuyuan Road, Haidian District, Beijing 100089, China
Pentahotel Beijing
Pentahotel Beijing is conveniently located in the heart of the city thus putting it just a hop away from Chongwenmen Metro Station, Tiananmen Square, the Temple of Heaven and more popular sights. The rooms are very comfortable, practical, and more affordable than other places of similar quality.
Address: No. 3-18, Chongwenmenwai Street, Dongcheng District, Beijing 100062, China
Hotel Cote Cour Beijing
One of more unique places to stay in Beijing, this hotel looks unlike anything else on this list. If you're not into large multi-floor skyscrapers and prefer single-layer complexes with simple, classical, ancient Chinese design somewhat resembling a Beijing Hutong, then this place is for you. The interior is a combination of classic and modern. If you want to experience the charm of staying in an authentic Beijing Hutong without giving up more modern comforts, this hotel is for you.
Address: Dongcheng District 100010, Yanle Hutong, Dongsi South Street, Dongcheng District, Beijing, China
Michael's House
Another welcoming, charming, smaller option that has a Hutong-esque feel to it. An original Beijing flavor abounds here and helps make you feel the warmth of staying at your own private Beijing home. Prices are affordable and the entire hotel is expertly done to give a modern, comfortable feel to a small, neighborhood hotel.
Address: South Campus, No.1, Tianzhiqiang North Park, Xiaoxi, Haidian District, Beijing 100088, China
Check Out our Beijing Travel Guide PDF eBook - Free Download