Top 5 Architectural Styles in Guangzhou You Must Know

Guangzhou was among the first coastal cities to embrace foreign culture and begin modernization. Let's explore the main form of architectural style in Guangzhou.
1. Lingnan-style Architecture
Representatives: Qilou Buildings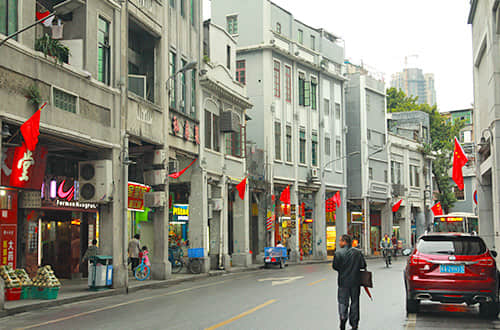 Qilou, also known as Chinese arcade houses, are a cultural landmark in the coastal cities of Southern China. That this arcade architecture was introduced to Guangzhou in the 19th century illustrates China's colonial and trading history. The Qilou stands two or three stories tall with exotic bas-reliefs on the façade, and stretches into outdoor corridors lined with shops underneath. The upper floors are used as living spaces hanging over the sidewalk, supported by columns. These arcades link together to form a shaded corridor. The history of colonnades dates back to the Parthenon in ancient Greece about 2500 years ago.
The design of Qilou buildings is suitable for the unpredictable sub-tropical climate in Lingnan areas. However, the most typical Guangzhou architecture is not Qilou buildings but the following one.
2. Outstanding Guangzhou Architecture – Xiguan Mansion
Xiguan Mansion, also known as Sai Kwan Mansion, is a traditional residence in Liwan District, which was built for local noble families, high officials and rich merchants in the Qing Dynasty. It looks like an ordinary exterior, but its design and construction is rich with remarkable techniques and delicate decoration. Its construction mass is equivalent to building a 9-storied tower.
Xiguan Mansion has three characteristics: black bricks, Manchuria windows, and the wade cage gate. Black bricks are made by soil firing, then cooling in anaerobic conditions. The house made of black bricks not only resists floods and heavy damp, but also keeps the house warm in the winter and cool in the summer.
Manchuria windows shine because their wooden frames are embedded with colorful glass. The process is very complicated. It is regrettable that the technique is now lost.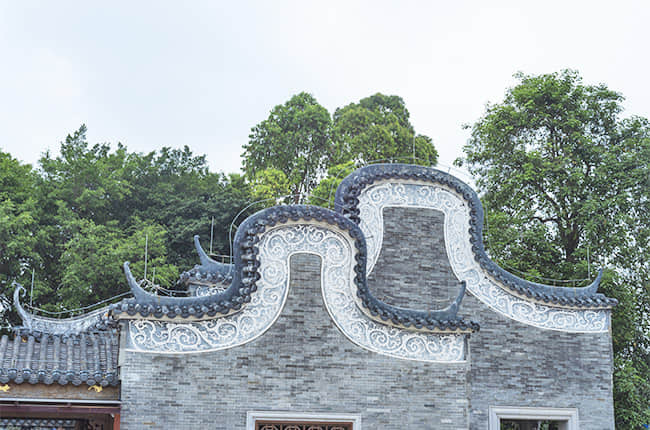 Black bricks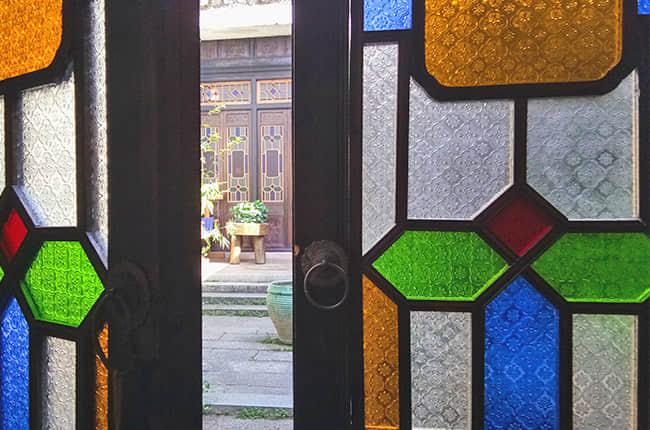 Manchuria Windows
The most interesting part of Xiguan Houses is the gates. Usually there are three kinds of doors from outside the house to inside. The first gate is a corner gate, which moves like a window, and generally has an exquisite pattern.
The second one is a wade cage gate that is a horizontally movable fence. The simple gate consists of round hard battens with a bolt. The number of round battens must be an odd number, because in Cantonese, the pronunciation of "double" sounds likes mourning. All the joints of the gate connect with the mortise and tenon without any nails. Even after more than one hundred years, the door will not rot. The last line of defense is a hardwood door, fully enclosed like we use nowadays.
These Xiguan Houses have had widespread damaged for many years, only remain about 10 houses with historical value.
3. European Architecture
Representative: Sacred Heart Cathedral
After the Opium Wars, Guangzhou was treated as a concession; therefore, a complex of European architecture is concentrated in Shamian District. The most classical is the Gothic architecture – Sacred Heart Cathedral. Its features are large, tapering, and colorful. Large windows enjoy daylight, tapering tower extend to sky, and colorful light twinkle in the church through rose windows.
Built with gothic, Baroque, Romanesque and Cantonese facades, these buildings make up the heart of the old town of Guangzhou. As time pass by, urbanization bring a lot of modern and fashion architecture here.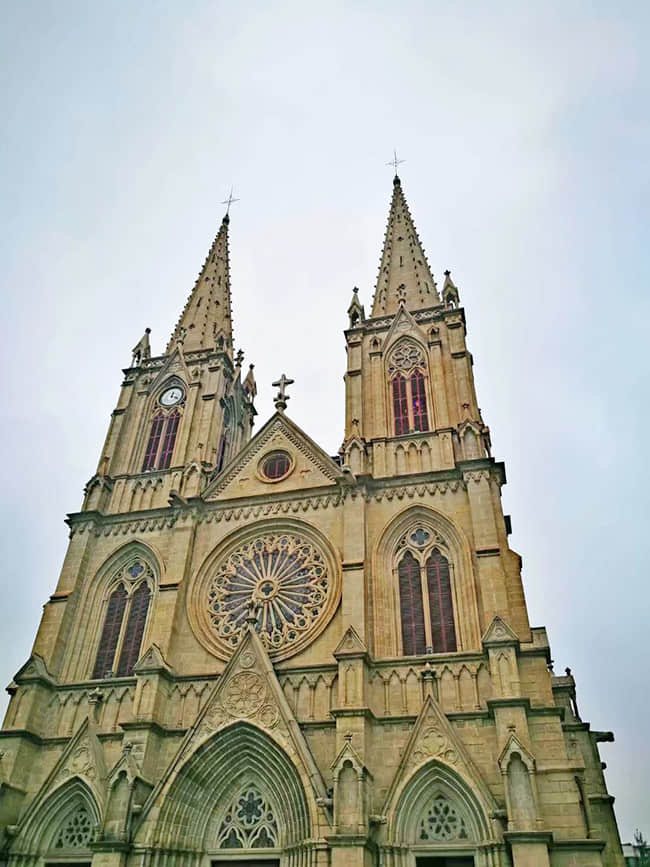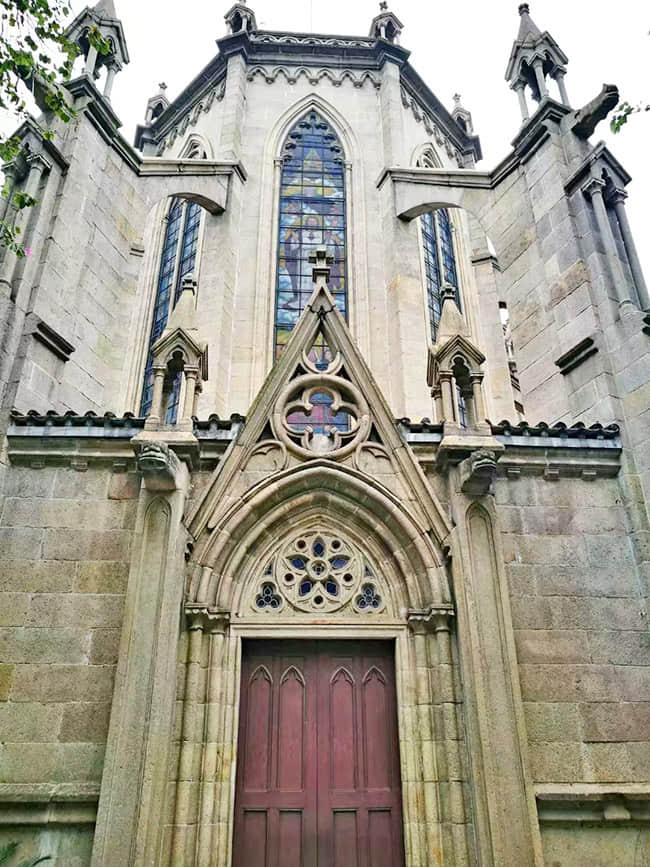 4. Modernist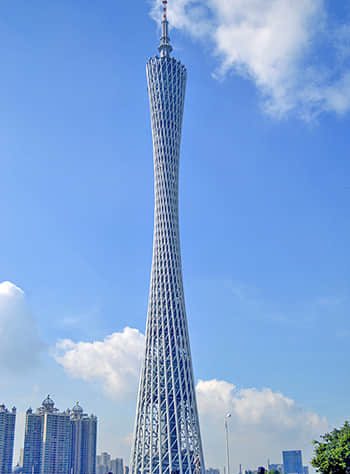 Representative: Canton Tower
The Canton Tower, also known as Guangzhou TV & Sightseeing Tower, is the highest tower in China, but the most unique is the slender waist. Commonly, TV towers are straightly extends to the sky, until Mark Hemel developed a concept of "Feminine in architecture". The shape is characterized by a twist and narrowing waist, making the tower has grace of women. Meanwhile, it can withstand the test of earthquakes and typhoons.
Simple shape, smooth lines, and metallic building materials are typical of modernist architecture. In Guangzhou central business district, a lot of architecture has adopted this similar style: The Pinnacle, Pearl River Tower, Guangzhou International Finance Center.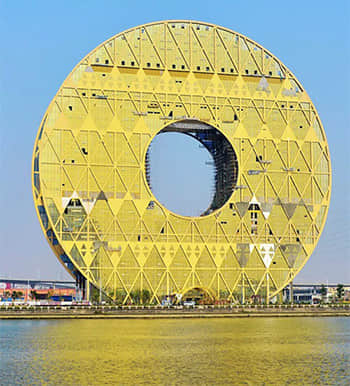 But the most unusual building is the Guangzhou Yuan Building. It is the shape of a copper coin with a regular gold pattern which gives an impression of pomposity. The cleverness of the design is also about its arrangement; it is located beside the river, and when the lights are turned on, the building along with its reflection in the water consist of an Arabic numeral "8". Eight is a favorite number for the Cantonese, because it is homophonic with the Cantonese "fa", which means prosperity and richness.
5. Postmodernism
Representative: Nan Feng International Conference and Exhibition Center In short, postmodern architecture is against the modernist, which means anomaly and complexity. For example, Guangzhou Museum, Guangzhou Library, and Guangzhou Opera House portray one of the styles of postmodern architecture that is Deconstruction.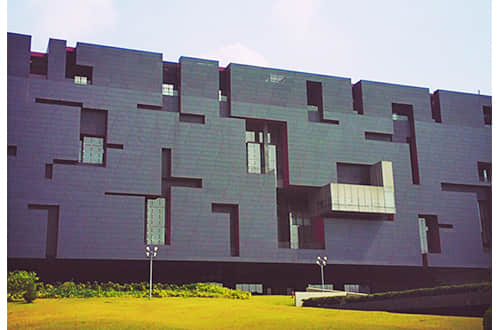 Guangzhou Museum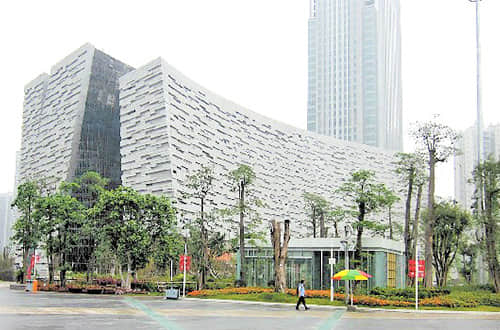 Guangzhou Library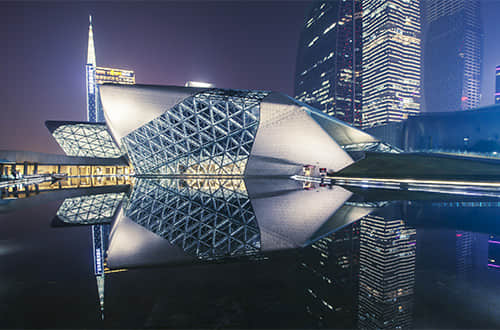 Guangzhou Opera House
Deconstruction evolves from structuralism and the essence of which is separation and fragments. If you think about Pablo Picasso's master work, it is going to make more sense. In architecture, the typical model is Nanfenghui Building. It is not a regular shape, but laid out neatly, they are just like children's toy bricks.
Buildings in a city witness history and illustrate culture, which are the self-portraits of a city shown in solid beauty.
Have a question?
OR
Are you eager to begin your Chinese cultural journey?
Drop us a line and we will promptly connect you with our leading China expert!