Top 7 Dali Delicacies
Please make sure you are ready for tasting hundreds of Dali delicacies at the moment when you step in Dali. Various cheap and tasty foods will let you experience the unique local food culture. You can always find some unnamed delicacies when you are in Dali, so why not try them one by one? You will probably love them after your first bite!
1. Dairy Fans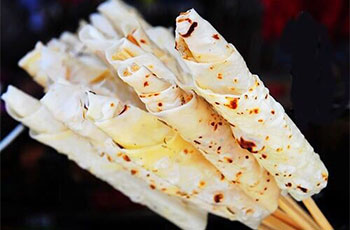 The Dairy Fan is one of the '18 Oddities to Savor My homeland Yunnan'. It can be fried, braised, or it can be rolled to make a pastry, and it can be cooked in many different ways. The most popular way is to have it with salt or sugar after frying. Fried dairy fan is commonly served in Bai restaurants.
Characteristics: translucent rolls, silky
Recommendation: Fresh dairy fan street stall
Address: at the door of 593 Fuxing Road
2. Xizhou Baba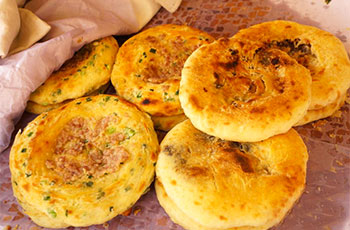 A traditional Dali Bai pastry, xizhou baba can be made in a salty or a sweet flavor. Wheat flour is the main ingredient, then the dough is baked with oil for several minutes until it becomes crispy. It's easy to carry out for travelers, and also cheap to buy.
Characteristics: crispy and tender
Recommendation: Xiangshen Yang Xizhou Crispy Baba
Address: at the door of Bense Kitchen, 26 Fuchunli, Sifang Street, Xizhou
3. Pickled Plum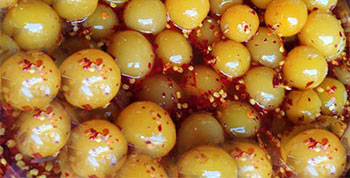 Dali pickled plums are a traditional appetizer for Bai people and it is also a kind of handcraft. It has a floral pattern on it after stamping or hand-carving.
Characteristics: fresh, sour and sweet, with a fragrance
Recommendation:Any street stalls in Dali
4. Herbal Sticky Cake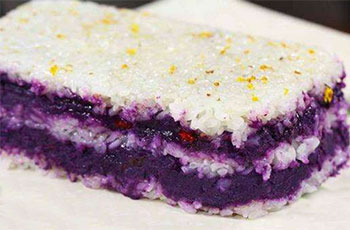 The herbal sticky cake is a kind of baba made of dry sassafras powder and glutinous rice flour. The way to cook it is to dry and grind the sassafras, and soften the glutinous rice, grind it, and press it into a dry pulp. Then mix the powder with the glutinous rice, brown sugar, sesame, and peanuts, and pack them into rectangular packets with banana leaves. Finally, steam them.
Characteristics: sweet and tasty
Recommendation:Any street stalls in Dali
5. Dali Rice Noodles Roll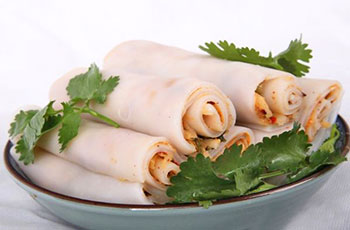 Soak high-quality rice for more than 6 hours, wait until the rice is smashed into a slurry, and place it on a special steamer to steam one by one into pieces. The slice made of rice is white and thin, so put a special walnut sauce or peanut butter on it, or sprinkle some kimchi with a little chili oil, then roll it. It's ready now!
Characteristics: silky and chewy, a perfect mixed flavor of sour, sweet and hot
Recommendation: Any street stalls in Dali
6. Pork Roll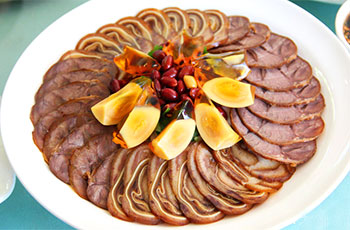 Pork roll is a Yunnan minority traditional food and is still popular now. The best Midu pork rolls were made by people who live in Midu town. The cooking ways are varied. Steamed and boiled pork rolls are common to see. It is served with a side dish in some restaurants. Beer matches well with it. And the longer the pickling time, the more beautiful the taste.
Characteristics: fresh, tasty, easy to storage, various cooking ways
Recommendation: Any street stalls in Dali
7. Cold Chicken Rice Noodles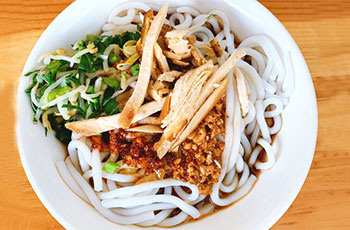 The cold chicken rice noodles must be on the top of the list of Dali Ancient City cuisine. Chop the prepared chicken into strips, mix chicken strips with the rice noodles, and add the plum vinegar and seasonings. Pour on a spoonful of marinated water. The dish is usually served with chopped green onion and sesame seeds. It tastes slightly spicy and sour and is a proper appetizer.
Characteristics: sour and sweet, silky, improve appetite
Recommendation: Retrospect
Address: next to Zebra bar 198 Renmin Road and 141 Renmin Road
Have a question?
OR
Are you eager to begin your Chinese cultural journey?
Drop us a line and we will promptly connect you with our leading China expert!