Guilin Transportation
Guilin has a comprehensive transportation system and is in a good location. That means visitors can conveniently travel to Guilin and then depart for other cities in the country. This article will give you an idea about the transportation to reach Guilin, Yangshuo and the Longji Scenic Area.
1. How to Get to Guilin
By Air
Guilin Liangjiang International Airport (KWL) is 28km/17.4 miles away from downtown Guilin. It is an important air transport hub in southern China. There are over 112 air routes navigable, which connect 76 cities in mainland China and other countries or regions, such as Beijing, Shanghai, Chengdu, Xi'an, Hong Kong, Taipei, Seoul, Kuala Lumpur, and Bangkok, etc.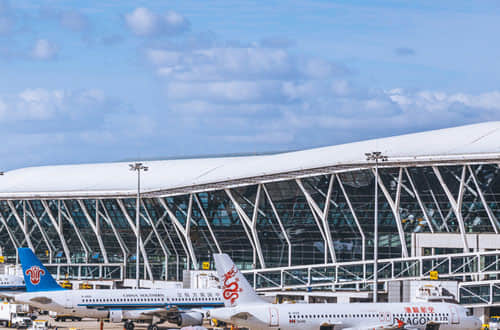 You can take a Taxi or shuttle bus from the airport to downtown Guilin. The charge for taking a Taxi is approximately RMB150.
The airport shuttle bus runs between the airport and the Aviation Hotel (about 50mins drive) in downtown Guilin every 30mins from 06:00-22:30. The shuttle bus ticket fare is RMB20/person.
We provide airport pick-up service as well. You will be picked up by our English-speaking guide and driver with a private vehicle at the airport so that your journey will be more efficient.
Visa-free Transit via Guilin Liangjiang International Airport(KWL) is possible. There are two policies for eligible foreign passengers to apply for Visa-free Transit.
1) 72-hour Transit Visa Exemption Program
From July 28th 2014, Guilin Airport has implemented a Transit Visa Exemption Policy for foreign travelers from 53 foreign countries with valid international travel documents and an interline ticket with a confirmed date and seat to a third country (region) within 72 hours(3 days).
| | |
| --- | --- |
| Europe | Austria, Belgium, Czech Republic, Denmark, Estonia, Finland, France, Germany, Greece, Hungary, Iceland, Italy, Latvia, Lithuania, Luxembourg, Malta, Netherlands, Poland, Portugal, Slovakia, Slovenia, Spain, Sweden, Switzerland, Russia, the United Kingdom, Ireland, Cyprus, Bulgaria, Romania, Ukraine, Serbia, Croatia, Bosnia and Herzegovina, Montenegro, Macedonia, Albania, Belarus and Monaco |
| America | the United States, Canada, Brazil, Mexico, Argentina and Chile |
| Oceania | Australia, New Zealand |
| Asia | South Korea, Japan, Singapore, Brunei, the United Arab Emirates and Qatar |
2) 144-hour Transit Visa Exemption Program
From May 28th 2015, tour groups from 10 ASEAN (the Association of Southeast Asian Nations) countries (Singapore, Brunei, Malaysia, Thailand, Indonesia, the Philippines, Vietnam, Laos, Cambodia, and Myanmar) have been able to enjoy a 144-hour (6 days) visa-free tour to Guilin. The tour group must consist of 2 or more people. You cannot travel to other cities in China. You should arrive at and leave from Guilin airport. Your tour should be hosted by a local agency in Guilin.
By Train
Guilin launched its first bullet train in Dec. 28th 2013. Nowadays, you can take a bullet train to Guilin from most of the major cities in China. Here is the information about the major train stations in Guilin and Yangshuo.
Guilin Railway Station
This is the most convenient station for travelers. It is located right there in downtown Guilin. If your hotel is right in downtown Guilin, you can get to this station in 10-20mins by Taxi. There are lots of public buses that arrive at Guilin Railway Station, such as Bus No. 10, 100, 11, 16, 19, 22, 3, 4, 5, 88, 91, and K99.
Guilin North Railway Station
Guilin North Railway Station is one of the main stations in Guilin. It takes about 30mins to drive from downtown Guilin to this station. The following public buses will stop at this station: No. 1, 100, 32, 211, 18, 83, K99, 302
Guilin West Railway Station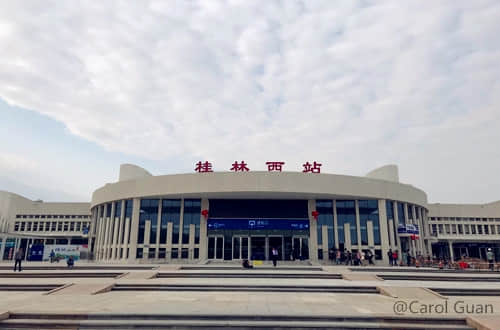 Guilin West Railway Station
Guilin West Railway Station is the place to take the bullet train from Guilin to Hong Kong. But it is not a big station compared with the two stations above. It is about 30mins drive from downtown Guilin to this station by Taxi. Public bus No. 22, 303, K307 stop at Guilin West Railway Station.
Yangshuo Railway Station
Yangshuo Railway Station is actually located at about 30km away and 50mins drive from Yangshuo downtown. Many travelers from Guizhou Province, Canton Province and Hong Kong choose to get off the bullet train at Yangshuo Railway Station and stay in Yangshuo for few days. There are shuttle buses from the station to downtown Yangshuo and the ticket fare is RMB20/person.
By the way, it is only 5-10mins drive from Yangshuo Railway Station to Xingping ancient town. If you have time, you may go for a visit to Xingping town first. And then take a shuttle bus from Xingping bus station to Yangshuo, which is about 40mins drive.
Distance from Major Cities to Guilin
| Cities | Distance from Guilin (km) | By Air to Guilin | By High-Speed Railway to Guilin |
| --- | --- | --- | --- |
| Beijing | 2135 | 3hrs | 11hrs |
| Shanghai | 1602 | 2hrs | 9hrs |
| Xi'an | 1413 | 2hrs | 10hrs 21mins |
| Hong Kong | 670 | 1.5hrs | 3hrs 20mins |
| Guangzhou | 477 | / | 2hrs 40mins |
| Chengdu | 1120 | 1h 50mins | 6hrs |
| Chongqing | 845 | / | 4hrs 33mins |
| Zhangjiajie | 610 | 1h 10mins (Tue., Wed., Thu., Sat.) | 6hrs (Transfer in Changsha) |
| Kunming | 980 | 1h 40mins | 7hrs |
As for the bullet train from Zhangjiajie to Guilin, you have to take a bullet train from Zhangjiajie West Railway Station to Changsha Railway Station. Then transfer to another bullet train from Changsha South Railway Station to Guilin. You can take metro line 2 from Changsha Railway Station to Changsha South Railway Station.
If there is no direct flight from your country to Guilin, you may take international flights to Hong Kong or Guangzhou first. And then connect to a bullet train from Guangzhou South Railway Station or Hong Kong West Kowloon Railway Station to Guilin.
3. How to travel between Guilin, Yangshuo and Longji
Guilin to Yangshuo
Yangshuo is located at about 65km/40 miles south of Guilin City. It is a small town surrounded by Karst Mountains and is the paradise for outdoor activities.
1) Public Bus from Guilin South Bus Station
The long distance bus runs between Guilin South Bus Station and Yangshuo Bus Station every 30mins. It is about 1-1.5 hours' drive. These city buses can take you to Guilin South Bus Station: No. 12, 28, 36, 82, 96, K99.
2) Taxi
It is about 65km (40miles) between Guilin and Yangshuo. The Taxi cost is not calculated by meters but fixed price from RMB200 to RMB300.
3) Cruise down the Li River
The daily-departure cruise disembarks from Mopan Hill or Zhujiang Wharf, about 50 mins drive from the city center. Taking this 4-hour cruise, you can enjoy the stunning landscape along the river. The boat tickets cost from RMB245 to RMB480 for different class seats on different boats. We can help you to book your tickets and arrange the transportation from your hotel to the wharf so that it will avoid any trouble and make an enjoyable trip.
Guilin to Longji
Longji Scenic Area is about 91km (56.5 miles) away from Guilin in the northern mountains. The scenic area is very large and includes three major villages including Ancient Zhuang Village, Ping'an Village and Dazhai Village.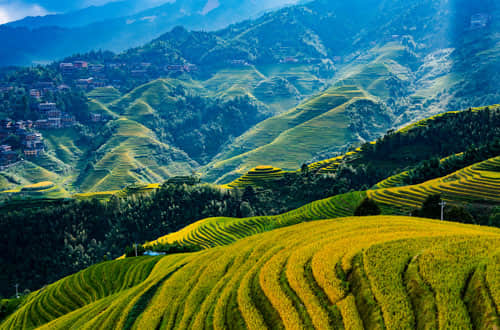 Longji Scenic Area
1) Shuttle Bus
You can take the direct long-distance shuttle bus from the parking lot of Hong Kong Hotel to Dazhai Village in Longji. It is about a 2.5-3 hour drive and you need to book the bus tickets in advance.
You can also take a long-distance bus to Longji Town from Guilin Qintan Bus Station. Then walk about 10mins to the ticket office of the Longji Scenic Area. You need to buy the entrance ticket and round-way shuttle bus ticket from the ticket office to Ping'an Village (30mins driving), Ancient Zhuang Village (20mins driving) or Dazhai Village (40mins driving).
2) Taxi
It costs about RMB600 to charter a Taxi for a round-trip from Guilin to Longji. Please keep in mind that taxi drivers do not speak any foreign languages.
3) One-day Guilin-Longji Tour
Due to the complexity of the transportation from Guilin to Longji, you can join our Guilin-Longji one-day private or group tour. In the morning, there will be an English-speaking guide and a driver pick you up from your hotel in downtown Guilin. Then back to your hotel in the late afternoon after the day tour to Longji.
Yangshuo to Longji
1) Shuttle Bus
There are direct long-distance shuttle buses between Yangshuo Green Lotus Cave Parking Lot and Longji Dazhai Village. It is about a 4 hour drive and you need to book the tickets in advance. This long-distance shuttle bus only takes you to Dazhai Village but not Ping'an or Ancient Zhuang Village.
2) Private Tour
Due to the language barrier and the fact that Google Maps doesn't work in China, we strongly suggest you book a private tour. With a private English-speaking guide and a driver, you will be able to see more places during your visit in Guilin.
4. Transportation between hotels and major attractions in Guilin
Here we have listed the suggested transportation from some major hotels to the famous attractions in Guilin.
Reed Flute Cave
Seven Star Park
Elephant Trunk Hill Park
Fubo Hill Park
Shangri La Hotel Guilin
Taxi: 15mins
Taxi: 10mins
Taxi: 25mins
Taxi: 15mins
Sheraton Guilin
Taxi: 20mins
Walking: 15mins
Walking: 5mins
Walking: 10mins
Guilin Lijiang Waterfall Hotel
Taxi: 20mins
Bus No.3
Walking: 20mins
Walking: 5mins
Walking: 15mins
Guilin Bravo Hotel
Taxi: 15mins
Bus No.3
Taxi: 10mins
Bus No. 11
Walking: 15mins
Taxi: 10mins
Hotel Universal Guilin
Taxi: 20mins
Walking: 10mins
Walking: 10mins
Walking: 10mins
In addition, you can rent a bicycle for about RMB30-50 per day from your hotel. If you have an account with Alipay, you can rent a "Hello Bike" (the blue shared bike) via the app of Alipay. Biking is the most convenient way to explore Guilin downtown, so that you can stop at any time and places when you want to take a picture.
There are always many unpredictable changes and difficulties during the trip, such as shuttle bus time schedule changing, holiday traffic control, scenic area policy, weather, and touring details, etc. Please contact our travel specialists if you have any questions about your trip to Guilin.
Have a question?
OR
Are you eager to begin your Chinese cultural journey?
Drop us a line and we will promptly connect you with our leading China expert!