Guiyang Delicacies
Guiyang is honored with the title of "Southeastern Hong Kong" where you can find a lot of snack streets among the skyscrapers. Walking along Guiyang streets, you can always smell different aromas and see restaurant signs of all kinds. There are over 100 different types of Guiyang local and traditional snacks, not to mention snacks from elsewhere. So no matter whether it's daytime or evening, snack booths are scattered everywhere along the streets and alleys of Guiyang. Some restaurants have incorporated some characteristic snacks into their menus and provide tables for special snacks.
1. Potato Glutinous Cake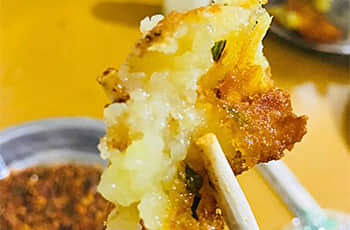 Potato glutinous cake is a very common characteristic snack in all snack booths in Guiyang streets. You can smell the fragrance of potato and chopped green onions from far away, and if you step closer, you can see the golden color of the fried cake. It is so tempting. When you eat these cakes, pour on some chili powder and sweet bean sauce and even top them with some sour radish slices.
Characteristics: crispy outside and soft inside. Spicy but tasty.
Recommendation: Snack street on Erqi Rd.
Address: No.29, Er Qi Rd, Nanming District, Guiyang
2. Qingming Glutinous Cake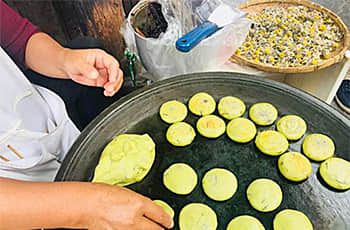 Qingming glutinous cake, also known as Huangcao glutinous cake, is a traditional snack in Guiyang, and also a traditional food for Qingming Festival. The making of Qingming glutinous cake can be dated back to over 100 years ago. There have been many booths selling this kind of cake in Guiyang since the1950s. The Qingming glutinous cake in its early times was made in the shape of mooncakes, with stuffing like ham, roses, sugar etc. Fry it in a pan using a little lard to make it golden on both sides before eating it. It is crispy, sweet, and tasty. Nowadays, the Qingming glutinous cakes in Guiyang vary a lot in stuffing and shape.
Characteristics: crispy, sweet, glutinous and tasty.
Recommendation: Zhangji Qingming Glutinous Cakes
Address: No.19, Heng Street, Qingan Town, Huaxi District, Guiyang
3. Rose Sugar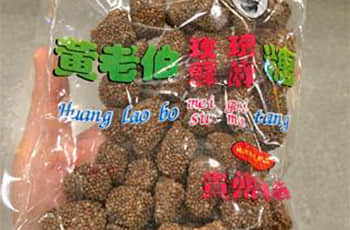 As a famous traditional snack in Guiyang, rose sugar has a history of over 100 years. It originated with the Ping Zhengkuan family on Qingyan Street. It is said that one day Ping saw a little kid selling rose petals. So it occurred to him that, since rose petals were fragrant, it would be tasty to add them into the sugar. So he bought some petals and mashed them, and made them into sweetmeats, adding some sugar. Then he dried them in the sun in ceramic bowls. He made sugar paste using sticky rice and wheat, added some sesame, walnuts, sugar, and rose petal sweetmeats. Finally the mixture is cut into thin slices or strips, which have the crispy and sweet sesame sugar with fragrance of rose.
Characteristics: sweet and crispy
Recommendation: Qingyan ancient town
Address: booths on the streets of Huang Family Alley, Qingyan Town, Huaxi District, Guiyang
4. Black Sticky Rice Ice Syrup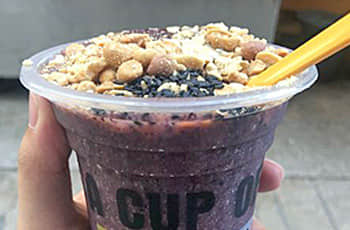 Ice syrup is made of ice, a little sugar, fresh fruits and sticky rice. The ingredients are put into the squeezer and whipped into syrup. Then, add some sesame, sweetmeats and peanuts. It is an ice-cold desert, and the fruits and sticky rice in it can be adjusted as you want. As the signature ice syrup, the black sticky rice ice soup is one of Guiyang people's best snacks in summer.
Characteristics: ice-cold
Recommendation: Xiaobao Ice Syrup
Address: No.142, Huage Rd, Huaxi District (across from Huaxi Wangji Beef Rice Noodles), Guiyang
5. Grilled Tofu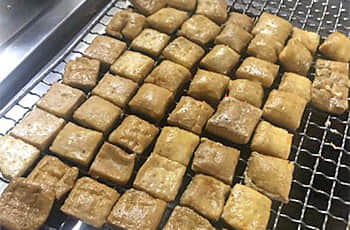 This is the cheapest snack in Guiyang, and it can be seen everywhere, especially in scenic spots such as Jiaxiu Building and Qianling Scenic Spot. It is not big, just bigger than a single Go chess piece. And it is very cheap. The booth owner, who just brings his own stool and shoulder pole, grills the tofu until it sizzles on the surface and changes from flat to fat. Then salt and pepper powder are sprayed on tofu. You can also dip it into the chili powder, which makes the tofu even more delicious.
Characteristics: Soft, salty and tasty
Recommendation: Miss Tofu
Address: No.75, Wenming Rd.
6. Red Oil Rice Tofu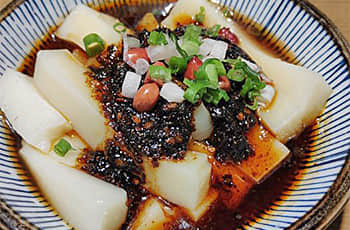 This is a famous snack in Guiyang, and is a good cool-down snack for summer. It is made from the local rice. Actually, Guiyang people typically prefer the seasoning in the rice tofu, for there is abundant seasoning in Red oil rice tofu.
Characteristics: red in color, spicy and delicious
Recommendation: quadrangle courtyard
Address: No.34, Qianling West Rd. (near Hequn Rd.)
7. Changwang Noodles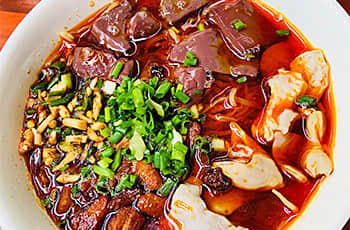 These noodles are a famous Guiyang delicacy. Chang refers to pig intestine that has been cleaned. Wang refers to the smooth, raw pig's blood. 'Noodles' refers to the chewy egg noodles. Besides that, there are also other snacks in it, including Cuishao (made from streaky pork), sprouted beans, and marinated tofu etc. What's more, with the thick chicken soup and home-made chili oil, Changwang Noodles just become rich in flavor. It tastes spicy and refreshing.
Characteristics: smooth, spicy and tasty
Recommendation: 7th Changwang Noodles (Qianling West Rd.)
Address: Weiqing Gate, Qianling West Rd., across from Liupanshui Hotel, Yunyan District, Guiyang
8. Huaxi Beef Rice Noodles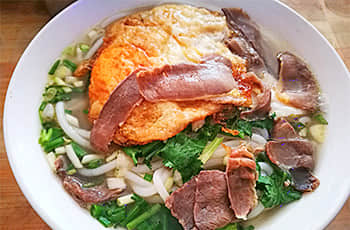 Guiyang is the origin of high-quality cattle; therefore, beef noodles are the most common noodles. However, Huaxi Beef Noodles has established its own brand. It originates from Huaxi District. Premium beef and bones are used to boil thick stock. Then marinated beef, stewed beef, sour cabbage, coriander, chili etc. are put into the stock. The noodles are thick ones, making Huaxi Beef Rice Noodles great in appearance, fragrance, and flavor. If you drink the stock, it'll be totally satisfying.
Characteristics: thick soup and fresh beef
Recommendation: Huaxi Wangji (Huaxi Headquarter)
Address: intersection of Huage Rd. Democracy Rd., Huaxi District, Guiyang
9. Siwawa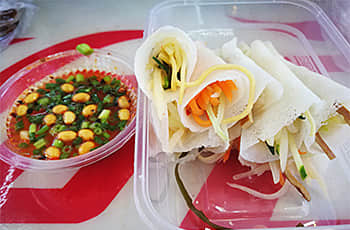 Siwawa is the most common delicacy in Guiyang streets. People put the shredded vegetables they like into the "swaddling" (a flour wrapper) and send it into their mouths with a spoonful of Zhanshui (a special local sauce). Taste it slowly, you can feel the crispy vegetables and taste the spicy flavor, and the cool sauce imparts a sense of coolness, making you extremely comfortable. The characteristic white-and-sour soup Siwawa in Guiyang is very delicious. Each drop gives you sour flavor; each vegetable shred gives you the texture.
Characteristics: sour and spicy, rich in color and flavor
Recommendation: Auntie Yang Siwawa (Feishan Ave. Branch)
Address: No.214-2, Feishan Ave., Yunyan District, Guiyang
Have a question?
OR
Are you eager to begin your Chinese cultural journey?
Drop us a line and we will promptly connect you with our leading China expert!