Most of Lijiang's local cuisines have their origins in home-cooked dishes. The genuine manner of cooking for the family circle that has been passed down from one generation to the next is valued more highly than superb, dazzling processing skills and fancy cooking methods. Still, restaurants in Lijiang all delve into the cooking and some of them offer dishes that are definitely worthy of admiration.
1. Dianxi (West of Yunnan Province) Prince • Back to Lijiang in My Dream • Ancient Culture Restaurant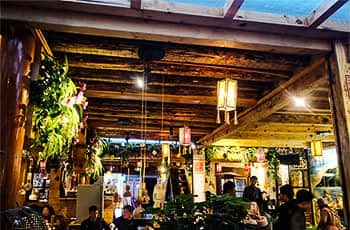 As you step into Dianxi Prince, the richness of romantic Lijiang and the splendid Naxi style unfold. (The Naxi are the minority ethic gathering at Lijiang and its surrounding area.) The carefully arranged 'Salmon Rushan Salad' is delicate and delicious. Actually the "salmon" is rainbow trout that is bred in Yulong meltwater, and the rushan, called yenx seinp in the local language, refers to the fan shaped thin cheese. When it is served in tinfoil and burned in the fire during the performance for the Torch Carnival, it is definitely a double treat. At that time, the aroma of meat and the fragrance of bamboo is already in the breeze. Enjoying the unique Naxi style decoration while eating is a special experience that a restaurant in Lijiang offers.
Average check: RMB 66
Open hours: 11:00 - 23:30
Address: No. 149, Zhongyi Lane, Guangyi Street, Old Town, Lijiang, Yunnan Province, China
2. Nima Tibetan Restaurant
Although Nima Tibetan Restaurant may not offer a grand feast, it has all kinds of Yunnan specialties. The yak beef provided here is neither too hard nor too soft. Visitors can all leave with an unforgettable memory of the yak hot pot. In addition, snacks such as buttered tea, buttered milk dregs and water stewed papa (glutinous rice cake) are aromatic and refreshing. Qingke Liquor (highland barley liquor) is another must-try.
Average check: RMB 49
Open hours: 10:00 - 21:00
Address: No. 23, Yuxing Section, Xi'an Street, Opposite to Jinquan Hotel on Shangri-La Avenue (Lijiang Express Bus Terminal), Old Town, Lijiang, Yunnan Province, China
3. V. Sherry Restaurant (Shun's Kitchen Branch)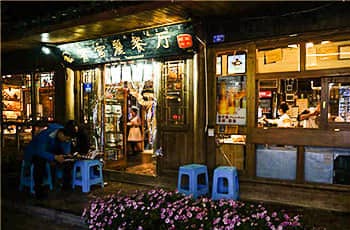 Yunnan's specialty of home-cooked style dishes basically covers all the options in Yunnan Province such as tender Xueshan Fish (fish from the brook of melt water from Yulong Mountain), Naxi Barbeque, Shuixingyanghua (lake weed), matsutake and yak beef. It is a good place for visitors to discover the full menu of local cuisines.
Average check: RMB 91
Open hours: 11:00 - 21:30
Address: No. 23, Yuxing Section, Xi'an Street,Old Town, Lijiang, Yunnan Province, China (close to the Intercontinental Lijiang Ancient Town Resort)
4. Preserved Steak Restaurant (Shiquan Jiumei Branch)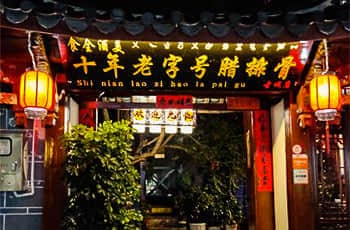 Some people say that when you come to Lijiang, you must eat the preserved steaks here. Preserved Lijiang Steaks are cured and air dried for one month. This dish has a good reputation here. If you put the steaks along with other ingredients on the list for your hot pot order, you can truly expect a great meal. Some foodies also choose to have the preserved steaks with the local snack Salad of Jidou Pea Jelly (Jidou Liangfen).
Average check: RMB 61
Opening hours: 11:00 - 22:00
Address: 38, Zhongyi Lane, Guangyi Street (two minutes' walk from the main entrance of Mufu Mansion or three minutes' walk from Zhongyi Market), Old Town, Lijiang, Yunnan Province, China.
5. Rice Slurp (Erkuai Shiguang)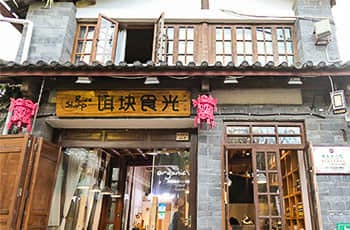 Erkuai (rice slurp) is unique to Tengchong, Yunnan. Quality rice is processed into a variety of shapes by pinching and molding. Erkuai is made with all kinds of featured stuffing, such as organic pork Erkuai, organic rose Erkuai, organic ketchup Erkuai, etc. It can be quite surprising that yak beef, Yunnan olives, Pu'er tea and borneol are also used in the stuffing. Desserts such as truffle red core potato chips and wild red pine nut juice are provided in the southwest town.
Average check: RMB 36
Open hours: 10:00 - 22:00
Address: No.43, Chongren Lane, Qiyi Street (near the intersection of Yinyu Xiang and Zhenxing Lane), Old Town, Lijiang, Yunnan Province, China