Lijiang features a rich ethnic cultural heritage. Tourists can catch the silhouette from every street and alley. Gourmet food streets are especially favored. The minority ethnic touch has been added to a whole range of gourmet foods. When taking a stroll along gourmet food streets, the remarkable sights and flavors will be unforgettable.
1. Sifang Street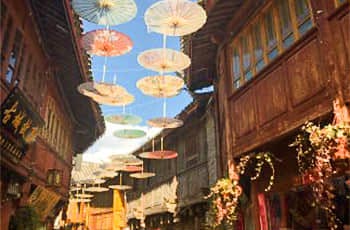 Sifang Street is a famous street in the ancient city. Dozens of small restaurants are operating along this short, narrow street. As most restaurants offer a wide variety of Yunnan-specific rice noodles, the street is also sometimes referred to as Lijiang Rice Noodle Street.
Sifang Street is especially famous for its unique streetscapes with colorful stone paving. When it is noon, the market begins and when it is dark the pavement is washed. Six colorful flower stone streets have been constructed which follow the trend of the mountains and they extend far into the distance. The streets and lanes are well connected, and the transportation here is very convenient.
Recommendations: Naxi Pavilion Restaurant, Sifang Snack Street and Fulong Snacks
Address: Sifang Street, Lijiang, Old Town, Lijiang, Yunnan Province, China
How to get there: take No. 44 bus.
Nearby attractions: Wenchang Temple (Shishan Road), Mu Fu Mansion, Wangu (pronunciation derived from Naxi minority ethnic language) Pavilion and the big waterwheel.
2. Qiyi Street
Qiyi Street is the main street that connects to the southeast end of Sifang Street. It is probably the best-preserved ancient street in the Old Town. Shops, inns and gourmet restaurants are all along the street. Local snacks and Naxi specialties never fail to live up to travelers' expectation. The business here is booming from the daytime until the lanterns and lights are lit in the evening.
Recommendations: V. Sherry Restaurant (Shun's Kitchen Branch), Rice Slurp and A Ma Yi Naxi Snacks
Address: Qiyi Street, Old Town, Lijiang, Yunnan Province, China
How to get there: It is within walking distance of the Old Town.
Nearby attractions: Mufu Mansion, Sifang Street, Old Town, Lijiang, Yunnan Province, China
3. Huama Street
Huama Street is located in the eastern part of Lijiang. It starts from the eastern section of Xiangshan Road in the north and ends at Minzhu Road in the south; it begins from Yuquan Road in the west and ends at Jiaoyu Road in the east. It is an integrated commercial district incorporating dining, entertainment, leisure and the residential community. Huama Street is a food street, very close to the big waterwheel. Mainly Yunnan and Sichuan Cuisines are provided here. The most famous dish is salmon – which is actually the rainbow trout that is bred in Yulong meltwater – and is on the menu of almost every restaurant. People love this fresh and tasty dish.
Recommendations: Snow Mountain Cloud Wild Mushroom Hot Pot and Dream Salmon Village (Dreamer Home Huama Street Branch)
Address: No. 260, Yuquan Road, Old Town, Lijiang, Yunnan Province, China
How to get there: Take the No. 20 outer ring bus
Nearby Attractions: Lijiang Dongba Culture Museum
4. Shuhe Ancient Town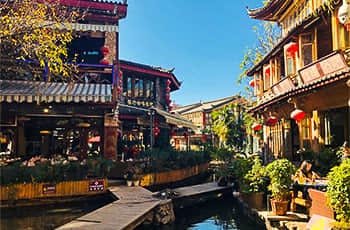 Shuhe Ancient Town is located south of Yulong (literally Jade Dragon) Snow Mountain. It is surrounded by mountains and waters. The unique natural resources have brewed a popular diet. As one of the earliest settlements of the Naxi ancestors in the small basin in Lijiang, Shuhe Cuisine is dominated by Naxi dishes. The local food is spicy, sour and salty. Ingredients are commonly boiled in a hot pot, barbecued or fried.
The waterside bars and restaurants are very attractive. A savory pot of Pu'er tea, or a cup of local green plum liquor means a long aftertaste to enjoy.
Recommendations: Grandma Wen's Kitchen, Small Pot and Naxi Fire Pit
Address: Shuhe Town, Shuhe Road, Old Town, Lijiang, Yunnan Province, China
How to get there: Take the No. 11 bus and get off at Shuhe Road.
Or take the No. 6 bus (the Branch A and B of No. 6 and No. B stop at Shuhe Station) at the Shuhe Shangcun Bus Stop. Walk about 200 meters to reach the north gate of Shuhe Ancient Town.
Nearby attractions: Qinglong River, Sifang Street and Sanyan Well
5. Wuyi Street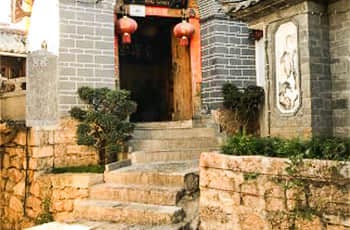 Wuyi Street is one of the four main streets of Lijiang Old Town. Numerous bars and restaurants are gathered here. Being in the ancient town, Wuyi Street, along with its peers Sifang Street and Qiyi Street, are all very quiet. Elegant inns and lovely shops can be found there. The minority ethnic style buildings on Wuyi Street offer a place where one can escape from the hustle and bustle. It is where the precious food is served in a worthy atmosphere.
Recommendation: Uncle He's Restaurant, Dissappear Life (Yinyu Lane Branch) and Huajiantang Fennel Restaurant
Address: Wuyi Street, Old Town, Lijiang, Yunnan Province, China
How to get there: Take No. 2, No. 3, No. 28, etc. bus, or walk directly to the restaurant.
Nearby attractions: Mufu Mansion and Wangu Pavilion.