What do Mid-Autumn Festival People Eat?

Mooncakes are the most famous must-eat food during Mid-Autumn Festival, but what are other traditional foods associated with the Mid-Autumn Festival? Have a look here to know more about seasonal delicacies.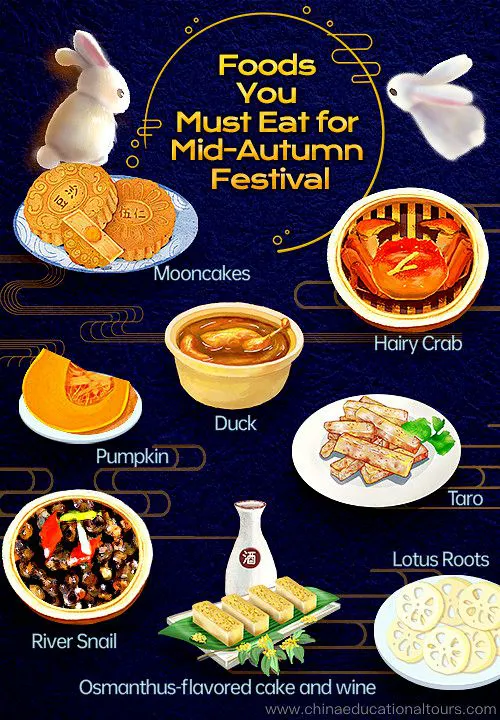 Infographic: Foods You Must Eat for Mid-Autumn Festival
1. Hairy Crab
Hairy Crab is Shanghai specialty, rich protein delicacy. Steam crabs with ginger and vinegar make the original and fresh taste. It is a great popular dish on the Mid-Autumn Festival reunion dinner.
2. Duck
Duck is a home cook meal and a popular dish on the festival dinner. Different region have varied cook methods. For example, cooked with osmanthus flowers and then served as a cold dish, cooked with taro, and salted duck.
3. Pumpkin
It is very popular to eat pumpkin in south area of China. In past times, people cannot afford Mooncakes would eat pumpkin instead. The tradition of eating pumpkin means to bring good health for people.
4. Taro
Eating Taro during Autumn Festival is believed to bring good luck and fortune. Taro is like a potato, usually boiled or steamed to eat.
5. River Snail
River Snail is usually cooked with several herbs and spices to drive the fishy smell out. The festival is best season to taste snail, it is believed to help brighten the eyesight.
6. Lotus Roots
Sliced lotus roots can be fried with meat, or stuffed with minced meat in two slices as a small hamburger then coat with a layer of batter and deep fried.
7. Osmanthus-flavored cake and wine
Osmanthus flowers are in full bloom during Mid-Autumn Festival, people prefer to have sweet osmanthus-flavored cake and wine to enjoy the moment of family reunion.
8. Pomelo
Because of its round shape and its sweet taste, the pomelo is one of the primary festive foods of the Mid-Autumn festival. It is considered as a lucky fruit by the Chinese. Its round shape symbolizes reunion of the family members. Pomelo's Chinese name 柚子(you zi)is homophonous to "blessing the children" in Chinese, which means auspiciousness. Chinese people eat pomelos at this festival, hoping to be blessed by the Luna.
Watch the video to find out What is the Mid-Autumn Festival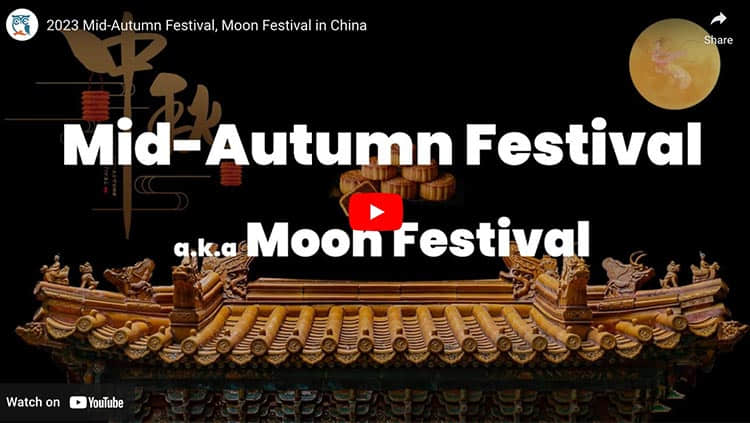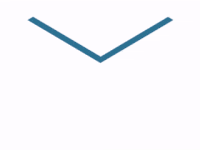 Have a question? Or can't wait to immerse yourself in the engaging journey of Chinese culture? Send us a message! Our top China specialist is ready to assist and connect with you without delay!