Moon Cake - The Specialty on the Mid-Autumn Festival

What is Mooncake?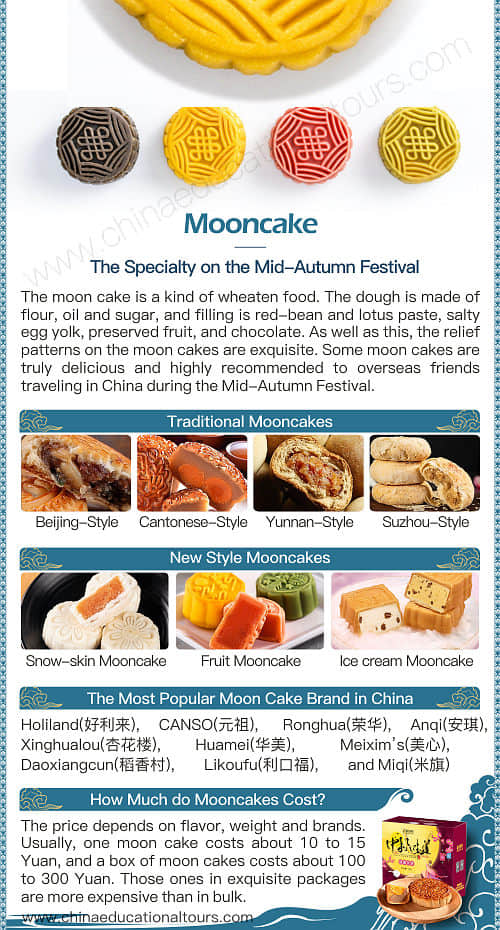 Mooncake Infographic
The tradition of eating moon cakes has a long history. The moon cake is a kind of wheaten food. The dough is made of flour, oil and sugar, and filling is red-bean and lotus paste, salty egg yolk, preserved fruit, and chocolate. In some metropolitan areas such as Shanghai and Hong Kong, there are moon cakes filled with black truffle, caviar, and foie gras. As well as this, the relief patterns on the moon cakes are exquisite. Some moon cakes are truly delicious and highly recommended to overseas friends traveling in China during the Mid-Autumn Festival.
What does the Mooncake Symbolize? Why Chinese People Eat Mooncake During the Mid-Autumn Festival?
According to the records of moon cakes and the Mid-Autumn Festival in the Ming Dynasty, it is generally believed that the tradition of moon cakes was started from that time. After worshiping the moon, the whole family shared moon cakes together, and that's when people started to think of moon cakes as involving reunion. A skillful baker carved the pattern of the Lady Chang'e Flying to the Moon on the moon cakes; since then, it is considered essential for the festival. Nowadays, Chinese people present moon cakes to each other to keep the ties of emotional bonds.
How Long do Mooncakes Last?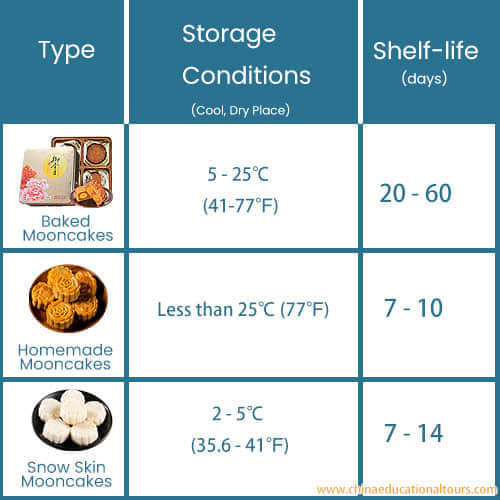 The shelf life of the mooncakes
Normal mooncakes (baked mooncakes) can be kept in a cool place within the temperature range 5-25℃ (41-77℉), and not exposed to heat, for up to 60 days. Depending on the different ingredients and preparation process, mooncakes can be stored for a minimum 20 days to a maximum of 60 days. If you buy mooncakes in a supermarket, you'd better check the expiration date first.
Handmade mooncakes can only be stored for 7 to 10 days at a temperature of less than 25℃ (77℉). If the temperature goes up to 30℃ (86℉), the days should be shortened to 7 days.
Snow skin mooncakes must be placed in the refrigerator below 2-5℃ (35.6-41℉) and they can be stored for up to a few weeks. Otherwise, they tend to be spoiled within 2 hours.
Varieties of Moon cakes (Types and Features)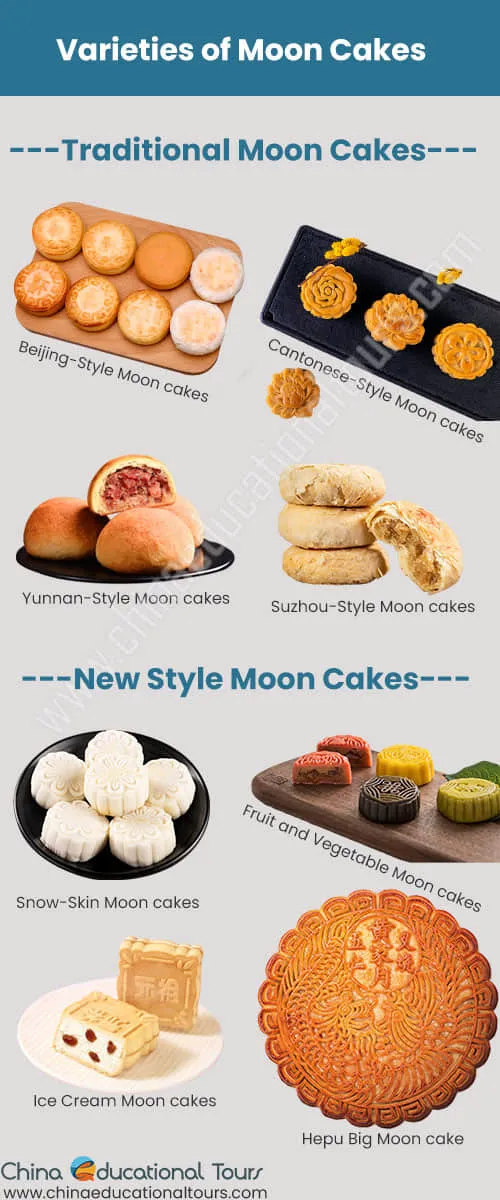 A bewildering variety of moon cakes are available at least one month before the festival day. Except for traditional ones, you may find some moon cakes combined with western tastes.
Traditional Moon cakes
The most famous and popular ones are Beijing-Style Moon cakes, Cantonese-Style Moon cakes, Yunnan-Style Moon cakes, and Suzhou-Style Moon cakes.
Beijing-Style Moon cakes
Beijing-Style Moon cakes are one of the kinds in the north area, and originated in Beijing, Tianjin and the surrounding area. Two famous moon cakes are red moon cakes and white moon cakes, renowned for their sweet and crispy outer crust.
Cantonese-Style Moon cakes
This style of moon cakes is famous for the craftsmanship and careful choice of materials. Having two tastes of sweet and savory, it features a thin and soft crust with a delicate pattern, as well as an exquisite and portable package.
Yunnan-Style Moon cakes
Ham moon cakes and flower moon cakes are regarded as typical representatives of Yunnan-Style Mooncakes that are popular in Yunnan and the surrounding area. Ham Moon cakes are filled with special salted ham in Yunnan, and the aroma of the ham emanates through the pastry crust.
Suzhou-Style Moon cakes
Suzhou-Style moon cakes have two flavors including sweet and savory types. Sweet moon cakes are filled with rose petals, Osmanthus, nuts, and seeds, and savory moon cakes are filled with ham, pork and shrimp meat.
New Style Moon cakes
In mixed traditional Chinese culture and Western romantic culture, New Style Moon cakes create a new appearance and tastes to cater to modern people's pursuit of gourmet foods.
Snow-skin Moon cakes
The main features of Snow-skin Moon cakes are that they non-baked and kept in a refrigerator. The crust is made from glutinous rice, and looks like snow. Then people add some colorful juice to the crust, allowing for diverse tastes with the different appearances.
Fruit and Vegetable Moon cakes
Fruit and vegetable moon cakes are filled with fruits and vegetables, and taste soft and smooth. Fillings include strawberry, melon, pineapple, lychee and orange.
Ice cream Moon cakes
This type of moon cakes just uses the moon cakes mold; the crust is made of chocolate and the fillings are totally ice cream.
Unusual flavoured mooncakes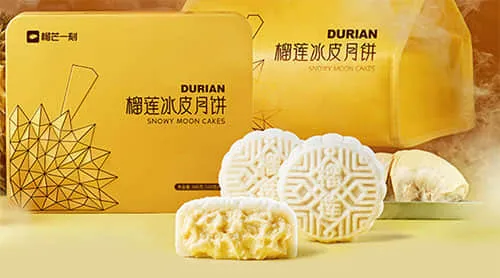 Durian Mooncakes (Photo Credit: 榴芒一刻 )
You may create the stereotypical mooncakes with lotus paste and a salted egg core. But now, here are some more unusual tastes.
Crayfish Mooncake
Different with traditional sweet crust, crayfish mooncake has a crispy crust filled with crayfish flesh, pleurotus (a type of mushroom) and minced garlic. It is an exotic and popular taste and you will have a totally new idea of mooncakes.
Oreo Mooncakes
Oreo push four flavors mooncake, including chocolate, strawberry soft heart, and pineapple with soft cream heart.
CANSO Snowy Mooncakes
Canso has created snowy mooncakes, which is ice cream with nuts covered by wafer crust. Tickle your taste buds.
Lemon Cheese Mooncakes
The scent of fresh lemon takes the greasy feeling away, and mixed with soft and mild cheese offers a new texture.
Bamboo Charcoal Mooncakes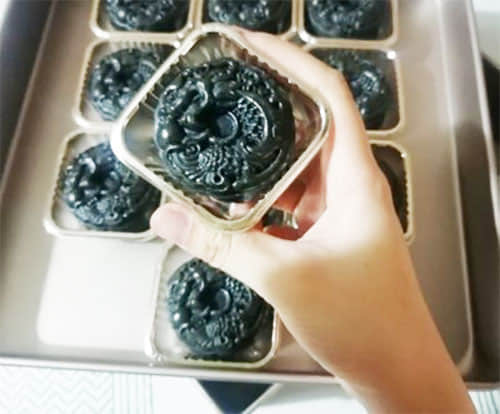 Bamboo Charcoal Mooncakes (Photo Credit: 老***云)
Just like its name, bamboo charcoal mooncakes are the traditional mooncakes with a special crust made from edible bamboo charcoal powder.
10 Most Popular Mooncake Fillings
Lotus Paste with Salted Egg Yolk
Mixed Nuts (Five Kernel)
Custard
Red Bean Paste
Black Sesame Seeds
Jujube Paste
Fruit or Vegetable (Hami Melons, Pineapple, Orange, Sweet Potato, Winter Melon)
Ham
Ice Cream
Flower (Rose, Jasmine)
The Most Popular Moon Cake Brand in China and How Much do Mooncakes Cost?
The most popular brands of moon cakes in China include Holiland(好利来), CANSO(元祖), Ronghua(荣华), Anqi(安琪), Xinghualou(杏花楼), Huamei(华美), Meixim's(美心), Daoxiangcun(稻香村), Likoufu(利口福), and Miqi(米旗).
Tips: The price range of Moon cakes is significantly wide. The price depends on flavor, weight and brands. Usually, one moon cake costs about 10 to 15 Yuan, and a box of moon cakes costs about 100 to 300 Yuan. Those ones in exquisite packages are more expensive than in bulk.
Some Tips for Eating Mooncakes (Is Chinese mooncake healthy? What is the healthiest mooncake?)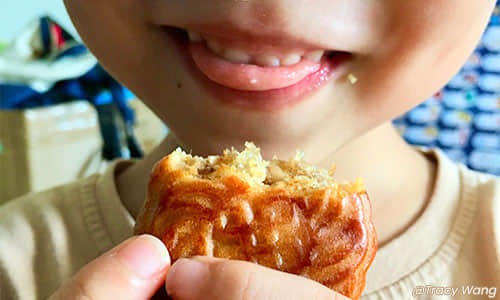 The traditional way of making mooncakes uses lots of oil and sugar, which is considered unhealthy. Eating too many moon cakes at one time will be a big burden on your digestive system, so drinking some oolong tea or red tea will help a lot. Nowadays, mooncake manufacturers produce healthier mooncakes (ex. Fruit and Vegetable Mooncakes, Snow-skin Mooncakes, Red Bean Mooncakes...) with less oil and less sugar so consumers can safely buy more.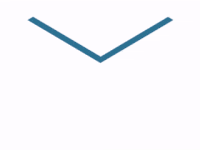 Have a question? Or can't wait to immerse yourself in the engaging journey of Chinese culture? Send us a message! Our top China specialist is ready to assist and connect with you without delay!