Top 7 Qingdao Delicacies
The snacks here, instead of featuring local seafood, are offered in the form of snacks from all of the other places in Shandong province. Qingdao's snacks are diverse and show variety, capturing foodies' hearts.
Salty and spicy delicacies
1. Sauce trotters
The braised trotters are a traditional dish and a famous dish in Man-Han Feast. Shandong people made the braised trotters into a famous local delicacy in Qingdao by combining local dietary characteristics. Meat from the Qingdao's braised trotters can be peeled off easily.
Characteristics: it is chewy and tasty.
Recommendation: Fusheng Hotel
Address: No. 3 Minhang Road, Chengyang District, Qingdao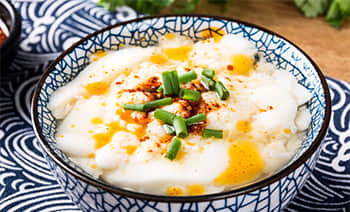 2. Tofu pudding
The characteristic breakfast favored by local people includes a traditional tofu pudding, shrimp, pickles and stewed soup. The bean scent of tofu pudding is a promise of a smooth snack.
Characteristics: it is salty but not greasy and is full of bean scent.
Recommendation: Shifujia (2nd Zhangzhou Road Branch)
Address: No. 85, 2nd Zhangzhou Road, Shinan District, Qingdao
3. Seaweed Jelly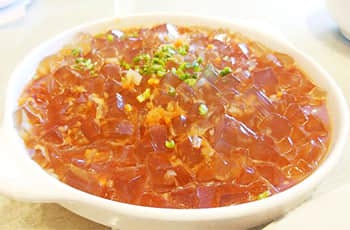 Seaweed jelly is one of the top ten famous delicacies in Qingdao. Different from the ingredients used in Shaanxi or most of the northern area, Qingdao Jelly is made from a unique seaweed. The long boiled seaweed is nutritious and tasty and is a delicacy for all seasons. Local people especially love this delicacy in summer because it is cool and delicious.
Characteristics: it is smooth and delicious.
Recommendation: Wanxin Restaurant
Address: No. 10, Minzu Road, Sinan District, Qingdao
4. Three-ingredients Fried Dumplings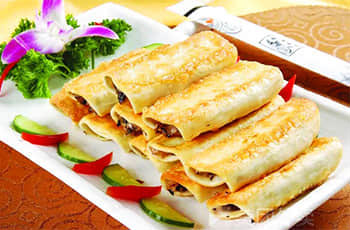 This is one of the traditional local delicacies. Pork, Chinese chives, dried shrimps, and dried scallops are the ingredients. The quality of three-ingredients fried dumplings is a verification of a good cook. The wrap has to be thin, and the stuffing has to be delicious and not greasy.
Characteristics: the skin is thin and the pork is tender and delicious.
Recommendation: Wang's Sausage and Fried Dumplings
Address: No. 48, Taidong Pedestrian Street, Shibei District, Qingdao
5. Chicken Soup & Wonton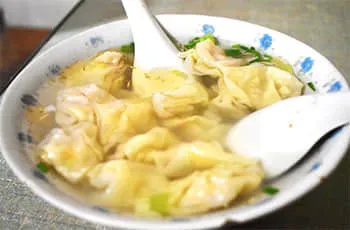 This traditional Chinese food originated in the north, but got carried all the way to Shandong. It really feels great when the delicious chicken soup and the wonton meet. Of course, coriander can bring even more fragrance to it.
Characteristics: it is chewy and the broth is rich.
Recommendation: Qian's Wonton (Jiangxi Road Branch)
Address: No. 32, Jiangxi Road, Shinan District, Qingdao
6. Sweet Congee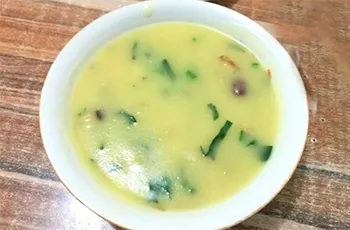 The congee is a kind of salty (not sweet) porridge cooked with millet flour, and is also called "Five-Scent Sweet Foam". The well-soaked and ground millet is cooked with peanuts, kidney beans, red beans, vermicelli, tofu skin and spinach. Tourists can eat the congee with deep-fried cake shallot or sesame pan cakes.
Characteristics: The millet is soft and fragrant. The congee is salty and refreshing.
Recommendation: Daoqiu Dumplings
Address: No. 3B, Wenshang Road, Shinan District, Qingdao
7. Spanish Mackerel Dumplings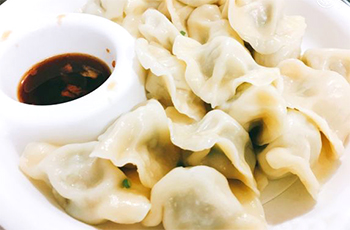 Spanish Mackerel Dumplings are a lovely local delicacy. Spanish Mackerel arrive offshore at Qingdao every spring. The tender, delicious meat at that time is loved by all Qingdao people. The fish is sliced into small cubes and the appropriate ingredients are added. When the dumplings are cooked they are quite crystal clear.
Characteristics: the fish is tender and delicious. It is fragrant and not greasy.
Recommendation: Daqinghua Dumplings
Address: NO. 56, Hong Kong Middle Road, Shinan District, Qingdao
Have a question?
OR
Are you eager to begin your Chinese cultural journey?
Drop us a line and we will promptly connect you with our leading China expert!