Qingdao, the coastal city of Shandong Province, features lush forests in all seasons. Located on the southeast coast of the Shandong Peninsula and the eastern part of the Jiaodong Peninsula, it is the frontier of the China-Japan-Korea Free Trade Zone, with the Yellow Sea on its east and the Korean Peninsula right across the sea. The city has Yantai, Weifang and Rizhao on its northeast, west and southwest side respectively. As the center of Shandong, and a critical coastal city of the country, Qingdao is also known as a coastal holiday tourism city, and an international port city.
Basic Facts
English Name: Qingdao (Tsingtao)
Chinese Name: 青岛 (qīng dǎo)
Government: Vice-provincial-level city
Location: East China (120°19'E,36°04'N)
Area code & Zip Code:
Area Code:0532;Zip Code:266000
Airports:Qingdao Liuting Airport
Railway Stations:
Qingdao Railway Station, Qingdaoxi Railway Station, Qingdaobei Railway station, Huangdao Railway station, Sifang Railway station
Port:
Qingdao International Cruise Home Port
Suburban Districts: Shinan, Shibei, Huangdao, Licang, Laoshan, Chengyang
Population: about 9.3million
Best time to visit Qingdao
Located on the coast of the Yellow Sea, Qingdao is especially affected by the marine climate. Hot days with a daily maximum temperature higher than 30°C are rare. So Qingdao is rarely hit by the heat. However, the winter in Qingdao lasts longer and the temperature is relatively lower. Therefore April to October is the best time to travel to Qingdao. During this period, the sea is warm, the sand is always fine, and there is no strong sunshine or high temperatures. This is the golden season for seaside tourism.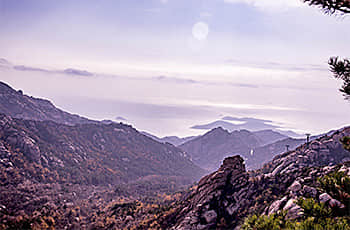 Scenic Spots
1. Laoshan Scenic Area: Laoshan is located in the eastern part of Qingdao. Laoshan is adjacent to the Yellow Sea on its east and south sides. With its reputation of "the top mountain on the sea", its highest peak is 1,133 meters above sea level. Majestic, spectacular, peculiar and beautiful, Laoshan has become a famous Taoist mountain. The Taoist temple on the top offers a great view of natural scenes such as the sunrise and sunset. The scenic area of Laoshan includes: Jufeng (grand peaks), Liuqing (clear brooks), Taiqing (advance Taoist status), Qipanshi (go board), Yangkou (a gap between mountains), Beijiushui (North Jiushui Resort) and Hualou (a pavilion).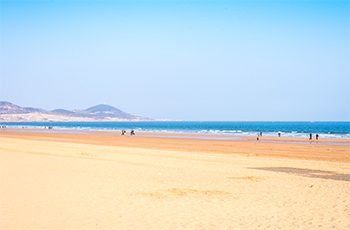 2. Golden Sand Beach and Island: these have been named for the fine quality of the sands. The sand here is probably the best in Qingdao, and it is even finer than at the sea baths in the city. Golden Beach features a vast coastline, which enables tourists to be far from the hustle and bustle. The Golden Beach Cultural & Tourism Festival is held every summer. The fine sand is the most attractive characteristic of Golden Beach. You can walk or run barefoot and enjoy the softness under your feet.
3. Qingdao Underwater World: This attraction is located on the west side of the First Bathing Beach, and is a theme venue that displays the underwater environment and marine life. Here in the venue, tourists can see live marine life and biological specimens. There is also a fantastic underwater performance, which is great for kids.
Natural Scenery
| | | |
| --- | --- | --- |
| Qingdao Zhongshan Park | Signal Hill Park | Qingdao West Coast Ecological Eco-tourism Park |
| Qingdao World Horticulture Expo Park | Dazhushan Scenic Area | Langyatai Scenic Area |
Cultural Attractions
| | | |
| --- | --- | --- |
| Qingdao Qianqiao Pier | Eight Great Passes | Qingdao Haichang Polar Ocean Park |
| Qingdao International Sailing Center | Qingdao Beer Museum | Qingdao Site Museum Of The Former German Governor's Residence |
How to get there
You can fly to almost any major city in China from Qingdao Liuting International Airport. In addition, it is an important portal to Korean and Japanese cities. You can fly to Qingdao Liuting International Airport, or tourists can choose Qingdao Railway Station, Qingdao West Railway Station and Huangdao Railway station as their destination.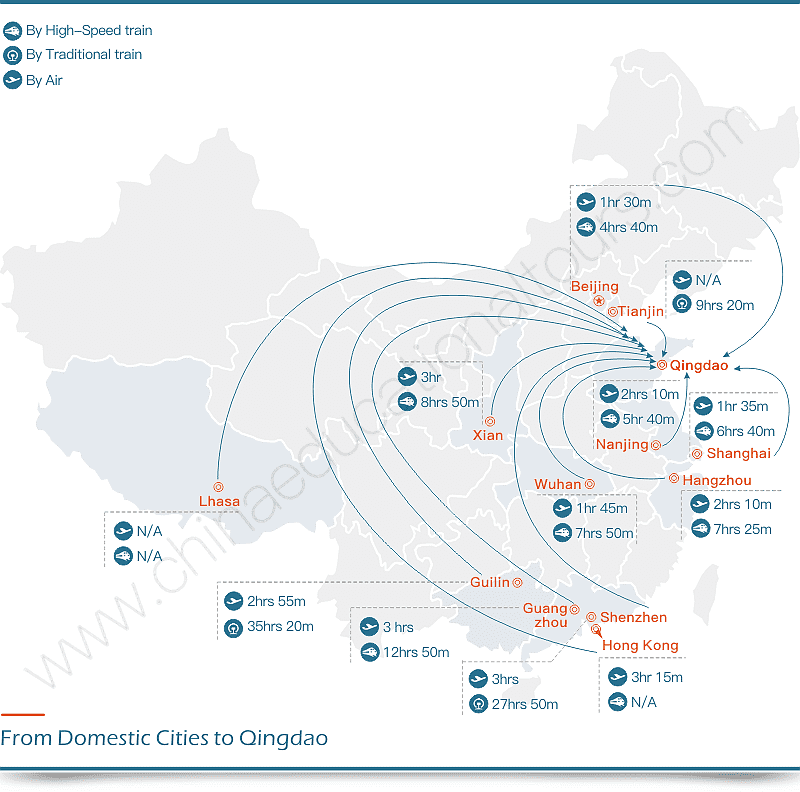 | Cities | Distance from Qingdao (km) | By Air to Qingdao | By High-Speed Railway to Qingdao |
| --- | --- | --- | --- |
| Beijing | 668.6 | 1hr 30m | 4hrs 37m |
| Shanghai | 721.3 | 1hr 35m | 6hrs 41m |
| Shenzhen | 1929.5 | 3hrs | No direct High-Speed train, traditional train about 27hrs 48m |
| Guanghzou | 1907.3 | 3hrs | 12hrs 49m |
| Hangzhou | 819 | 2hrs 10m | 7hrs 24m |
| Nanjing | 572.6 | 2hrs 10m | 5hrs 42m |
| Hong Kong | 1984.8 | 3hrs 15m | No direct High-Speed train |
| Xian | 1186.2 | 3hrs | 8hrs 49m |
| Wuhan | 1073.8 | 1 hrs 45m | 7hrs 49m |
| Tianjin | 536.9 | No direct flight | No direct High-Speed train, traditional train about 9hrs 20m |
| Lhasa | 3934.4 | No direct flight | No direct High-Speed train |
| Guilin | 1927 | 2hrs 55m | No direct High-Speed train, traditional train about 35hrs 19m |
Gourmet Food in Qingdao
Pork Ribs & Rice: As one of the top ten famous dishes in Qingdao, the properly prepared pork is cooked on the bones, and this dish has become very popular with tourists. After a few decades, many eateries can be found down the streets.
Sauce Trotters: Sauce trotters evolved from a traditional delicacy into a famous local snack in Qingdao. The meat is soft and chewy, fragrant and not greasy. Its attractive color draws many people. You can always find sauce trotters on the street and the distinctive aroma can be sensed from far away.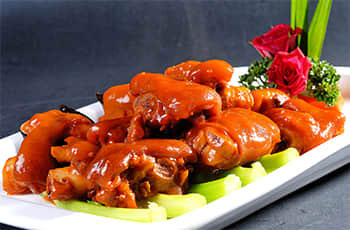 Sauté Cabbage with Prawns: This Qingdao specialty belongs to Shandong Cuisine. Although the ingredients are simple, they can be prepared in different ways. They may taste different, but they are always delicious. The dish is sold in many local restaurants.
Three-ingredients Fried Dumplings: This traditional Qingdao delicacy has as its main stuffing pork, dried shrimps, seaweed, scallops, and so on. They are fragrant but not greasy. Many people love that dish and it is available at eateries all along the streets, so you can never miss it.
Souvenir and Shopping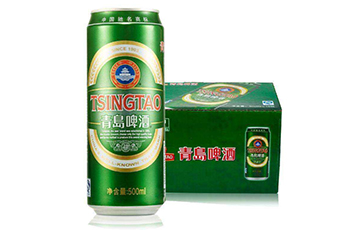 1. Tsingtao Brewery: Tsingtao Brewery is China's long-established brand and the best known trademark in the Chinese beer sector. The Brewery uses high-quality raw materials and unique strains and the beer is carefully brewed with classic brewing craftsmanship and unique techniques. The foam is white, delicate, clear and bright, and the body is mellow and soft, fragrant and refreshing. The brand is well-known at home and abroad.
2. Laoshan Yunfeng Tea: This is a kind of green tea with leaves picked from Laoshan. The tea is processed with modern techniques. Lushan's unique geographical environment, fertile land, and high-quality water source are all ideal for tea cultivation. Its color, fragrance, taste and shape are great. The tea is good for heart and eyesight, and it refreshes people from fatigue.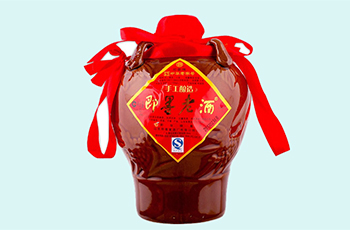 3. Jimo Alcohol: This is produced in Jimo County, Shandong Province, and was previously called Lao Alcohol. As a yellow wine, its main raw materials are glutinous rice, wheat starter (called qu) and water. This wine is unique in flavor, warm and mellow. People believe that moderate drinking can help build your body and enhance metabolism. Those with an interest in alcohol often come for a taste of Jimo Alcohol.
4. Shell carving: Rare shells in Qingdao are used as raw materials to be processed into paintings, jewelry and tourist souvenirs by using the natural luster, patterns and shape as well as materials such as jade, wood carving and inlaid with mother of pearl. Products include the scrolls and wind screens with the themes of flowers, birds, figures, natural scenes and inanimate objects.