CET-06:

12 Days Shanghai - Tibet - Xian - Beijing Tour

This trip brings you China's acclaimed attractions, rich culture and history, and local people's life style.Shanghai, as your first stop, takes you to see the big changes in China nowadays.And then to Tibet, from where you can see highland scenery and learn more about Buddhist culture. It is also on the must-see list for Chinese people.Next you will go to Xi'an and Beijing to visit historical sites from hundreds to thousands of years ago, which gathered the wisdom of Chinese ancestors. You will come back home with valuable memories.
Trip Highlights
Climb to the highest palace in the world – Potala Palace
Visit one of the three holy lakes in Tibet – YamdrokTso
Taste traditional snacks in Muslim Street
Get close to see the Terra-cotta Warriors
Practice Tai Chi at the Temple of Heaven
Visit a local family in Hutong Alleys
Suitable For: Family or Friends, Solo
Full itinerary for China Golden Triangle and Buddhist Pilgrimage
Day 1
Shanghai Arrival
Welcome to China's most developed city, Shanghai. You will be greeted by your personal guide at Pudong International Airport (PVG) and transferred to your hotel.
Day 2
Shanghai: City Tour (breakfast & lunch)
Morning
Follow your guide to explore the beauty of Shanghai, observe the interesting conflicts of old and modern architecture. You will firstly learn the history of Shanghai by visiting Shanghai Museum. It is right in the city center and near People's Square, which is famous for the "Blind Date Corner" on weekends. Yu Garden represents the great wisdom of ancient Chinese people. It is a small private garden with exquisite design and setting. Yuyuan Market, next to the garden, is an ideal place to have a first taste of local people's lifestyle.There are various traditional snacks and you can try Shanghai sheng jian bao and Shanghai dumplings for lunch.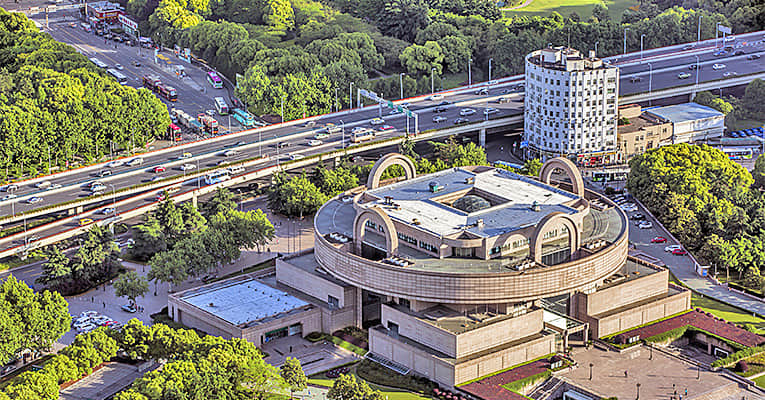 Shanghai Museum
Afternoon
Oriental Pearl Tower, one of the high-rises on the Pudong side of the city, is somewhere for you to enjoy a bird's-eye view of the whole city. Looking down through the glass deck is awesome.
Your day trip will be ended at The Bund by strolling along Huangpu River and being in the middle of the old multinational buildings and modern buildings on both sides of Huangpu River. Have a good rest for the early flight the next morning.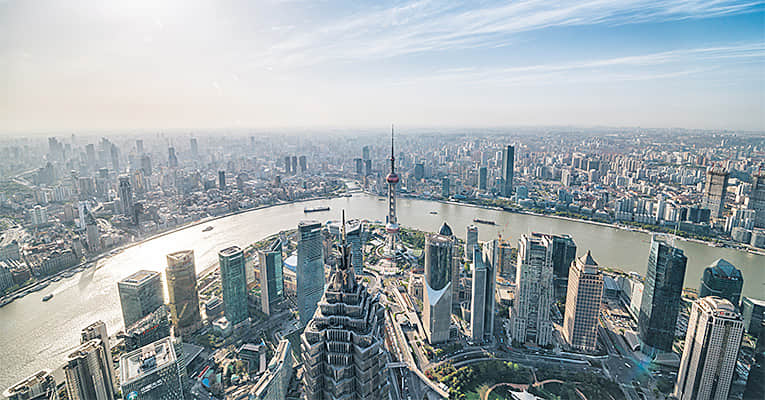 Oriental Pearl Tower
Day 3
Shanghai – Lhasa: on The Plane (breakfast)
Morning
You will have to get up early for the flight to Lhasa.There is no direct flight from Shanghai to Lhasa and you need to transfer in somewhere.
Afternoon
After arriving in Lhasa, your guide will take you to your hotel. Check-in and have a rest. You will need some time to get used to the plateau environment. You could however explore the neighborhood if you are feeling just fine.
Day 4
Lhasa: Monasteries(breakfast & lunch)
Morning
After breakfast, we will go to Drepung Monastery, which plays the most important role among three monasteries of the Gelug sect. You can admire the hand paintings made by the talented monks. If you happen to be there during 29th June to 1st July in the Tibetan Calendar (around August), you will have a chance to attend the huge event – Shoton Festival, when a Buddha exhibition ceremony will be held at Drepung Monastery. Next we will go to Norbulingka to see the so called Summer Palace in Lhasa where the Dalai Lama spent his summer time.It is a typical Tibetan garden. Have a traditional meal for lunch.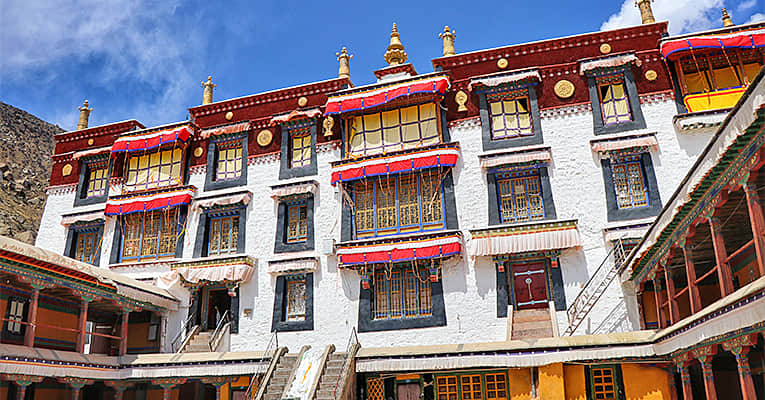 Drepung Monastery
Afternoon
We will visit Sera Monastery and catch an interesting debate about Buddhist knowledge at 15:00, which is their routine from Monday to Friday. You may not understand what they are arguing about nor the meaning of their body language. Still you will be attracted to them. That is an end of the day.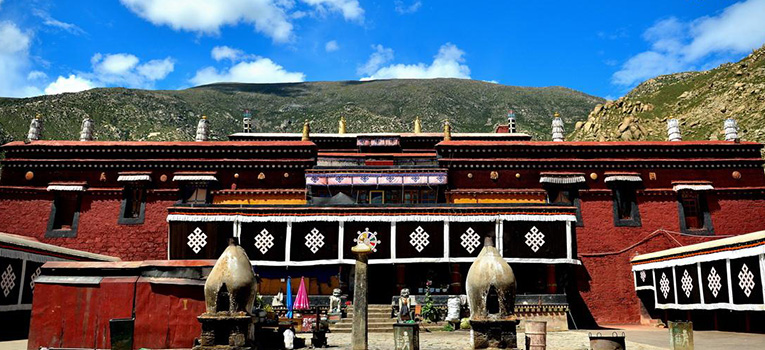 Sera Monastery
Day 5
Lhasa: City Tour (breakfast & lunch)
Morning
Today is a big and exciting day for you. The magnificent Potala Palace is close at hand.Originally built 1300 years ago, Potala Palace is a museum of Buddha statues, valuable murals and antiques. For Tibetan Buddhists, this is a sacred place, and they would gladly give everything they have to be able to visit and be involved in the monks' worship. Take your time to feel the long history, the story of Buddhism and the great architecture style.(Notes: the visit time is limited to one hour.) Have lunch at a local restaurant.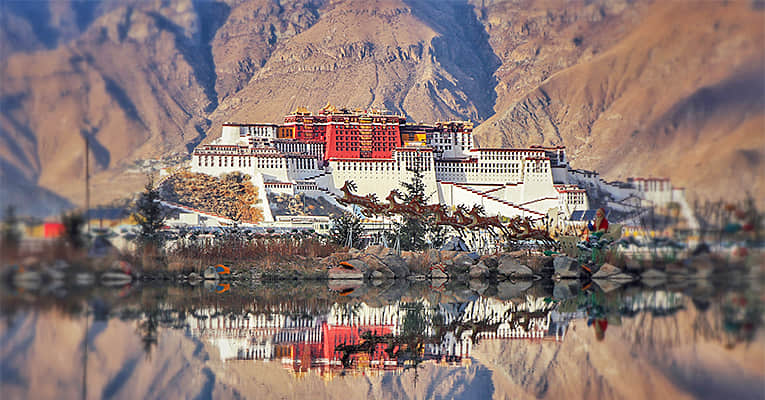 Potala Palace
Afternoon
You are going to visit Jokhang Monastery, located in the center of the city, surrounded by Barkhor Street, which has a mixed architectural style of Tibetan, China's Tang Dynasty, Nepalese and Indian. On the square outside the monastery, crowds of worshipers prostrate themselves in prayer, turn their prayer wheels, and bow to Buddhist statues. You can shop in Barkhor Street.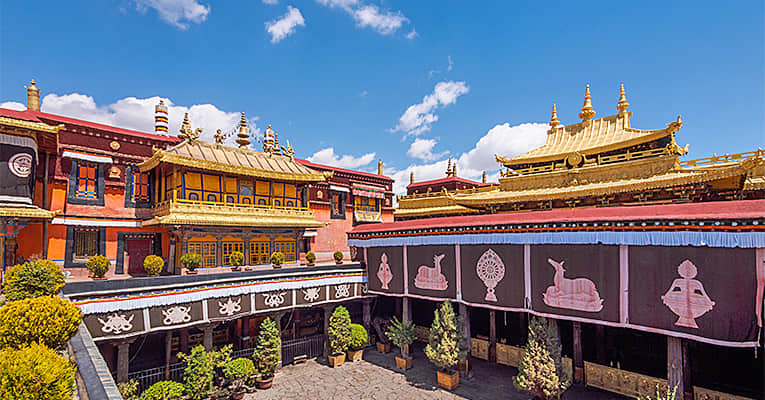 Jokhang Monastery
Day 6
Lhasa / Nagarzê County: YamdrokTso (breakfast & lunch)
Morning
Start this day at around 10:00.We will drive you to Nagarzê County where the beautiful YamdrokTso is located and around two hours' on the road. YamdrokTso means "jade lake" in Tibetan. Just like the meaning of its name, the water is verdant . It looks like a piece of emerald inlaid in the snow plateau. En-route you will pass by Gonggar airport and YarlungTsangpo to enjoy the landscape. Have a simple lunch on the way.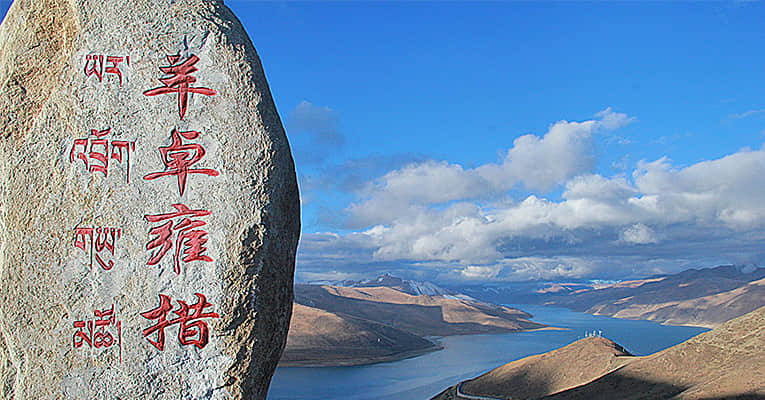 YamdrokTso
Afternoon
Continue driving over mountains and through mountain villages. You will arrive on the east bank of YamdrokTso. We stop there for a rest and you can take some photos of the incredible scenery. And then we will go to the west bank, from where you will have a panoramic view of the lake from the first observation deck. Your last stop is at Mount Gangbala viewing platform to appreciate the cascade mountain, sea of clouds, and the lake leaning against the mountain. Back to Lhasa at around 18:30.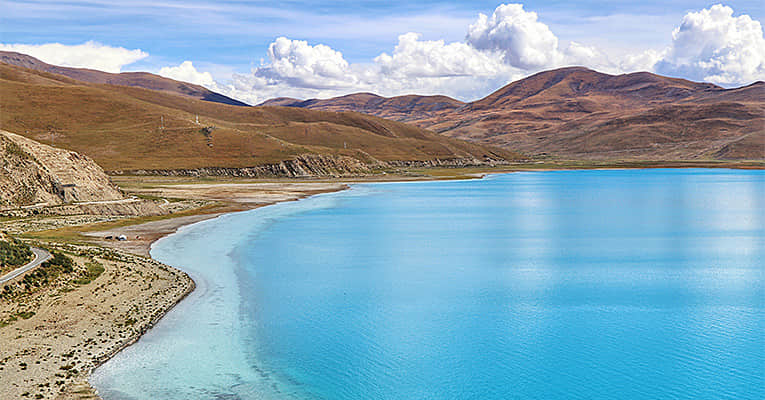 YamdrokTso
Day 7
Lhasa - Xi'an by Plane: on the Plane (breakfast)
Morning
After breakfast, the guide will pick you up at the hotel lobby according to your flight's schedule and take you to the airport. Board your flight to Xi'an.
Afternoon
On your arrival in Xi'an, be welcomed by our Xi'an guide and taken to your hotel. Enjoy your free time for the rest of the day.
Day 8
Xi'an: History and Culture (breakfast & lunch)
Morning
As one of the most important capital cities in China's long history, Xi'an has a lot for you to discover. The most well-known historical site, the Terra-Cotta Warriors and Horses Museum, is located 50km northeast of Xi'an city. Thousands of life-size clay soldiers, horses and chariots make this the greatest archeological discovery of the 20th century. Have Shaanxi characteristic pasta for lunch.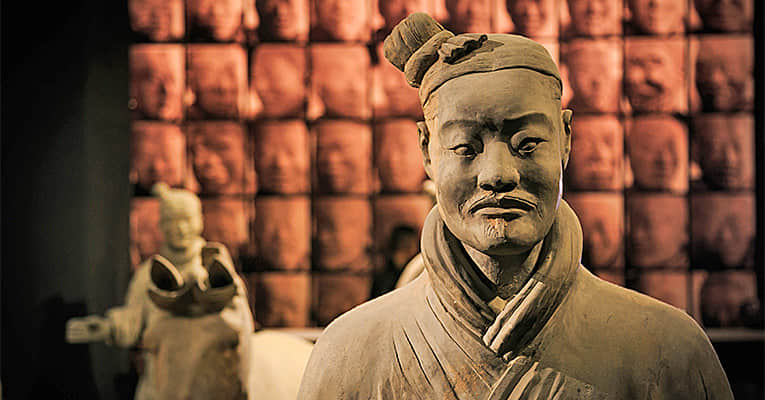 the Terra-Cotta Warriors and Horses Museum
Afternoon
Return to the city to visit the Ancient City Wall, the best-preserved ancient city wall, firstly built in the Ming Dynasty. A biking tour on the big wall provides you with the chance to see both old and modern Xi'an. Your day will end at the Muslim Quarter. It is a residential area of Chinese Muslims and now a widely known street for souvenirs and a variety of popular local snacks.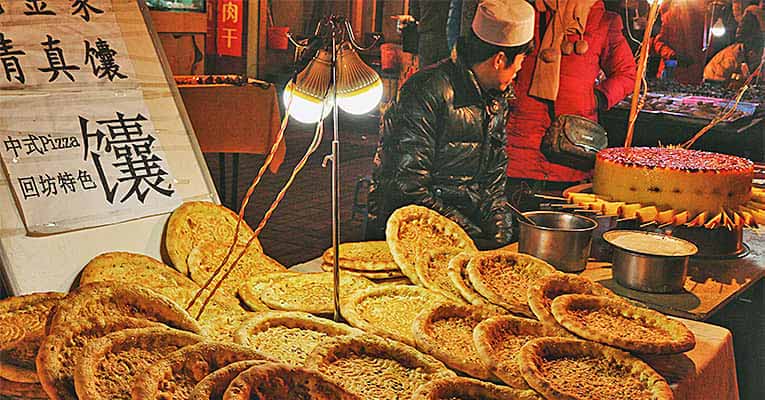 the Muslim Quarter
Evening
Recommended activity:
1. The music fountain at the north square of Big Wild Goose Pagoda is free to the public. You can stroll around it after dinner to experience local life.
2. Tang-Dynasty Palace Music and Dances is a performance that was re-created by many famous artists in Shaanxi province, displaying the essence of music, rhythm, and dance art in the Tang Dynasty.
Day 9
Xi'an – Beijing by Speed Train: City Tour (breakfast & lunch)
Morning
After breakfast, you will visit the Small Wild Goose Pagoda. It is the same architecture style with the Big Wild Goose Pagoda, but much quieter with less tourists. It is a typical work of the square Miyan style brick pagoda in early China and is Buddhist architectural art heritage of the Tang Dynasty. You can learn how Buddhism was introduced into the Central Plains and integrated into the Han culture. And then you will have a chance to watch a Shadow Puppets Show, which is a kind of folk drama. It tells stories in silhouettes of characters made of animal skins or cardboard. Have lunch at a local restaurant.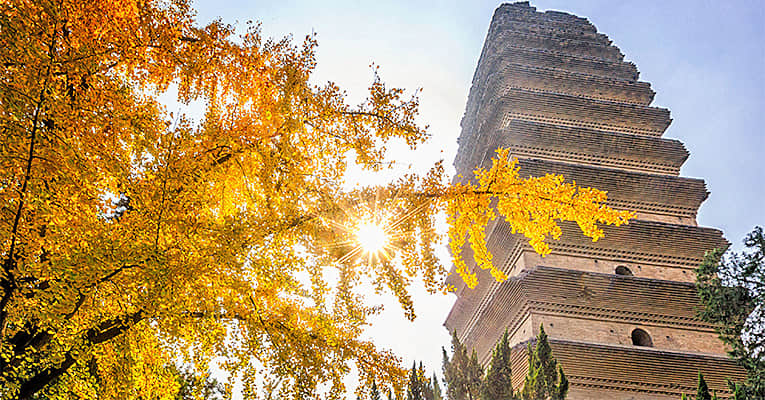 the Small Wild Goose Pagoda
Afternoon
After lunch, our guide and driver will escort you to the railway station to take a speed train to China's Capital City, Beijing.
Evening
Our Beijing tour guide will pick you up with your name sign at the exit on your arrival. Hotel check in, and have a good night.
Day 10
Beijing: Historical Sites (breakfast & lunch)
Morning
After breakfast, you can amble around the Temple of Heaven to admire the buildings in this historical park. It is open for locals to do their morning exercise. Follow a Tai Chi master to practice Tai Chi, an old Taoism philosophy to balance Yin and Yang in your body. And then we will go to the Mutianyu Great Wall by private vehicle.Lunch will be arranged at a farm on the way.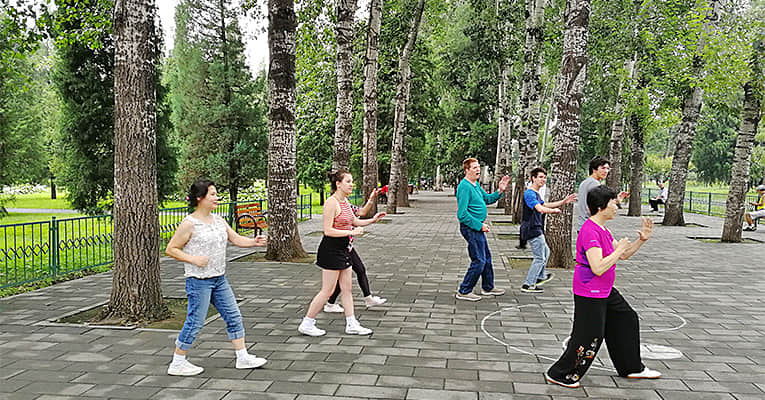 practice Tai Chi in the Temple of Heaven
Afternoon
The Great Wall of China, a series of fortifications to protect ancient China from northern nomads, is one of the seven wonders of the world. Mutianyu Section of the wall is popular for its less crowds and magnificent view. After that, return to your hotel.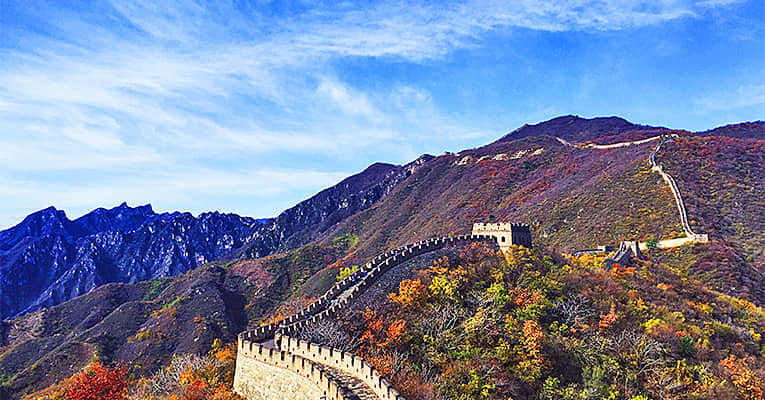 the Mutianyu Great Wall
Evening
Recommended activity:
1. The Legend of Kungfu premiered in 2004. In contrast to the traditional Kungfu show, it demonstrates Kungfu through dramatic stories. The group also tours abroad and has a good reputation.
2. Acrobatics at Chaoyang Theater was founded in 1984. Their performances have won more than 30 awards at home and abroad. "Blue And White Porcelain" (balancing a stack of bowls on the head), which is one of them, was on the stage of the Spring Festival Gala in 2015.
3. Peking Opera is one of five major operas in China and the quintessence of Chinese culture with a history of near 200 years. It was only entertainment for the court in the beginning and then slowly opened to common people as well.
Day 11
Beijing: City Tour(breakfast & lunch)
Morning
The flag raising ceremony at the world's largest city square, Tiananmen Square, should not be missed. But you need to get up early in the morning.Enter the Forbidden City (Imperial Palace) from the south gate across Tiananmen Square and follow the central axis to visit all the important buildings. The historical stories and architecture styles are worth 3-4 hours' exploration. Have lunch at a local restaurant.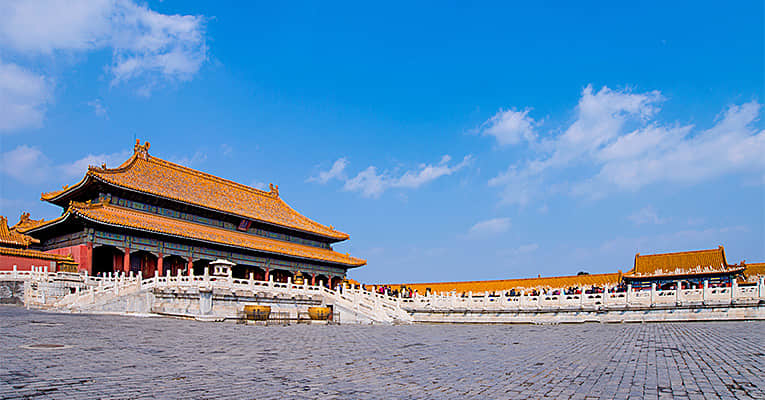 the Forbidden City
Afternoon
You will visit Jingshan Park, which is on the other side of the moat. The park is an ideal place to overview the whole Forbidden City. The afternoon is peaceful and a good time for you to enjoy a leisurely stroll around the Hutong Alleys and visit a local family. It is fun and allows you to interact with local residents.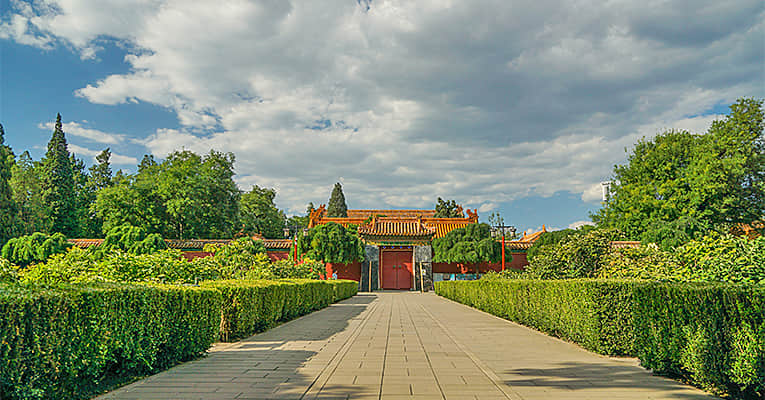 Jingshan Park
Day 12
Beijing Departure (breakfast)
The morning is free for you to do some shopping or packing before being transferred to Beijing Capital International Airport (PEK) for your flight home.
Featured Hotel
| | Comfortable | Deluxe |
| --- | --- | --- |
| Shanghai | Narada Boutique Hotel Shanghai Bund | Radisson Blu Hotel Shanghai New World |
| Lhasa | Bamapura Hotel Lhasa | InterContinental Lhasa Paradise |
| Xi'an | Grand Noble Hotel Xi'an | Wyndham Grand Xian South |
| Beijing | Penta Hotel Beijing | Regent Beijing |
What's Included
Enter Tibet Permit
Flight tickets from Shanghai to Lhasa; from Lhasa to Xi'an
Speed train ticket from Xi'an to Beijing
Hotel accommodation
All meals as listed in the itinerary
Entrance to the attractions
Overland transfer with experienced driver
Knowledgeable English speaking tour guides
FAQs
1. Is this trip recommended for seniors?
It depends on your physical condition. Seniors over 65 years old should consult your doctors before planning a trip to Tibet. The high altitude in major tourist destinations in Tibet is about 12000ft.
2. What's Tibet Permit? How can I get it?
Tibet Permit is an essential document to travel to Tibet as well as a China visa. Passport, China visa and your confirmed travel plan is required to apply for Tibet Permit, which is issued by the Tibet Tourism Bureau. It is suggested to apply at least 15 working days prior your arrival. If your China visa is not an L visa, some other documents may be required, such as working certificates. Please consult your travel advisor for more details.
3. Will the flight/train tickets be mailed to me?
All air tickets are E-tickets and only passports are required for check-in at airports. While train tickets are issued 1-2 weeks before departure, your tour guide will hand them to you when you arrive in the city.
4. As for the train travel, does anyone help me with the luggage?
Train stations in China have lots of steps and some don't even have a escalator. In this case, you will find it is difficult to deal with heavy bags. We can hire a porter to help you to carry your bags on and off the trains as your guides can't get inside the train station without tickets.