XA-02:

2 Days Xi'an Terracotta Warriors tour from Beijing

Traveling from Beijing to Xi'an by speed train is much more than just a tour. This is your chance to learn all about China's long history as you visit a number of significant sites including Terracotta Warriors, and also to experience the most advanced railway system in China.
Trip Highlights
Knowledgeable guide to ensure an authentic experience
Carefully selected restaurants for authentic local food
Bike riding on the top of oldest City Wall
Take a close look at the thousand-year old Warriors
Suitable For: School, Family, Solo, Group
Full itinerary for Xi'an Highlight Tour from Beijing
Day 1
Beijing to Xi'an by Speed Train G653(0810-1401) (B,L)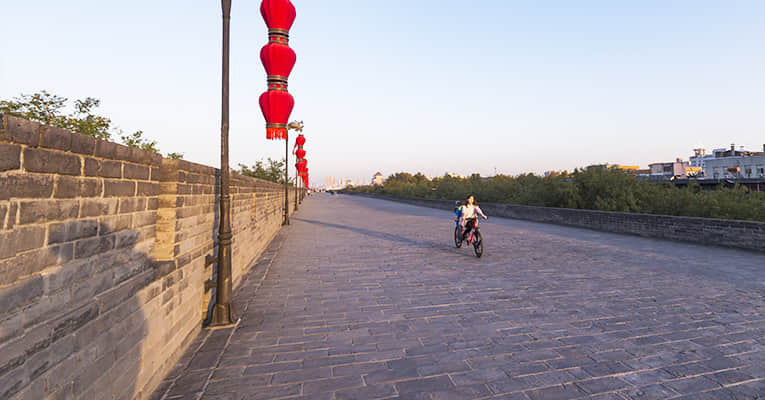 Riding along City Wall
Your train tickets will be delivered to the appointed spot in Beijing. Make sure that you arrive at the train stain at least 45 minutes before departure. The train ride is around 6 hours, and is also an interesting experience as you will meet some local people and talk with them. Upon arrival in Xi'an North Train Station, your guide and driver will be waiting for you outside the exit. In order to make use of every minute, your tour starts right away. You will visit the oldest and best-preserved Ancient City Wall. It is so wide that you can easily ride bicycles or have a rickshaw ride along it. Overlooking the inner and outer parts of the city from the wall, you could picture life in the prosperous period from the past. After a few minutes' drive, you will get to the busiest place in town, Muslim Quarter. More than 60,000 Muslim residents dwell around this area. As the starting place of old Silk Road in the Han Dynasty, the Muslim Quarter played a very important role. Nowadays, it is a must-see spot where you can find all kinds of local snacks, handcrafts and souvenirs. The Great Mosque is at the end of a side street. The evening is open so that you could try some local food, watch the fantastic Tang Dynasty Show or just explore the neighborhood. Feel free to ask your guide for recommendations.
Day 2
Terracotta Warriors Tour and Return to Beijing with Speed Train G674(1718-2306) (B,L)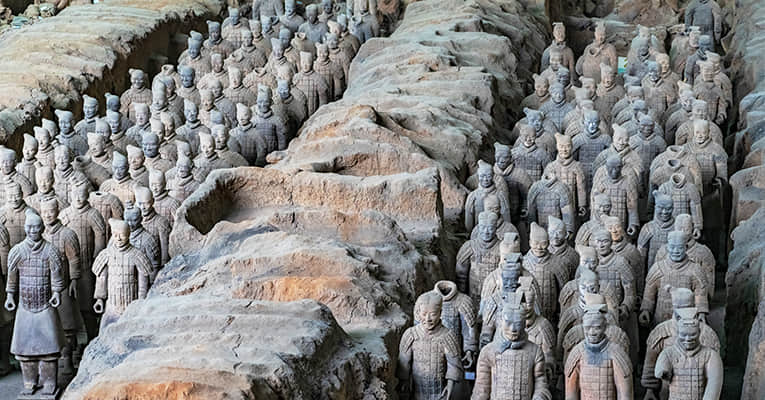 Terracotta Warriors
This exciting day starts with a leisurely breakfast in your hotel. Your guide will assist you with checking out and your driver will help to load your luggage. After a 1 hour drive, you will arrive at Chongde Handmade Pottery Factory. This is an opportunity for you to see the manufacturing process for making the Terra Cotta statues and try it with your own hands. There is also a show room of the replica Warriors, which would be lovely souvenirs to take home. Then it's time to see the real Terracotta Warriors and Horses. This is said to be the eighth wonder of the world and the greatest discovery in the history of archeology. Your guide accompanies you during the entire visit. You will watch a circular-screen movie introducing the historical background of the Qin Dynasty and how the underground miracle was discovered. And then while walking through the three pits, you will be amazed by the clay warriors, each with distinctive facial expressions, and the battle horses lined up in position. A simple lunch will be served in the Friendship Restaurant inside the museum. You will have the chance to try some typical Shaanxi food, such as cold dishes, Ramen (Hand-Pulled Noodles), and dumplings. Finally, you will be transferred to Xi'an North Station for the speed train back to Beijing.
What's Included:
Personal tour guide and transportation
Train station pick up and drop off
Meals as listed
Entrance fee to the listed spots
Hotel accommodation with daily breakfast
Hotel Options:
Standard: Grand New World Hotel Xian
Comfortable: Grand Noble Hotel Xi'an
Deluxe: Hilton Xi'an