XA-05:

5 Days Private Tour: trace back Xi'an's history and culture

Xi'an incorporates the richness of Chinese culture and there has remained the remnants of a city wall for 7000 years. You will not only see the well-known historical relics – the Ancient City Wall and the Terracotta Warriors and Horses – but you will also see a Shadow Play Performance, learn about calligraphy, and experience the traditional movable-type printing. It is easy to get to know the local life as it is nowadays by making homemade dumplings, strolling around the food streets, and visiting a local school. The combination of traveling and learning makes your trip more meaningful.
Trip Highlights
Make your own terracotta figurine in person
Try on the traditional Chinese Han clothing
Visit TangBo Art Museum with a collection of Shaanxi folk arts
Taste the local food in Yongxing Fang Food Street
See the different cultures blended in the Great Mosque
Suitable For: School Students, Travelers Going Deep into Ancient China
Full itinerary for Xi'an Educational Tour
Day 1
Xi'an Arrival
On your first day in Xi'an, you can take a rest or walk around the city after you check in to your hotel.
Day 2
Xi'an: City Tour (breakfast & lunch)
Morning
The Small Wild Goose Pagoda was just as important as the Big Wild Goose Pagoda in the Chang'an city of the Tang Dynasty. It is pleasant to spend one or two hours in the park where the Small Wild Goose Pagoda is located. Listen to the historical stories about this pagoda and watch an ancient folk art opera – a Shadow Play. You can also take a short visit to Xi'an Museum which is located next to the pagoda. It displays some interesting relics related to the ancient history of Xi'an in the Tang Dynasty.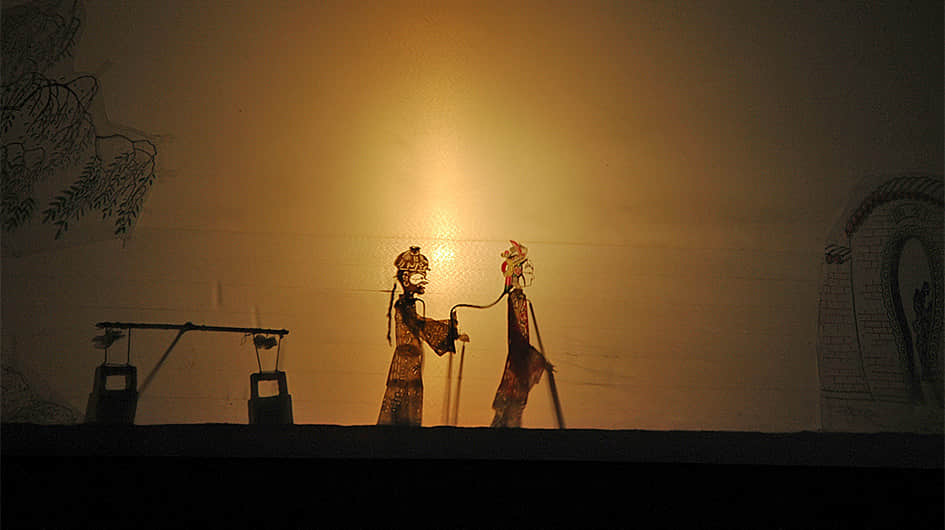 Shadow Play
Bring your mind back to the present, as you are welcomed into a local family's home. It offers a great opportunity to learn some basic skills of dumpling making, interacting with local residents, and a chance to experience the food culture. Enjoy your dumplings for lunch.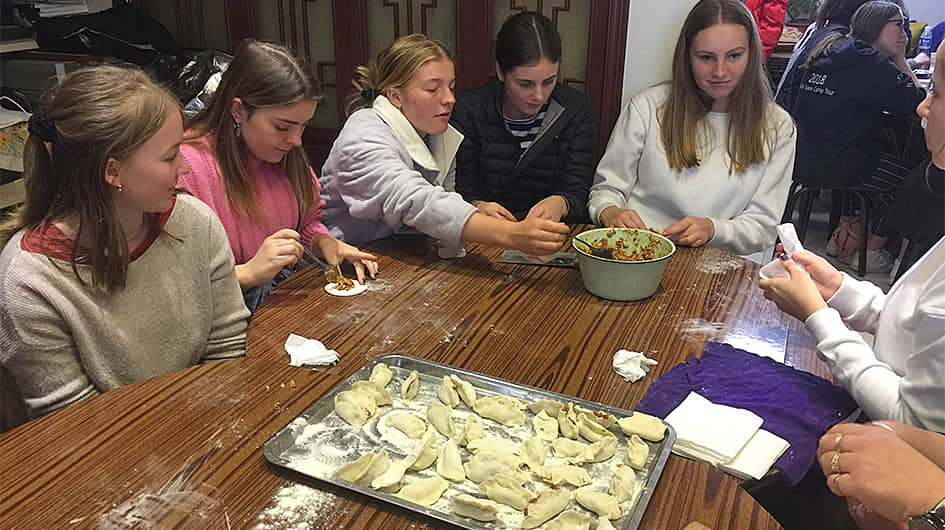 Dumpling Making at a Local Family's Home
Afternoon
After a lunch break, you will pay a visit to the Xi'an Ancient City Wall, which was built centuries ago to protect the central, or old, Xian city. From its top there are very nice views of both the old and new parts of Xi'an. Cycling on top of this wall makes the whole experience very different. How time flies, getting away from the hustle and bustle of the city.
It is a lovely way to end today in the Muslim Quarter. This was a place for the Muslims to gather and now it has turned into a snack street with a variety of Halal food. You can find your dinner there.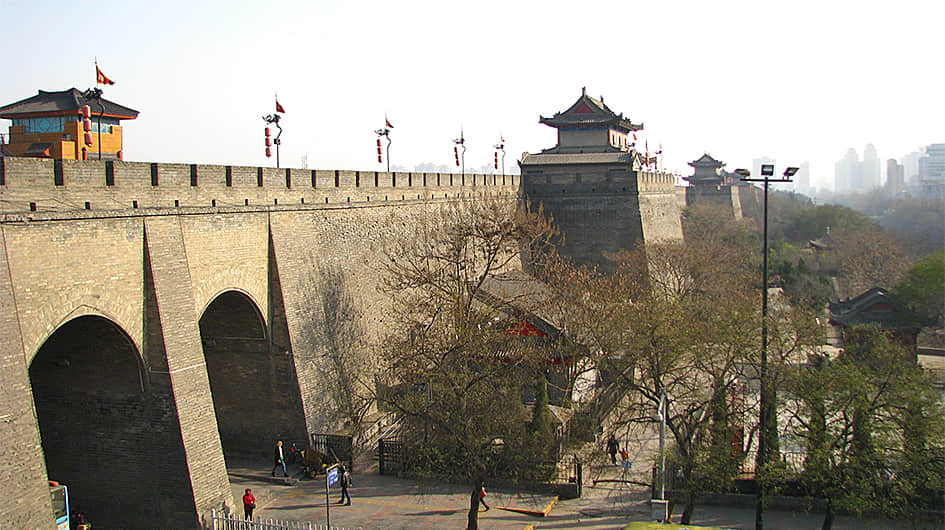 Xi'an Ancient City Wall
Day 3
Xi'an: The Terracotta Warriors and Horses (breakfast, lunch & dinner)
Morning
Today you will spend the majority of your time in The Museum of Qin Terracotta Warriors and Horses. The underground army of the Emperor of Qin consists of several thousand life-size figures, all made of terracotta. It is said that the Emperor Qin wanted to regain his power in the afterlife with this army. The most impressive part is that each soldier has individualized features if you look at them carefully.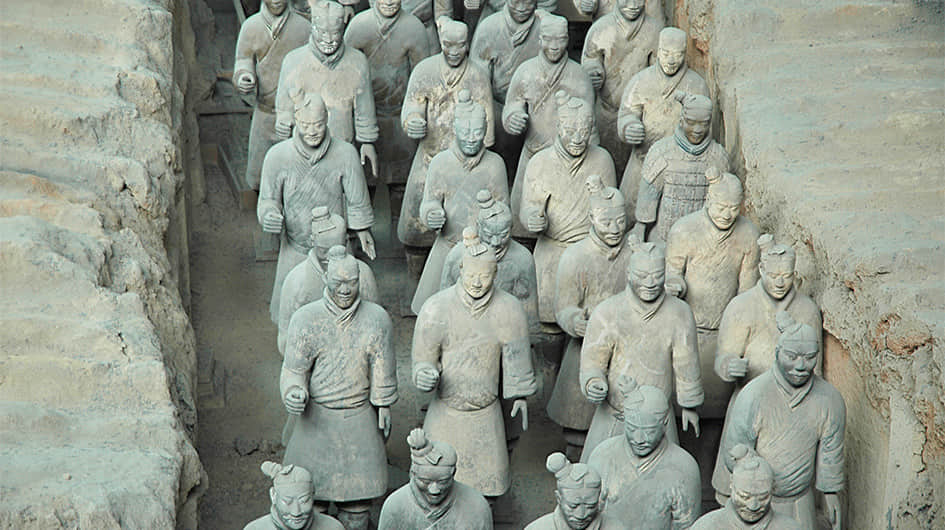 The Terracotta Warriors
Afternoon
Getting out of the museum, you will have a chance to make a terracotta figurine in person. There are three steps: kneading the clay, molding into a shape, and carving. You can keep the finished one as a memorable souvenir.
Finally, we will take you back to Xi'an city and try out some local snacks for dinner in Yongxing Fang. Like the Muslim Quarter, this place puts food, shopping and culture together, but mainly in the Han Chinese style.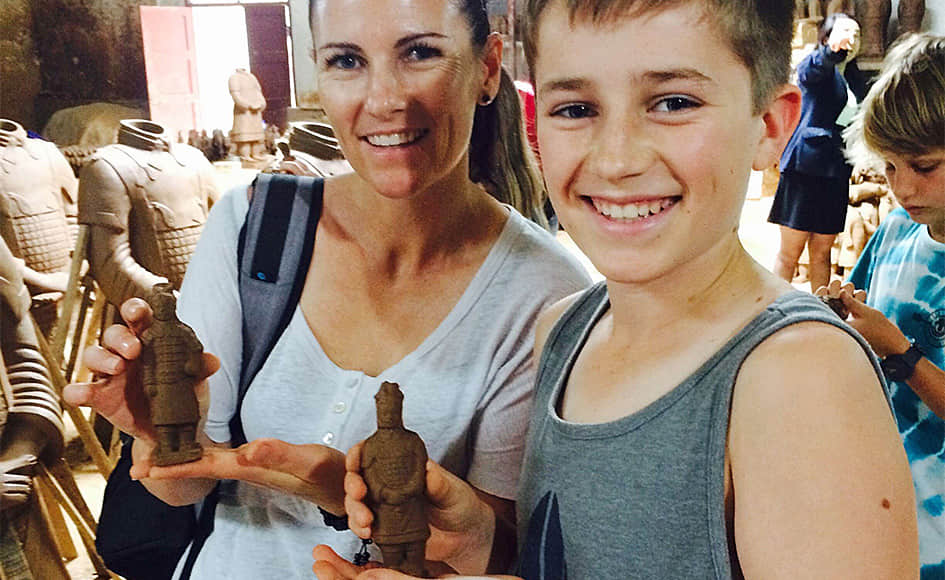 Make Terracotta Figurines
Day 4
Xi'an: Ancient and Modern Educational Culture (breakfast & lunch)
Morning
Walk into a local school, and you can feel free to have conversations with students and teachers. They will tell you what the school and after-school life is really like now in China.
TangBo Art Museum is a wonderful place to learn all about the artwork and Chinese history. It presents ancient shadow art, farm art, block painting, mask art, propaganda posters, silk paintings, and more. A calligraphy lesson is available there. You will start from how to hold a calligraphy painting brush and then how to apply the ink. This can be quite a challenge for foreigners, but well worth it to try it.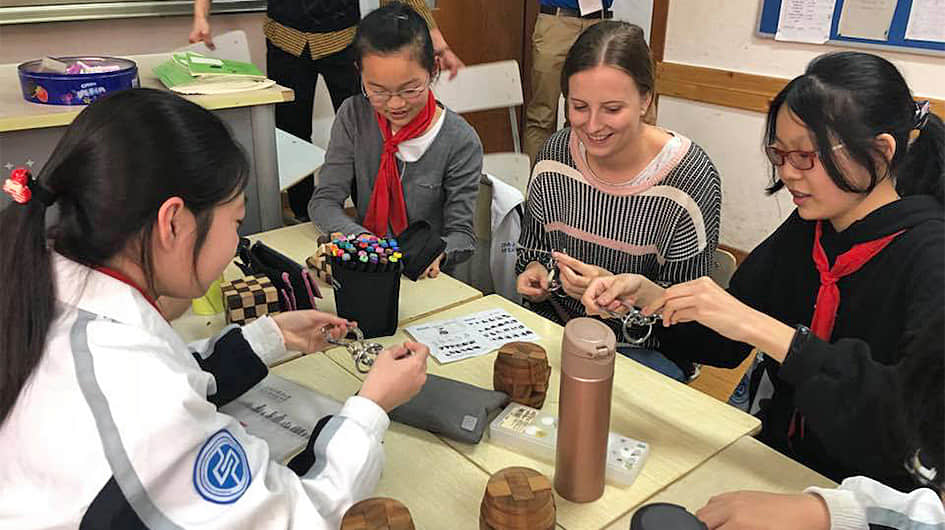 Interact with the Local Students
Afternoon
Guan Zhong Ancient Academy with a 400-year history, it has now re-opened to the public. It was originally a place for the study of Confucianism and was one of the 4 most famous Ancient Academies in China. Not only can you get to know more about the Chinese Academy Culture, but also try to do the traditional movable-type printing. There is nothing more exciting than putting on traditional Chinese Han Clothing.
In the heart of Xi'an's Muslim quarter, you will visit one of the largest Islamic mosques in China – Xi'an Great Mosque. It is still functional and keeps a peaceful and quiet atmosphere in the middle of the bustling inner city. There is a series of beautiful courtyards, each with intricate design details. It demonstrates a perfect balance between Islamic and Chinese architecture.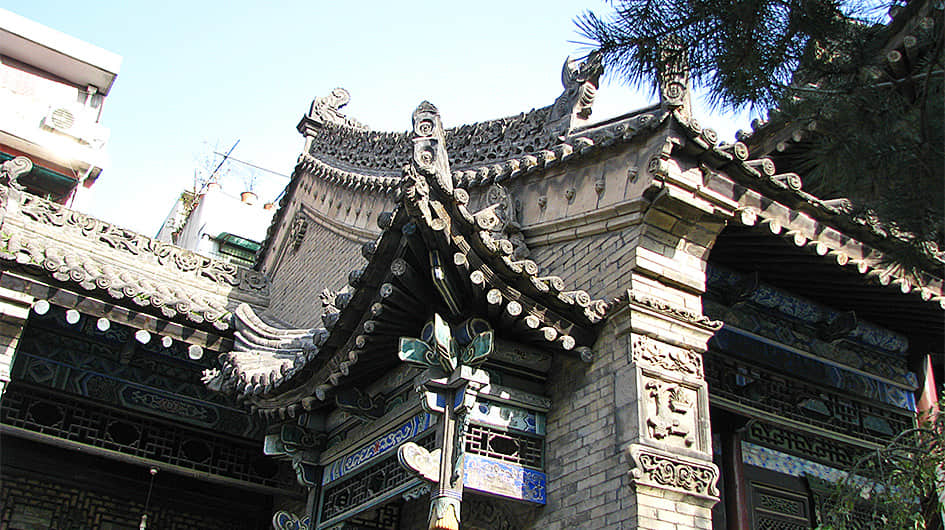 The Roof Decoration of Xi'an Great Mosque
Day 5
Xi'an Departure (breakfast)
After absorbing antique history over these three days, you will say goodbye to Xi'an. Go to the airport / train station accompanied by your guide and driver for your next destination.
Comfortable Hotel
Note: please feel free to contact our travel specialist if you prefer to stay at other categories of hotels.
What's Included
Professional English speaking tour guide
Entrance fee to all spots listed in the itinerary
Well selected hotel accommodation
Meals mentioned in the itinerary
Qualified driver and comfortable vehicle with air-conditioner