Helpful Info for Australian Travelers
Flights
The China National Tourism Administration shows that almost 800,000 Australians travelled to China in 2017. This means, there are many more flight options now than just 20 years ago. It's a 10-hour flight from Sydney to Guangzhou and 12 hours up to Beijing. Sometimes you can find very good deals on international flights; for example, from Sydney to Beijing for only about AUD450 round trip.
Here are the flight times and flight availability from several Australian cities to various destinations in China.
Departure City
Arrival City
Flying time
Non-Stop / Direct Flights
Sydney
Beijing
12hrs
Daily
Shanghai
11hrs
Daily
Guangzhou
9hrs 40mins
Daily
Hong Kong
9hrs 40mins
Daily
Melbourne
Shanghai
10hrs 40mins
Daily
Hong Kong
9hrs 40mins
Daily
Guangzhou
9hrs 45mins
Daily
Beijing
11hrs 45mins
Not daily
Perth
Hong Kong
7hrs 50mins
Daily
Shanghai
13 hrs
Not daily
Beijing
13 hrs
Guangzhou
8hrs
Adelaide
Guangzhou
9hrs 15mins
Not daily
Hong Kong
9hrs
Brisbane
Guangzhou
9hrs 5mins
Not daily
Beijing
14 hrs
Shanghai
10hrs 25mins
Hong Kong
9hrs 15mins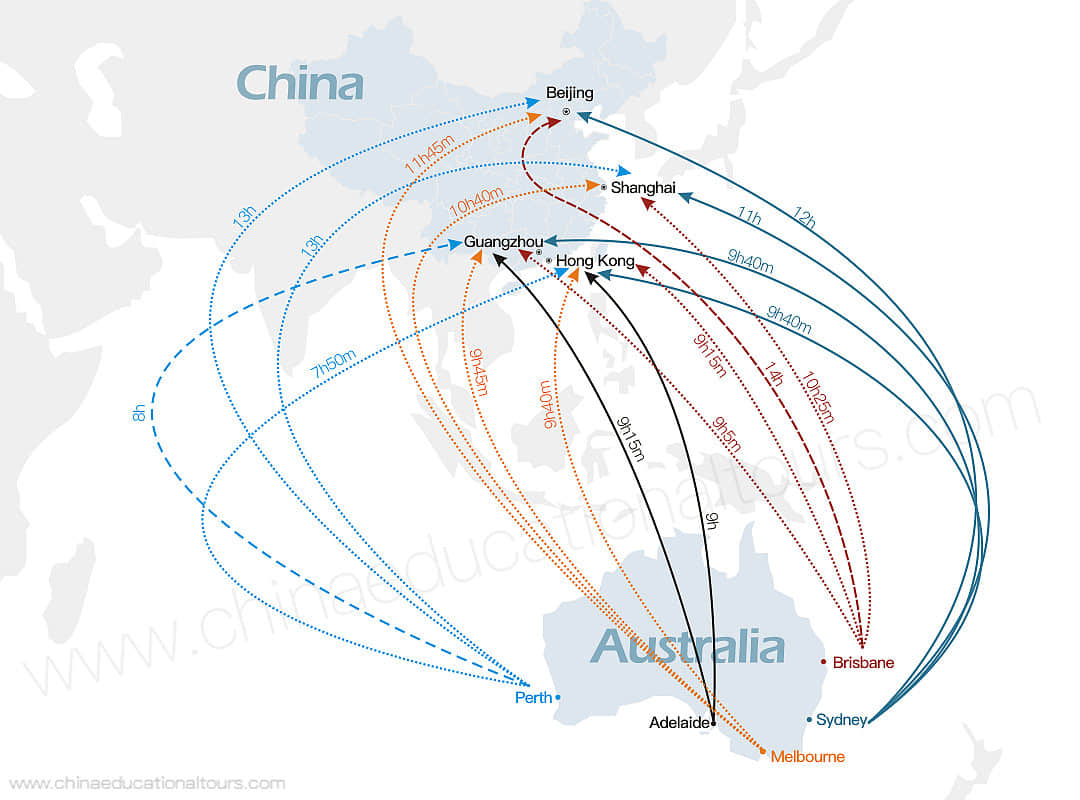 * The information above is for reference only. The actual flight time is based on the specific flight schedule on the travel date.
Tips on how to get a good deal on international flights
Book your international flight at least 30 days before departure.
Generally, the earlier you book, the better deal you can get. But, sometimes, there are last minute deals (within 30 days of departure).
Flights with at least one stopover are usually cheaper than direct flights and on average take about 3 to 5 hours longer.
Make sure you check not just the STATED online TICKET price, but the FULL online price including baggage fees, departure taxes, etc.
Our most recommended online flight booking websites are: Expedia, SkyScanner, and Kayak.
We also recommend checking the following airline's official websites: Qantas, China Southern Airline, China Eastern Airline, and Air China.
China Visa
Australian citizens generally need a visa to visit China's mainland (HK and Macau are Visa-free). There are some situations where Australians can get limited stay, visa-free entry into mainland China. Click here for more information.
Tourists need to apply for an L type Visa and the duration of each stay is 30 days.
You can check out this page to apply online China Visa Application Service Center or this page http://au.china-embassy.org/eng/ls/vfc/ for information.
There are 5 Chinese Consulate Generals in Australia located in Canberra, Sydney, Melbourne, Brisbane and Perth.
It normally takes 4 working days to process a tourist L visa and applicants need to factor in extra postal time (possibly 3-5 days for the return).
Overall, factor a minimum of 2 weeks from the time you apply, but it can possibly take more. Overnight and 2-day rush services are available, but prior approval is necessary for these services and is not guaranteed. Extra postage fees also apply.
For more information, like 144-hour and 72-hour visa-free transit.
Sample Costs for Traveling in China
| | | | | |
| --- | --- | --- | --- | --- |
| Meal for 1 person – inexpensive restaurant | Meal for 2 people - mid-range restaurant | McDonalds (per person) | Domestic Beer (500ml) | Bottled water (550ml) |
| 3-7AUD | 20-50 AUD | 6-9 AUD | 2-3 AUD | 0.5-2 AUD |
| Milk (250ml) | Banana (per kilo) | Apple (per kilo) | Flag-Down fare for taxis | |
| 1-2 AUD | 1-2 AUD | 2-5 AUD | 2-3 AUD | |