Shopping in Beijing
Beijing is on the list of the top 15 shopping capitals in the world, with more than 100 large and medium-sized shopping malls. As the center of culture in China since ancient times, Beijing retains the traditional handcrafts with typical eastern style while having well absorbed famous foreign brands and the products of young local designers into itself. From high-end stores to local markets, you always find something suitable for you. You may also be interested in Beijing's extraordinary antique markets. Let's see which shopping places are popular among both the locals and foreigners, mainly in Dongcheng, Xicheng and Chaoyang Districts.
Dongcheng District
The Malls at Oriental Plaza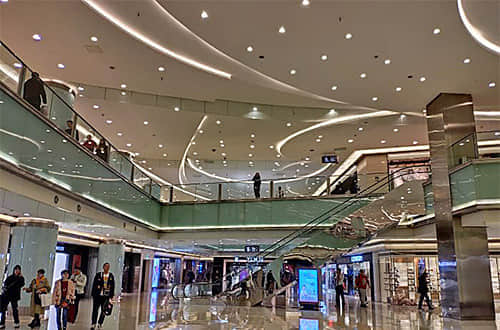 This is a comprehensive high-end mall in a prime location connecting Wangfujing commercial street and Dongdan commercial street. There are 7 themed shopping districts which cater to different consumer demands. You can find department stores, digital products, jewellery and accessories, restaurants, entertainment facilities, many local specialty shops, and well-known international retailers (E.Zegna, Charriol, Dunhill, KENZO, Paul Smith, Pal Zileri, Givenchy, Burberry etc.) on a higher budget. The food court with plenty of eateries on the lower floor is very popular and at a reasonable price.
Address: No.1, East Changan Avenue, Dongcheng District
Opening Hours: 10:00 – 22:00
How to get there:
1. Metro Line 1 and get off at Wangfujing Station (Exit C4)
2. Buses: 41, 60, Te 11, 128, 110, 116, 111, 108, 684, 106, 104 to Dongdan Lukou Bei
Wangfujing Shopping Street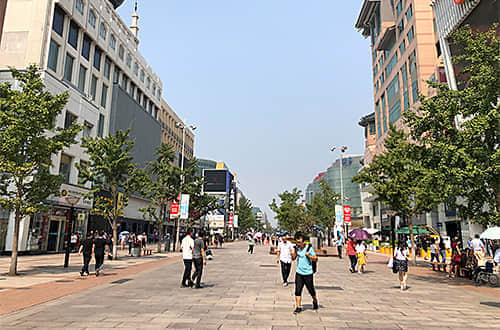 Wangfujing Shopping Street already has a reputation abroad and can be compared to the Eiffel Tower and Avenue des Champs-Elysées in Paris. Its prosperity can be dated back hundreds of years and many time-honored brands have remained. Tongshenghe Shoe Store, Shengxifu Hat Store, and Ruifuxiang Silk & Cotton Shop deserve to be mentioned. Three modern shopping malls have settled there for diverse interest. A Snack Street selling authentic Beijing snacks and food is an indispensable part of the shopping street. Bargaining is not appropriate in this shopping place.
Address: Wangfujing Dajie, Dongcheng District
Opening Hours of the Shops: generally from 10:00 to 22:00
How to get there:
1. The easiest way is to take Metro Line 1 to Wangfujing Station (preferably exit A).
2. Buses: 41, 52, 120, 140, Night Bus 1 or 17 to Wangfujing; or 103, 104, Te 11, Sightseeing Bus 2, Night Bus 18 or 21 to Wangfujing Lukou Bei
Qianmen Street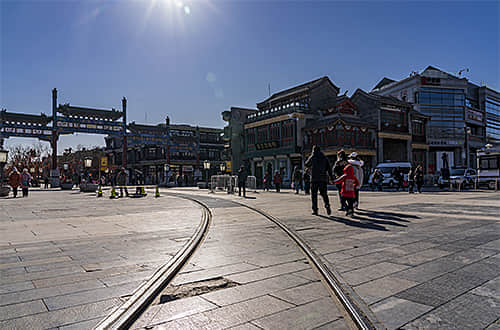 As one of the ancient streets, Qianmen Street is not only a shopping paradise, but is also great for sightseeing of the historical buildings. Boutiques lined up side by side run traditional old productions or fashionable brands, making a perfect fusion. Quanjude Roast Duck Restaurant is one of the famous old ones. This street comes alive at night with colorful lights. And you can choose to take the sightseeing trolley car through the street.
Address: Qianmen Dajie, Dongcheng District
Opening Hours of the Shops: generally from 10:00 to 22:00
How to get there:
1. Metro Line 2 to Qianmen Station (Exit B or C); Metro Line 7 to Zhushikou Station (Exit A or C)
2. Buses: 5, 8, 17, 20, 22, 48, 59, 66, 67, 82, 93, 120, 599, 622, Sightseeing Bus 1, Sightseeing Bus 2, Tourist Bus 1, Tourist Bus 2, Brt 1, Te 4, Te 7, or Te 11, to Qianmen Station
Xicheng District
Xidan Joy City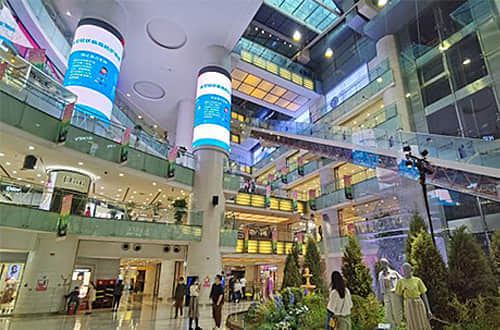 This 13-story shopping mall is located in Xidan Business Center near Tiananmen Square. It boasts the world's longest escalator, the largest digital cinema in northen China, and the biggest cosmetic supermarket in Beijing. Its fashion-forward decoration but mid range brands draw the local teens and middle income people. The imaginable brands include ZARA, H&M, GUESS, Folli Follie, UNIQLO, MUJI, I.T, Paul Frank, Apple Store, Oppo, Dell, Microsoft, SEPHORA, DHC, and The Face Shop. The huge selection of stores and restaurants (pan-Asian and Western food) and the overall relaxing atmosphere make for an unexpectedly pleasant day.
Address: 131 Xidan North Street, Xicheng District
Opening Hours: 10:00 to 22:00
How to get there:
1. Metro Line 1 or 4 to Xidan Station (Exit F1 Xibei Kou)
2. Buses: 52 to Xidan Lukou Xi, 1 to Xidan Lukou Dong, 22 to Xidan Shangchang
Xidan Commercial Street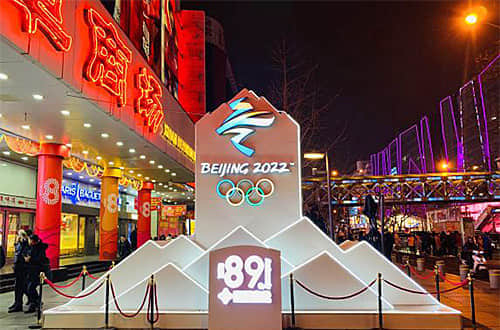 Xidan Commercial Street, Wangfujing, and Dashilar streets are three traditional business centers in Beijing. Xidan area focuses on the youth fashion elements and has the reputation of being a "shopping paradise for young people". Compared with Wangfujing, it is more of a "real" shopping place where the local teens mostly go to hangout and buy their latest fashion gear. Mega malls (Galeries Lafayette Beijing, Beijing Grand Pacific Mall, Hanguang Department Store, Xidan Shopping Center), good restaurants, markets, small shops, and entertainment centers can be found in this street. This is a harmonious blend of eastern and western, luxury and lower end budget shops all in one area.
Address: Xidan, Xicheng District
Opening Hours of the Shops: generally from 10:00 to 22:00
How to get there:
1. Metro Line 1 or 4 to Xidan Station (Exit F1 Xibei Kou)
2. Buses:
1, 52, 70, 83, 17 Express or Night Bus 1 to Xidan Lukou Dong
15, 22, 88, 102, 105, 109, 332, Te 13, Night Bus 4 or 10 to Xidan Lukou Nan
46 to Xidan Shangchang
Liulichang Antiques Street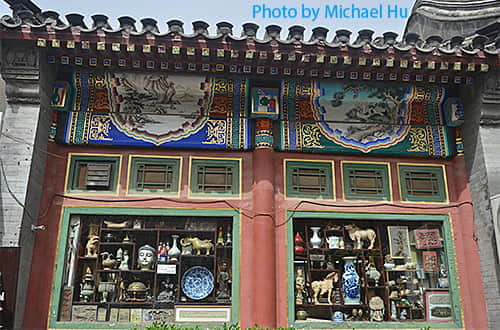 This is a street full of curios, calligraphy, painting and other artwork. Most of the provincial graduates who came to Beijing to take the imperial examinations stayed in this area in the Qing dynasty. Therefore, there were many shops selling books, calligraphy, paper and inkstones, forming a strong cultural atmosphere. Even if you do not buy anything, it is worth strolling along this peaceful and tranquil street. The well-known shops are Rongbaozhai, China Bookshop, Guanfu Classic Art Museum, Qingmige, and Haiwangcun. It is not recommended to buy "äntiques" there, unless you really can tell authentic from fake ones. Please remember to bargain for the best deals.
Address: Liu Li Chang Dong Jie, Xicheng District
Opening Hours: 9:00 to 18:00
How to get there:
1. Metro Line 2 to Hepingmen Station (Exit D1 or D2 Xinan Kou)
2. Buses: 7, 14, 15, 66 or 70 to Liulichang Station
Chaoyang District
Taikoo Li Sanlitun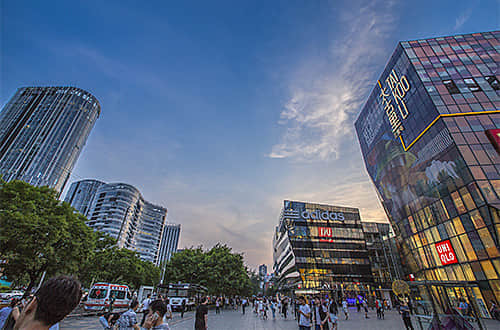 Taikoo Li is an open concept shopping mall with contemporary and art-filled design, which makes it one-of-a-kind in Beijing. The 19 individual buildings use bold dynamic colors and irregular three-dimensional lines. This place provides you with fun and vibrancy, presenting a modern China. Its innovative concept and design has also inspired merchants to open concept and flagship stores. Dozens of boutiques from many designer labels have their presence there. Without doubt, the usual international and Chinese brands satisfy some customers' needs. Spending the night at one of the trendy bars is also a choice.
Address: No. 11 and No. 19 Sanlitun Road, Chaoyang District
Opening Hours: 10:00 to 22:00
How to get there:
1. Metro Line 10 to Tuanjiehu Station (Exit A)
2. Buses: 113, 115, 431, or 701 to Sanlitun Station
Silk Street (Xiushui)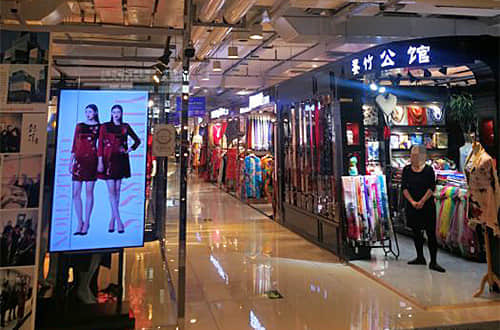 This market used to be set in an open-air street until 2005. Now it has been developed into a shopping mall with 6-stories, and it still appeals to foreign visitors and Beijingnese. If you are not a fan of luxury brands, this is the place where you can check it out. Counterfeit brand-name clothing, watches, bags and suitcases and more are the mainstream goods, while authentic Chinese silk clothes are for sale, like Tangzhuang suits and Cheongsam. Bargaining seriously for the fake ones in good quality is a daily routine in this market.
Address: No. 8, Xiushui East Street, Chaoyang District
Opening Hours: 9:00 to 21:00
How to get there:
1. Metro Line 1 to Yonganli Station (Exit A1 Bei Kou)
2. Buses:
28, 43, 120, 126, 403, 639, 673, or Night Bus 24 to Yong'anli Lukou Bei
1, 9, 619, 668, 668 Express, or Night Bus 1 to Yong'anli Lukou Xi
Panjiayuan Antique Market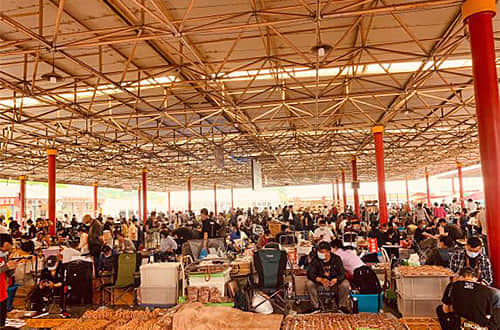 If you like fossicking in flea markets, this is the right place to go. A wide range of antiques and crafts of all sorts, such as furniture imitations, old paintings and books, ceramics, agate, jadeite, ancient Chinese and foreign coins, costumes and garments of Chinese minority ethnicities, snuff bottles, embroidery, and statuettes. The stalls with goods spread out on the ground for sale are open for business only at weekends. It is especially crowded in the early mornings of weekends, when you might snap up something good and rare. Bargaining is an art form, just like diplomacy. Keep your eyes sharp to tell the genuine article from counterfeits.
Address: No.18, Huaweili Road, Chaoyang District
Opening Hours: 4:30 to 18:00 on weekends; 8:30 to 18:00 from Monday to Thursday
How to get there:
1. Metro Line 10 to Panjiayuan Station (Exit B)
2. Buses: 28, 378, 638, Yuntong 107, Yuntong 107 Express or Night Bus 30 to Panjiayuan Qiao
The Recommended Souvenirs to Bring Home from Beijing
The traditional cultural handicrafts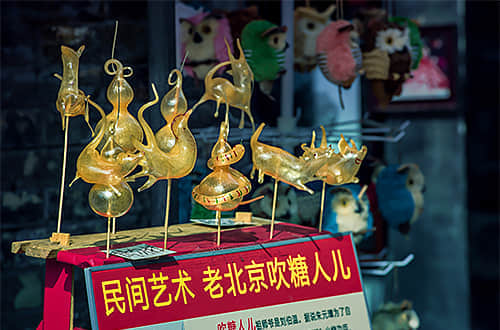 Beijing Dough Toys
1. Peking Interior Painted Snuff Bottle, AIKA International Collections Exchange Market (Add: No. 31 West Road North Third Ring, Haidian District)
2. Eight Treasures Inkpad, Beijing Glass Ancient Culture Street (Add: South Side of Peace Gate Xuanwu District)
3. Beijing Dough Toys, Ancient Beijing Street (Add: New Dong'an Market, No.138, Wangfujing Avenue, Dongcheng District)
4. Cloisonne, Enamel Factory (Add: No. 10, Anlelin Road, Chongwen District)
Historical Handmade Specialist Shops
1. Ruifuxiang Silk Clothes Shop (Add: No.5, Dashilan Street, Qianmenwai, Xicheng District)
2. Shengxifu Hatter Shop (Add: No.196, Wangfujing Street, Dongcheng District)
3. Neiliansheng Shoe Store (Add: No.34, Dashilan Street, Xicheng District)
Apart from the mentioned shopping streets and local markets as above, there are other popular shopping places located in ancient dwelling areas (Hutong) of Beijing's old districts. Wudaoying Hutong and Nanluoguxiang are the recommended ones, having enclosures with shops, cafes, bars, restaurants, as well as souvenirs. Yandai Xie Street was awarded the reputation of "Famous Streets of Chinese History and Culture", selling ancient tranditional stuff like Chinese pipes, clocks and watches, food and beverage, and antiques.
You can check out our Beijing tours for more inspiration. If you need further information, please feel free to contact us.
Have a question?
OR
Are you eager to begin your Chinese cultural journey?
Drop us a line and we will promptly connect you with our leading China expert!